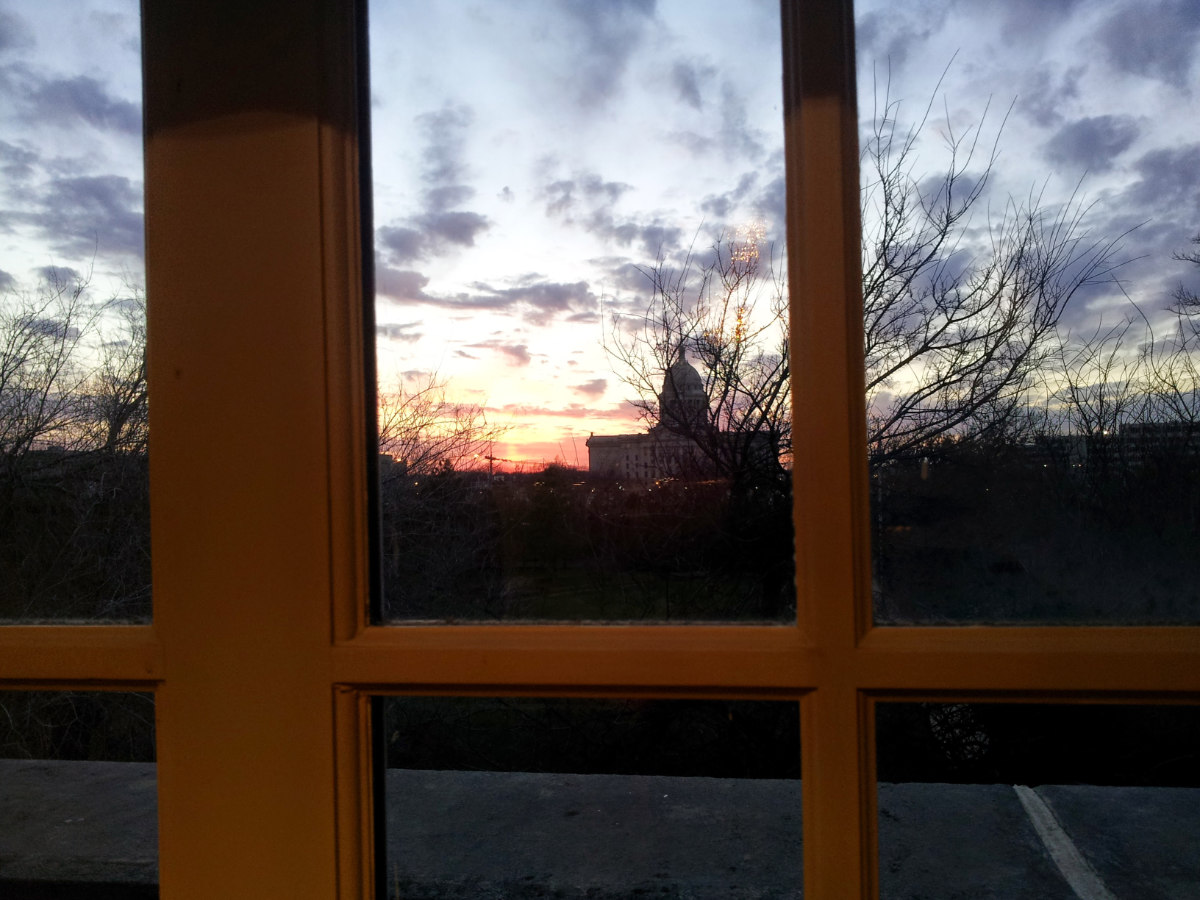 news
Legislature Completes Bill Filing
Tax Credit for Gun Safety Courses
Sen. Nathan Dahm (R-Broken Arrow) filed legislation to create an income tax credit for Oklahoma citizens who successfully complete the gun safety training course required to get a concealed carry permit. "Since Constitutional Carry has gone into effect, many people have expressed concerns about no longer forcing people to undergo government-mandated training in order to exercise their rights. Even though we haven't had any major incidents, I encourage everyone to exercise their rights in a safe and informed way. This bill will allow those who wish to take the training course to do so and then claim an income tax credit for the costs of the course." Dahm said.
Senate Bill 1090 includes several provisions, including a tax credit for those who complete the course, a tax credit to cover the fingerprinting, pictures, and licensing costs for those who get their concealed carry, as well as a tax credit for those who renew their existing carry permit. "Whether it's our second amendment rights to bear arms, first amendment rights to free speech, exercising our religion, or truthfully engaging in the freedom of press, it is important that we all use our rights without harm to others," Dahm said. "I look forward to having all those who have expressed concerns about the training requirements to join me in promoting this solution to encourage additional training without government force."
Anti-Gun Legislation
State Rep. Jason Lowe (D-Oklahoma City) filed two pieces of legislation focused on firearms. House Bill 3357 would repeal last year's constitutional carry legislation. "There is no doubt in my mind that if people got to vote on whether firearm safety training should be necessary to carry a firearm in public, where our children are, permitless carry would not be the law," Lowe said. "This legislation is a product of the hundreds of conversations I have had personally with Oklahomans who don't want irresponsible gun owners to carry firearms in public." Lowe led a failed initiative petition effort last year to block the constitutional carry bill.
House Bill 3897 would ban long-barrel firearms from Oklahoma restaurants. "Having patrons carry long-barrel firearms into a restaurant isn't good for business or the mental health of the restaurant's patrons," Lowe said. "Oklahomans, especially children, veterans suffering from PTSD, people suffering from mental illness, should have the ability to enter a restaurant in Oklahoma and not feel threatened or endangered by the presence of military-style weapons." While public safety is paramount, a byproduct of Lowe's legislation would be a fix to what he calls an unintended consequence caused by the passage of last year's legislation. "The business owners I have spoken with don't like being drug into this highly controversial issue," Lowe said. "When we told store owners that they could decide who could and couldn't carry in their place of business, we forced them to pick sides and alienate customers."
Oklahoma Commission on Race and Equality
Sen. George Young (D-Oklahoma City) filed Senate Bill 1286, which would create the Oklahoma Commission on Race and Equality. If passed, the commission would advise state agencies, communities, businesses and organizations that request help on equality issues relating to racial discrimination and bias. The commission would also monitor legislation and act as a resource for racial issues. SB 1286 also sets the framework for the commission, which would consist of 30 members appointed by the governor, President Pro Tempore of the Senate, Speaker of the House of Representatives and Oklahoma Legislative Black Caucus. The membership of the commission would include a broad representation of the racial, ethnic and geographical areas of the state. Each member would serve a five-year term. "Our citizens should never feel targeted or singled out because of their race or ethnic background," Young said. "A race and equality commission would help state, community and business leaders gracefully handle any racial or ethnic discrimination and bias issues to create an inclusive environment for all Oklahomans."
Racial Impact Statement
Sen. George Young (D-Oklahoma City) says minority communities are disproportionately impacted by the state's criminal justice system, and Oklahoma's state leaders need to reform how criminal justice decisions are made by analyzing the impact of proposed legislation on minorities through racial impact statements. "Oklahoma has the highest rate of black incarceration in the country," Young said. "Hispanics and Native Americans are also overrepresented in our Oklahoma prisons. Adding racial impact statements is vital to addressing these disparities in our criminal justice system." Young filed Senate Bill 1184, which would require a racial impact statement for any Senate or House bill that creates a new offense; significantly changes an existing offense; changes the penalty for an existing offense; or changes existing sentencing, parole or probation procedures. Under SB 1184, in order for a criminal justice bill to be heard in committee, a racial impact statement would have to be filed with the chairman. If the bill is amended, a new racial impact statement would need to be prepared.
"Incarceration disparities lead to generational cycles of trauma and economic disadvantage," Young said. "A racial impact statement would allow lawmakers a chance to identify any discriminatory impact toward minority groups. The goal is to reduce the gap of racial and ethnic disparities." SB 1184 directs that each racial impact statement would be drafted by the Oklahoma Statistical Analysis Center at the Oklahoma State Bureau of Investigation with help from the Department of Mental Health and Substance Abuse Services and the Office of Juvenile Affairs. Each racial impact statement would be required to include the estimated number of criminal cases per year the legislation would affect; the impact of the bill on a minority; and the impact of the bill upon correctional facilities and services. Five states – Iowa, Connecticut, Florida, Oregon and New Jersey – have implemented racial impact statements. Similar legislation has been introduced in eight other states.
All Kids Buckled Up
State Rep. Ross Ford (R-Broken Arrow) filed of legislation that would strengthen seat belt laws for young people. House Bill 2791 would require all youth aged 17 or younger to wear seat belts when riding in the back seat of a vehicle on Oklahoma roadways. Currently, state law requires only youth ages 8 or younger to wear a seatbelt while riding in the backseat of a moving vehicle. Ford worked with AAA, Safe Kids Oklahoma and the Oklahoma Department of Public Safety (DPS) to draft the legislation, which is supported by the Oklahoma City Chamber of Commerce, the Oklahoma Hospital Association, chiefs of police organizations throughout the state and others. Oklahoma ranks 50th nationwide in protecting children in car crashes, which is the leading cause of death and injury to those 8 and older in our state, according to information from AAA. Oklahoma is the only state in the nation without a law requiring children 8 to 17 to wear a seat belt when riding in the back seat of a moving vehicle. According to data from the Oklahoma Highway Safety Office, 67 children ages 8 to 17 were injured and 16 were killed in 2017 in Oklahoma who weren't wearing seat belts.
Prohibiting Traffic Citation Quotas
Sen. Nathan Dahm (R-Broken Arrow) filed legislation prohibiting law enforcement entities from enacting policies that require officers, justices or judges to meet traffic citation quotas. "It's no secret that some jurisdictions may emphasize writing tickets at different times to try and generate more revenue," Dahm said. "Our peace officers shouldn't be pushed by their employers to focus on writing extra tickets or collecting extra revenue from citations." Senate Bill 1264 would prohibit any political subdivision or agency of the state to maintain, require or suggest policies that employee evaluations, promotions, compensation or discipline may be based on the issuance of a specified number of traffic citations by law enforcement officers, or the amount of revenue a court justice or judge collects from these citations. The bill does not prohibit municipalities from obtaining budgetary information from the courts, including estimates of court collections in a budget year. "Prohibiting quotas will allow our law enforcement officers to better serve our communities by keeping their focus on protecting our citizens, not bolstering revenue." Dahm said.
Restructure State Law Enforcement
Senate Bill 1602, authored by Senator Michael Bergstrom (R-Adair) would create a new structure for state law enforcement putting the agencies under one central agency called the Oklahoma Public Safety Agency. Bergstrom calls his bill the Oklahoma Public Safety Unification Act of 2020 with the goal to unite state law enforcement and public safety agencies. "The purpose of this legislation is to improve the efficiency and effectiveness of our state law enforcement and public safety agencies serving and protecting Oklahoma citizens," Bergstrom said. "This unification will allow for better communication between the state and local law enforcement agencies and departments, as well as between these state entities and the general public."
The Oklahoma Public Safety Agency would encompass the Oklahoma Highway Patrol, the Oklahoma State Bureau of Investigation, the Oklahoma State Bureau of Narcotics and Dangerous Drugs, the Council on Law Enforcement Education and Training, the State Fire Marshall, Homeland Security,and the Oklahoma Emergency Management and Alcoholic Beverage Laws Enforcement. Those agencies would become departments within the new entity, but would remain dedicated to their current missions. The Governor would appoint, with Senate approval, the agency director. He would be able to affirm and hire the leaders of each law enforcement department.
The legislation also creates a Investigation Oversight Commission that would investigate political and public corruption. "Oklahoma's state law enforcement is fragmented," Bergstrom said. "The reason I first became interested in this unification project was because of a conversation I had with a police officer in my district about the issues he saw in our law enforcement agencies and the way they work together. This legislation is aimed at fixing this problem. As this plan moves forward, I intend to ensure our law enforcement stakeholders, sheriffs and police chiefs are at the table to make this the best bill possible for Oklahoma and our law enforcement agencies."
Prohibiting Juvenile Life Sentencing
Legislation giving juvenile offenders a second chance by preventing harsh sentencing was filed by Sen. George Young (D-Oklahoma City). Senate Bill 1189 not only prohibits life without parole sentences for juveniles, but also prohibits a mandatory minimum sentence that exceeds 20 years for any offender under the age of 18. The bill would also require a judge to take other circumstances into account when determining an individualized sentence, including maturity, family and community environment, and capacity for rehabilitation. "Children do not have the brain development to fully understand the crimes they are committing and the consequences to their actions," Young said. "These juvenile offenders should not be placed in prison for the rest of their lives when rehabilitation is possible."
A series of United States Supreme Court rulings in recent years have specifically addressed life without parole sentences for juveniles, forbidding the imposition of the sentence unless certain factors are taken into account. Twenty-three states have already banned life without parole for juvenile offenders including Texas, Kansas and Arkansas. "Life experiences of those with juvenile records vary, but studies have shown that many are subject to violence and abuse in their homes," Young said. "We must take into account the environments these children have grown up in, their maturity, the crime they have committed, and then sentence them reasonably. Once they have served their time, we can provide rehabilitation services and prepare them to be productive members of society upon their release."
Raising Minimum Age on Tobacco
State Sen. Greg McCortney (R-Ada) has filed legislation to reflect recent changes in federal law raising the minimum age to purchase tobacco products to 21. Congress has passed legislation prohibiting the sale of cigarettes, e-cigarettes, cigars and other tobacco products to anyone under the age of 21. The Tobacco-Free Youth Act was signed into law by President Donald Trump. McCortney serves as Vice Chair of the Senate Health and Human Services Committee. He said Senate Bill 1423 makes sure that Oklahoma's statutes will mirror the new age requirements enacted at the federal level. He said raising the age for tobacco to 21 could have a huge impact on the health of Oklahomans. "Even though smoking rates are declining, it remains the leading cause of preventable death and disability," McCortney said. "Raising the age limit for tobacco products will help us prevent needless deaths, improve the quality of life for thousands of citizens and save millions of dollars in health care costs."
Currently, state law sets a minimum age of 18 for tobacco sales and use. Under SB 1423, the minimum age would be raised to 21 for purchasing or using tobacco products, and it would be illegal to sell or give tobacco products to anyone younger than 21. "While the federal government made this change in December, the fact is enforcement takes place at the state and local level," McCortney said. "In order to avoid confusion or ambiguity, it's important that our state laws and programs are in line with the new federal age limits, ensuring clarity for the public, businesses, state agencies and law enforcement."
Increasing Minimum Wage
Senate Bill 1165, filed by Sen. George Young (D-Oklahoma City) would require employers to pay their employees a minimum wage of $10.50 per hour. If the federal minimum wage is raised above $10.50 per hour, the legislation states that employers must pay their workers the higher amount. Oklahoma's current minimum wage is $7.25 an hour. "The spending power of a minimum wage paycheck has been significantly reduced since the last minimum wage raise more than a decade ago," Young said, noting the last minimum wage increase in Oklahoma was in 2008 when the rate increased from $6.55 to $7.25 per hour. "Oklahomans deserve to be paid fairly so they can offset the rising costs of healthcare, housing and food," Young said. "Closing the wage gap between the poverty line and middle class would have a tremendous impact on our economy by increasing consumer spending and generating more tax revenue for our municipalities and state."
Occupational Licensure Tax Credit
Sen. Nathan Dahm (R-Broken Arrow) filed legislation to give Oklahomans an income tax credit to offset the costs of work-related licenses required by the state. "We've been studying occupational licensing for years, and the one thing we've seen is growth in government where people are required to get a license, often unnecessarily, before they are allowed to work and be a productive member of society," Dahm said. "Only five percent of jobs used to require a license, but now a quarter of all jobs require some sort of government permission just to work." If signed into law, Senate Bill 1109 would create a tax credit for any person required by the state to have a job-related license. The measure also includes a tax credit for any costs a worker incurs by taking state mandated testing or continuing education requirements. Dahm said some licenses cost hundreds of dollars and put a burden on Oklahoma workers. He hopes to move toward a free market system that benefits taxpayers.
Transparency and Accountability
Sen. Ron Sharp (R-Shawnee) says Oklahoma ranks among the weakest in the nation when responding to Open Records and Freedom of Information Act requests. Sharp filed two bills, Senate Bills 1137 and 1154, to tackle this issue and bring the state up to standard.
SB 1154 would require any request under the Open Records Act to be fulfilled within 30 days. If the request is unable to be fulfilled in that time period, the record provider could receive an additional 30 days to prepare the requested documents upon written notice to the requestor. "Under current Oklahoma law, there's no deadline for responding to Open Records requests," Sharp said. "Each agency is required to have a designated staffer to provide the requested documents. My goal for SB 1154 is to add confidence that our state is transparent and accountable to public requests in a timely manner."
SB 1137 would require the Attorney General to give an opinion in writing to any request by the Legislature, a state officer, board, commission or department within 90 days of the request. "There should be an anticipated response time when requesting the Attorney General's opinion," Sharp said. "Often, the issues presented in an Attorney General's request are complex, but an unlimited response time can be extremely costly for taxpayers. Ninety days should be sufficient time for the Attorney General to conduct research and issue an opinion."
Telemarketers and Scam Calls
The Oklahoma House of Representatives will consider legislation to prevent telemarketers from replicating numbers and misrepresenting the origin of a phone call. Rep. Kyle Hilbert (R-Bristow) filed House Bill 3081 to prohibit callers from tampering with information displayed on caller IDs to disguise their identities. This practice is known as caller ID spoofing and is commonly used by telemarketers and scammers. Hilbert said while the ultimate solution to this problem lies at the federal level, and through the work Oklahoma Attorney General Mike Hunter is doing with federal regulators, Oklahoma should take steps now to cut down on spam phone calls. "We must do everything in our power as a state to limit these calls," Hilbert said. "We need to give Oklahoma prosecutors every tool possible to hold accountable the morally bankrupt individuals who run these telephone scams on the elderly and the vulnerable."
Hilbert said the idea came from a similar bill passed in Texas last year. Sen. James Leewright (R-Bristow) will serve as the Senate author. "Every Oklahoman has experienced firsthand how frustrating it is to answer a call with your area code only to be met with an automated telemarketer or scammer," Leewright said. "Until Washington takes strong action to prohibit these dishonest and unethical practices, Oklahoma needs to take steps to cut down on caller ID spoofing within our state."
COLA Revenue Revolving Fund
The last cost-of-living adjustment (COLA) that Oklahoma's state retirees received was in 2008, yet living expenses have continually increased. The Vice Chair of the Senate Insurance and Retirement Committee, Sen. Ron Sharp (R-Shawnee) said it's time to find a funding solution. Sharp filed Senate Bill 1817 to reapportion a percentage of certain new taxes to provide more regular COLAs for Oklahoma's six public retirement systems. He noted that the 2011 Oklahoma Pension Legislation Actuarial Analysis Act (OPLAAA) requires all COLAs to be fully funded upon their enactment.
"Ten years ago, Oklahoma had some of the worst pension systems in the country – but thanks to a strong economy and major reforms since then, the systems are now solvent with some being fully funded. It's time to take care of our state retirees who are facing ever-increasing healthcare, food and utility costs," Sharp said. "Under OPLAAA, the legislature has to provide a funding mechanism for any COLA." SB 1817 would create the "Oklahoma Cost-of-Living Adjustment Revenue Revolving Fund" from apportionments of new tax collections currently going to the General Revenue Fund. Apportionments would include one-third of taxes on alcoholic beverages, mixed beverages, cigarettes and tobacco products as well as half of the excise tax on marijuana. Due to its structure, the Wildlife and Conservation retirement system does not fall under the provisions of OPLAAA and, therefore, is not included in this plan.
Prohibiting Sanctuary Cities
Sen. Nathan Dahm (R-Broken Arrow) wants to crack down on the state's sanctuary city policies. Dahm filed Senate Bill 1459, which prohibits any municipality in Oklahoma from adopting a sanctuary policy. Under the bill, any city or town that enacts such a policy would be ineligible for state funding through agencies and grants. "In the past, we have had cities say they would willingly violate federal immigration laws by declaring their cities a sanctuary for those law-breaking foreigners," Dahm said. "Senate Bill 1459 says no such sanctuary policy can be implemented in our state, and any government entity that violates these laws would be subject to loss of funds until they uphold the law."
Sanctuary policies include prohibiting municipality officers from verifying or reporting the immigration status of any alien within the municipality to federal agencies or officials; granting illegal aliens the right to a lawful status within the municipality that is a violation of federal law; preventing law enforcement officers from asking any individual his or her citizenship or immigration status; or knowingly providing special benefits, privileges or support to illegal aliens. SB 1459 would allow legislators to request a legal opinion from the Attorney General's office upon receiving a complaint that a municipality is violating federal immigration laws. If funding is revoked for a city under this bill, the Attorney General would have to certify the municipality is in compliance with the law to restore funding.
Preference to Oklahoma Textbooks
As part of his continued "Oklahoma First!" effort to encourage the promotion of Oklahoma businesses and products, Sen. Rob Standridge (R-Norman) has filed legislation aimed at choosing textbooks produced in the state for use in the government schools. Senate Bill 1121 would direct the State Textbook Committee to give preference to books that have been produced in Oklahoma if the price, fitness, availability and quality are otherwise equal to textbooks produced out-of-state. "Our state awards millions of dollars in contracts and purchases millions of dollars in supplies and equipment," said Standridge,. "It's frustrating that more of those contracts and purchases aren't going to highly qualified Oklahoma businesses instead of sending our tax dollars to out-of-state companies. We should all be focused on putting Oklahoma first. Textbooks that are in every single school in communities throughout our state represent just one more opportunity to prioritize Oklahoma-made products."
Make College Textbooks Tax Exempt
State Sen. Tom Dugger (R-Stillwater) has authored legislation to make college textbooks exempt from sales taxes in Oklahoma. Dugger said after discussing the idea with students from Oklahoma State University, he decided to file Senate Bill 1150. "College textbooks can be extremely expensive, with students easily spending hundreds of dollars each semester on their books," Dugger said. "I think any relief for students will be of help, including giving them a sales tax exemption on their textbooks." SB 1150 would apply to students enrolled and accepted within the Oklahoma State System of Higher Education or a private institution of higher learning located within the state. The sales tax exemption would only apply to the sales of textbooks that are required to be purchased for a course.