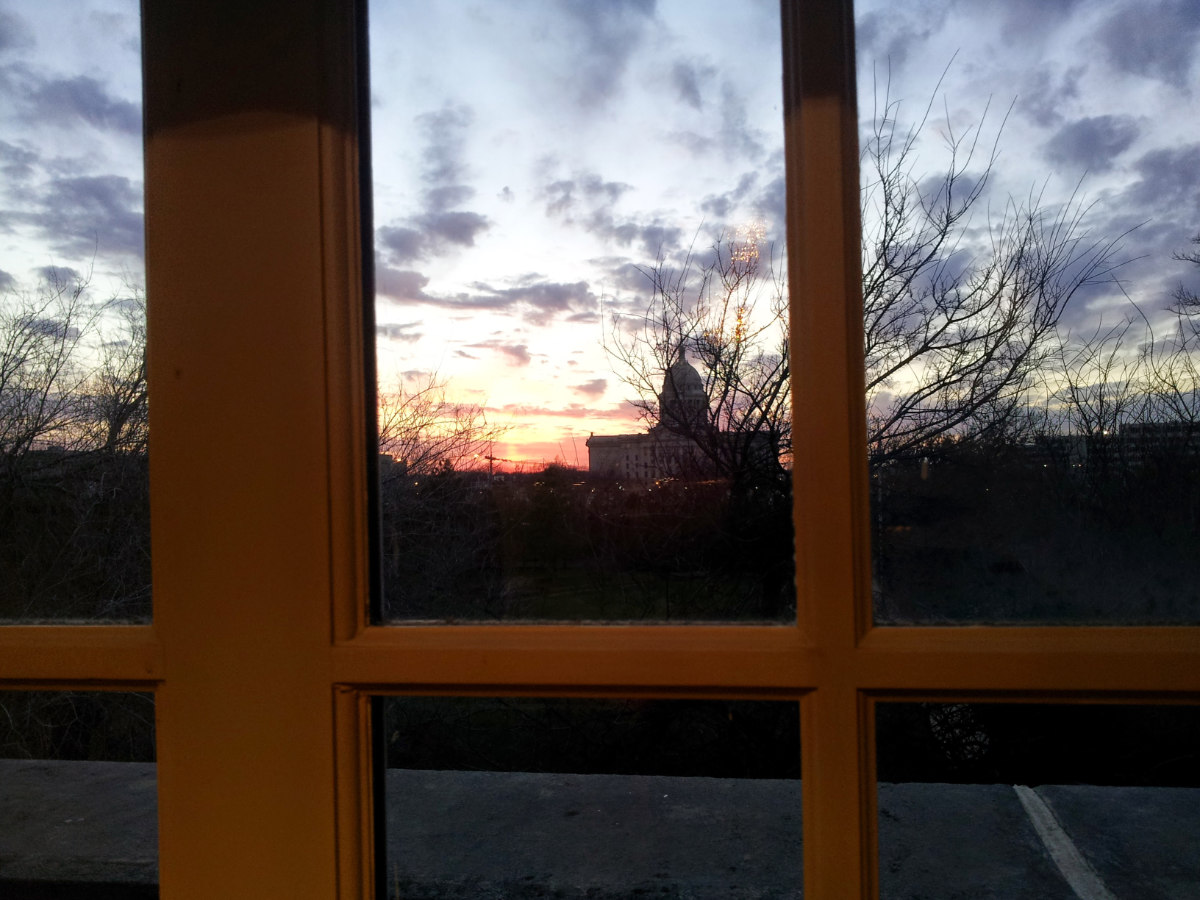 column
The Federal Page for Winter 2020
An Impeachment Memory
On Saturday, December 19, 1998 the House of Representatives impeached President Bill Clinton for lying under oath about his liaison with White House intern Monica Lewinsky. I lived just outside of Washington in Virginia at the time and decided to celebrate by going to Washington and walking by the White House that evening. The ellipse just south of the White House had the big Christmas tree. Surrounding that tree were smaller trees of the 50 states, and, I guess, of the territories, each with its own decorations. Oklahoma's tree had white lights and clear plastic balls for ornaments. Inside the balls were discs with the state seal on them. Oh, boy. We needed Matt Pinnell back then to do some re-branding for our state. Despite the fact that President Clinton had been impeached there were no protesters outside the White House that evening, except a black couple. The woman was holding a sign, I don't remember what it said. She then angrily said to me, "This isn't a day for celebration! Our president has just been imp...." I turned and walked away from her with a broad smile on my face.
It was remarkable that the White House was holding a party along Pennsylvania Avenue. Some people may not know it, but vehicles are no longer permitted along Pennsylvania Avenue by the White House and Treasury Department next door. On the street in front of the White House were large tents for a party. West Virginia Senator Robert Bryd chastised the White House for having a party on the night of the impeachment.
Of course, we know that President Clinton was acquitted by the Senate, and those of us on the Right had our "moral victory" at having the bum from Arkansas impeached, and as a result he had his license to practice law in Arkansas revoked.
Almost 21 years later to the day, the Democrat House voted to impeach President Trump under charges of abuse of power and obstruction of Congress regarding his July 2019 phone call to the Ukranian president. The vote on December 18th was 229 to 198. It was almost a party line vote. No Republicans voted for impeachment, and they were joined by four Democrats. Kendra Horn was the only yes vote from the Oklahoma delegation.
President Trump was being foolish for asking the Ukranian president for an investigation on former Vice President Joe Biden's son Hunter. It was a really stupid thing to do because the opposition party talked openly about impeaching him even before he was sworn into office, and now they had something to use against him. The press have proved themselves to be corrupt by their reportage that Hunter Biden had done nothing wrong. Yeah, the son of a sitting American vice president gets a job on the board of a Ukranian energy company, for which he is "compensated" $50,000 a month without any knowledge of the energy industry, and according to the press there's nothing to see here!
President Trump should be in a lot of trouble, but the Democrats and the media (same thing) overplayed their hands a long time ago. We know that the Senate, which is in Republican hands, will acquit him of the charges, and that will be that!
Kendra Horn's Extreme Abortion Position
Last June, Oklahoma Democrat Congresswoman Kendra Horn voted with her party against conscience protections for healthcare workers (doctors, nurses, etc.) as they pertain to abortion. These protections were designed to allow healthcare providers the ability to refuse, based on conscience, to take part in an abortion procedure. Congresswoman Horn was asked her position at a town hall that was held at Sequoyah Middle School in Edmond on November 17. She gave a convoluted answer. The meaningless mumbo jumbo which she uttered was this:
"When serving the public, when doing your job then you have to serve the people that are in front of you. And so I think that is to me a fundamental disagreement. If you are a healthcare provider and you are providing health services...like you can go into any field; people have a lot of different choices. And I'm not going to interfere with anyone else's religious belief as they see fit. But when we start to take that out to other people that's where I have a problem with it."
https://www.youtube.com/watch?v=bGlBYf1FznQ
This answer should be enough to ensure Kendra Horn is a one-term congresswoman. I caution Republicans not to nominate a moderate against her – just because that candidate is a woman or has a lot of establishment money. That's a mistake. People have to be motivated to vote for someone, not just against someone. If the Republicans get this wrong, they deserve to lose a seat that should be won.
Tulsa Republican State Representative Carol Bush of District 70 (Conservative rating for last session was 23% and cumulative average was 19%) is a good friend of Congresswoman Horn, speaking on her behalf at Horn's campaign kickoff in 2018 in Oklahoma City.
Legally, What Is the Age of Majority?
Early last year, Senate Majority Leader Mitch McConnell spoke before an anti-tobacco group in his home state of Kentucky and promised them he would raise the age to purchase tobacco to 21. He did just that by placing the age hike in the budget bill late last year.
In the United States today, when a person becomes 18 years old, he or she can be married, register to vote, sign a contract, be charged as an adult in court. A male must register with Selective Service for the draft, and most importantly, males and females can enlist in the armed forces and can give the ultimate sacrifice for their country, but they may not drink beer or now use tobacco or vaping products. Since 2001, many men who were too young to drink beer returned home in boxes from Afghanistan and Iraq. This brings up a good legal question: what is the age of majority? Of course, the new law cannot prevent anyone 21 or older from purchasing tobacco products on behalf of anyone 18 to 20.
The House passed the spending bill with taxpayer monies for Planned Parenthood among other evils along with the tobacco age hike on December 17 by a vote of 297 to 120. Congressmen Tom Cole and Kendra Horn voted yes. Congressmen Hern and Mullin voted no and Congressman Lucas did not vote.
The Senate passed the budget bill on December 19th by a vote of 71 to 23. Senators Inhofe and Lankford both voted no. There were six non-voting members including Senators Klobuchar of Minnesota, Sanders of Vermont and Warren of Massachusetts who are running for president and couldn't be bothered. Senators Booker of New Jersey and Harris of California dropped out of the presidential race and couldn't be bothered to vote. Senator Isakson of Georgia, who is in ill health, also didn't vote. President Trump signed the budget bill into law on December 20.
From 2001, to the official end of the military operation in Afghanistan in December 2014, the number of combat deaths for 18-20-years-old was 284. As of 2006, in Iraq the total number of 18-20-years-old deaths was 450. That is to say, 734 men and women killed in combat were too young to drink beer. It is an important to note these data are old. That death toll is higher now.
If Mitch McConnell and the political class wanted to raise the age for service in the armed forces to 21, my argument against this prohibition on beer, tobacco, and vaping would fall flat. Reaching the age of majority is a big deal, and the law should be consistent.
"You can be drafted to go into war. You can be sent to the front lines. You can face machine gun fire [and he draws on his lit cigar in his office], but God help you if you want to have a smoke."
– Texas Senator Ted Cruz, December 18, 2019. He voted against the spending bill the next day.
Theodore J. King is an Oklahoma native. He spent the summer of 1994 at the Republican National Committee, worked at the National Right to Work Committee, and on the Hill in Washington D.C. In 1999 he worked for Congressman Kevin Brady of Texas and later at the Media Research Center in Alexandria, Virginia. He served as our Washington D.C. correspondent beginning in 2001and continues since his return to Oklahoma. He also writes online for The Daily Caller (www.dailycaller.com) and is the author of The War on Smokers and the Rise of the Nanny State.