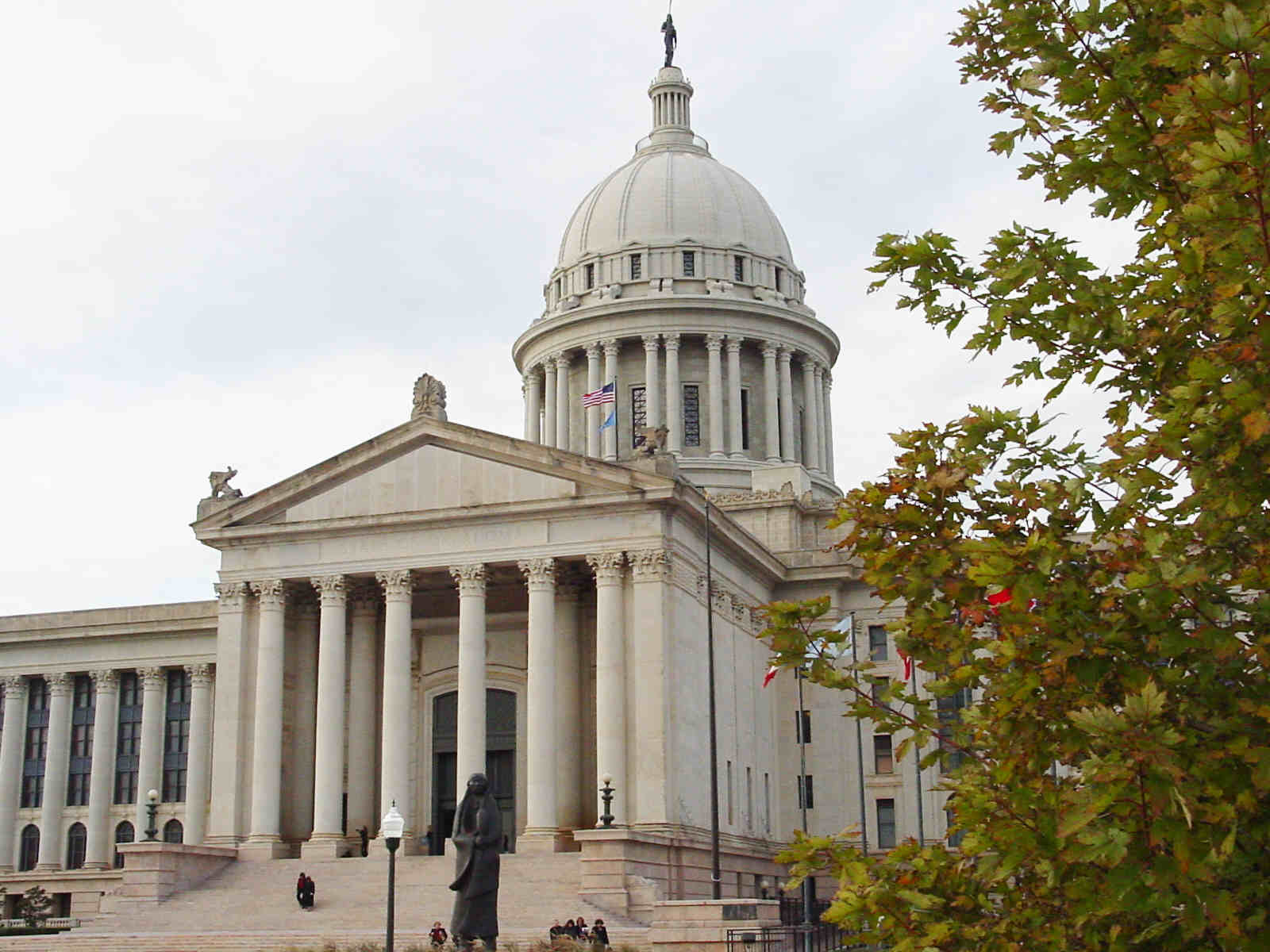 index
2021 Oklahoma Conservative Index
The Oklahoma Constitution presents the 43rd annual Oklahoma Conservative Index rating our state legislators. Members of each house of the Oklahoma Legislature were rated on ten key votes. A favorable vote on these issues represents a belief in conservative principles.
After taking suggestions from conservative leaders, proposed bills were reviewed by a joint committee composed of the Oklahoma Constitution newspaper staff and members of the Oklahoma Conservative Political Action Committee (OCPAC). The committee then selected the ten key votes to be used for the ratings. The legislators were rated based on their votes on these bills which included such issues as protecting the safety of citizens, protecting constitutional rights, protecting life, obstructing overbearing government regulations, reforming education, opposing government subsidies, avoiding wasteful spending, and reducing taxes.
RATING CALCULATION
To determine this year's rating, 10 points were earned for each conservative vote (designated by a C), and no points were awarded for a liberal vote (indicated by an L). Each failure to vote (recorded as a Z) provides only three points. When the rating system was created in 1979, it was decided that there should be a difference between voting liberal, and missing a vote. A legislator absent for all the votes could only score 30%.
Thus, a legislator voting conservative on eight votes, liberal on one, and failing to vote on another, would receive eighty plus three, or an 83% conservative rating.
This year's conservative rating was averaged with the legislator's scores from the most recent previous years of service to obtain the Cumulative Average score. With term limits, we have moved into a period when no legislator will have a cumulative score based on a period longer than twelve years. By examining this year's score in relation to the Cumulative Average, the voting pattern of a particular legislator can be determined. While most score nearly the same, year after year, others trend upward or downward from their average. If your legislator is trending toward conservatism, please offer your encouragement and support. If your legislator is exhibiting a leftward trend, it is time to express your disappointment and suggest the need for a replacement if the trend is not reversed.
The average score this year was 63% in the House and 66% in the Senate. The Top Conservative and Top Liberal legislators were selected by their scores on the Index. Making the Top Conservatives list were 27 lawmakers who scored above 80 percent. On the Top Liberals list were 26 lawmakers scoring below 20 percent.
TOP CONSERVATIVES
Five legislators scored a perfect 100% conservative rating this year. Senator Nathan Dahm of Broken Arrow was the only member of the Senate with a perfect score. The four members of the House with a perfect score were Denise Crosswhite Hader of Yukon, Tom Gann of Inola, Jim Olsen of Roland, and Wendi Stearman of Collinsville. Six senators scored 90% including Michael Bergstrom of Big Cabin, George Burns of Pollard, Shane Jett of Shawnee, Cody Rogers of Tulsa, Rob Standridge of Norman, and Zack Taylor of Seminole. Eleven members of the House scored 90% including Steve Bashore of Miami, Brad Boles of Marlow, Jim Gego of Wilburton, Tommy Hardin of Madill, Gerrid Kendrix of Altus, Kenton Patzkowsky of Balko, Eric Roberts of Oklahoma City, Jay Steagall of Yukon, Kevin West of Moore, Rick West of Heavener, and Danny Williams of Seminole. Completing the list of Top Conservatives were five legislators who scored 83 percent. Sen. Paul Rosino of Oklahoma City scored 83%. House members scoring 83% were Sherrie Conley of Newcastle, David Hardin of Stilwell, Stan May of Broken Arrow, and Todd Russ of Cordell.
TOP LIBERALS
An astonishing 18 legislators scored zero conservative this year, taking the liberal position on all ten bills included on this year's ratings. This is the largest number to score zero in all of the years that we have rated the legislators. Five members of the Senate scored zero including JoAnna Dossett of Tulsa, Senate Minority (Democrat) Leader Kay Floyd of Oklahoma City, Carri Hicks of Oklahoma City, Julia Kirt of Oklahoma City, and George Young of Oklahoma City. The 13 members of the House who scored zero include Forrest Bennett of Oklahoma City, Meloyde Blancett of Tulsa, Jose Cruz of Oklahoma City, Andy Fugate of Del City, Cyndi Munson of Oklahoma City, Monroe Nichols of Tulsa, Melissa Provenzano of Tulsa, Trish Ranson of Stillwater, Jacob Rosecrants of Norman, Mauree Turneer of Oklahoma City, Emily Virgin of Norman, John Waldron of Tulsa, and Collin Walke of Oklahoma City. Two senators, Mary Boren of Norman and Michael Brooks of Oklahoma City, scored 3 percent. Rep. Mickey Dollens of Oklahoma City also scored 3 percent. Two members of the House, Regina Goodwin of Tulsa and Jason Lowe of Oklahoma City, scored 6 percent. Sen. Kevin Matthews of Tulsa and Rep. Ajay Pittman of Oklahoma City scored 9 percent. Finishing out the Top Liberals list was House member Merleyn Bell of Norman who scored 19 percent.
Bills Used for the 2021 Oklahoma Conservative Index
(1) 2nd Amendment Sanctuary State
Senate Bill 631 by Sen. Warren Hamilton (R-McCurtain) and Rep. Sean Roberts (R-Hominy)
This legislation states that any federal, state, county or municipal act, law, executive order, administrative order, court order, rule, policy or regulation ordering the buy-back, confiscation or surrender of firearms, firearm accessories or ammunition from law-abiding citizens of this state shall be considered an infringement on the rights of citizens to keep and bear arms as guaranteed by the Second Amendment of the Constitution of the United States and Article II, Section 26 of the Constitution of Oklahoma. "Senate Bill 631 ensures that the State Legislature will protect the unalienable right of Oklahomans to keep and bear arms as guaranteed to them by the Second Amendment," said Rep. Sean Roberts. "Recent action and rhetoric from the federal government has shown just how important this bill really is." It passed the Senate 38-8 on March 9 and the House 78-17 on April 20. It was approved by Gov. Kevin Stitt on April 26. The YES vote is conservative.
(2) Abortion Doctor Medical Licensure
House Bill 1102 by Rep. Jim Olsen (R-Roland) and Senator Julie Daniels (R-Bartlesville)
This legislation directs the Board of Medical Licensure and Supervision and the State Board of Osteopathic Examiners to revoke the licenses of physicians who perform an abortion for at least one year. The bill provides an exception for abortions performed to save the life of the mother. The bill passed the House 81-18 on March 9 and the Senate 37-10 on April 20. It was approved by Gov. Kevin Stitt on April 26. The YES vote is conservative.
(3) Critical Race Theory Training
House Bill 1775 by Rep. Kevin West (R-Moore) and Sen. David Bullard (R-Durant)
This bill prohibits Oklahoma public schools, colleges and universities from teaching what is known as "Critical Race Theory" and from requiring mandatory gender or sexual diversity training or counseling. These harmful forms of indoctrination have already infiltrated Oklahoma schools from as early as pre-kindergarten classrooms all the way through college courses. Some state universities currently are requiring this training for their freshman students. Much of the curriculum is based on Marxist ideology that is designed to teach children to hate American exceptionalism and distrust or discriminate against others based on skin color or sex. Additionally it teaches that most laws and systems in America are historically rooted in the racist oppression of people of color and other marginalized groups. It promotes the theory of implicit bias and inherent racism due to one's skin color. The bill does not prevent the teaching of history or anything currently in Oklahoma education standards, including curriculum that shows historical examples of racism. The bill adheres to the sentiment expressed by Dr. Martin Luther King Jr. who said, "I look to a day when people will not be judged by the color of their skin, but by the content of their character." After being amended, the bill passed the Senate 38-9 on April 21. It returned to the House where the Senate amendments were approved and the measure passed 77-18 on May 3. It was approved by Gov. Stitt on May 7. The YES vote is conservative.
(4) School COVID-19 Requirements
Senate Bill 658 by Sen. Rob Standridge (R-Norman) and Rep. Kevin West (R-Moore)
This legislation prohibits public schools, colleges, universities or CareerTech centers from implementing mandatory COVID-19 vaccinations as a condition for admittance and from requiring only non-vaccinated populations to wear masks. The measure also requires the State Department of Education and school districts to provide in any notice or publication regarding immunization requests the immunization requirements of the school, including the requirement to either provide immunization records or an exemption form. The measure is necessary as there has been a push for public schools and higher education institutions to require a vaccination against COVID-19 as a requirement for admittance or to require documentation that such a vaccine has been received in the form of a "vaccine passport." Additionally, the measure provides such institutions may only implement a mandate to wear a mask or other medical device after consultation with the local county health department or city-county health department. Such a mandate must explicitly list the reasons for the mandate and shall reference the specific masks or medical devices that would meet the requirements of the mandate. Any mandate to implement wearing a mask or any other medical device is required to be reconsidered at each regularly scheduled board meeting. The bill passed the Senate 38-8 on May 25 and the House 76-18 on May 26. It was approved by Gov. Stitt on May 28. The YES vote is conservative.
(5) Equal Opportunity Scholarships
Senate Bill 1080 by Sen. Roger Thompson (R-Okemah) and House Speaker Charles McCall (R-Atoka)
This bill expands the Equal Opportunity Education Scholarship Act which provides tax credits to donors who voluntarily donate funds to support education. The grants can be used by private schools to support low-income families and by public schools for innovation or classroom support. The bill increases to $50 million the amount of tax credits available for the program, with $25 million for public schools and $25 million for private schools. The bill also adds transparency by increasing reporting requirements of the private schools' scholarship granting organizations. The bill passed the Senate 36-11 on May 18 and the House 63-36 on May 20. It was approved by Gov. Stitt on May 21. The YES vote is conservative.
(6) Protecting Drivers Escaping Riots
House Bill 1674 by Rep. Kevin West (R-Moore) and Sen. Rob Standridge (R-Norman)
This legislation gives civil and criminal liability protection to drivers of vehicles who are trying to escape a riot and unintentionally injure or kill someone. The bill makes blocking roadways during a protest a misdemeanor and holds the protestors responsible for any damage. The measure also addresses organizations found to have conspired with persons found guilty of committing crimes under rioting statutes. Those organizations shall be fined ten times the amount authorized by the appropriate provision. "This is an important protection for citizens who are just trying to get out of a bad situation. When fleeing an unlawful riot, they should not face threat of prosecution for trying to protect themselves, their families or their property," said Rep. Kevin West, the author of the legislation. The bill passed the House 79-18 on March 9 and the Senate 38-10 on April 14. It was approved by Gov. Stitt on April 21. The YES vote is conservative.
(7) Closure of Places of Worship
House Bill 2648 by Rep. Brian Hill (R-Mustang) and Sen. David Bullard (R-Durant)
This bill, the Oklahoma Religious Freedom Act, deems any order or rule issued by any governmental entity pursuant to an emergency
that requires closure of any place of worship as a substantial burden on the people's freedom of religion, even if the order or rule is one of general applicability."People came to this continent seeking religious freedom and to escape a tyrannical government, and our country's founders had the wisdom to specifically outline the freedom to worship in one of our founding documents," said Rep. Brian Hill, the author of the legislation. The bill passed the House 80-18 on March 3 and the Senate 38-8 on April 20. It was approved by Gov. Kevin Stitt on April 26. The YES vote is conservative.
(8) Film Production Subsidies
Senate Bill 608 by Sen. Chuck Hall (R-Perry) and Rep. Scott Fetgatter (R-Okmulgee)
The Filmed in Oklahoma Act of 2021 creates another giveaway program to Hollywood and other production companies. The measure establishes a $30 million rebate program on a first-come, first-served, basis for TV and movie film productions. This new rebate package builds on the state's existing program, which had a cap of $8 million and required approval of the proposed production. The new subsidies offer a base percentage of 20% for reimbursement of Oklahoma expenditures to the film production companies. As an additional incentive to utilize rural counties and towns, there's a three percent rebate if 25% of filming is done in a county with a population of less than 250,000. The package also includes an additional 2% rebate if the project is filmed in a town of under 13,000. There are additional rebates available for using Oklahoma sound stages and post-production facilities, for pilot episodes of TV programs, for filming one or more seasons, or for multi-picture deals. It gained final approval in the Senate 32-14 on May 19, and the House 77-17 on May 20. It was approved by Gov. Stitt on May 24. The NO vote is conservative.
(9) Increase State Bond Debt
House Bill 2896 by Rep. Kevin Wallace (R-Wellston) and Sen. Roger Thompson (R-Okemah)
This legislation authorizes the issuance of an additional $200 million in road bonds. This debt will remain on the books for up to 30 years. This allowed the Legislature to divert funds intended for road construction, to instead be apportioned to other functions of government. This is a brazen end-run around the state's balanced budget law requirements, by shifting funds to an entity that is covered by the law's budget restrictions, then authorizing the Department of Transportation to float bonds to replace those funds since they are allowed to incur indebtedness. It passed the House 89-5 on May 18 and the Senate 43-1 on May 20. Gov. Stitt approved on May 24. The NO vote is conservative.
(10) Corporate Tax Rate Reduction
House Bill 2960 by House Speaker Charles McCall (R-Atoka) and Senate President Pro Tempore Greg Treat (R-Oklahoma City)
This bill reduces the state's corporate tax rate from 6 percent to 4 percent, making Oklahoma one of the Nation's most competitive in attracting businesses. Corporate taxes are a business expense which is incorporated into the cost of the products or services produced by the business. In essence, the corporation collects the taxes from the consumer and passes them on to the government. Reducing corporate taxes makes Oklahoma businesses more competitive relative to other states, which helps them remain in the state, or encourages other businesses to relocate to the state. This provides more jobs and improves the Oklahoma economy. It passed the House 79-19 on May 18 and the Senate 34-12 on May 20. It was approved by Gov. Stitt on May 21. The YES vote is conservative.
PDF Files of Oklahoma Conservative Index
A PDF file showing all the legislators in each chamber (House and Senate) of the Oklahoma Legislature, with each legislator's vote on each of the ten bills, their score for this year, and their Cumulative Average which includes scores from previous years, is found below. Files for previous years are also posted below.