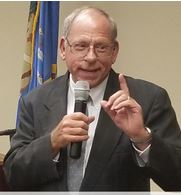 column
It Is Not Bigotry, it Is Common Sense
Here are a couple of prime examples. Two bills were recently overwhelmingly passed by the Legislature and signed into law by the governor. These bills should never have been needed. A decade ago, or perhaps just two years ago, the need for these bills would be considered a joke.
Senate Bill 1100, by Sen. Micheal Bergstrom (R-Adair) and Rep. Sheila Dills (R-Tulsa), prohibits the designation of "nonbinary" as an option on birth certificates issued by Oklahoma. The legislation codifies that the biological sex designation be listed as either male or female, outlawing the use of "X" or any other symbol to represent a nonbinary designation. People who consider themselves nonbinary do not identify as either male or female. The issue surfaced in the state last year when Gov. Kevin Stitt directed the Oklahoma State Department of Health to stop amending birth certificates to show nonbinary as the sex of the person. As Sen. Bergstrom said, "How has our society sunk so low that it is seriously an argument if someone is a boy or a girl?"
A birth certificate is issued at birth to record vital information. It is not something to be used by a confused person to make a statement. Some may say we should ignore the issue and let people be who they want to be. But, it opens up a pandora's box and cannot be ignored.
Recently, two women in an all women's prison in New Jersey became pregnant. Your first thought would likely be that a male prison guard or another member of the staff must have been involved. After all, it could not have been caused by a fellow inmate, but you would be wrong. It turns out that a male inmate, who supposedly now identifies as a women, was sent into the prison. Now, let's say you pass legislation saying that only biological women, as indicated by their birth certificate, shall be sent to a women's prison. But, if they are designated on the birth certificate as "nonbinary," they can choose the sex that fits their needs, or how they identify at the time. And, the answer is not to create nonbinary prisons.
On March 30, Gov. Kevin Stitt signed into law Senate Bill 2, also known as the Save Women's Sports Act, which prohibits anyone of the male sex from playing on athletic teams designated for females, women, or girls. The legislation, by Sen. Micheal Bergstrom (R-Adair) and Rep. Toni Hasenbeck (R-Elgin), evolved after males, claiming to be females, began to be allowed to compete in women's sports. Recently, transgender athlete Lia Thomas dominated the NCAA women's swimming championships. Previously known as Will Thomas, the swimmer had the benefit of higher testosterone levels, enhanced lung capacity, and larger hands and feet, lending to increased strength and a distinct advantage against biological females in the competition. Some may say, what is wrong with letting them play? The answer is that true female students will lose out on educational opportunities and scholarships because they are not physically able to compete against men identifying as women.
Supporters of these two bills are labeled by some as bigots. But, it is not bigotry, it is common sense. And the overwhelming majority of people agree with the bills. What is remarkable, is that there are legislators who voted against common sense. Who are these people? Well, they were all Democrats. Perhaps this explains why the Democratic Party, which once dominated the Legislature, is down to only a handful of members. While they may claim that they are only representing their constituents, the reality is that most of their constituents agree with these bills.
It seems there is no end to the foolery. Oklahoma Education Secretary Ryan Walters recently drew attention when he sent a letter to the Stillwater Public Schools Board instructing them to put an end to their bathroom policy, which allows students to use whichever bathroom aligns with their gender identity. The Stillwater Public Schools Board says it has not received a single complaint about a transgender student acting inappropriately in a bathroom since the policy was put into place back in 2015. Many parents were not aware of the policy until now and were outraged upon learning about it and asked that the policy be reversed.
Instead of reversing the policy, on April 18, the school board asked the Oklahoma State Department of Education and the State Board of Education to provide guidance on whether they can continue to set their own restroom policy. State Superintendent of Public Instruction Joy Hofmeister, perhaps sensing the issue could complicate her campaign for governor, kicked the issue up to the office of Attorney General John O'Connor for a binding opinion on the matter.
Let's hope the Attorney General's Office has some common sense and will restore sanity.
Ron McWhirter is one of the founders of the Oklahoma Constitution newspaper and serves as the General Manager. He may be contacted at the newspaper email: okconsti@aol.com