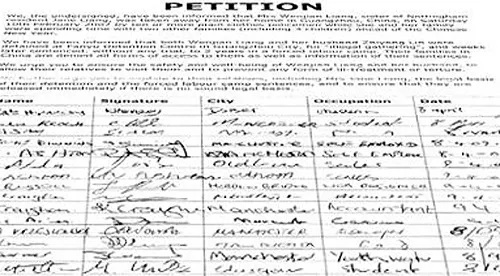 Pictured: Initiative Petitions
news
Marijuana State Questions Seek Ballot
In Oklahoma the number of valid signatures required on petitions to place measures on the ballot is based on the votes cast in the last General Election for the Office of Governor. A total of 1,186,385 votes were cast for the office of Governor in the 2018 General Election. Signature requirements for the various types of petitions are derived by applying the percentages to the votes cast. A Referendum to keep legislation from becoming law requires 59,320 valid signatures (5%). An Initiative for a non-constitutional change requires 94,911 (8%) valid signatures. An Initiative for a Constitutional Change requires 177,958 valid signatures (15%). Signatures must be submitted within 90 days after the initiative is cleared for circulation by the Oklahoma Secretary of State.
The Oklahoma Secretary of State verifies signatures and submits the totals to the Oklahoma Supreme Court, which makes the final determination of sufficiency. Following signature verification, the governor may place measures on the next General Election ballot, or place the measure on the Primary Election ballot, or call a Special Election.
With the approval of State Question 788 in the Primary Election on June 26, 2018, Oklahoma became the 30th state to allow marijuana to be legally used for medical purposes. There are now 36 states that allow some form of legal marijuana use. There were 892,758 votes cast, with 57 percent voting in support of the proposal. Most of the other states limit use to a specific list of qualifying medical conditions for which a doctor can prescribe medical marijuana. In contrast, Oklahoma's measure leaves it to the doctor's discretion. It also allows a higher amount of marijuana to be possessed by an individual than most other states. It is easier to get a medical marijuana license in Oklahoma than any other state.
In its first year, Oklahoma's medical marijuana industry went from nonexistent to one of the largest and most valuable cannabis markets in the nation. In 2021 Oklahoma dispensaries recorded medical marijuana sales of over $945 million. According to the latest figures (July 6, 2022) from the Oklahoma Medical Marijuana Authority, there are 2,286 licensed dispensaries. The 2020 U.S. Census set the statewide Oklahoma population at 3,959,353 people. With 383,037 patient medical marijuana cards issued, nearly one in 10 adults in Oklahoma hold one. SQ 788 established a 7% excise tax for retail medical marijuana sales. In 2021 the marijuana tax generated $66,173,758. An additional $83,265,745 in state and local sales taxes were also collected.
As has been the case in other states, legalizing medical marijuana was the first step toward legalizing recreational marijuana. As of June 2022, there are 19 states and Washington, D.C. that have legalized the possession and personal use of marijuana for recreational purposes. Two groups are working to bring competing recreational marijuana legalization measures to the ballot in Oklahoma.
State Question 820
Petitioners Michelle Diane Tilley Nichols and Michelle Anne Jones – Oklahomans for Sensible Marijuana Laws – filed two versions of initiative petitions for State Question 820 and State Question 821 to legalize adult-use of marijuana. They withdrew the initiative for SQ 821 on March 29. The initiative for SQ 820 was challenged in the Oklahoma Supreme Court, but the challenge was dismissed, and the initiative was cleared for signature gathering on May 3, 2022, and the signature submission deadline was set for August 1, 2022.
On July 5, 2022 the Oklahoma Secretary of State received 118 boxes of signed petition pamphlets which proponents said contained more than 164,000 signatures. Since the initiative is a statutory measure and does not call for a constitution change, 94,911 valid signatures are required. The Oklahoma Secretary of State is verifying the signatures and will submit the totals to the Oklahoma Supreme Court for the final determination of sufficiency. If it is determined to be sufficient, the Governor will decide on the election date. The ballot title review by the Attorney General's office determined it did not comply, and the AG's office will file a rewritten ballot title.
State Question 820 would operate alongside the medical marijuana program regulated by the Oklahoma Medical Marijuana Authority. The proposal would legalize adult-use for Oklahomans 21 and older. It would levy a 15% excise tax (medical marijuana would continue at 7%) on adult-use sales. The tax revenue would be split among Oklahoma's General Revenue Fund, local governments with adult-use dispensaries, school districts, the court system and drug treatment programs. It also includes a process for Oklahomans with past marijuana convictions to clear their records, if the convictions were for violations that would be legal under the measure. Since it is a statutory measure and not a constitutional amendment, its provisions can be changed by the Legislature with approval by the Governor,
State Questions 818 and 819
Petitioners Jed Green and Kristopher Masterman – Oklahomans for Responsible Cannabis Action (ORCA) – filed initiatives for two State Questions. State Question 818 would create the Oklahoma State Cannabis Commission to replace the Oklahoma Medical Marijuana Authority to regulate cannabis, hemp, marijuana and plant based medicine. They also filed State Question 819, which grants a constitutional right to use marijuana for persons 21 years of age and older. Like SQ 820, it would establish a 15% tax on retail marijuana sales, except for persons with a medical marijuana license. It adapts to potential future federal legalization of marijuana by including a 3% wholesale export tax. Surplus revenue beyond regulation would be used to pay for education, local and military veterans mental health programs, programs for families with disabled children, rural water infrastructure, law enforcement training, research, marijuana waste dean-up, and agricultural damage insurance.
Since both proposals seek to amend the state constitution, each will require 177,958 valid signatures to qualify for the ballot. While they were filed a few month earlier than the initiative for SQ 820, they experienced delays in the approval process. They finally gained approval and signature gathering was set to begin May 24, 2022 and all petition pamphlets are due no later than August 22, 2022. If they wait until the deadline to submit signatures, it may be too late to complete the process in time to reach the ballot this year.
If both SQ 819 and SQ 820 were to pass, either at the same time or at different times, the provisions of SQ 819 would override SQ 820 where there is a conflict in language, since SQ 819 would be a constitutional change.