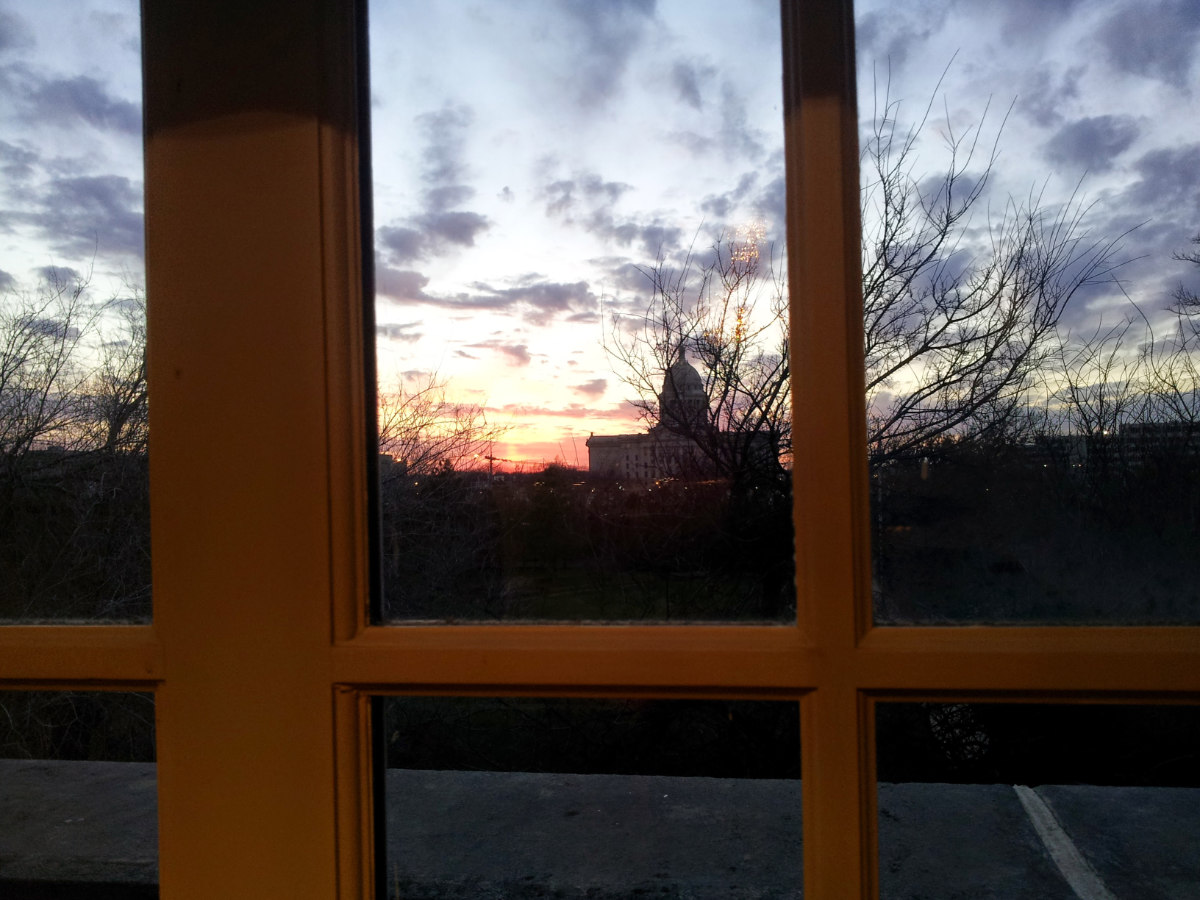 news
The Passing of Mike McCarville
Mike, a legendary Oklahoma journalist and political commentator, was born in Enid, OK on July 21, 1940, to Ignatius Dennis Millard McCarville and Lolita Elaine (Simmons) McCarville. The family moved to Oklahoma City in 1941; to Conway, Arkansas in 1942; to Cadillac, Michigan in 1952; to Del City, Oklahoma in 1955; and to Glasgow, Kentucky in 1958. From Glasgow, Mike joined the U.S. Army. He spent most of his three years with the Army Security Agency in Heilbronn, Germany and completed his service as a writer and broadcaster in the Public Information office at Fort Belvoir, Virginia.
Upon separation from the Army, Mike returned to Del City and rekindled his long-distance romance with his high school sweetheart, Phyllis Ann Ball. They married on February 22, 1962 – a union that lasted 55 years, until Mike's passing.
Mike's varied career included newspaper, television, and radio reporting, publishing, political campaigning, men's clothing store and restaurant ownership, executive positions, personality broadcasting, internet television and satellite radio political commentary and analysis for the National Rifle Association, and the operation of his political website. He was press secretary to Oklahoma Governor Dewey F. Bartlett from 1968 to 1971. His broadcast career included Assistant News Director for KWTV Channel 9 in Oklahoma City in the early 1970s. Radio, well, radio was Mike's forte. For 15 years, Mike was a fixture at radio station KTOK AM 1000 in Oklahoma City.
And, of course, there is his beloved The McCarville Report which continues to cover Oklahoma politics in his name. Originating as a self-published newsletter, The McCarville Report Online has been an institution in Oklahoma politics for over a decade; due to Mike's foresight, it continues after his death. Mike also authored, co-authored, and contributed to a dozen books.
Throughout his lifetime, Mike was awarded many honors. In 1999, he was named OKC Broadcaster of the Year. In 2013, he was inducted into the Oklahoma Journalism Hall of Fame; and in 2015, Mike was the recipient of the Ronald Reagan Lifetime Achievement Award from the Oklahoma Republican Party.
Two decades ago, the staff of the Oklahoma Constitution collaborated with McCarville on a series of articles concerning the death of Oklahoma businessman Ron Miller. McCarville, then the host of Oklahoma City KTOK radio's Open Mic Live talk show, noted the suspicious death of his friend. On October 3, 1997, Miller, 58, was admitted to the hospital with an unknown illness. He died nine days later. The case was immediately turned over to the State Medical Examiner (ME) because the hospital could not explain the cause of death. The initial paperwork submitted to the ME listed the death as "Under suspicious circumstances."
Miller was to testify before a congressional committee scheduled to begin its formal proceedings on October 8. Miller was prepared to implicate President Clinton's Chief of Staff Thomas F. McLarty III in an Oklahoma-related scandal.
Prior to his illness, Miller was subjected to numerous threats over the phone, in person, and in other bizarre ways. He was specifically told to "back off." On September 12, interviews with Miller and Oklahoma Corporation Commissioner Bob Anthony were broadcast on a segment of the PBS Frontline television series entitled "Follow the Money."
In 1990, Commissioner Anthony made headlines with his announcement that he was working with the FBI. Lobbyist William Anderson and Commissioner Robert Hopkins would eventually be convicted in the bribery scandal. But, there were allegations made against the executives of several utilities regulated by the Commission. Anthony revealed that he received covert payments from ARKLA senior executives at the same time that ARKLA had multi-million dollar rate cases before the Commission. McLarty was Chairman of ARKLA (Arkansas Louisiana Gas Company) which had gas interests in Oklahoma and used Anderson to represent it in matters before the Commission. A friend of Bill Clinton since kindergarten, McLarty was Treasurer of the 1992 Clinton Presidential campaign, and served as the President's Chief of Staff in the White House until June 1994, when he became Clinton's Counselor on political and legislative matters.
In the week prior to Commissioner Anthony's 1990 revelation, Miller, a principal owner of GAGE Corporation, was visited by the FBI. After Anthony's announcement, Miller knew why GAGE came out empty handed in past Commission proceedings. Miller vowed to "vigorously pursue those who directed the conduct of Mr. Anderson." Miller eventually sold his GAGE Corporation to Dynamic Energy Resources which promptly dropped its actions related to rulings at the Commission. Miller would later learn that Dynamic Energy Resources was created by Clinton fund raisers, apparently to acquire his interests and stop his efforts. Miller then aided news reporters and government authorities and the congressional Government Reform and Oversight Committee investigating illegal Clinton fund-raising. Miller made 165 tape-recordings of his conversations and turned that information over to the FBI in 1997, and was interviewed by the congressional committee staff.
McCarville met regularly with Miller while investigating the dealings of Dynamic Energy Resources. McCarville told the Oklahoma Constitution, "I first met Ron in 1992. He was a subscriber to The McCarville/Hill Report and had read our coverage of the GAGE/ONG court battles and the Corporation Commission." McCarville says Miller was constantly concerned that he was being followed, and took precautions against being poisoned while dining out.
On January 20, 1993, Miller reported that he was followed before and after a meeting with McCarville. Miller left the parking lot at Fifty Penn Place in Oklahoma City at about 4:30 in the afternoon, following a meeting with FBI agent John Hippard. They met in the restaurant at the Desert Oaks Country Club in Midwest City. "Due to the weather," Miller told the Norman Police Department, "we were the only people eating at the restaurant that evening." McCarville confirmed Miller's account to the Oklahoma Constitution. "Ron drove his Vette and told me he had been followed." McCarville said that Miller had noticed the tail after after he had left Norman to come to Oklahoma City. McCarville drove away first, and then observed that Miller was being followed. The car followed him up to within two blocks of his home.
In January of 1998, three months after Miller's death, the Oklahoma Constitution contacted the ME's office. We were told at the time that they were close to issuing a report. Typically, their investigations are completed within six weeks. We again contacted the office later in the month (just before going to press with our WINTER 1998 issue), we were told that they were waiting on the toxicology report and final consultation. The spokesman for the ME, Ray Blakeney, offered that there was no reason to believe that the death was not from "natural causes." They promised to issue their report in a few weeks. However, their official findings were not released until March of 1998.
The ME's report received only sketchy coverage in the general media, with little indication that there was anything amiss. However, as we reported in our SPRING 1998 issue, examination of the report should cause any objective observer to wonder. While the "Manner of Death" was checkmarked as "Natural," the cause of death was listed as "ADULT RESPIRATORY DISTRESS SYNDROME DUE TO UNDETERMINED ETIOLOGY."
The ME's office told the Oklahoma Constitution that Adult Respiratory Distress Syndrome (ARDS) is a rare, super-fast pneumonia. They indicated that this is the same condition that caused the death of Muppet creator Jim Henson a few years before. While exhaustive toxicologic studies failed to find a "known poison/toxin," poisoning could not be ruled out.
In our FALL 1999 issue, we again raised questions concerning the ME's findings. Weeks before, McCarville made an on-the-air plea for the ME to review the case. On December 15, 1999, the ME relented and changed the "Manner of Death" from "Natural" to "Could not be determined."
Independent medical experts contacted separately by the Oklahoma Constitution and McCarville respectively, suggested airborne Anthrax as the infectious agent in the Miller case. In January 2000, ME spokesman Ray Blakeney told the Oklahoma Constitution that Anthrax was "considered and not a possibility." Miller's body was cremated following the autopsy. Miller's death still remains a mystery.
A compilation of our articles is found in the Special Reports section of our website: www.oklahomaconstitution.com