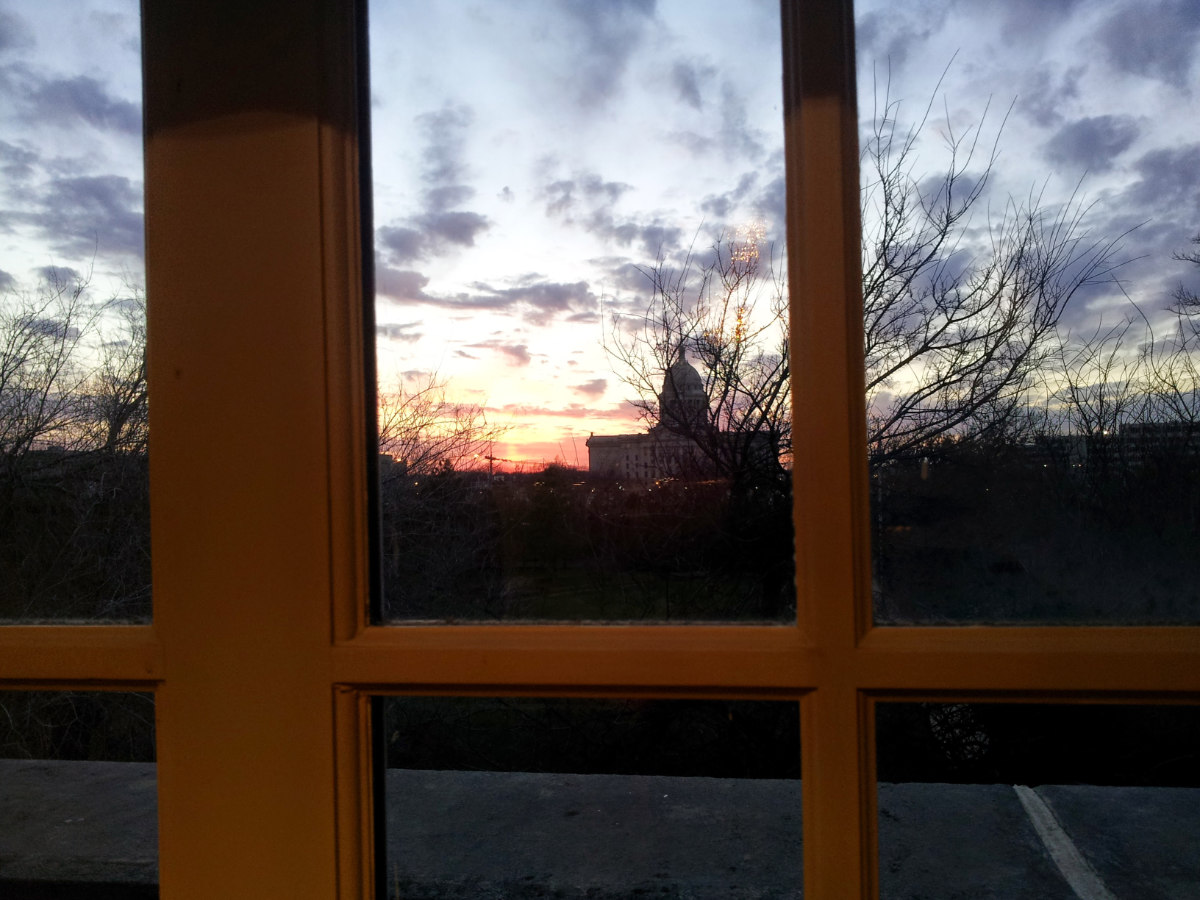 tidbits
Spring 2017
$6 Billion for FY2018 Appropriations
The appropriated budget hole for fiscal year 2018 which begins on July 1, 2017, will be $878 million. As he presented the figures to the Board of Equalization on February 21, Secretary of Finance, Administration and Information Technology Preston L. Doerflinger also announced a revenue failure for the current fiscal year. "The numbers are bad this year and next," he said. The Board of Equalization approved $6,029,537,421 in revenues for FY 2018 appropriations, which is $701.5 million, or 10.4 percent, less than was appropriated for FY 17. The true budget hole is larger than what the board certified. Nearly $144.5 million in FY 2017 Rainy Day Fund appropriations and about $32 million in FY 2017 revolving fund authorizations are not factored into the FY 2016 baseline amount used by the board. With those factors considered, there will be $878.2 million, or 12.7 percent, less to appropriate for FY 2018.
Revenue Failure Declared
When the Board of Equalization met on February 21, they formally acknowledged a general revenue failure for FY 2017. As a result, state agencies receiving monthly general revenue allocations will see those allocations reduced by 0.7 percent beginning in March. The latest projections show the FY 2017 General Revenue Fund will fall $296.4 million, or 5.7 percent, below the official estimate made last June. By law, if GRF collections are projected to fall more than 5 percent below the estimate for the remainder of the fiscal year, the Office of Management and Enterprise Services director must declare a revenue failure and initiate mandatory appropriation reductions to end the shortfall and maintain a balanced budget. Doerflinger, who is the director of OMES, issued the declaration. Agency directors were directly notified of the 0.7 percent reduction amount after the Board of Equalization meeting. "If current trends continue, we will likely have to issue deeper cuts later in the year with fewer months to absorb it," Doerflinger said, adding that the Legislature should act soon to increase recurring revenue along the line of the governor's proposal.
S&P Lowers Oklahoma's Ratings
Standard & Poor's Global Ratings has lowered Oklahoma's various debt ratings one notch due to sustained weak revenue collections. "This report highlights several things that we've been saying for some time now," said Secretary of Finance, Administration and Information Technology Preston Doerflinger. "We need to fix the structural budget deficit and our revenue problem." S&P lowered general obligation bonds and appropriation debt backed by the state's credit enhancement reserve fund one notch from AA+ to AA and the state's appropriation debt from AA to AA-. S&P also assigned its AA- rating to the Capitol Restoration Project bonds. "The downgrade reflects our view that persistently weak revenue collections – leading to a declared revenues failure for the remainder of the fiscal year (2017) — have further compounded the state's challenge to achieve structural balance in fiscal 2018," the report noted. S&P further explained that future ratings could drop or rise depending on what actions are taken to improve Oklahoma's structural budget deficit: "In the absence of meaningful structural reforms that align revenues and expenditures and that do not materially depend on one-time budget solutions or measures that carry significant implementation risk, we could lower the ratings," the report states. "A recovery in economic indicators, improvements in state revenue performance that we view as sustainable, and growth in reserves could lead us to raise the ratings."
Man Donates $50,000 for State Science Fair
When James Young from Ardmore read that the State Science Fair was being cut from the Oklahoma State Department of Education's budget this year, he decided to do something about it. The constituent of state Rep. Pat Ownbey (R-Ardmore) called his representative to find out where he could send a check to save the event, which is held annually at East Central University in Ada. "I thought this was just not right," said Young. "I happened to have enough money to help. I may not be able to fix everything, but I can fix one thing." Young said his check for $50,000 is already in the mail, earmarked for the State Science Fair. "He saw a problem and instead of complaining, he decided he personally could do something to help. I am humbled by his kindness," said Ownbey.
Ownbey worked with the Oklahoma State Department of Education to find out where Young's contribution could be sent and to ensure it would be used to hold the state's science fair. The department said that funding for the science fair was eliminated last year as part of $38.2 million in cuts to the Public School Activities Fund. State Superintendent of Public Instruction Joy Hofmeister praised Young for his generous contribution. "We celebrate and are incredibly grateful for the support our schoolchildren receive from within the community, and Mr. Young is a tremendous example of what a difference it makes when parents and neighbors selflessly volunteer time and resources to support public education," said Hofmeister.
Young said he earned a science degree from Southeastern Oklahoma State University and taught for a number of years before going back to school to earn his DDS. He practiced dentistry in Ardmore before retiring."Science fairs are just as important as athletics, music or art or anything else we do in school," Young said. "There are a lot of kids involved in science fairs who don't' get to participate in those other activities." Young said he worked with students in science fairs in the past and knows what this participation can mean for them. His oldest daughter participated in the International Science Fair in the 1980s, and he witnessed what that event meant to her. That led to his gift, he said.
2017 State Party Conventions
Oklahoma Republicans and the Democrats will hold their state conventions in May. The Oklahoma Republican State Convention will take place at the First Moore Baptist Church in Moore, OK on May 5 & 6, 2017. It is the same location that the GOP held last year's gathering. Friday events include training sessions and the Convention Gala Diner. Trump as administrator of the federal Environmental Protection Agency (EPA). The convention itself will be on Saturday and will include the election of party officers. The Oklahoma Democratic State Convention will be on May 19 & 20th, at the Tower Hotel in Oklahoma City. The first day will focus on community outreach, training events, networking, and the 21st Annual Carl Albert Dinner with DNC Deputy Chair Keith Ellison as featured speaker. The second day they will hold State Party Officer and Affirmative Action Officer Elections.
Republican State Chairman Race
The current state GOP chairman is Pam Pollard. A resident of Midwest City, Pollard was elected to lead the party in October 2015 after Randy Brogdon who was elected earlier in the year resigned. She is a former Oklahoma County GOP chairman and was President of the Oklahoma Federation of Republican Women and also served a short time a Treasurer of the National Federation of Republican Women, resigning that position when she became Chairman of the State Party. She is being challenged by attorney and business owner Robert Aery. In his announcement, Aery said: "Voters across Oklahoma have given members of our party vast legislative majorities and every statewide elected office. It is now critically important to not only build a strong state party operation that will be necessary to defend our gains in 2018, but to also begin the essential work of creating a long-term party infrastructure that will ensure conservative victories for future generations of Oklahoma Republicans." Under former Chairman Matt Pinnell, Aery managed the Tulsa field office and organized campaign operations for northeast Oklahoma.
Democrat State Chair Race
At their state convention, Democrats will elect a state chair to run the party for the next two years. Mark Hammons, 66, who practices law in Oklahoma City, is the current state chair and is seeking re-election. He has two challengers. Attorney Mark Henricksen, 62, has been endorsed by Our Revolution and progressive candidates such past Fifth District Congress candidate Tom Guild. The organization is self described as a movement that "will fight to transform America and advance the progressive agenda that we believe in." Anna Langthorn, 24, is the other challenger. Langthorn, worked as an intern for the party and served as the president of the Young Democrats of Oklahoma for two years. She was campaign manager for the election of Kay Floyd, the first openly gay woman to be elected to the Oklahoma Legislature.
Cross-Dressers at Capitol
Karen Kipgen, a 30-year employee of the Oklahoma House of Representatives, who supervises the teen pages who assist legislators, became the center of controversy over an email. The April 10 message said, "As per the Speaker's office, Pages are being allowed to access the ladies restroom across from 401, for today. Again, there are cross-dressers in the building." On that day a group of about 70 Lesbian Gay Bisexual Transgender (LGBT) high school students from the Tulsa area were at the Capitol to lobby on behalf of HIV awareness and education funding. There had been previous experience with transgender kids using the restrooms they were "comfortable with," rather than the ones that matched the anatomy with which they were born. Kipgen apparently secured permission for the pages to use the private staff and member restrooms rather than the public restrooms which might be entered by the transgender students. Toby Jenkins, executive director of Oklahomans for Equality who was there with the group, sent out a statement "I'm with about 70 traumatized students right now." They were apparently offended upon hearing about the email..
Oklahoma House Speaker Charles McCall (R-Atoka) promptly issued a statement disavowing the email. "I was unaware that such an email was being sent, and the remarks contained in the email are not condoned by me or the Office of the Speaker." The statement further stated, "As Speaker, all Oklahomans should feel welcome in the Oklahoma Capitol building. We are looking into this matter, and it will be taken seriously." Four days later, Kipgen released an apology through the House communications office. "I sincerely apologize for the hurt my statements caused," said Kipgen. "I used a poor choice of words. I have learned from this incident to be more sensitive and to become more educated on this issue. I would ask for grace in this process and for forgiveness." It was also reported that she received counseling from the House human resources office.
Watts Sues Feed the Children
J.C. Watts is suing Feed the Children and the six directors that were on the board last year. Watts was president and CEO of the Oklahoma City-based charity last year and alleges in the lawsuit that he was fired in retaliation for reporting problems and irregularities at the charity . Watts claims the board of directors terminated him, just 10 months into his three-year contract, at a special meeting on November 4, just one day after he told a member of the board he had reported his allegations to the Oklahoma attorney general's office. Watts says he went to the AG's public protection unit on October 18, after failed attempts to discuss the problems and irregularities with the board. The lawsuit was filed April 10 in Oklahoma County District Court. Watts is seeking to be compensated for financial damages and emotional distress. His salary as CEO was $300,000 per year.
This is the latest challenge faced by the Oklahoma City-based charity. Watts, 58, was the best known leader of Feed the Children since its founder, evangelist Larry Jones, was forced out of the organization 2009. Watts, a Republican, was elected to the Oklahoma Corporation Commission and later to Congress in the fourth district. He was a football quarterback at University of Oklahoma, and then played professionally in Canada. While working for Feed the Children, Watts continued in his position as chairman of Watts Partners, a government affairs firm based in Washington, D.C. which he founded after leaving Congress.
Pruitt Confirmed as EPA Administrator
On February 17, Oklahoma Attorney General Scott Pruitt was confirmed by the U.S. Senate as administrator of the Environmental Protection Agency (EPA). Pruitt was named by President Trump to head the cabinet level agency. The Senate voted 52-46 for confirmation. While Oklahoma Attorney General, Pruitt filed 14 lawsuits challenging EPA regulations in an effort to rein in agency's overreach during the Obama administration. He was also part of a multi-state lawsuit opposing the Obama administration's war on coal-fired power plants which would have increased the cost of electricity. Pruitt also sued over the EPA's recent expansion of water bodies regulated under the Clean Water Act which turned puddles on private property into federally protected wetlands. Pruitt was term-limited and could not run for reelection as Attorney General, but was considering running for Governor in 2018.
Hunter New Attorney General
On February 20, Governor Mary Fallin appointed Secretary of State Mike Hunter to the post of state Attorney General. Hunter succeeds Scott Pruitt, who resigned after being confirmed by the U.S. Senate to become administrator of the Environmental Protection Agency (EPA). Hunter served as first assistant attorney general under Pruitt until Fallin last year named him Secretary of State and special legal counsel. Hunter served as first assistant attorney general for Pruitt from June 2015 until October, serving as chief legal adviser and overseeing a staff of over 200 lawyers, law enforcement agents and support staff. From 2010 to 2015, Hunter was the chief operating officer of the American Bankers Association (ABA). Prior to joining the ABA, Hunter was secretary of the Commissioners of the Land Office, a $4 billion public land and investment trust in Oklahoma. From 2002 through 2009, Hunter was executive vice president and chief operating officer of the American Council of Life Insurers. He also served as Oklahoma's Secretary of State under then-Gov. Frank Keating. Hunter was chief of staff to then-U.S. Rep. J. C. Watts Jr., of Oklahoma, from 1995 to 1999. While in private practice as an energy and real estate lawyer, Hunter served as a member of the Oklahoma House of Representatives for six years. He received his law degree from OU and his undergraduate degree from Oklahoma State University.
Secretary of State Lopez
Governor Mary Fallin announced March 20, that former Oklahoma Commerce Secretary Dave Lopez is re-joining her Cabinet to fill the vacant position of Secretary of State. His appointment must still be confirmed by the Oklahoma Senate. Lopez succeeds Mike Hunter, whom the governor appointed as Attorney General. As Secretary of State, Lopez will serve as a senior adviser to the governor on policy, economic and legislative issues. He served as the governor's Secretary of Commerce from 2011 until 2013. From 2013 to 2014, he served as interim superintendent of Oklahoma City Public Schools while the school board launched and concluded a national search for a permanent superintendent. Lopez previously served as president of Oklahoma City-based American Fidelity Foundation, a charitable foundation that gives grants for economic development, education, human services and the arts. Before joining American Fidelity Foundation, Lopez served as president of Downtown Oklahoma City, Inc. Prior to that, he had a 22-year career with SBC Communications (now AT&T), including serving as president of SBC Oklahoma and as president of SBC Texas.
Williamson General Counsel
On March 16, Governor Mary Fallin announced that former state Sen. James Williamson will serve as her general counsel. Williamson, of Tulsa, has been in private practice since 1975 and is a former legislator, having served 18 years in Oklahoma's Legislature. He represented Tulsa in both the Oklahoma House of Representatives and the state Senate. From 1980 through 1986, he represented the southeast part of Tulsa and Broken Arrow in the state House. He was elected in 1996 to the Senate, where he represented the south central part of Tulsa and Jenks until 2008. He served as assistant Republican floor leader from 1998 to 2002 and as floor leader from 2003 to 2004. From 2010 to 2012, Williamson served as senior policy analyst and chief legal counsel to then-Senate President Pro Tempores Glenn Coffee and Brian Bingman. Williamson earned his bachelor's and law degrees from the University of Tulsa.
Earlier in the month, the previous general counsel Jennifer Chance announced she was leaving the position she had held for five months to pursue other opportunities.
Wyrick Appointed to Oklahoma Supreme Court
Last year, Oklahoma Supreme Court Justice Steven Taylor notified Gov. Mary Fallin that he would retire on December 31. Taylor spent nearly 33 years as an Oklahoma judge. He was appointed to the state high court by then-Gov. Brad Henry and served as chief justice of the state Supreme Court from 2011-2013. The Judicial Nominating Commission submitted three nominees to the governor to fill the vacancy. Oklahoma's solicitor general who litigated many of Attorney General Scott Pruitt's legal attacks against the federal government was selected by Gov. Fallin on February 9. A native of Atoka, Patrick Wyrick, 35, of Oklahoma City served as Pruitt's top litigator since joining the office in 2011. The appointment is Fallin's first on the nine-member court.
Wyrick, a fourth-generation Atoka native, has deep ties in the Second Judicial District, and has remained involved in the family business, Wyrick Lumber Co., which has locations in Atoka and Hugo. The appointment was challenged because Wyrick's principal residence is not in the Second Judical District. But, the Oklahoma Supreme Court ruled that it is up to the Judicial Nominating Commission to screen applicants. Wyrick earned his bachelor's degree in sociology/criminology from the University of Oklahoma and his juris doctorate from OU's college of law. Before joining the attorney general's office, Wyrick worked as an associate attorney at the law firm of GableGotwals and as a law clerk to Judge James Payne in the U.S. District Court of Eastern Oklahoma. Supreme Court justices serve on the court as long as they are able and must appear on the ballot and be retained by voters every six years.
Marijuana Ballot Title Restored
On March 27, The Oklahoma Supreme Court rejected the rewrite of the ballot title by the state Attorney General's office of the proposed State Question on medical marijuana. Oklahomans For Health, which led a successful petition drive to put the state question on the ballot, objected to the rewrite saying it was misleading and could confuse people into thinking they were voting to fully legalize marijuana. Last September, the group, with the help of the American Civil Liberties Union, sued to overturn Attorney General Scott Pruitt's rewrite. Under the 7-1 ruling, the original ballot language was restored and will appear on the ballot. The court gave no reasons for its decision in its one-page order. Supporters of medical marijuana gathered enough signatures from registered voters last year to have the proposal appear on the ballot, but due to the debate over the ballot title, it did not make it to the ballot last year. State Question 788 will likely appear on the November 2018 General Election ballot, but a special election also could be held. Gov. Mary Fallin will have to set an election date.
The proposal calls for the state Health Department to regulate the dispensing of marijuana to people with a doctor-signed license to obtain it. A 7 percent tax would be applied to retail sales, with the money going first to finance regulatory expenses. Then, 75 percent of excess funds would go to common education and 25 percent to drug and alcohol rehabilitation. There are currently 23 states that have medical marijuana programs. Mike Hunter, who succeeded Pruitt as Oklahoma Attorney General, said he disagreed with the Supreme Court's decision. "The ballot title was reviewed by the Oklahoma Supreme Court and the Court opted to substitute the original ballot title language. We disagree with that result, but respect the decision of the state's highest court," said Hunter.
Briefs in Southwestern Bell (AT&T) Case
A brief was recently filed in response to briefs from AT&T, the Attorney General and the Oklahoma Corporation Commission (OCC), all of which claimed – though citing different reasons – that the OCC is powerless to overturn a bribed 1989 order that allowed AT&T (then Southwestern Bell) to keep millions in excess revenues rather than refund the money to Oklahoma ratepayers. Appeals of Commission orders to the Oklahoma Supreme Court are given priority on the docket, so the court could rule on the bribery refund applicants' appeal at any time. Last September, the Oklahoma Corporation Commission rejected efforts by a group of citizens to reopen a 1989 case which had been decided by a bribed vote. The group said that $16 billion should be paid to customers who had Southwestern Bell (now AT&T) telephone numbers dating back to the late 1980s. But, the commission voted 2-1 to dismiss the request to reopen the case. Commissioner Bob Anthony was the only vote against the dismissal. Commissioners Murphy and Hiett voted to dismiss the case.
The application involved a OCC decision back in 1989 after federal income tax rates were lowered for corporations. The decision let Southwestern Bell reinvest the tax savings in the network in Oklahoma rather than give it back to customers by reducing rates. But, in 1995, Commissioner Bob Hopkins was found guilty of accepting a bribe of $15,000 from the attorney for the phone company, William Anderson, in exchange for his deciding vote to let Southwestern Bell reinvest the money. In 1990, Commissioner Anthony made headlines with his public announcement that he had been assisting the FBI in uncovering corruption at the Commission. While only Anderson and Commissioner Hopkins were convicted, there were allegations made against the executives of several utilities regulated by the Commission.
Lamb Resigns From Cabinet
In February, Lt. Governor Todd Lamb announced his resignation from Governor Fallin's cabinet, where he has served as the state's Small Business Advocate, one of many positions that the Lt. Governor serves. The resignation does not affect Lamb's role as Lt. Governor. "In Oklahoma, the Governor and Lt. Governor are separately elected positions. While both are Republicans, at this time Lieutenant Governor Lamb believes it is best for him to vacate the cabinet position," explained Lamb's Chief of Staff, Keith Beall. "His decision to resign was made after yesterday's cabinet meeting in which Governor Fallin maintained her support for taxing 164 services affecting every Oklahoma small business and family," said Beall.
Lt. Governor Lamb made the following statement: "Governor Fallin deserves to have someone in her cabinet who can be a strong advocate for her agenda, and that is something I am unwilling to do. While I respect the determination with which Governor Fallin met her obligation to present a balanced budget to the legislature, I cannot support her proposed tax increases. This proposal will adversely harm Oklahoma's small businesses and families, especially those in our service industry. While Governor Fallin and I have disagreed on issues from time-to-time, our differences on this important topic are so significant they preclude me from continuing to serve on her cabinet."
On February 16, Gov. Mary Fallin issued the following statement after Lt. Gov. Todd Lamb's announcement: "I was disappointed and surprised to learn from a press release that Lt. Gov. Lamb had decided to quit serving as a member of my Cabinet. I have always valued Todd's independent voice. I valued it when we first came into office when we dealt with a similar financial crisis and I value his independent voice today. I've never been afraid to have dissenting voices at the table. I think the people of Oklahoma benefit from that. There will always be a seat at the table for his independent voice."
Controversial OU Painting
On April 24, the University of Oklahoma released a statement that claimed that the painting "La Bergere reentrant des mountons" had returned to France. Several years ago, it was discovered that this painting was stolen by Nazis during World War II. The rightful owner to the painting, Leone Meyer, eventually had to sue the university to get the painting back. In 2015, Meyer reluctantly agreed to a deal that would see the painting move back and forth between France and the university on the condition that OU President David Boren and the university agree that she is the rightful owner.
State Rep. Mike Ritze (R-Broken Arrow) responded to the news, "It is absurd that the University of Oklahoma would act as if they have done a noble thing by returning a piece of stolen art to France. From the moment that the University of Oklahoma discovered the painting was stolen, university administration, led by President David Boren, has fought tooth and nail to prevent this painting from returning to its rightful owner. In order to accommodate a wealthy donor, President Boren went as far as spending hundreds of thousands of dollars to keep the art away from its rightful owner – a family that was nearly destroyed during one of the darkest periods of humanity." Former Rep. Mike Reynolds (R-Oklahoma City) echoed Ritze's statement, "I applaud the legislature for pushing President Boren into the decision to return the art, and we hope that this experience will make it easier for President Boren to release the other stolen pieces of art that are still in the university's possession."
Illegal Border Crossings Decline
In April, U.S. Sen Jim Inhofe made a tour of the U.S.-Mexico border in Texas. He was accompanied by an official from U.S. Customs and Border Patrol. Following the visit, Sen. Inhofe commented on his observations. "Because of Trump's strong rhetoric for enforcing our laws, illegal border crossings have seen a decline of over 60 percent since the beginning of his administration," Inhofe said. "America has long been a welcoming home to those who wish to enter our country legally, and by securing our borders we succeed in protecting the freedom and liberty of American citizens including those who immigrate legally into the U.S.. President Trump, Attorney General Sessions, and Secretary Kelly have been working hard to enforce the laws of the land and to sharpen the focus on deporting illegal aliens who commit crimes in our communities and pose a risk to law enforcement officials. I applaud the ongoing efforts by the administration and look forward to advancing legislation that further supports the administration's already strong stance on this critical issue."