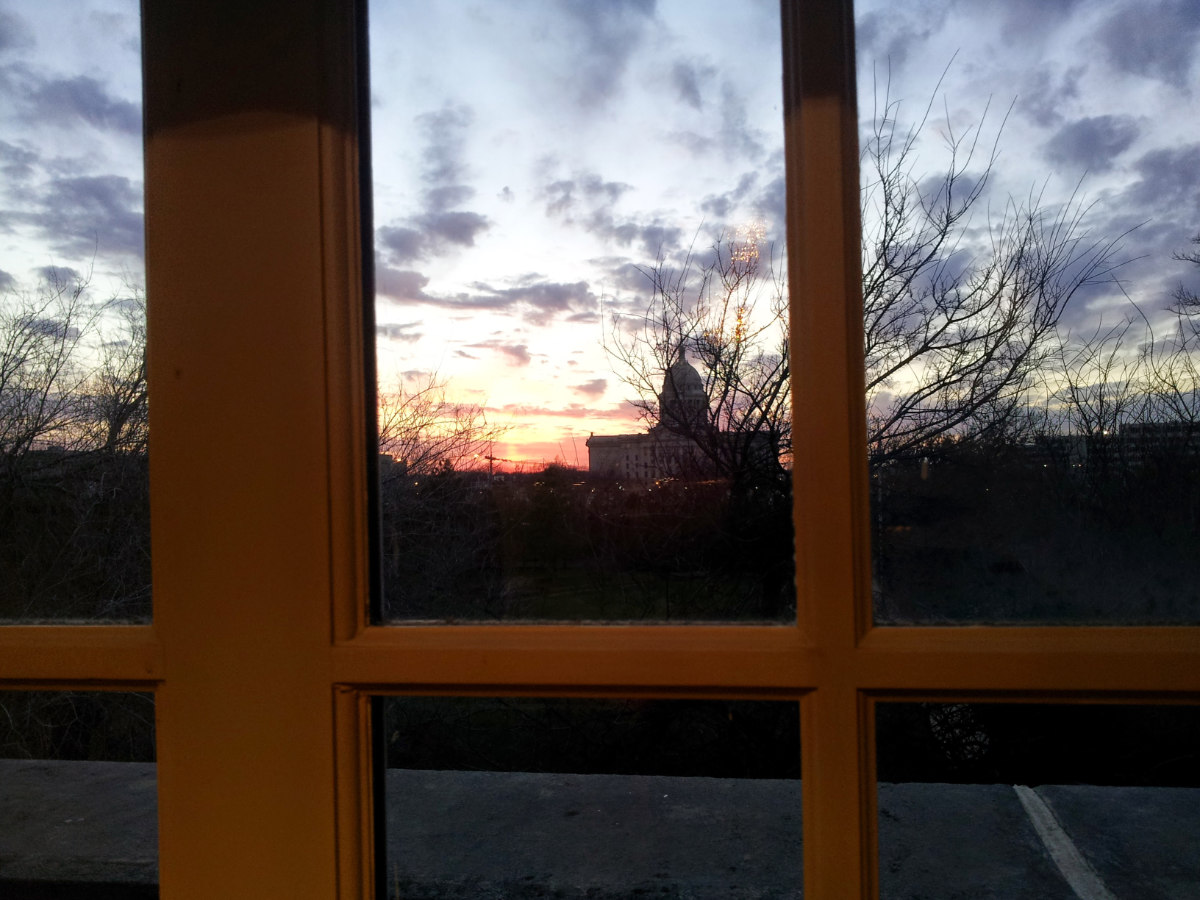 column
The Federal Page for Spring 2018
Congratulations to Congressman Jim Bridenstine, who was finally confirmed to lead the National Aeronautics and Space Administration (NASA) on April 19, by just one vote. His confirmation vote was along party lines because of his opposition to the hoax of global warming. He will undoubtedly make a fine administrator. (I'm unsure where NASA fits into our Constitution). [Editor's Note: The "space program" probably should be under the Department of Defense.]
Congress Passed a Budget, and President Trump Signed It – Yuk!
In what had to be one of those moments when conservatives have to ask themselves, "Why do I vote for Republicans?," President Trump signed a pork-laden budget bill rather than veto it, which would have forced Congress to come back later with something more reasonable. President Trump said he signed it to get the military the funding they needed. He claimed he'd never sign a budget like it again. We shall see.
The pork-laden budget bill, H.R. 1625, the Consolidated Budget Act for 2018, by Congressman Ed Royce of California, was presented to the House on Tuesday, March 21, and voted on Wednesday. House members had only one day to read the 2,232 page bill. It passed the House by a vote of 256 to 167. Congressmen Cole and Lucas voted yes, and Mullin and Russell voted no. Congressman Bridenstine, nominated to head NASA, declined to vote because it is an appropriations bill, and he was slated for that federal position.
Senator Inhofe told The Oklahoman the budget bill was "nauseating," but he voted for it shortly after midnight on March 23 anyway. Senator Lankford voted no. It passed the Senate by a vote of 65 to 32 and went to the White House for President Trump's signature even though he tweeted that he might veto it.
Here's what this boondoggle contains: $500 million to subsidize Planned Parenthood (PP). It was PP that helped subsidize the anti-Second Amendment rally in Washington in March. Republican leaders not only continue to subsidize the biggest killer of the unborn, but helped this evil group fund a rally against our gun rights! Obama-era programs were not cut, but expanded! Cities and states, in violation of federal immigration law, i.e. sanctuary cities and states, will see no funding cuts! No funding was provided for the border wall. Those are a few of the details in this omnibus (Latin for everything) spending bill that Republican leaders crafted in hopes of getting Democrat support. All of this comes to a total of $1.3 trillion. The national debt as of Monday, April 23, 2018, at 2:33 pm CDT was: $21,151,915,256 and climbing fast! Each taxpayer's share of the debt is now $174,190 and will be more as time goes by. This is criminal. On April 11, House Speaker Paul Ryan of Wisconsin announced he will be retiring from Congress. Good riddance! I speculate he'll run for president, perhaps against President Trump in 2020. Republican congressional leaders are a lot like our state legislative leaders, beholden to the status quo, what President Reagan called "the mess we're in" also known as "the swamp."
Congressional Ratings
It has been a few years since I posted the ratings of members of the Oklahoma federal delegation according to The Club for Growth. The Club's rating system is similar to this paper's in that it also ranks members according to votes cast for or against the free market and limited government.
The 2017 ratings are as follows: First District Congressman Jim Bridenstine had the highest favorable ranking at 28 out of the 435 members of the House of Representatives with a 94% for 2017 and a career average of 95%. Second District's Markwayne Mullin followed at 59 out of 435 members at 87%, career average 76%. Third District's Frank Lucas had the least conservative ranking of 188 out of 435 members, garnering a 55% rating for 2017 and career average of 64%. Fourth District's Congressman Tom Cole was in the running to be the least conservative member, falling just short of Lucas by coming in at 184 out of 435 and garnering a score of 56% for 2017 and a career average of 65%. Steve Russell of the Fifth District was 105 out of 435, garnering 80% for 2017 and having a career average of 71%.
Senator Jim Inhofe had a score of 88% for 2017 and a career score of 90%. He ranked 13 out of the 100 senators. James Lankford had a score of 100% for 2017 with a career score of 87%. He was given the ranking of 1 out of the 100 senators. Pennsylvania's Pat Toomey and retiring Arizona Senator Jeff Flake also share that distinction of being 1 out of 100. In other words, The Club for Growth has three senators who share the number one position. To see the ratings, visit The Club for Growth Web site: www.clubforgrowth.org/scorecards
Reverend Billy Graham
I write as a convinced Catholic that I believe there are many souls in Heaven enjoying the beatific vision, i.e. seeing God, because they attended a Billy Graham Crusade and chose to amend their lives. Reverend Billy Graham died February 21 at the age of 99. He spoke to more people about the Gospel of Jesus Christ than any evangelist. He brought his Crusade to Oklahoma in the course of his career. In 1995 he went to Oklahoma City after the bombing of the Murrah Federal Building. His message did not change. He preached the promise of eternal life and the consequences of unforgiven serious sin – hell.
A puzzling aspect of his legacy was the almost universal respect the secular media had for him. Most media are, at best, indifferent to and, at worst, hostile to Christianity.
At the conclusion of his preaching, he invited people to come forward and meet with local pastors about attending church as the chorus sang the lovely hymn "Just As I Am."
He was a servant of God and an example of American Exceptionalism.
Barbara Bush
Former White House Chief Usher Gary Walters said to C-Span's Brian Lamb that he once told Barbara Bush, "If there's an Uncle Sam, there's an Aunt Barbara." He went on to tell Brian Lamb that during the time he worked in the White House there was never a nicer couple to live there than the Bushes.
The Official Preppy Handbook is an amusing guide to living like the American ruling class. Preppies (alumni and alumnae of preparatory schools) are the people whose descendants arrived on the Mayflower, own their own companies, attended Ivy League schools, like to golf and sail, shop at L.L. Bean and Brooks Brothers, and had an ancestor with the title Commodore. George H.W. Bush is listed in the Pantheon of Preppies (p. 196). There are several illustrations as to what an older preppy woman should look like, and they all look like Barbara Bush.
Contrary to perceptions, some of those people are very down to earth: they just have a lot of money and good taste. Barbara Bush appeared to be one of those people. As a conservative, I have always separated the personal from the political when it came to the Bushes. They are Establishment, but personally pleasant. She was a fine first lady and will be missed by many, myself included.
"We have developed a very bad habit of using our obligation to defend the republic with larding up everything else as a bargaining tool."
Congressman Steve Russell on the buget bill
"[This budget bill] will protect all Americans and enhance our nation's health and economic prosperity."
Congressman Tom Cole
Both quotes are from The Oklahoman, March 23, 2018.
"It's a good thing we have Republican control of Congress or the Democrats might bust the budget caps, fund planned parenthood and Obamacare, and sneak gun control without due process into an Omni...wait, what?"
A tweet by Kentucky Senator Rand Paul on March 21, 2018.
Theodore J. King is an Oklahoma native. He spent the summer of 1994 at the Republican National Committee, worked at National Right to Work Committee, and on the Hill in Washington D.C. In 1999 he worked for Congressman Kevin Brady of Texas and later at the Media Research Center in Alexandria, Virginia. He served as our Washington D.C. correspondent beginning in 2001and continues since his return to Oklahoma. He also writes online for The Daily Caller (www.dailycaller.com) and is the author of The War on Smokers and the Rise of the Nanny State.