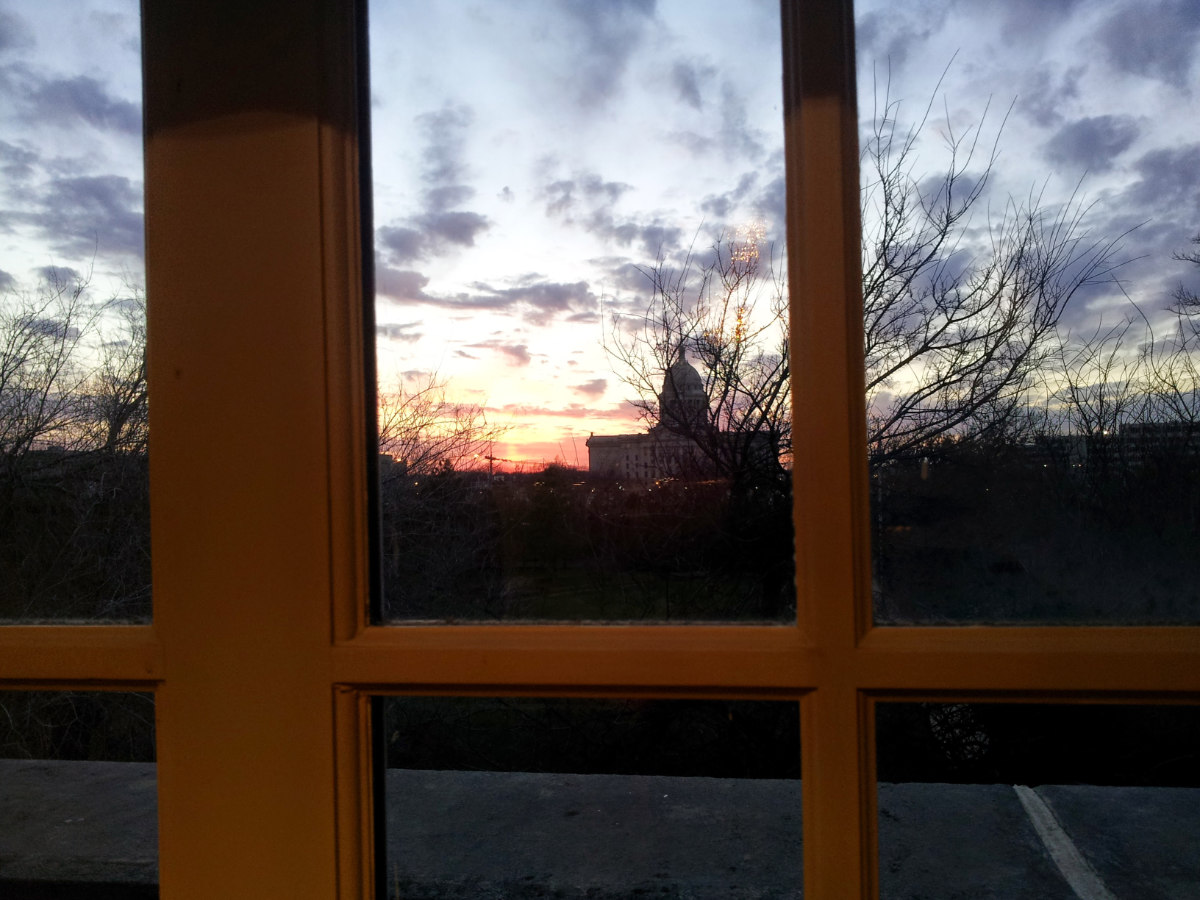 column
Meekness in Exchange for the Exhausting Burden of Winning.
It used to be possible to engage people in politics. Welfare reform, war, ObamaCare, abortion, guns, there were (past-tense) many issues elevated and important enough to deserve the attention of a nation. Of late the issues are elevated, single-payer healthcare, additional wars, much more restrictive gun bans, shout your abortion; our politics has reached an importance and a decibel that causes mass surrender among the vox populi.
Our current path through the perils of self governance has been to employ someone willing to fight our battles for us. Even the most conservative of fellows seeking inconsequential local office, campaign on grand promises to "I'll fight for you." On the not so local level, this cankerous din has developed into dictatorial courage among the servants of the people. Our politicians now say the darnedest things, the more Bigly-Stupid the better.
Over the course of my lifetime, politicians have become increasingly comfortable with lying. Each time they get away with it, the floor is raised from which the next, more audacious lie can be proclaimed. We are now in an election cycle where a former bar tender in New York speaks about being inaugurated to the House of Representatives, so she can sign single payer into law; a nice Irishman, self-declared "Beto O'Roark," says his own made up name with a straight face; a porn-lawyer is using a failed defamation case against the President as a platform to run as the Democrat candidate in 2020; and a white woman proudly reveals that she is in fact 1/1024 Native American. All these people are campaigning on this ridiculousness as a vehicle to impeach Trump on the legal grounds his Twitter profile is unseemly, and that he himself is an ass-clown. Not high-crimes, nor misdemeanors, even if the evidence is sound.
While it is accurate to point out that our politics are all hat and no cowboy; we have little to claim as virtue. It is difficult to shout down single-payer healthcare when you can't change the ObamaCare law that no one is in support of currently. You can't ground your support of guns in personal freedom, when you are uninterested in freedom any other area of life. It is also impossible to point out your opponents character deficiencies when you tie yourself to President Trump's Twitter feed.
Getting back to that age old, "you have a Republic, if you can keep it" business, winning is a natural aim of politics, but it will be our undoing. It is nothing new, man seeking to dominate his opponent, but of late, the will to win is slowly making our nation ungovernable. When Obama won 50% plus a little, he told opponents to get in the back of the car. He took his pen and his phone and celebrated his victory daily. Trump brought sweeping change into office, his side would win so bigly and so often they would soon grow tired of it. If you think about it, these statements by both men set the course of their presidency. All the winning lets Trump say insane things without repercussions. Obama walked away untouched by massive scandals within his administrations because he was driving and we kids had better keep it quiet in the backseat. All the while, we the people have grown rightly angry and have chosen the path of mercenary-in-chief and called it self government.
Against this backdrop of angst and dysfunction, America actually works quite well. It is a good time to own a business, despite the high burdens government creates. While it is impossible to talk with friends and relatives about politics, it is becoming increasingly common to talk about issues of great importance. People seem to be matching their distaste for politics with engagement in something else. An optimist would say that they are replacing the chains of politics for higher forms of self government.
No idea how to slay the federal monster; its too vast, too toxic. The rhetoric writ large is so distasteful, but so entrenched that no amount of Facebook posting, or retweeting, will make even the slightest ripple. I'd love to encourage you to simply vote the bastards out, but get real; doing that gives us a nation led by Donald Trump, Alexandria Ocasio-Cortez and an Irishman named Beto. We get the government we deserve.
I have little hope that corruption can be addressed at a federal level – hell, I'm pessimistic much can be done to have a good outcome in the Oklahoma Governors race. In time, those corrupt institutions will eat themselves in all likelihood. But we can address local, non-sexy cases of malfeasance – probably not involving Democrats, because of Trumps penchant for tweeting with all the class of a horny-polar bear. We can address when conservatives, self-titled, become comfortable with imposing their will against the express wishes of the people.
Your state recently allowed the creation of a legal pot industry within its bounds – overwhelmingly by ballot. Since then, the various arms of the State have sought to make complicated and expensive that which the people voted to make simple. Law enforcement claims utter confusion as to its enforcement, lawsuits have been filed against state agencies having to do with added licensing costs. Well-meaning persons expose every unfortunate traffic incident involving pot loudly, as if the roads were previously free from all pot related chaos. If it were in opposition to Trump, we would call this the deep state. People deeply entrenched in state agencies, who opposed passage of a liberalizing law, now stomp their feet and make complicated that which should be simple. It is governance by fiat; tyranny we would call it in the bucolic years of yore.
America is great, because she is good. This simple truth is rooted in the great and confusing biblical truth "the meek shall inherit the earth." We have always linked our economic and military power to the fact that we were a humble people, dedicated to fight the imperial bent that had consumed all previous tyrants. Today, we have spurned our meekness and embraced an embarrassing cadre of comically bad mini-tyrants. In Trump, as with Obama and other persons faking their heritage more boldly, we have embraced the idea of a tyrant king. The king may float above the law, engaging in speech and deceptions we would never tolerate from a neighborhood kid. But, while the punk down the street deserves a good smacking, we herald our leaders for "calling out the fake media" or "bringing change." We have sold our virtue at a low price, yet in that transaction we have also surrendered our inheritance.
The important thing about that meekness business is not the absence of power, but restraint. A meek person is not one who lacks the power to control others, but one who has the ability to dominate, but keeps his sword sheathed. In Oklahoma, it is the Republicans who can shut down the will of the people through the power of the state. In the case of pot, they can demonstrate their meekness by refusing to abuse their own power and in turn defend the rights under law of those they disagree with. This is action worthy of self governance. It is in here that America can again begin to be good, politically, in hopes that we may again become great.
A five year resident of Oklahoma and a graduate of Azusa Pacific University, Andrew K. Boyle currently writes from a gulch hidden in the mountains of Colorado. You can follow him on twitter @andrewkboyle