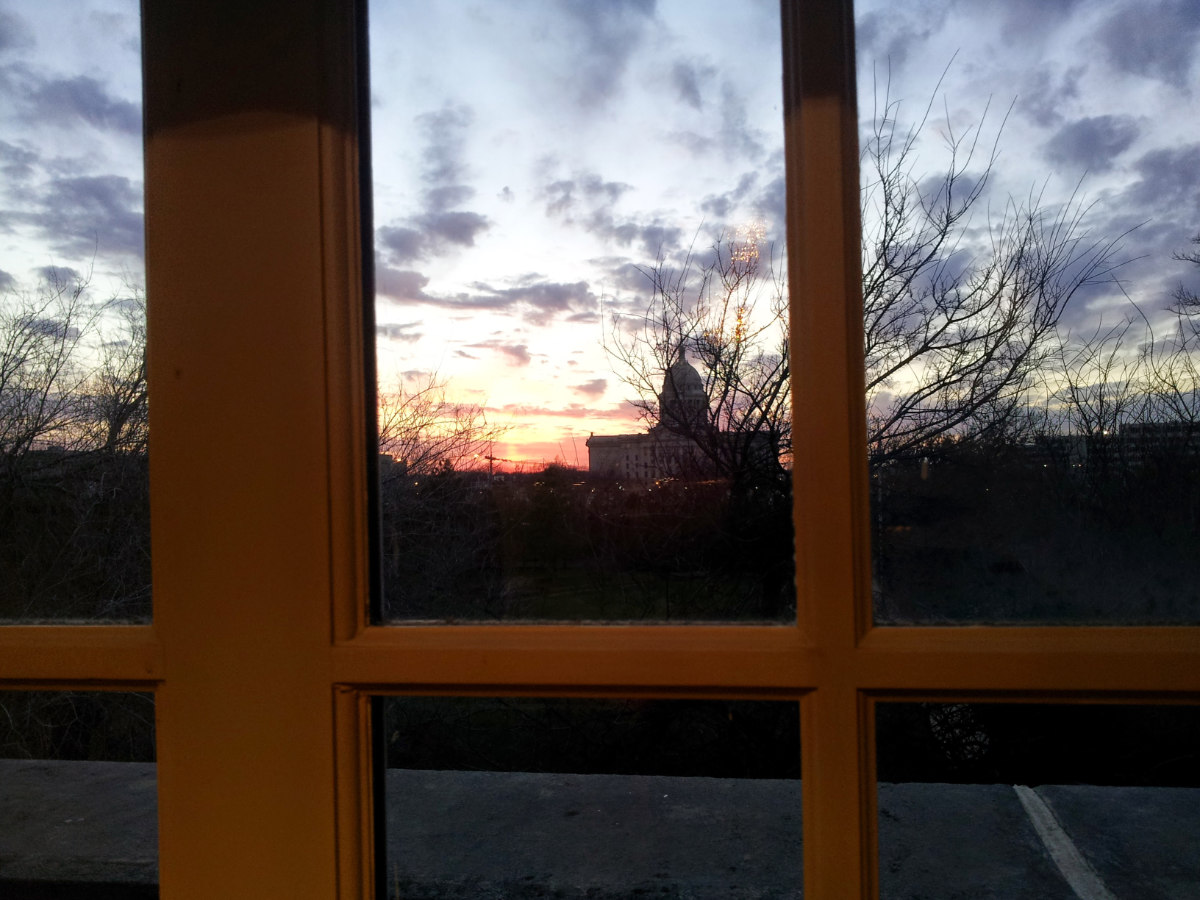 column
Oklahoma Education and Workforce Development
By Linda Murphy
Oklahoma state government is in transition to new leadership with Gov. Kevin Stitt, Lt. Gov. Matt Pinnell and many new legislators taking office. This new oversight and leadership can bring our state to a higher level of success and opportunities for our students.
Oklahomans care deeply about education. We invest over half of the money appropriated by the Legislature through our state budget in K-12 public schools, career technology, colleges and universities. The battles for more education dollars are underway and will remain in the news. These fiscal issues are very critical and an important part of the funding debate should be the continually increasing costs of the expansion of education programs driven by "reforms."
Governor Stitt is committed not only to funding education but also to improving the results. Positive changes to the system require having an understanding of the many state and federal programs currently operating in Oklahoma. It will be difficult to improve the system evaluated by reports from people whose jobs depend on the programs. Improving the system will take an honest evaluation of the results being produced to determine whether to keep, eliminate or change a program.
Voters chose Governor Stitt a man who has never held political office but who has significant experience in dealing with government regulations and thinking outside the box. These are important assets he can use in looking at the education system and understanding how mandates, agency rules, guidelines and plans are either helping provide a positive structure or hindering performance and results. It is vital to not only perform fiscal and performance audits, but also to look closely at the underlying philosophy and goals guiding programs, as past experience has proven.
Knowing some things about the history of education reform and workforce development in Oklahoma can help chart the best new course for the future. The following lessons learned can help us avoid previous mistakes that have cost large amounts of money and taken time away from learning.
Marketing schemes and political agendas have unfortunately propelled some of our mandated "education reform." Two of these programs, that have underlying philosophy important to understand are: OBE, Outcomes Based Education for K-12, and STW, School-to-Work for K-12 job training, originating from President Clinton's Administration in the 1990s.
OBE was imbedded into Oklahoma State law in 1990 through a new process for school accreditation in the extensive education "reform" bill, HB1017. A very "tricky" strategy was used in marketing programs by labeling the "reforms" as "improving transparency and accountability." For example, OBE and later Common Core were promoted as "higher standards" which they are not. They both actually created "a paradigm shift" away from academics to goals intended to equalize outcomes. Top-level math courses were removed, while lower level and younger students were pushed harder.
Statewide grassroots opposition to OBE and STW grew as parents, teachers and students began seeing what our local superintendent called "radical" change. Promoters of the programs waged a costly battle trying to put them in place, using precious classroom time and money. Legislators listened to their constituents, removed the ludicrous original Learner Outcomes/Standards produced under OBE in 1993 and repealed the OBE mandates from state law in 1995. A majority of Oklahomans, including higher education officials, saw academics being dismantled and replaced by job training skills. Educators told me they had supported OBE and STW in the beginning, but later found they had not been fully informed.
In 1995, Gov. Frank Keating vetoed the STW state bill that would have imbedded the Clinton education agenda in our state law. Prior to Keating's veto, some 2nd graders in Oklahoma STW programs spent hours each week on job sites watching employees demonstrate job skills in Pizza restaurants, grocery stores and other businesses. This took away hours of classroom time from students learning to read. The State Chamber of Commerce and U.S. Chamber of Commerce were strong supporters of OBE and STW. They were very unhappy when Governor Keating vetoed the STW bill and did not side with their endorsement of OBE. Some individual chamber members, and leaders who knew more about the reforms, saw through the marketing spin.
Governor Keating listened to people across the state, did some research and realized the underlying philosophy in OBE, driving the damaging transformational changes to curriculum. These changes originated from the plans of President Clinton's team including: Hillary Clinton, Robert Reich, David Rockefeller and Marc Tucker. This group had worked together prior to Clinton's presidency creating a huge nationalized plan to control education and the economy.
Clinton team member, Marc Tucker, the director of Carnegie's NCEE - National Center for Education and the Economy, wrote a letter to Hillary describing their detailed plans, right after the 1992 election. It was published, and then read into the Congressional Record during the legislative battle over their education agenda. Tucker later worked with the group that created Common Core and is still working at the NCEE.
Hillary and Robert Reich said their plans for education and the economy were aimed at improving the GDP (Gross Domestic Product). Students would graduate and be prepared for their jobs as determined by national, state and local workforce boards. Students would be required to earn a job certificate or college degree and were to be tracked via computer from cradle to grave. We now have a State Longitudinal Data System designed and created with funding from the Obama administration according to their specifications for collection of student data. The collection, storage and sharing of any individual student data is a great concern.
OBE and STW goals include: self-directed students working in groups and receiving "group grades;" teachers acting only as "a guide on the side" and students being identified for a "job track" by testing in lower - mid elementary. A student's job category was to be determined by "economic planning" and the workforce boards who would predict where jobs would be needed in the future. Each student's curriculum would be changed to incorporate only the type and amount of reading deemed necessary for his/her job, but no more. For example, truck drivers would need less reading than executive secretaries, so they would receive less reading curriculum. This is similar to JIT (Just-in-Time) products for efficient stocking and delivery of goods from a warehouse. In fact, the Deming model for quality management and factory efficiency standards was applied to education reform. Instead of widgets and parts, this now became a process for managing children referred to as "human capital." Teachers were removed to the side, replaced by a dehumanizing system.
OBE and STW plans were modeled after the German government's system, with centralized control and limited opportunities for students to have flexibility in career choices. Lynne Cheney published an excellent piece calling the process "limited horizons." Later in the battle to stop Common Core, George Will rightly identified the standards as only the "thin edge of the iceberg" that would crash the education system.
The federal Department of Labor produced "The SCANS" – Secretary's Commission on Achieving Necessary Skills report, utilized by Robert Reich, Clinton team member and Cabinet Secretary. Under STW, public school curriculum in K-12 was produced and sold nationwide by our State Department of Career Technology to train these skills aligned with the SCANS Report guidelines. SCANS included a sample job resume using a student's data profile, which provided a number rating from 1-10 for the student's "objectivity." The character, attitude, values and beliefs of students were targeted for change by state and federal programs. This curriculum was promoted as vital for workers to get along in the workplace. Marc Tucker said employers were more concerned about attitudes and character then they were about whether employees could do math.
In 1995 I attended the NGA – National Governor's Association education meeting, while serving as Governor Keating's education advisor. The NGA staff pushed the plans developed under the former chairman, Gov. Bill Clinton, who served while Governor of Arkansas. The conservative Republican Governors elected in 1994 had taken positions opposing the philosophy and goals of the education agenda of Clinton. When the opportunity came during the NGA meeting, I along with education advisors from Governor George Allen in Virginia and Governor Steve Merrill in New Hampshire, voted to oppose the agenda.
Over the years from 1995 - 2008 the NGA continued to push and create opportunities for more and more "buy in" to their nationalized education plans. The U.S. Chamber of Commerce and state Chambers, global corporations, billionaire philanthropists including Bill Gates and education vendors all worked together to create nationalized standards. Through a "non-profit" organization called ACHIEVE they created Common Core State Standards. The NGA and the Council of Chief State School Officers own and copyrighted the Standards.
In Oklahoma, the 2008 Common Core State Standards (repackaged OBE) were mandated by state law under Governor Brad Henry and State Superintendent Sandy Garrett (who championed OBE and STW in the 90s).
In 2010 Gov. Mary Fallin was elected and continued the programs that Henry and Garrett had established. Fallin even became the Chairman of the NGA and introduced the government and corporate partnership system called "America Works" (repackaged STW philosophy). The "America Works" literature said the program will align education with the needs of the workplace clearly placing the corporations' needs/desires first above the needs and best interest of the individual child.
The U.S. Chamber of Commerce and State Chamber of Commerce were elated with Fallin's' stand. Then, once again, Oklahomans rose in opposition and the legislature repealed Common Core from state law in 2014. Common Core supporters were very upset and made public denouncements. A group, including some members of Governor Fallin's appointed State School Board, sued the legislature for repealing Common Core, but the State Supreme Court ruled in favor of the Legislature. (This is documented in a research paper from the Oklahoma City University Law School. Go to www.oklahomaeducator.com to find the article "The Rise and Fall of Common Core in Oklahoma.")
These lessons are a taste of failed education "reform" experiences in Oklahoma. A close and thorough examination along with creative thinking is needed to grasp where and how changes should be made to improve our education system.
Oklahoma was built by rugged individualists who created a new way of life. We, the descendants of this hearty stock, can remain independent by not following "cookie cutter" plans from the NGA or from other states. Oklahoma is one of few states which repealed the highly controversial OBE and Common Core State Standards. Nationwide opposition is strong, as we saw when President Trump spoke during the 2016 campaign. Many experienced teachers have left the classroom due to distress from being required to implement these harmful programs.
With careful consideration, we can take the sound ideas that we want to utilize in our own unique system. We can secure a strong academic foundation in K-12 grades while preserving individual freedom, which does not collect and store an individual student's data or limit and control individual opportunities in higher education and job training.
Aligning and improving our education system for the benefit of the student will also provide the benefit of well-educated employees to all employers whether they own a small business or a global corporation.
While serving on the State Job Training and Coordinating Council and as Deputy Commissioner of Labor, I found that when people in the business community or serving in the government sector became informed, we usually shared the same goals. There is however much at stake and supporters of plans currently in place, who financially profit from them, are unwilling to see them eliminated. There are thousands of Oklahoma citizens across the state who worked in grassroots efforts to stop the damaging "reforms" of the past and today are hopeful that we have a new beginning. History has proven the damaging philosophy behind OBE, STW, Common Core and America Works, but those who don't know history will repeat it. Education reform is needed and with courageous but wise leadership it can be done!
Linda Murphy was the Republican candidate for State Superintendent of Public Instruction in 1994, and 1998. She ran again in 2018, losing the nomination in the runoff primary. She served under Governor Keating as Secretary of Education and later as Deputy Commissioner of Labor. She was a member of the State Job Training Coordinating Council, and served on the Governor's School-to-Work Council, and the Governor's Commission on the Status of Women. You may contact Linda at: lindalearn1