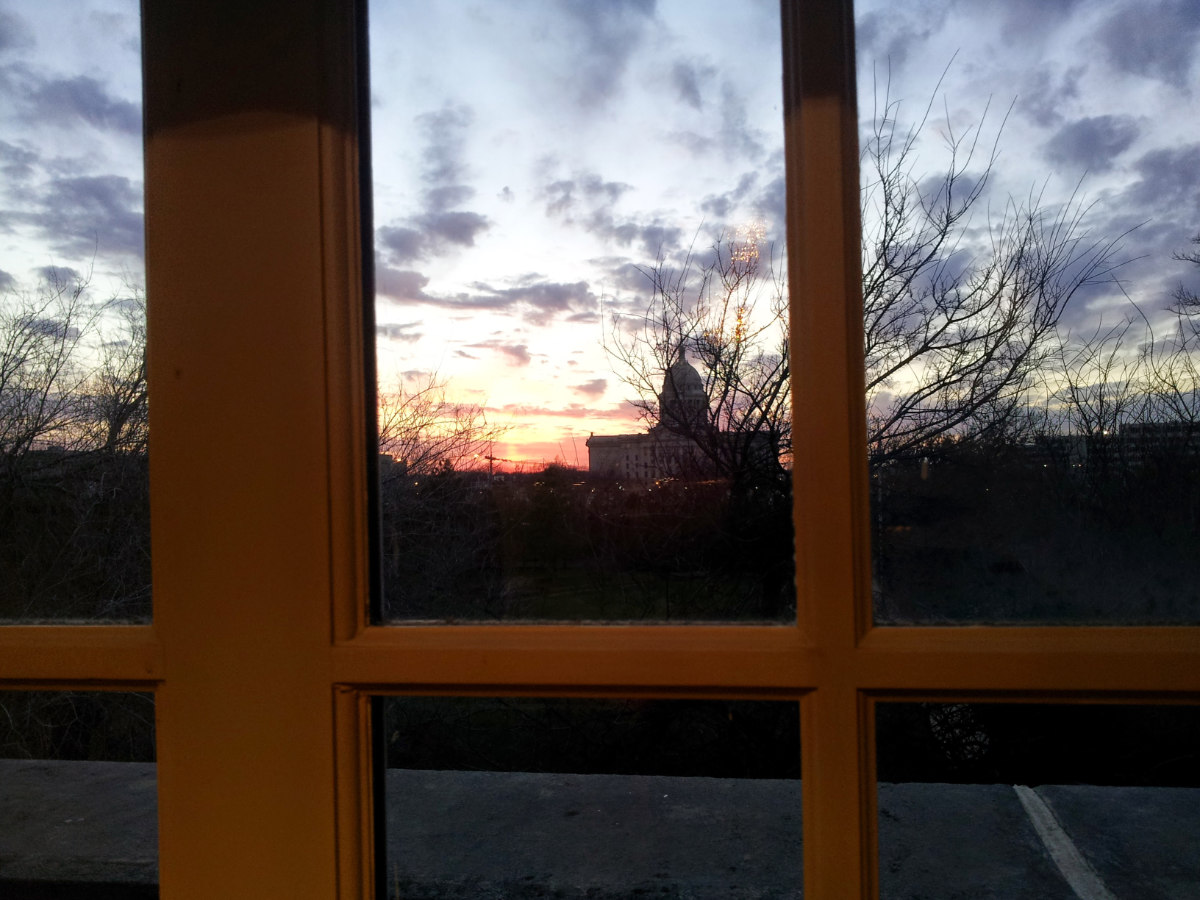 news
Fifth District Race for Congress
Former state Senator Steve Russell, 54, was elected to the seat in 2014 and was reelected in 2016. He had two challengers for the Republican nomination in 2018, and defeated both in the June 26 primary, winning nearly 84% of the vote. But, as we noted in our article before the November election: "As more Republican voters have moved outside the Oklahoma City metro area, Democrats have been able to flip some legislative seats in the district to Democrat. This has given them hope that they could flip the seat in Congress as well."
Six candidates filed for the Democrat nomination, which made a runoff primary nearly certain. Kendra Horn won the Democrat runoff with 76% of the vote over Tom Guild who has become a perennial candidate. Horn was a professional mediator and executive director of Women Lead Oklahoma which is a nonprofit organization working to empower women to be leaders and be engaged in civil activities. She had also served as press secretary for former Second District Congressman Brad Carson and previously managed political campaigns. She served as executive director of Sally's List which supports women running for elected office. She lives in Oklahoma City and is a native of Chickasha.
Horn narrowly defeated Russell in the November election, garnering 50.7 percent of the vote. The last time that a Democrat was elected to the seat was in 1974 when longtime congressman John Jarman narrowly won reelection. He had held the seat since being elected in 1950. Jarman changed his party registration from Democrat to Republican in 1975 in the hopes of holding on to the seat as a Republican. But, he decided not to run in 1976 as it appeared unlikely that he would win the GOP nomination. He was replaced by Republican Mickey Edwards who had challenged him in 1974. Edwards held the seat until he lost the GOP nomination in 1992 as a result of the U.S. House banking scandal. He was replaced by another Republican, Ernest Istook, who held the seat until 2006 when he ran for governor. Mary Fallin was then elected and held the seat unto 2010 when she ran and was elected governor. She was replaced by James Lankford who had the seat until 2014 when he ran and was elected to the U.S. Senate.
Russell's loss to Horn can be attributed to a number of factors. Russell did not run an aggressive campaign, until the end, when it was too late. While Horn ran a negative campaign against Russell, he chose not to respond in kind. As a result, voters did not know about Horn's liberal stance on a host of issues. (This is the same attitude that sunk the campaign of Steve Largent in a 2002 governor's race).
As already noted, the Oklahoma City area which makes up the majority of the population of the district, has been trending toward Democrats. They had flipped a couple of legislative seats in special elections in the last couple of years. That shift continued in the 2018 elections with the flipping of several more seats. In the governor's race, despite being trounced statewide, Drew Edmondson became the first Democratic gubernatorial candidate to win Oklahoma County since Brad Henry's reelection in 2006. In the November 2018 election, three seats in the Legislature (two Senate seats and one House seat) which had been held by Republicans, flipped to Democrat. So, Russell was not the only one to experience this Democratic shift. Horn won despite losing Pottawatomie and Seminole counties by significant margins. But Horn easily outpaced Russell in much of Oklahoma County, including some precincts where she received more than 90 percent of the vote.
Another factor that cannot be ignored is that Horn out raised and out spent Russell. Horn raised nearly $1.2 million and spent most of it. Russell raised just under $1 million, but still had nearly $300,000 in cash on hand at the end of the campaign. Mike Bloomberg's Independence USA political action committee also joined in with over $400,000 in television ads supporting Horn and attacking Russell in the final week of the race.
The Democrat Party and the Horn campaign also deserve some credit for turning out the vote, not just on election day, but before. Russell was actually slightly ahead in the votes cast on election day, receiving 99,470 votes to Horn's 98,972. However, Horn received 1,407 more of the absentee votes, and 2,429 more from the early voting. There was a concerted strategy to capture those votes, a strategy which succeeded.
All eyes are now on the 2020 race. The primary will occur on June 30, 2020. The general election will be on November 3, 2020. Democrat Kendra Horn, 43, is seeking re-election in 2020. The number of Republicans seeking to unseat Horn includes at least nine contenders.
Eight of the Republicans have filed with the Federal Election Commission (FEC) indicating their intension to raise and spend money on the race. Candidates won't officially file for office until April of 2020.
In April, State Sen. Stephanie Bice (R-Oklahoma City) became the first major candidate to announce for the seat. Bice, 45, was elected to the Oklahoma Senate in 2014 and reelected in 2018, and serves as Assistant Majority Floor Leader in the Senate and Chair of Senate Finance Committee. She is credited with modernizing Oklahoma's liquor laws by engineering the first overhaul since 1959 when prohibition was repealed in the state. Since she will be in the middle of her term, she would remain in her Senate seat if she fails in her election bid for Congress. Bice is a RINO (Republican In Name Only) Republican, earning only a 49% cumulative average on the Oklahoma Conservative Index for the five years that she has been in office. At the 2015 Southern Republican Leadership Conference, her speech was more like what one would expect to hear at a Democratic Party event.
Businesswoman Terry Neese became the second major candidate to enter the race, making her announcement the day after Sen. Bice. She declared in her announcement, "I am the clear conservative choice who will help President Trump deliver on his agenda to put America first and get Congress back to doing the work of the people." Neese, 71, is a lifelong Oklahoman and has spent over thirty years finding careers for men and women. She is the founder of Terry Neese Personnel Services (TNPS), National Grassroots Network, Women Impacting Public Policy, and the Institute for Economic Empowerment of Women (IEEW). Neese made history in 1990 as the first woman nominated by a major political party for Lt. Governor of Oklahoma. While she has always touted herself as a conservative, she has no voting record or performance in office by which to gauge that claim.
Merideth VanSant entered the race in May. She grew up in central Oklahoma working at the family hardware store and lumberyard in Guthrie. She was a national award-winning business management consultant before starting her own business, 405 YOGA studios, with locations in Washington DC and later in downtown Oklahoma City. She is also the co-founder of True U, a national social enterprise that brings "mindfulness" and leadership to underserved teens through the United Nations, National Girl Summits, Girls Inc., and local chapters across the country.
She was a contributor to Kendra Horn's successful campaign. Just three days after Horn's election she changed her party affiliation from Democrat to Republican, and six months later began her own campaign for the seat. "Central Oklahoma needs a representative in DC who can best defend our local conservative values," VanSant said in her announcement. "I will be the loudest and rowdiest voice for our families. I'm fed up with our area not having a seat in the national conversation."
Edmond businessman David Hill, 52, announced his candidacy in October. "Nancy Pelosi and the career politicians in Washington have taken us down the wrong path. They want socialized medicine, open borders, higher taxes, bigger government, and a complete elimination of our First and Second Amendment rights. They have launched a 'Green New Deal' that threatens to shut down our energy industry and tank our entire economy," said Hill.
Hill has extensive experience in the energy industry. He started at Kimray, Inc. in 1983, a manufacturer of control valves and related equipment for oil and gas producing companies, and served in a variety of roles within the company. Kimray, which has 445 employees, was founded in 1948 by Hill's great-grandfather, Garman Kimmell Sr., and grandfather Garman Kimmell. Hill served as President and CEO of the company when he left in 2013, and has served in executive positions at two other energy companies – Logic Energy Solutions and Petrosmith. Hill started turning wrenches at the age of 16, fixing and rebuilding classic cars, and in 2016 he became the owner and operator of MAR-K, the nation's leading manufacturer of over 6,000 component parts for classic automobiles and trucks.
An avid runner, Hill co-founded the Oklahoma City Memorial Marathon, which has raised millions of dollars for the Oklahoma City National Memorial and Museum. Hill has carried on a family tradition, which began with his grandfather, of supporting conservative political causes.
Former State Superintendent of Public Instruction Janet Barresi also joined the race in October. Barresi, 67, ran a successful dental practice for over 24 years. Following the death of her husband in 2009, she and her sons became strong advocates of appropriate mental health treatment, suicide prevention and support for families surviving suicide. After her husband's death she and one of her sons took over the operation of Cosmo Energy. Barresi also became an education reformer and supporter of education choice. She founded two charter schools — Independence Charter Middle School and Harding Charter Preparatory High School, that won numerous accolades for their academic excellence.
Barresi became part of the Republican tidal wave of 2010, becoming the first Republican elected as State Superintendent of Public Instruction. Barresi replaced longtime Democrat Sandy Garrett, who did not seek reelection in 2010.
But, controversy seemed to dog Barresi from the time of her election. Democrats, who had long held a virtual lock on the post, took umbrage at a Republican in the office. The State School Board of Education, an enclave of liberal Democrats, immediately challenged Barresi at the very first meeting, which was not surprising. What was surprising was the Republican opposition that developed.
One reason that Barresi faced such opposition, even within the Republican Party, was her strong support for the set of educational standards known as Common Core, which the Republican-dominated Legislature later voted to repeal. Common Core, praised by Democrat President Barack Obama, is widely considered by conservative activists as an attempt to implement liberal national standards into the public schools, and even in private schools. Many Republicans were also shocked when Barresi made the former chief lobbyist for the Oklahoma Education Association (OEA) her chief of staff.
Barresi ran for reelection in 2014, but lost in the Republican primary. Joy Hofmeister was the winner of the Republican Primary with 58% of the vote. Brian Kelly actually finished slightly ahead of Barresi with just over 21%. Kelly ran for the office in 2010, and had lost to Barresi in the Republican Primary. Hofmeister, who opposed Common Core, went on to win the post.
In addition to these higher profile candidates, four others have also announced for the race.
David Greene of Harrah was actually the first Republican to register with the FEC for the race. He is retired from the U.S. Air Force and has more recently worked as filmmaker.
Dan Belcher, 35, of Oklahoma City is a realtor. He sought election to Oklahoma State Senate in District 24 in 2018, but lost in the Republican primary election.
Jacob Oakley, 25, graduated from Jenks High School in 2013. After high school, he worked as a lay minister for the Church of Jesus Christ of Latter-day Saints in San Diego, California for two years. When Jacob returned, he attended the University of Central Oklahoma and is a member of the football team.
Michael Ballard of Tecumseh served in the United States Army and the Oklahoma National Guard. He is a retired Disabled Veteran and in 2014 was a candidate for a State Senate seat. On his website, he labels himself as an Abolitionist candidate on abortion. He has not filed with the FEC to raise or spend money on the race.
While the Congresswoman Horn managed to narrowly defeat Congressman Russell in the 2018 election, she may have a tough time being reelected. Russell failed to aggressively campaign and was outspent in the 2018 race, but the Republican nominee in 2020 will be mounting a strong, and well-funded campaign. Also, President Trump will be at the top of the ballot and is expected to do well in Oklahoma, providing coattails that will help other Republicans further down on the ballot.