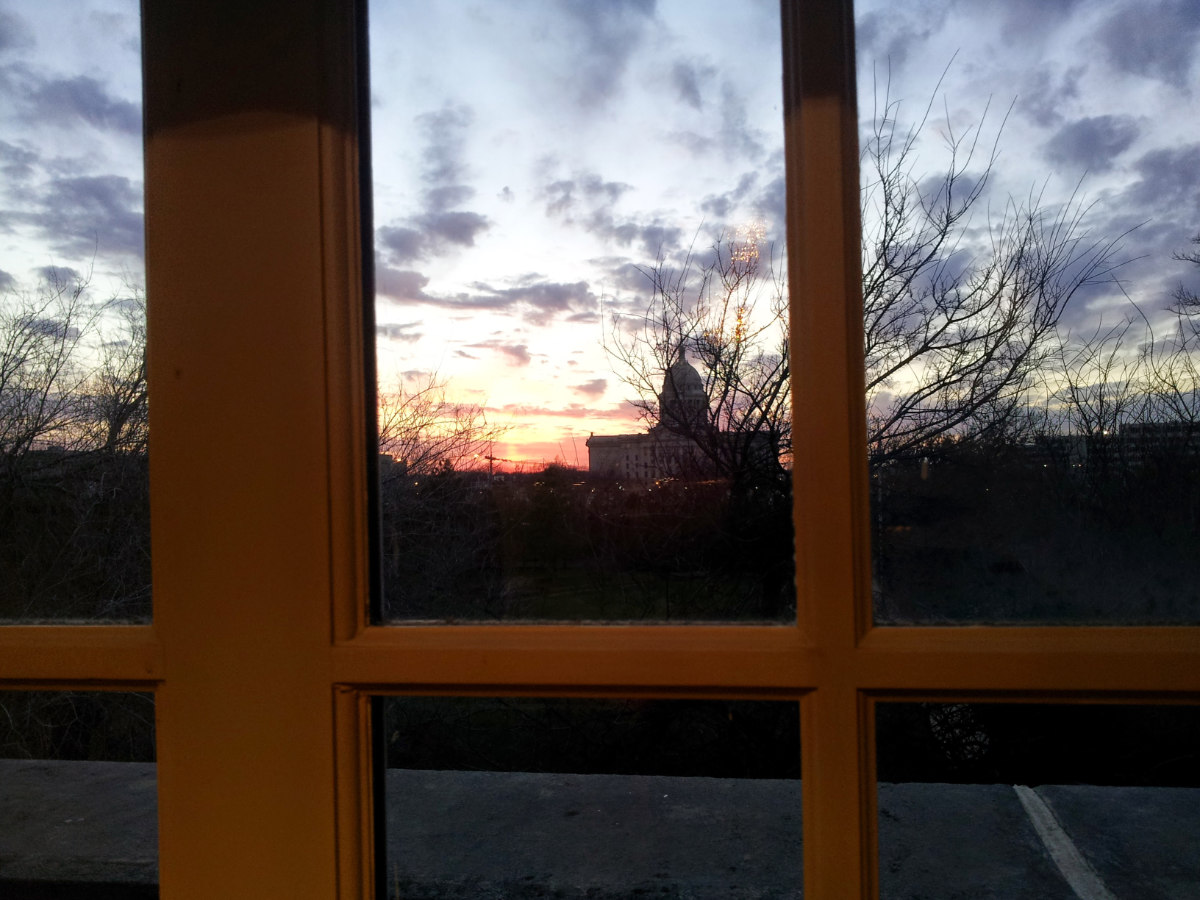 tidbits
Tidbits for Winter 2020
On November 20, Gov. Kevin Stitt announced the appointment of Dustin P. Rowe to the Supreme Court of Oklahoma. This is Governor Stitt's second appointment to the state Supreme Court. Rowe's appointment fills the vacancy for District 2 created by former Justice Patrick Wyrick's appointment to become a federal judge on the United States District Court for the Western District of Oklahoma. Rowe was one of three applicants provided by the Judicial Nominating Commission for the governor's selection. "Mr. Rowe is an accomplished lawyer and dedicated Oklahoman who has an impressive legal background," said Gov. Stitt. "His proven record in both his private practice and as a tribal court judge speaks to his qualifications to join the highest court in Oklahoma." Rowe has practiced law on Main Street in Tishomingo since 2001, where he owns and manages Rowe Law Firm. He has represented thousands of Oklahomans, and has practiced in more than 25 of Oklahoma's district courts. He served as Special Judge of the Chickasaw Nation District Court from 2005 to 2011, and has served as District Judge of the Chickasaw Nation District Court from 2011 to present, where he has presided over more than ten thousand cases, including hundreds of child welfare cases and adoptions.
In April 1994, at the age of 18, Rowe was elected Mayor of Tishomingo, Oklahoma, while still a senior in High School, where he served two terms as the state's youngest mayor. He earned his B.A. with honors from East Central University in 1998 and his Juris Doctor from the University of Oklahoma College of Law where he was named a Lee B. Thompson Scholar in 2001. He is an alumnus of the National Judicial College in Reno, Nevada and maintains active participation in continuing legal and judicial education. Rowe is Chairman of the Johnston County Bar Association. He is admitted to practice before the United States Supreme Court, the Oklahoma Supreme Court, the Chickasaw Nation Supreme Court, and the United States District Courts for the Eastern and Western Districts of Oklahoma.
Preliminary Revenue Certification
In December, the state Board of Equalization certified an preliminary budget estimate indicating lawmakers will have $8.3 billion to build a budget for the 2021 fiscal year, which begins July 1, 2020. This represents only a $9.3 million or 0.1% increase from FY'20. The board will meet again in February to issue the final revenue certification upon which the Legislature will write the next budget. The state Board of Equalization was established in 1907 and includes the governor, lieutenant governor, state auditor and inspector, state treasurer, attorney general, superintendent of public instruction and the president of the board of agriculture. During the meeting, Gov. Kevin Stitt brought attention to a one-time cash source of $310 million as part of the spending authority estimate. Without this one time source, the revenue projection for FY'21 would be 3.7 percent less than FY'20.
Gov. Stitt released a statement following the certification: "Oklahoma's state revenues are beginning to plateau after losing more than 60% of oil and gas drilling activity since this time last year. The fiscal discipline displayed in the FY'20 budget, by setting aside an extra $200 million to achieve $1 billion in savings, is already proving its value in protecting core public services and strengthening the state's credit rating. Despite these changes in revenue collections, the State of Oklahoma remains on strong footing. It is critical we protect it by demonstrating fiscal restraint and efficiency in the FY'21 budget process and by continuing to advance policies that encourage job creation and economic diversity."
General Revenue Fund Collections
General Revenue Fund collections in December 2019 totaled $631.8 million. This is $11.2 million, or 1.8%, above collections in December 2018. At the same time, this figure is $8.9 million, or 1.4%, below the monthly estimate. Total GRF collections over the first six months of fiscal year 2020 (July 2019 - December 2019) were $28.3 million, or 0.9%, above the estimate, and $65.6 million, or 2.1%, above prior year collections for the same period. "Year-to-date collections for fiscal year 2020 continue to be above the estimate, in spite of the slight decrease in the December monthly figure," said John Budd, director of the Office of Management and Enterprise Services. "Barring a nationwide slowdown or further deterioration in the oil and gas sector, we expect to remain well within the 5% cushion built into the general revenue budget. The GRF is the main funding source for the state government.
OK Voter Portal
In November, the State Election Board launched a brand new tool that will provide the state's online voter services in one convenient location. The OK Voter Portal is on the State Election Board website at elections.ok.gov. State Election Board Secretary Paul Ziriax says it's a big step forward for engaging voters and enhancing both convenience and security. "The OK Voter Portal is a one-stop-shop for voters. It's convenient, mobile-friendly, and most importantly – it's safe and secure," Ziriax said. The OK Voter Portal allows voters to:
Verify voter registration information
View voting districts
Find polling place information
View a sample ballot
Request and check the status of absentee ballots
Change a residence address (within the same county) or a mailing address
Change political affiliation
Respond to an Address Confirmation Notice (during the year it is issued)
Ziriax also urged Oklahoma voters to be cautious about using sites or services that are not operated by election officials. "More and more organizations are offering services and information to voters that duplicate what the State Election Board already provides – such as signing up for election reminders, locating your polling place, or requesting an absentee ballot," he said. "What most people don't realize, though, is that these sites are not affiliated with the State Election Board. For accurate, secure, and up-to-date information, voters should always contact the State Election Board or their County Election Board first." Voters will find the OK Voter Portal at: elections.ok.gov/ovp
Democrat "Open" Primaries
Every odd-numbered year, recognized political parties in Oklahoma are required to notify the Secretary of the State Election Board whether or not the party will allow registered Independents to vote in its primary elections. State Election Board Secretary Paul Ziriax announced December 9 that he had been notified by the Oklahoma Democratic Party that it will allow Independents to vote in its primaries in 2020-2021. The Oklahoma Republican Party and Oklahoma Libertarian Party notified Secretary Ziriax that they will continue to close their primaries to Independent voters. "This means, there is no change for unaffiliated voters in 2020. As has been the case for the past two years, Independent voters may continue to vote in Democratic Party primaries, but not in Republican or Libertarian primaries," Ziriax said.
Oklahoma is a closed primary state, meaning only registered voters affiliated with a recognized political party may vote in that party's primary elections. However, state law gives recognized parties the option to open its primaries to registered Independents by notifying the Secretary of the State Election Board between November 1 and November 30 prior to the election year. The Democratic Party notified the Election Board of its decision before the deadline, which extended the deadline to December 15 for the other recognized parties to respond.
Voters can confirm their party affiliation or make changes to their voter registration online using the OK Voter Portal at: elections.ok.gov/OVP. Secretary Ziriax reminded voters that state law prohibits changes in party affiliation from April 1 through August 31 of even-numbered years. Party changes submitted during this time period will be processed and activated on September 1.
2020 Voter Registration Statistics
Official Oklahoma voter registration statistics show 2,090,107 Oklahomans are registered to vote heading into the 2020 election cycle. Oklahoma's official voter registration statistics are counted every year on January 15. "These statistics continue a decades-long trend of growth for Independents and Republicans as a share of the Oklahoma electorate," said State Election Board Secretary Paul Ziriax. The largest number of Oklahoma's voters are Republicans, who make up more than 48.3% of registered voters. Two years ago, Republicans accounted for 46.8% of registered voters. Democrats are the second-largest party at 35.3% of registered voters, down from 38.2% in January 2018. Democrats had long been the largest political party in Oklahoma, but were passed by Republicans in January 2015. Independents, or "no party" voters, are now 15.9% of Oklahoma voters, up from 14.8% two years ago. The Libertarian Party, which gained recognition in 2016, now has 11,171 registered voters, more than double the number in January 2018. The State Election Board began recording statewide voter registration statistics by party in 1960. In that year, 82.0% of state voters were Democrats, and 17.6% were Republicans. Independents accounted for just 0.4%.
Rep. Shane Stone Resignation
State Rep. Shane Stone (D-Oklahoma City) announced on December 3, 2019, that he would be leaving the Legislature before the completion of his term in 2020. Stone said he was leaving in order to pursue opportunities away from state politics and the Legislature. Stone submitted a letter to the Governor's office to end his tenure as the District 89 representative. But, after submitting the letter, Stone was notified that the lack of a specific time of the resignation would create confusion as to whether the seat became open in 2019 or 2020, which would determine if there would be a Special Election, or if the vacancy would be filled during the normal election cycle. The resubmitted letter specifies that Stone's resignation date is Jan. 1, 2020. Making his resignation effective date in 2020 avoided the possibility of having a Special Election. Stone won election to the Oklahoma House of Representatives in 2014. During his time in the Legislature, Rep. Stone has earned a 39% cumulative average on the Oklahoma Conservative Index. However, he scored zero in the 2019 session.
Sen. Jason Smalley Resignation
On January 2, State Senator Jason Smalley (R-Stroud) announced he would resign office effective January 31. "It has been an honor to serve the people of Lincoln, Pottawatomie, and Seminole counties, and I will always treasure the trust that the citizens of Oklahoma have placed in me," said Smalley,. "After serving my country in the U.S. Marines for six years and eight years in an elective office, I believe it is the right time and opportunity to enter back into the business world." Smalley said he would be named Senior Account Manager for the Motorola Solutions Corp., in charge of its Oklahoma operation. "Motorola Solutions provides critical-mission technologies utilized by our first-responders, ensuring public safety across Oklahoma and the country," Smalley said. "My experience in public office and as a Marine makes it a great fit and opportunity to continue to improve the communities in Oklahoma." Smalley was elected to the Oklahoma House of Representative in 2012, and two years later, to the Oklahoma State Senate. During his time in the Legislature, he earned a 56% cumulative average on the Oklahoma Conservative Index.
State Rep. Jack Taylor (R-Seminole), currently the state representative for District 28, quickly announced that he is a candidate for the Senate seat being vacated by Sen. Smalley. Raised in Seminole, Taylor is a small businessman who owns RKR Exploration, a family oil and gas operation. Taylor, was elected to the House in a Special Election in May of 2017 and was reelected in 2018. During his time in the Legislature, he has earned a 65% cumulative average on the Oklahoma Conservative Index.
It used to be unusual for legislators to resign before the end of their term of office. But with term limits, many legislators have felt the need to look for opportunities outside of political office, often long before their term is up. This has shifted power away from the legislative branch to the bureaucracy, and left the Legislature with fewer members who are as knowledgeable of the process in dealing with the bureaucracy.
Billy Resigns from Stitt's Cabinet
Former State Rep. Lisa Billy (R-Purcell), Gov. Kevin Stitt's Secretary of Native American Affairs, resigned in December. In her resignation letter she called his disagreement with tribal leaders over gambling compacts "an unnecessary conflict that poses a real risk of lasting damage to the state-tribal relationship and our economy." Billy represented House District from 2004 until term limits ended her legislative career in 2016. She also served in the Chickasaw Nation Legislature. During her time in the Oklahoma House, she had a 56% cumulative average on the Oklahoma Conservative Index. She is a member of the Chickasaw and Choctaw tribes, and has appeared in Chickasaw Nation television commercials for years and made history as the state's first secretary of Native American affairs, a position created by Stitt last year. Stitt's relationship with tribal leaders has soured due to a disagreement in the interpretation of Oklahoma's Model Tribal Gaming Compact. Tribal leaders claim that Part 15 of the compact indicates it automatically renews, while Stitt argues he has given appropriate notice to avoid such a renewal.
Federal Tribal Gaming Lawsuit
Gov. Kevin Stitt filed on January 22nd a response to the federal lawsuit filed by the Cherokee, Choctaw and Chickasaw tribes over the gaming compact impasse. In that response, Stitt is asking the court to declare the tribes are violating state and federal laws by continuing to offer Class III gaming after the compacts expired on January 1, 2020. The tribes contend the automatic renewal clause has been triggered. The conflict between Gov. Kevin Stitt and the state's gaming tribes escalated as Stitt said tribes that offer Class III gaming after January 1 would be doing so illegally. Class III games include slot machines and roulette. The governor and the tribes are at an impasse on gaming compacts that require the tribes to pay fees to the state in exchange for the exclusive right to offer casino gaming. In July 2019, Gov. Kevin Stitt announced that he wanted to renegotiate the state's tribal gaming compacts. The governor said he believed that the original rate of 4% to 6% of tribal revenues being paid to the state was fair 15 years ago to incentivize the gaming industry, but it was now time to take another look at the issue. The leaders of five major Oklahoma-based tribes rejected the call to renegotiate. Stitt believes that the multimillion-dollar tribal gaming compacts expired January 1, 2020, while the tribes say the agreements automatically renewed.
AG Opinion on No-Surcharge Statute
At the request of Sen. Michael Brooks (D-Oklahoma City) for an official Attorney General Opinion, the Office of Oklahoma Attorney General Mike Hunter released a legal opinion in December regarding the constitutionality of Oklahoma's so-called "No-Surcharge" statute that limited consumer choice in making purchases. Sen. Brooks sought the Attorney General's opinion with the goal of allowing more flexible payment options in Oklahoma that offer benefits to both businesses and consumers. In light of significant developments in federal constitutional law that bear directly on the legality of Oklahoma's "No-Surcharge" statute, Attorney General Hunter concluded that the Oklahoma state law that bars nationally common pricing practices unconstitutionally restricts free speech. The decision allows businesses to apply credit card surcharges as long as they make the required consumer disclosures, giving state merchants more flexibility on how they manage their costs. "As a result of this restriction, both businesses and consumers in Oklahoma have been denied information that would help each group make important decisions about how they buy and sell products and services. This opinion today gives consumers more choices on how to pay and will also give merchants more flexibility on how they manage their costs," Brooks said.
CardX, an innovative technology company that automates compliance in merchant payments, worked closely with Sen. Brooks to identify the issue and call out how this dated statute was impeding the ability of merchants and consumers to adopt a mutually beneficial modern payments technology. For many businesses, credit card fees are the second-highest operating cost after payroll. But merchants want to accept cards because in many industries, offering customers the option to pay with credit has become crucial to continued success. "This result in Oklahoma solidifies an inevitable payments industry makeover," said Jonathan Razi, CardX Founder and CEO. "Until today, Oklahoma was one of five states where we couldn't serve businesses, and this decision means that 94% of the United States by population is now open to credit card surcharging."
Cutting Down on Robocalls
On December 20, Oklahoma Attorney General Mike Hunter applauded members of both Congressional chambers for passing legislation that will cut down on robocalls. The Telephone Robocall Abuse Criminal Enforcement and Deterrence (TRACED) Act requires service providers to verify incoming calls are legitimate before reaching consumers, and gives the Federal Communications Commission (FCC) more ability to impose and collect fines for illegal calls. Violators could be fined up to $10,000. Attorney General Hunter said he was encouraged to see this important piece of legislation pass with bipartisan support. "I commend members of the House of Representatives and the Senate for working together in getting the TRACED Act to the president's desk," Hunter said. "One of the biggest consumer complaints I hear from Oklahomans is about the volume of robocalls they receive. This meaningful legislation will have a tremendous impact in reversing that trend and will better protect consumers. I look forward to continued partnership with the FCC once the bill is signed into law."
Part of the legislation requires attorneys general to partner with the FCC to form an interagency task force to study government prosecution of robocall violation. The task force will determine how federal law and budgetary constraints inhibit enforcement of the robocall violations; identify existing and additional policies and programs to increase coordination between federal departments and agencies and the states for enforcing and preventing violations of the robocall violations; and identify existing and potential international policies and programs to improve coordination between countries in enforcing robocall violations and similar laws.
AG Hunter Named Regional Chairman
Oklahoma Attorney General Mike Hunter was elected by his peers to serve as the National Association of Attorneys General (NAAG) chairman for the Midwest Region during the organization's Capital Forum in January. The leadership role allows the attorney general to host a regional meeting in Oklahoma City, or another location within the region, on the topic of his choice. He will announce his chairman's initiative at a later date. The meeting will take place between June and October 2020. He was one of four attorneys general elected to lead their respective region. His election as the Midwest Region chairman also makes him a member of NAAG's executive committee, which is charged with leading the association's operations as well as planning its annual national meetings. Serving as the attorney general's vice chair is Ohio Attorney General Dave Yost. The NAAG Midwest Region is made up of 11 states, including Oklahoma, Illinois, Indiana, Iowa, Kansas, Michigan, Minnesota, Missouri, Nebraska, Ohio and Wisconsin.
Banning State-funded Travel to California
As millions of people across the United States came together for the National March for Life, on January 23 Gov. Kevin Stitt announced a ban on state-funded travel to the State of California. "California and its elected officials over the past few years have banned travel to the State of Oklahoma in an effort to politically threaten and intimidate Oklahomans for their personal values. Enough is enough. If California's elected officials don't want public employees traveling to Oklahoma, I am eager to return the gesture on behalf of Oklahoma's pro-life stance. I am proud to be Governor of a state that fights for the most vulnerable among us, the unborn," said Gov. Stitt. The most recent government action from California came from the City of San Francisco in October 2019, which banned city-paid travel to the Sooner State, citing Oklahoma's laws that protect and ensure the right of an unborn child's life.
Stitt issued an executive order – EO 2020-02 – which bans all non-essential travel to the State of California for all state employees and officers of agencies that is paid for by the State of Oklahoma. There are three exceptions to the executive order banning the travel. The Department of Commerce will be allowed to travel for business recruitment purposes. Also, employees or officials who must obtain or retain professional accreditation only available in California, will be allowed. And, middle schools, high schools and colleges participating in competitions may also travel to California.
Hofmeister Refuses Comment on LGBT Policy
An August newsletter from the Oklahoma State Department of Education (OSDE), sent to Oklahoma's public schools, recommended some of what it called "best practices" in the creation of a "safe and valued climate for LGBT students." LGBT stands for Lesbian, Gay, Bisexual, and Transgender. The newsletter said that Oklahoma schools should allow students to select bathrooms on so-called gender identity rather than biological identity. OSDE also warned the schools that they should "never" reveal the "sexual orientation" of a student, without the permission of the student "even to the students' family."
State Rep. Justin Humphrey (R-Lane), asked State School Superintendent Joy Hofmeister to attend a meeting in the House chamber to provide an opportunity for OSDE officials to explain why the material was sent to the schools. Hofmeister, refused the offer, accusing Humphrey of trying to create a "public circus."
In 2016, federal agencies under the Obama Administration told schools that they must allow students to use bathrooms, locker rooms, and showers of their choice. A federal court issued an injunction against that dictate, and in February 2017 the incoming Trump Administration rescinded the order.
Hofmeister did concede that the newsletter should have "made clear that the recommendations were proposed by a non-governmental entity and not the OSDE." The non-governmental entity was the Southern Poverty Law Center (SPLC), a radical left-wing group.
Hofmeister is in her second term as state school superintendent, and will not be allowed to run for a second term in 2022, due to term limits.
Senators Hail Naming of USS Oklahoma
On December 23, Sen. James Lankford joined with Sen. Jim Inhofe, chairman of the Senate Armed Services Committee, to announce that the Navy's newest Virginia-class fast attack submarine will be named the USS Oklahoma: "Acting Secretary Modly called today to tell me that the Navy has chosen to name the next Virginia-class fast attack submarine after the great state of Oklahoma. Oklahoma has a proud and somber history within the Navy – the battleship USS Oklahoma lost 429 souls during the attack on Pearl Harbor. We have a permanent memorial to the sailors and Marines who lost their lives on December 7, 1941, at Pearl Harbor, and with the naming of a new USS Oklahoma, we can ensure their legacy of heroism, service and sacrifice lives on into the future. The future USS Oklahoma will serve our country, protecting our shores and allies while also honoring the contributions of all Oklahomans to our nation," Inhofe said. The future USS Oklahoma (SSN-802) will be the 29th Virginia-class fast attack submarine and the first in the Block V configuration. Block V submarines include advances in acoustic superiority and lethality that will enable the fleet to maintain our nation's undersea dominance. The future USS Oklahoma started construction this year and is planned to be delivered in the mid-2020s.
No WOTUS No More
Senator James Lankford applauded the Trump Administration's Environmental Protection Agency (EPA) issuing a Navigable Waters Protection rule. This rule replaces the Waters of the United States (WOTUS) rule, and removes burdensome regulation from America's farmers, ranchers, and landowners.
"Oklahomans want clean, safe water in our rivers, lakes, and streams. Unfortunately, previous administrations used an extreme interpretation of the Waters of the United States rule, which significantly impacted how farmers, ranchers, and developers could use their land and how much money and time they had to spend to get an answer of what is permissible under the onerous rule," said Lankford. "The Trump Administration has finally provided clarity and certainty with the new Navigable Waters Protection rule that will allow landowners, farmers, ranchers, and developers to put their resources in their community, not fighting a federal agency."
In 2015, Lankford and Senator Jim Inhofe sent a letter to the EPA to seek further clarification regarding compliance for the WOTUS rule, and Lankford was a cosponsor of a Senate resolution to nullify the expanded WOTUS definition. He also voted for a resolution of disapproval of the EPA's WOTUS rule in November 2015. In 2017, Lankford applauded an Executive Order issued by President Trump that required the EPA and other applicable departments to review the WOTUS rule, ensure it promotes economic growth and minimizes regulatory uncertainty.
Animal Owner Book
Oklahoma anti-animal rights activist, B.L. Cozad, has written a book that he says every animal owner in America needs to purchase: "Our animal agriculture industries are being targeted and destroyed and even our right to own animals is under attack by animal rights activists and our government officials. Every person in America that owns an animal needs to order my book and be prepared to stand up and fight for our rights against the traitors inside our government through the courts. The attacks on our God given constitutionally protected rights are all part of the United Nations Agenda 21 plan being supported by the Democrats and Washington DC establishment." The book, God Gave Man Dominion: The Foundation of American Government, is available at: www.lulu.com (search for BLCozad) or call the Lulu site: 1-844-212-0689