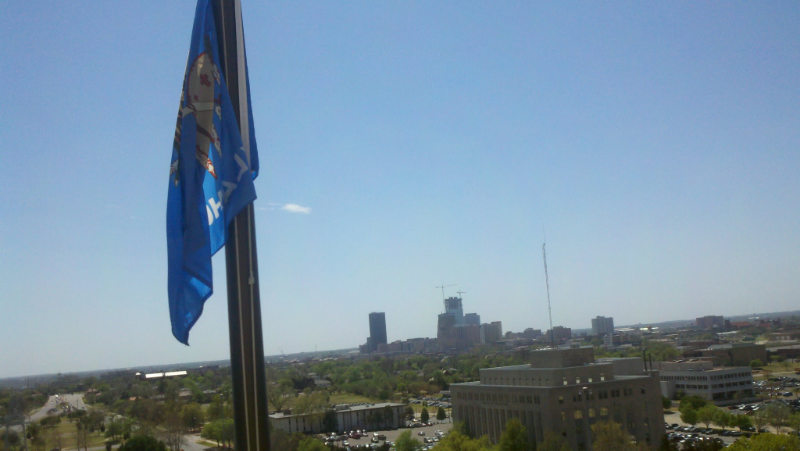 news
Petitions to Place State Questions on Ballot
In Oklahoma, the number of valid signatures required to get measures on the ballot is based on the votes cast in the last General Election. A total of 1,186,385 votes were cast for the office of Governor in the 2018 General Election. Signature requirements for the various types of petitions are derived by applying the percentages to the votes cast and are valid from November 14, 2018 through November 15, 2020. A Referendum to keep legislation from becoming law requires 59,320 valid signatures (5%). An Initiative for a non-constitutional change requires 94,911 (8%). To get an Initiative for a Constitutional Change requires 177,958 valid signatures (15%).
Signatures must be submitted 90 days after the initiative is cleared for circulation by the Secretary of State. However, the deadline to submit signatures, regardless of when an initiative was cleared to circulate, is September 4, 2020. The gathering of signatures is currently on hold due to the State of Emergency requirements for social distancing. Unless the State of Emergency is lifted and the 90 day signature gathering period is set to begin by the end of May, it will be difficult for most petitions to meet the deadline for the General Election ballot.
The Secretary of State verifies signatures and submits the totals to the Oklahoma Supreme Court, which makes the final determination of sufficiency. Following signature verification, the governor may place measures on the next General Election ballot, or place the measure on the Primary Election ballot, or call a Special Election.
State Question 802
Oklahoma's Medicaid Program
State Question 802 may be the only one to reach the ballot this year. Oklahomans Decide Healthcare launched an initiative petition to expand Medicaid in Oklahoma. Medicaid provides free healthcare at taxpayer expense to lower income families. Medicaid expansion was a major component of ObamaCare. Initiative Petition 419 proposes a constitutional change which requires 177,958 valid signatures.
When the Affordable Care Act (ObamaCare) was enacted, Oklahoma was one of 14 states that chose not to expand Medicaid. This proposal would expand Medicaid eligibility to the entire ObamaCare expansion population of able-bodied adults, would access Obamacare expansion funding, and would be subject to all ObamaCare regulations. The petition was filed on April 19, 2019, but was delayed after a challenge by opponents. On June 18, the Oklahoma Supreme Court rejected the challenge, clearing the way for the collection of signatures. Supporters of the initiative petition had until October 28 to collect signatures. On October 24, more than 313,000 signatures were submitted by the Yes on 802 campaign. After the signatures were verified and approved , Gov. Stitt issued a proclamation which placed State Question 802 on the June 30 Primary Election ballot.
If approved by voters, the proposal would make the Medicaid expansion a part of the Oklahoma Constitution, which could only be changed by another State Question. The ballot language of the measure says:
"Medicaid is a government-sponsored health insurance program for qualifying low-income persons. This measure would add a provision to the Oklahoma Constitution requiring the State to expand Medicaid coverage. The expanded coverage would include certain persons over 18 and under 65 who are not already covered and whose annual income, as calculated under federal law, is at or below 133% of the federal poverty line. The federal poverty line changes annually, but for example if this measure were in effect in 2019, the measure generally would have covered a single adult making less than $17,236 annually and adults in a family of four making less than $35,535 annually. Under this measure, the State cannot create additional restrictions that make it more difficult to qualify for expanded Medicaid coverage than it is to qualify for the Medicaid program currently in place. The Medicaid program is funded jointly by the federal government and the State. This measure would require the Oklahoma Health Care Authority (OHCA) to try to maximize federal funding for Medicaid expansion in Oklahoma. If the measure is approved, OHCA has 90 days to submit all documents necessary to obtain federal approval for implementing Medicaid expansion by July 1, 2021."
While much of the initial cost of the expansion would be paid from federal funds, it would put Oklahoma on the hook for a state share that could run into hundreds of millions of dollars each year. The federal government would pay 90% of the costs of the expansion with an estimated $900 million per year, but Oklahoma would have to cover the remaining 10% and would eventually be required to cover a larger share of the program.
Gov. Kevin Stitt and Republican legislative leaders oppose the straight Medicaid expansion as called for in the initiative petition, and pledged to develop an alternative healthcare plan. Dubbed SoonerCare 2.0, the state has submitted a plan amendment to allow Oklahoma to expand. SoonerCare, Oklahoma's Medicaid program, currently covers only children, pregnant women, elderly adults, and disabled adults. Beginning July 1, 2020, the state is expanding Medicaid to offer coverage availability to approximately 220,000 low-income adults ages 19-64. In March, under Gov. Stitt's direction, the Oklahoma Health Care Authority (OHCA) requested a waiver from the federal government for the second phase of SoonerCare 2.0. Stitt wants to use a federal waiver to would allow Oklahoma to add cost-sharing provisions, work requirements and other provisions, including moving to a block grant model for the expansion group. The waiver application seeks to launch these changes by July 1, 2021. It will be up to voters to decide if the SoonerCare 2.0 plan should be replaced as directed by State Question 802.
State Question 804/810
Independent Redistricting Commission
Initiative Petition 420 for State Question 804 was filed with the Secretary of State on October 28, 2019. It would have added a new Article V-A to the Oklahoma Constitution creating the Citizens' Independent Redistricting Commission responsible for congressional and state legislative redistricting. Currently, the districts are drawn by the Oklahoma Legislature. In 37 of the 50 states, state legislatures are primarily responsible for state legislative redistricting. Independent commissions drew state legislative district lines in six states. In seven states, politician commissions were responsible for state legislative redistricting. This would be a constitutional change which requires 177,958 valid signatures.
The initiative is part of a national effort led by former President Barack Obama and his Attorney General Eric Holder to redraw legislative and Congressional maps to elect more Democrats. That effort is spearheaded by the National Democratic Redistricting Committee (NDRC), chaired by Holder. The NDRC's website says it is motivated to redraw maps to help Democrats combat Republican policies that include "assaults on women's health, suppressing the vote for people of color, failing to address climate change, and refusing to stand up to the epidemic of gun violence." (https://democraticredistricting.com/about/) The NDRC is seeking to replace legislative and congressional maps drawn by elected officials with maps drawn by an independent group.
David McLain, chairman of the Oklahoma Republican Party, says, "SQ 804 would remove control over the redistricting process from our elected officials and place it in the hands of unelected activist judges who would then assemble their own 'independent' election commission. These new commissioners, unlike the bipartisan legislative committees that today control redistricting, would be held accountable to no one." McLain also noted, "The maps created by many of these independent commissions look as bad or worse than the corkscrew – or hockey stick – shaped maps that many legislative bodies produce. The difference, of course, being that activist judges are contorting districts into positions that accompany the 'correct' numbers of urban, liberal, LGBTQ+, or whatever other left-leaning affiliation that might benefit Democrats."
Protests concerning the constitutionality and the gist of the petition were filed with the Oklahoma Supreme Court on November 15, and the court agreed with the protests and found the petition to be invalid as written. The supporters have since refiled the measure with minor modifications as Initiative Petition 426 for State Question 810. The petition is active and on hold with Secretary of State until all appeals and protests are resolved.
State Question 805
Felony Sentence Modification
Initiative Petition 421 was filed in November 12, 2019, by Oklahomans for Criminal Justice Reform. This would be a constitutional change which requires 177,958 valid signatures. Organizers say State Question 805 is a criminal justice reform measure that would end the use of sentence enhancements for nonviolent offenses, and it would allow inmates who have already received an extreme sentence to petition the court for relief. Sentence enhancements often add additional prison time for repeat offenders. The proposal would prohibit the consideration of a previous felony conviction to increase the statutorily allowable base range of punishment for a person who is again convicted of a felony. Advocates for 805 argue non-violent offenders should not get a harsher sentence because of their past convictions.
Gov. Kevin Stitt expressed opposition to adding this provision to the state constitution: "Trying to put this into our state's constitution, it peels back enhancements for DUIs, human trafficking, domestic violence – some of the things I don't think we need to put into our constitution."
No protests were filed and the Secretary of State set the 90-day period to collect signatures to begin December 26, 2019. Signed petitions were required to be filed with the Secretary of State's office no later than March 26, 2020. However, after Gov. Kevin Stitt declared the State of Emergency due to the corona virus pandemic on March 15, Oklahoma Secretary of State Michael Rogers paused signature-gathering efforts until the declaration is lifted. Once the State of Emergency is lifted, the remainder of the signature gathering period can be completed. If a sufficient number of valid signatures are submitted, the measure could reach the ballot this year.
State Question 809
Permitting Requirements for Firearms
Initiative Petition 425 for State Question 809, the Reinstate Permitting Requirements for Firearms Initiative, would reinstate most of the firearm permitting and transport requirements that were in place before the passage of House Bill 2597 in 2019, referred to as the constitutional carry or permitless carry bill. On November 1, 2019, Oklahoma became the 16th state to allow constitutional carry. Oklahoma joined Alaska, Arizona, Arkansas, Idaho, Kansas, Maine, Mississippi, Missouri, New Hampshire, North Dakota, South Dakota, West Virginia, Wyoming, and Vermont that allow the Second Amendment as an individual's carry permit.
State Rep. Jason Lowe (D Oklahoma City) and members of the group Moms Demand Action attempted a veto referendum last year, but fell short of the number of signatures needed to put the question on the ballot. Lowe said he's confident this year because supporters will have more time to gather signatures. The ballot title for this measure to repeal the legislation is as follows:
"This measure would generally restore the handgun permitting requirements and certain other firearms-related provisions that were in place prior to the Legislature's enactment of HB 2597, the so-called "permitless carry" bill, in 2019. It removes the provision generally authorizing the concealed or unconcealed carrying of firearms without a permit by any person not otherwise disqualified by law from possession of a firearm who is 21 years of age or older, or 18 years of age or older if a military member or veteran. It prohibits any person, including handgun licensees, from possessing handguns or certain offensive weapons on college, university, or technology center property. It generally restores certain requirements regarding the unlicensed transportation of firearms in vehicles, as well as the unlicensed carrying of firearms on private property, while going to, from, or being at places for recognized firearm activities; and generally prohibits confiscation of firearms during traffic stops when any person in the vehicle holds a valid handgun license. It subjects a handgun licensee who refuses to leave a place where firearms are prohibited to certain criminal penalties, and restores prior provisions regarding state preemption, civil immunity, and handgun licensees' duty to notify law enforcement they possess a handgun."
Because it seeks a statutory change, only 94,911 valid signatures are required to get it on the ballot. A protest as to the constitutionality of the proposal was filed with Oklahoma Supreme Court on February 21 by the Oklahoma Second Amendment Association and it is on hold until the protest is resolved with the Court.
State Questions for Recreational Marijuana
With the approval of State Question 788 in the Primary Election on June 26, 2018, Oklahoma became the 30th state to allow marijuana to be legally used for medical purposes. There are now 33 states that allow some form of legal marijuana use. There were 892,758 votes cast on State Question 788, with 57 percent voting in support of the proposal. Most of the other states limit use to a specific list of qualifying medical conditions for which a doctor can prescribe medical marijuana. In contrast, this measure leaves it to the doctor's discretion. It also allows a higher amount of marijuana to be possessed by an individual than most other states. It is easier to get a marijuana license in Oklahoma than any other state.
In its first year, Oklahoma's medical marijuana industry went from nonexistent to one of the largest and most valuable cannabis markets in the nation. According to the latest figures from the Oklahoma Medical Marijuana Authority, there are 2,242 licensed dispensaries. That equates to 56 dispensaries per 100,000 residents in the state. With the 238,786 patient medical marijuana cards issued, one in 13 adults in Oklahoma hold one. Dispensaries recorded medical marijuana sales of $345 million in 2019, which was the first full year that Oklahoma's program have been in effect.
As has been the case in other states, legalizing medical marijuana was the first step toward legalizing recreational marijuana. Eleven states and the District of Columbia have legalized marijuana for recreational purposes, and all first legalized it for medical purposes. Because of the easy access to obtain medical marijuana in Oklahoma, it was thought that a move toward recreational marijuana use would be a few years down the road. But, a host of Initiative Petitions were recently filed with the Secretary of State.
Initiative Petition 422 to place State Question 806 on the ballot was filed in December 12, 2019, but was withdrawn on December 23. The initiative would have legalized and regulated marijuana for persons 21 years old and older and imposed a 15% excise tax on marijuana sales.
Proponents of the measure gave little advanced notice that the measure was going to be filed, in the hope that opponents would not have time to organize to challenge the petition. However, the stealth move also caught the Oklahoma medical marijuana industry by surprise. Owners of the medical marijuana dispensaries expressed concern about the impact of the higher tax and the new recreational dispensaries that might enter the market. Patients also express concern about the increased tax.
So, the authors of State Question 806 withdrew the proposal and quickly made a few changes and filed Initiative Petition 423 for State Question 807 on December 27. There are two primary changes found in the details of the replacement proposal. First, only existing medical marijuana businesses in Oklahoma would be eligible to receive licenses during the first two years after recreational marijuana business licenses are available. Also, the proposed 15 percent excise tax would not apply to products purchased by medical marijuana patients. This would be a constitutional change which requires 177,958 valid signatures.
A protest was filed with the Oklahoma Supreme Court on January 17 concerning the constitutionality of the measure and it is on hold until resolved with the Court. The protest was filed by Paul Tay of Tulsa, who filed a competing initiative, State Question 808, also on December 27. In his complaint, he is challenging the constitutionality of the measure, arguing that it violates the U.S. Controlled Substances Act.
Tay filed Initiative Petition 424 which would also add a new Article 31 to the Oklahoma Constitution. Tay's proposal calls for "universal basic access to cannabis." The initiative would create a constitutional right to consume cannabis. The measure would also require those convicted of marijuana offenses to be exonerated and/or released from incarceration. The ballot title for this measure is as follows:
"This measure adds a new article to the Constitution, which would generally decriminalize cannabis, hemp, and all its related products for all persons. Specifically, it states the right of all persons to cultivate, consume, and consign for sale, barter, or charity of cannabis, and all its related products, while establishing the official State of Oklahoma policy on drug abuse as a public health issue, not in the purview of law enforcement or criminal justice system. ne measure would enjoin all appropriate State Officials to establish the infrastructure for universal basic cannabis access, without regard of the ability to pay. No persons shall be denied employment, equal protection of law, right of self-defense by any available means, or be subjected to any adverse, punitive administrative actions by any State agency, or official, due to cannabis consumption. No persons shall be incarcerated, due to cannabis use, transfer to any other person or corporate entity, or transport to its final destination. All persons currently or formerly incarcerated for cannabis offenses, without any other violence related offenses, shall be exonerated, released as free persons, and reparated for time served, to the fullest extent possible. No State official may assist federal enforcement of the Controlled Substances Act, or any other federal administrative rules prohibiting the same transactional access, as any other substances, such as alcohol, and tobacco. The measure establishes state-sponsored financial infrastructure to provide for easy, convenient transactions, quality control, and baseline standards for all cannabis, and related products. The measure provides for extensive public input when specific cases arise to require changes, to allow appropriate State officials to promulgate appropriate administrative rules and procedures to address future needs. The measure allows the State Legislature to impose a reasonable tax to the extent required to promulgate and implement all provisions of the measure, and for no other purposes."
No protests were filed with Oklahoma Supreme. However, due to the corona virus pandemic and the State of Emergency declared in Oklahoma, the signature circulation dates have not yet been set by the Secretary of State. This would be a constitutional change which requires 177,958 valid signatures.
Other initiatives concerning the use or regulation of marijuana have also been filed. Initiative Petition 427 for State Question 811 was filed and later withdrawn. Meanwhile Initiative Petition 428 for State Question 812 was filed with the Secretary of State on March 4, 2020 and the Secretary of State had the "Notice of the Filing" published on March 11. State Question 812 would decriminalize certain offenses related to marijuana and require the immediate release from jail of any offenders of such offenses. The measure also seeks to decriminalize marijuana and, if passed, would require the Oklahoma Department of Corrections to release all offenders serving time on a host of cannabis-related offenses.
Initiative Petition 429 for State Question 813, would legalize and regulate marijuana for persons 18 years old and older and impose a 25% excise tax on marijuana sales. A protest as to the constitutionality of the proposal was filed with Oklahoma Supreme Court on March 23. The proposal is on hold until all appeals and protests are resolved with the Court.
In addition to the initiative petition process, state questions can also be initiated by the Legislature. To put a legislatively referred constitutional amendment before voters, a simple majority is required in both the Oklahoma State Senate and the Oklahoma House of Representatives. Several such resolutions are currently under consideration by the Legislature.