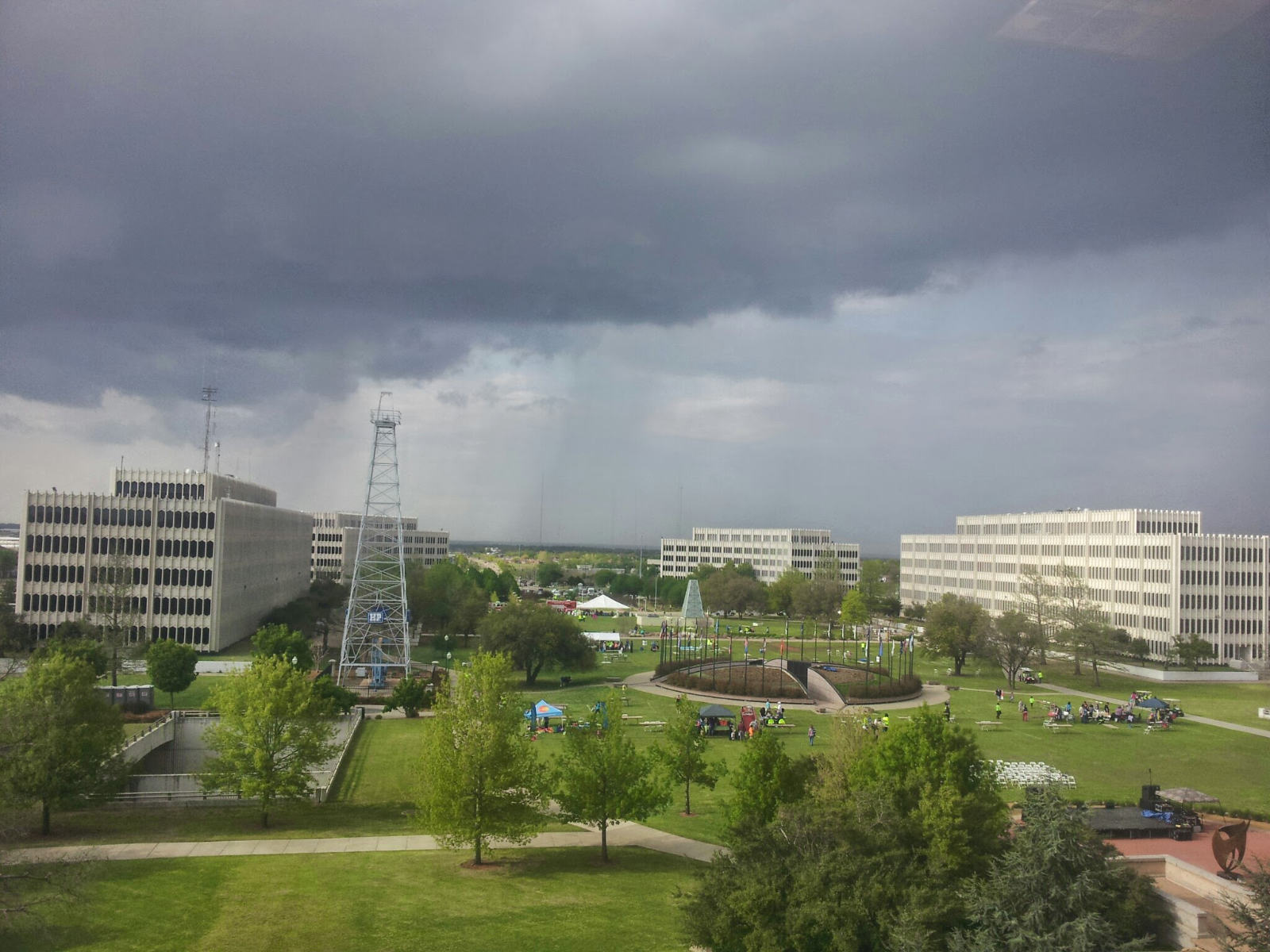 tidbits
Tidbits for Spring 2020
On February 12, Oklahoma Governor Kevin Stitt and Lt. Governor Matt Pinnell unveiled the state's new brand. The brand is a result of nine months of work by a volunteer committee consisting of more than 140 creatives. "As Secretary of Tourism and Branding, Lt. Governor Pinnell has traveled to communities across Oklahoma and personally experienced everything our state has to offer," said Gov. Stitt. "His enthusiasm and passion for our state and people is evident, and he charged full steam ahead to pull together creatives from all over the state to form and launch this new brand for Oklahoma. With this new brand, we will work to breathe new life into tourism, job recruitment, investors, and much more."
Pinnell explained the process to create the new brand. "Last summer I invited more than 200 of Oklahoma's brightest and most creative designers, marketing experts, communications professionals, videographers and photographers to join me in creating a new brand for Oklahoma. Their task was to develop a cohesive, new brand for Oklahoma that best represents our heritage and history, our booming industry, our beautiful one of a kind vistas, and most importantly, our greatest asset – our people. The vision behind this effort is to position Oklahoma as a top-tier destination for visitors, businesses, talent and citizens."
The unveiling of the brand was via a video created by the volunteer team. The logo design is inspired by Oklahoma's heritage. The shapes and colors reflect the earth, sky, water, agriculture and forest. A white star in the middle of the brand is a powerful symbol of America and on the original flag of the state. The chevrons outlining the star acknowledge Oklahoma's military. All the elements form a circle and direct energy inward, highlighting Oklahoma as a hub at the center of America. There is also tagline "Imagine that" that will be associated with some promotional materials which conveys the idea behind the Oklahoma brand: a state that surprised people by defying expectations, providing countless opportunities and inviting audiences to dream of their own personal potential.
The brand rollout will continue as highway signs, tourism efforts, agency websites, programs and communications begin to implement the new brand. "Today marks the beginning of a transformation," said Pinnell. "The transformation of Oklahoma's statewide, national and international image."
2020 Election Calendar
The candidate filing period for the Oklahoma Legislature this year was April 8-10. Due to the COVID-19 pandemic, candidates were encouraged to file their paperwork, along with the required filing fee or petition, by mail or delivery service. Candidates who filed in-person did so using a "drive-through" in the State Capitol parking lot. Oklahoma's Primary Election date is the last Tuesday in June, which will be June 30 this year. For those seats in which no candidate receives more than 50 percent of the vote, the Runoff Primary Election will be held on the last Tuesday of August. The date this year will be August 25. The General Election will be held November 3.
Unapproved Voter Registration Applications
In March, State Election Board Secretary Paul Ziriax cautioned Oklahomans about unapproved voter registration applications generated from a website called Register2Vote.org, but said a solution was in the works. Under Oklahoma state law, only the official National Mail Voter Registration Application and the Oklahoma Voter Registration Application are accepted in this state. "I have spoken with the director of Register2Vote.org. I now believe the organization had good intentions and did not deliberately seek to provide Oklahomans with forms that are not valid under our law. Oklahoma election officials will work with Register2Vote.org to ensure that in the future any voter registration applications provided to Oklahomans are valid and approved for use in our state," Ziriax said.
Oklahomans who submitted an unapproved application generated by Register2Vote.org to their County Election Board will be mailed a letter from the Secretary of the County Election Board explaining why the application was rejected, along with an official Oklahoma Voter Registration Application to ensure the citizens get registered to vote. Voters who believe they submitted an unapproved form or need to register to vote can also download a valid application from the State Election Board website at elections.ok.gov. The last day to register to vote to participate in the Primary Election on June 30 is June 5. Voters with questions, should contact their County Election Board or the State Election Board at (405) 521-2391 or info@elections.ok.gov.
State Conventions Cancelled or Delayed
The Oklahoma Democratic Party Central Committee met on March 14 and voted decided to develop an alternative plan to the Presidential Preferential Convention previously scheduled for April 4, 2020. They later announced how they would proceed: "For public safety and everyone's health during the COVID-19 pandemic, we had to cancel the 2020 Oklahoma State Convention and instead hold an online delegate selection process. This is the only way we can seat our delegates at the 2020 National Convention now rescheduled in Milwaukee the week of August 17th." The Oklahoma Republican Party had originally scheduled their state convention for May 2. But, after the State of Emergency was declared in Oklahoma, they moved the convention to June 20. The Republican National Convention will be held August 24-27, 2020, in Charlotte, North Carolina.
State Revenue Failure
On April 20, the state Board of Equalization declared a $416,883,273 revenue failure for FY20 (Fiscal Year 2020) in a virtual meeting. State fiscal years begin on July 1 and end the following June 30. So, this nearly $417 million shortfall covers the current fiscal year that ends this June 30. Declaring a revenue failure allows the Legislature to access savings deposited in the Constitutional Reserve Fund, which is also often called the "Rainy Day Fund," to avoid cuts to agencies during the current fiscal year. During the meeting, Oklahoma Tax Commission Executive Director Jay Doyle presented an updated look at how COVID-19 and the downturn in oil and gas are affecting revenue forecasts for Fiscal Year 2021, which begins July 1.
While the Board of Equalization's February report provided $8.244 billion of spending authority for the Legislature, the latest projection shows just $6.878 billion available, a difference of $1.366 billion. The Board of Equalization is not statutorily allowed to revise its February figure for the FY21 budget, but Governor Kevin Stitt gave an update on Oklahoma's financial future following the meeting. "I want Oklahomans to know that the Legislature will need to be fiscally conservative when it writes the FY21 budget," said Gov. Stitt. "Even if we took our savings account down to zero, we would still have 7.5% less to spend than in FY20, and we'll likely have another significant drop for FY22."
Oklahoma had about $1 billion in reserves and expects to receive up to $1.6 billion from the federal government for COVID-19 relief, although the federal funds are expected to be restricted to expenses for the coronavirus pandemic. Stitt has asked the state's congressional delegation to seek more flexibility on how those funds can be spent. He said the state has spent $459 million of its savings and has about $550 million left.
Surgeries Resume in Oklahoma
On April 16, Gov. Kevin Stitt issued an amendment to Executive Order (EO) 2020-13, which sets guidelines for medical providers to determine which elective surgeries that can resume April 24. Additionally, Gov. Stitt signed Executive Memorandum 2020-02 outlining an Elective Surgery Acuity Scale (ESAS) for medical providers to follow regarding when elective surgeries can be performed during the COVID-19 state of emergency. This easing of restrictions was the first step toward a return to normalcy in Oklahoma. One week later, the governor announced a 3 Phase plan to reopen Oklahoma.
"We initially suspended elective surgeries to preserve hospital bed capacity and PPE to handle a potential surge in COVID-19 patients," said Gov. Stitt. "Since our data indicates we are in a good position regarding hospital capacity – and provided individual institutions can accommodate their internal demand for PPE – it is time to bring some of these procedures back to help our hospitals and the Oklahomans who need them."
Beginning April 24, any procedure for conditions that were not life-threatening and which, if not provided, would have the potential for increasing morbidity or mortality could be performed. All minor medical procedures and non-emergency dental procedures such as outpatient surgeries or procedures for not life-threatening illnesses may resume May 1. Medical providers were encouraged to consult the Non-Emergent, Elective Medical Services and Treatment Recommendations issued by the Centers for Medicare & Medicaid Services (CMS) for guidance on what is considered an elective surgery or procedure.
Norman Transcript Calls for Mike Gundy to Be Fired
The Norman Transcript, or at least its sports writer, Clay Horning, has decided it is time for Oklahoma State's
football coach, Mike Gundy, to be fired? Good grief, what did the winningest coach in OSU history do to deserve being axed from the job he has held since 2005? Was it because he can't beat OU (well hardly ever), which not too many teams in the Big XII conference can do? Did he commit some moral offense? Did he make a racist statement? No – none of those.
Horning thinks Gundy should be fired because in early April he expressed hope that the athletic department can open back up by May 1. "We need to get back to playing football for a variety of reason, [when] the medical people say we can. There are too many people relying on it. We've got to have a plan." Others in the liberal media also piled on, accusing Gundy of "racism" because he called COVID-10 the "Chinese coronavirus."
Horning – like the rest of the Transcript, for the most part – is a liberal, and we can presume that he does not like it that Gundy is an outspoken conservative. Horning is not the first Transcript person to interject his liberal views onto the sports page. Back in 2009, a previous reporter expressed joy when the national anthem was played before the opening game for OU, noting that the country now had Barack Obama as president, and that it was the first time he was proud to stand up for the song. Most Americans – whether OU or OSU football fans – don't really think about who is president when the national anthem is played, but apparently everything, including sports, needs to be used to advance their left-wing agenda.
State Supreme Court Seizes Power
We are used to judges, at all levels, taking a case before them, and issuing a decision that violates the clear wording of either the federal or state constitutions, or statutes. However, the Oklahoma Supreme Court has gone far beyond even that method of subversion of republican government. They recently issued an order that "all deadlines and procedures whether prescribed by statute, rule or order ... shall be suspended through May 15, 2020" due to COVID-19. The problem with this order is that judges have no authority to act unless an actual case is brought before them. They do not make laws, but rather they interpret and apply law to cases brought before them.
Whether it is a good decision to extend these deadlines is irrelevant. These deadlines are set by the Oklahoma Legislature – not the courts. This sets the dangerous precedent that the Oklahoma Supreme Court can, on its own, decide public policy, without so much as a case being brought before them. The Legislature should address this, but considering that there are far too many members in that body who care nothing for constitutional principles, don't hold your breath.
New Gaming Compacts
On April 21, Gov. Kevin Stitt joined Otoe-Missouria Tribe Chairman John Shotton and Comanche Nation Chairman William Nelson in signing two new gaming compacts. Each compact is for a 15-year term and must be approved by the Bureau of Indian Affairs at the U.S. Department of the Interior (DOI) before going into effect.
The Comanche compact authorizes the tribe to open new gaming venues in Cleveland, Grady and Love counties. The Otoe-Missouria tribe got the okay to open new casinos in Logan, Noble and Payne counties. The tribes have agreed to pay tax rates of 4.5% on gaming revenue from their existing casinos (6% if/when revenue tops $300m). This is similar to the rates in the previous compacts that expired on January 1. However, the Otoe-Missouria tribe will pay between 8%-12% on gaming revenue from new casinos, while the Comanche will pay between 8%-13% on their new casinos.
The new compacts include different rates for land-based sports betting, which both tribes are authorized to conduct under the new compacts. The tribes have agreed to pay the state 1.1% of the wagering handle. but there are questions as to whether the new compacts will withstand legal scrutiny concerning the sports betting. The compacts also allows the state"at some future time" to license up to five non-tribal betting locations, provided the state approves such wagering.
House Native American Caucus
Guests from several Native American tribes were in attendance for this legislative session's first meeting of the Oklahoma House of Representatives' Native American Caucus. During the meeting, it was announced that State Rep. Ken Luttrell (R-Ponca City) will serve as co-chair of the caucus this year alongside Rep. Collin Walke (D-Oklahoma City). "I thank the members and our tribal friends for the trust they have placed in me to serve in this capacity," Luttrell said. "I look forward to working with Rep. Walke and the caucus as we develop and promote policy that is beneficial to the tribal nations, Oklahoma and all citizens." Luttrell previously served on the executive board of the National Caucus of Native American State Legislators. He represents numerous tribes in his district and is an enrolled member of the Cherokee Nation.
Walke said, "I'm honored to serve with Rep. Luttrell for the Native American Caucus. There are many issues affecting tribal members in our state, and I look forward to working collaboratively with them as we move this state forward." Walke is also an enrolled member of the Cherokee Nation. Former State Rep. Lisa Billy (R-Purcell) a Chickasaw Tribal councilwoman, was a founding member of the House Native American Caucus, which was formed during her first term in office in 2006. She said she and former Rep. Paul Wesselhoft (R-Moore) a representative of the Citizen Pottawatomie Nation, started the caucus after brainstorming ways to bring a voice for tribal people together with state lawmakers. She said she and Wesselhoft started having conversations with other Native American legislators at national gatherings and came together with the goal of bringing tribal leaders together with elected leaders at the state Capitol. Billy said an early goal of the House Native American Caucus was to make sure it was bipartisan and was excited this year to see a return to a bipartisan leadership for the caucus.
Oklahoma City Bombing Memorial Grove
On February 25, the state Office of Management and Enterprise Services (OMES) announced that it had partnered with the Oklahoma City National Memorial & Museum to renovate the Oklahoma City Bombing Memorial Grove at the north end of the State Capitol Campus. "As we move forward into 2020, we will continue to reflect on the 25th anniversary of the Oklahoma City bombing," said Oklahoma Secretary of Agriculture Blayne Arthur, who also serves on the Conscience Committee at the Oklahoma City National Memorial & Museum. "Time has changed many things, and I appreciate the State of Oklahoma and the national memorial & museum working collaboratively on this project that will provide a long-term sustainable grove to remember all who were lost in 1995." The Oklahoma City Bombing Memorial Grove was a gift to Oklahoma from officials from the state of Iowa. It included grove of 168 trees, each representing one of the victims.
OMES officials have worked to ensure the redesign enriches the memorial and continues to respect and honor the victims of the bombing and their families, said Dan Ross, OMES Capital Assets Management administrator. The renovation will incorporate three types of trees, additional benches and lighting improvements. The variety of trees will include crabapples, oaks and redbuds, and are intended to represent the lives lost in the bombing. The Oklahoma City Bombing Memorial Grove was initially dedicated in November 1995 and will be rededicated this November. The Conscience Committee is an advisory committee to the Board of Trustees at the Oklahoma City National Memorial to ensure through the years all programs and events stay true to its original mission. Major construction was slated to begin in March with work where trees were removed to repair a natural gas leak last year. However, delays with funding, along with the COVID-19 pandemic, have placed the project on hold. It is still hoped that the work will be completed in time for a 25th anniversary dedication.
Angela Davis Keynote Speaker at OU
On February 21, the University of Oklahoma Black Student Association hosted one of America's most notorious left-wing activists. Angela Davis, one of the most prominent radicals of the 1960s, was the keynote speaker for the Big XII Conference on Black Student Government at OU. The conference was titled "Generation Us: Unifying Blackness Through Social Change." While a flyer for the event called Davis a "feminist, writer, activist, scholar, educator, author and professor and Black Panther founder-legend."She may be all those things, but Davis was also an FBI top-10 fugitive, homicide suspect, and a communist. In 1970 she purchased and provided guns to the brother of her imprisoned lover, who took a judge, a prosecutor, and three jurors hostage in a courtroom in Marin County, California. The judge and three others died in the resulting shootout. After being named a co-defendant in the ensuing criminal case she fled and was placed on the FBI's 10 Most Wanted list. Davis was a member of the Communist Party USA until 1991 when she left and founded the Committees of Correspondence for Democracy and Socialism.
Death of Tom Coburn
Former U.S. Senator Tom Coburn died on March 28, he was 72 years old. His family issued a statement that Coburn died at home, and reports say it was from complications due to prostate cancer. Dr. Coburn resigned from his seat in the Senate in 2014, two years before his term was scheduled to end, to concentrate on his health. He had previously served three terms in the U.S. House of Representatives. Coburn was elected to the United States House of Representatives in 1994 as part of the Republican Revolution. He upheld his campaign pledge to serve no more than three consecutive terms and did not run for re-election in 2000. In 2004, he returned to political life with a successful run for the United States Senate. He was re-elected to a second term in 2010.
Dr. Coburn was an obstetrician before, during, and after his election to the U.S. House. He personally delivered more than 4,000 babies. Coburn was a fiscal and social conservative, known for his opposition to deficit spending and pork barrel projects, and for his opposition to abortion. After leaving the U.S. Senate, he continued to be active in politics, and two years ago assisted the group opposing the massive tax increase.
Death of former State Rep. Linda Larason
Members of the Oklahoma House Democratic Caucus are mourning the loss of former State Rep. Linda Larason who passed away Saturday, April 11, at age 72. Larason served in the legislature from 1985 to 1995. A lifelong Democrat, Larason was a fierce advocate for government funded education, teen pregnancy prevention, and access to healthcare. She was also a co-author of House Bill 1017, which expanded education funding in Oklahoma. She was among the most liberal members of the Legislature, earning only an 8 percent score on the Oklahoma Conservative Index.
Oklahoma Better for Retirees
Deciding where to retire is an important and serious decision. Retirement Living wanted to know which states were the best for retirement and according to the study, Oklahoma is doing better than its neighbors. To determine which states are the best and worst for retirees, they calculated the cost of living, cost of care, percentage of the population over 65, and surveyed over 1,500 consumers across the U.S. about how they would rate their state. To determine where Oklahoma ranks, they normalized and weighted each data point based on greater or lesser importance. The weighted scores were combined to produce the final rating. Oklahoma is doing better than: Kansas, Texas, Colorado, and New Mexic. To see where each state ranks and to read more information, check out the full study:
https://www.retirementliving.com/best-and-worst-states-for-retirement-2020
OCPA Citizenship Award Dinner
One of the annual highlights for Oklahoma Council of Public Affairs (OCPA), is the Citizenship Award Dinner, held every spring. However, due to the coronavirus, the event had to be rescheduling this year. The 2020 Citizenship Award Dinner will be held September 16, in Oklahoma City at the National Cowboy and Western Heritage Museum. There will be a reception at 6:00pm and the program and dinner will begin at 7:00 PM. The keynote address will still be provided by Sarah Huckabee Sanders, former White House Press Secretary for President Donald J. Trump. For ticket information go to: https://www.ocpathink.org/event/cad