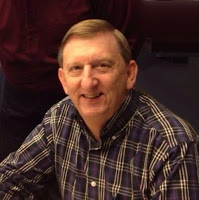 column
Jim Inhofe
By Steve Byas
Perhaps another person could take his place and do an even better job than Jim Inhofe, but I seriously doubt it.
I read with interest a story in the Oklahoman newspaper on March 26. As with the rest of the newspaper, practically all of the stories concerned the COVID-19 pandemic.
This one was about Senator James Inhofe and a group of Americans who had been stranded in Kenya due to the pandemic. The six were part of a group that traveled to the African nation on a medical mission trip, with an Oklahoma City-based group, the Maisha Project.
The group was prepared with lots of food and medicine. The trip was planned at a time when COVID-19 was not considered a problem in either Kenya or the U.S. When they arrived in Africa, there were zero cases in Kenya.
Then, on the fourth day, Kenya's president ordered a quarantine for every person who had flown in from the U.S. in the past 14 days, because a Kenyan student had come down with the virus after traveling to America. Once the quarantine time was over, they could not get airplane tickets to leave the country. "Every flight they booked us got canceled within an hour. We had like 17 flights cancelled. Whole airports were cancelled," said trip participant Amber English of Moore.
With food and medicines running out, the desperate group got no help from the U.S. Embassy. Finally, they called state Rep. Mark McBride, a Moore Republican. McBride got them connections to Senator Jim Inhofe. Someone gave her Inhofe's cellphone number.
"You could feel the hysteria they were expressing at that time," Inhofe told the Oklahoman.
Fortunately, Inhofe has been involved in Africa on Christian missionary efforts for a quarter of a century, and had personal connections in Nairobi. These connections that Inhofe had led to Kenya Airways adding a second flight on a Monday evening, and the Oklahoma constituents of Inhofe were able to make a late flight out the day before Kenya closed its borders.
While the Oklahoman had an article on this story, not nearly as much attention was paid in the national or local media to this effort by Inhofe as the smear against him a short time before, involving some sale of stocks.
Apparently, senators were given a closed-door briefing in January on the impending COVID-19 outbreak, which led some media to speculate that insider trading was involved. I do not have an opinion on the other senators who were crucified in the media as taking advantage of their position to sell stocks.
But Inhofe responded to a scurrilous attack on him by the New York Times in March. "The New York Times allegations are completely baseless and 100 percent false. I was not at the briefing on January 24. I was meeting with pro-life kids from Oklahoma here for the March for Life and the new nominee to be U.S. Ambassador to Tanzania.
"I do not have any involvement in my investment decisions. In December 2018, shortly after becoming chairman of the Senate Armed Services Committee, I instructed my financial advisor to move me out of all stocks and into mutual funds to avoid any appearance of controversy. My advisor has been doing so faithfully since that time and I am not aware of or consulted about any transactions."
Despite all of this evidence to the contrary, many spewed vicious venom against Inhofe on social media, as though he had personally caused the world-wide outbreak of the coronavirus.
Such is not unusual, of course. In the Middle Ages, thousands of Jews were murdered, accused of causing the Bubonic Plague. In more recent years, after practically every natural disaster, attacks are made against this or that business owner who dares to respond to the shortage of supplies by raising their prices (which is, of course, what should be done if demand is outpacing supply). It is almost as if the devastation of floods, tornadoes, hurricanes, and the like can be mitigated by fining or even jailing some guy who raised his gasoline prices by 25 cents per gallon. (For some reason, some think it is better for there to be no gasoline at all than for someone to respond to the market forces and increase their price, but when market forces cause the price to fall, no one cares).
This is the same type of thing – making people feel good during the coronavirus outbreak by going after senators for "insider trading." And, of course, since they are politicians (the equivalent of a cuss word for some), they should be presumed guilty until proven innocent.
Regardless, in Inhofe's case it is totally unfair. With Senator Inhofe running for another term, the same old tired arguments for "term limits," and the like are trotted out. Inhofe's too old, or he's been in there too long are among the arguments made against him.
But a senator with less experience would have probably been unable to get his constituents out of Kenya.
And Inhofe has lots of experience, most of it good. Certainly, I do not agree with all of Inhofe's votes and actions, but let us do a quick review of his career as a state legislator, mayor, and member of Congress.
It was Inhofe who was the voice crying in the wilderness against the scam known then as global warming (now usually called global climate change). When other politicians were hunkered down, meekly complying with the drumbeat of the national media, Inhofe recognized the socialist implications of what the Left was pushing. Today, it is more obvious with the so-called Green New Deal that would devastate our economy.
In 2008, when others, including Inhofe's fellow senator from Oklahoma, Tom Coburn, buckled to the pressure and voted for the big bank bailout, Inhofe was in the minority voting against it.
Over the years, Inhofe has been consistently pro-life and pro-Second Amendment. He has been a stalwart for national defense. One would think that the typical conservative Republican would be thankful that we have had a person of Inhofe's caliber in that office all of these years. Personally, I think a person who dedicates his life to limited government and the free enterprise system by serving in public office should be commended, not condemned. Perhaps another person could take his place and do an even better job than Jim Inhofe, but I seriously doubt it. I don't see just a whole lot of individuals out there who could fill his shoes.
I am not willing to take that chance.
Steve Byas is the Editor of the Oklahoma Constitution, a regular contributor to The New American magazine, and the author of History's Greatest Libels. He can be contacted at: byassteve@yahoo.com