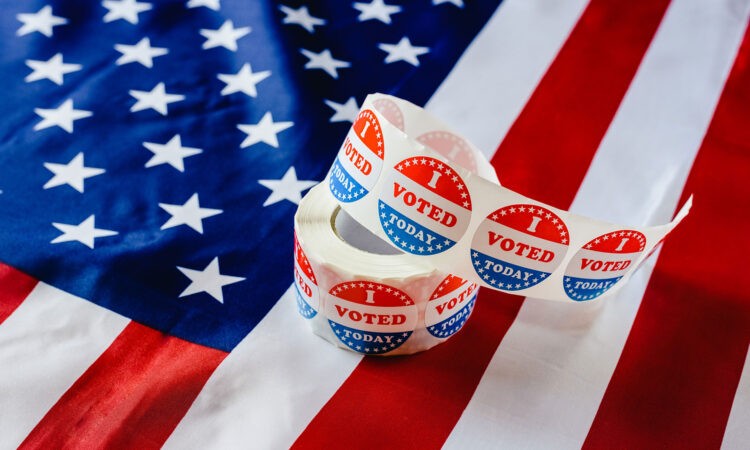 news
Statewide and Congressional Races on the Ballot
PRESIDENT
Republican President Donald J. Trump and Vice President Michael R. Pence are running for a second term and will be on the Oklahoma ballot. Former Vice President Joseph R. Biden won the Democratic nomination and will appear on the ballot with his running mate, Senator Kamala D. Harris of California. Also on the state presidential ballot will be the Libertarian Party candidate Jo Jorgensen and running mate Jeremy Spike Cohen.
In addition to the nominees of the three political parties, there will also be three Independent presidential candidates. Rap star Kanye West will be on the ballot with running mate Michelle Tidball. Crypto-currency entrepreneur Brock Pierce and running mate Karla Ballard will be a choice. Also, Concert pianist Jade Simmons and running mate Claudeliah J. Roze.
UNITED STATES CONGRESS
The U.S. Congress is composed of two chambers. Senators serve six-year terms with only a third of the seats up each election year. Each state has two seats in that upper chamber. Only one of Oklahoma's two U.S. Senate seats is up for election in 2020. Senator Jim Inhofe was reelected in 2014 and his term expires this year. Senator James Lankford was reelected in 2016 and his term will not be up until the 2022 election. All five Oklahoma seats in the U.S. House of Representatives are up each election year since they serve two-year terms. All five incumbents are running for reelection.
U.S. Senator
Senator Jim Inhofe, 85, of Tulsa is running for another term. Inhofe has been a conservative leader since his days in the Oklahoma Legislature, as Mayor of Tulsa, his time in U.S. House of Representatives, and while in the U.S. Senate. Inhofe was first elected to the Senate in a special election in1994, and reelected with ease since then. This year he had three challengers for the Republican nomination. There were four Democrats vying for their party's nomination. There is also a Libertarian, and two independents running.
Senator Inhofe easily won the Republican nomination with over 74% of the vote. Of the four Democrats that were running, the best known is Abby Broyles, 30, of Oklahoma City. She secured the Democrat nomination with 60.45% of the vote. Broyles began working as a TV news reporter at age 20, and spent the majority of her TV career at KFOR, the NBC affiliate in Oklahoma City. She recently completed law school, passed the bar, and is opening her own law practice.
Robert Murphy, 72, of Norman won the Libertarian nomination for the U.S. Senate in 2016. Since he was the only Libertarian that filed this time, he will be on the ballot in the November. He has run for various other offices in the past, including several races for Congress. He has run as a Libertarian when the party has had ballot status, and in other campaigns as an Independent.
Two candidates filed as Independents and will appear on the ballot. Joan Farr, 64, of Tulsa is a pre-litigation consultant and legal reform activist. She ran for the seat in 2014. A. D. (April) Nesbit, 39, of Ada is college professor and biologist.
A more detailed examination of the U.S. Senate race is found in a separate article in this edition.
U.S. Representative
District 1
First District (Tulsa area) incumbent Republican Kevin Hern, 58, was elected to the seat in 2018. He replaced Congressman Jim Bridenstine who did not run for a fourth term and was nominated by President Trump to head the National Aeronautics and Space Administration (NASA). Hern is the owner of KTAK Coorporation which owns and operates ten McDonald's restaurants employing over 400 people in the Tulsa area. No other Republicans filed, but he is opposed by a Democrat and an Independent in the November election.
There were two Democrats competing for the nomination. Kojo Asamoa-Caesar, 33, of Tulsa is the son of immigrants and won the Democrat nomination with 63.64% of the vote. He is a law school graduate who chose to become a kindergarten teacher.
Independent candidate Evelyn L. Rogers, 67, of Tulsa will also be on the November ballot. She is a college librarian and perennial candidate. She ran for the U.S. Senate in 2008 and 2014, and six times for a seat in the U.S. House. She has also run for the Oklahoma Legislature.
District 2
The Second District covers 26 counties in eastern Oklahoma, stretching south from the Kansas state line to the Red River border with Texas. After the 2010 census and minor redistricting, the district remains the most Democratic in the state by registration.
Congressman Markwayne Mullin, 42, of Westville is running for a another term. Mullin owns Mullin Plumbing which spans much of the state. He also has ranching operations in Adair and Wagoner counties. When he first ran for office in 2012, he said he would serve no more than six years in Congress, but decided to run for reelection in 2018 anyway. Mullin, who has a generally conservative voting record, was reelected in 2018 with 65 percent of the vote. Mullin was opposed for the Republican nomination this time by two other candidates. He won the Republican nomination this time with almost 80% of the vote.
Danyell Lanier, 44, of Hugo was the only Democrat to file. In 2018, she was the Democrat candidate for Collin County court judge in Texas. She lost in the General Election after advancing from the primary.
Libertarian Richie Castaldo, 38, of Afton will also be on the ballot. As in 2018, he was the only Libertarian to file. He is a street pastor with Grand Lake Life.
District 3
The third district covers most of the north central and northwestern parts of the state, including the panhandle. Long-time Congressman Frank Lucas, 60, of Cheyenne was first elected in a Special Election in 1994. He is the longest serving member among the current Oklahoma Delegation in the U.S. House, and is running for reelection. He is a former state representative and runs a ranching operation. He was unopposed for the Republican nomination.
Zoe Midyett, 51, of Wellston was the only Democrat to file. In 2006, she took over her favorite feed store, Red Earth Feed & Tack, in Oklahoma City.
District 4
The Fourth District covers much of the south central and southwestern parts of the state. Congressman Tom Cole, 70, of Moore is running for reelection. Cole was first elected to Congress in 2002. While serving in the state Senate back in the 1989-90 time period Cole compiled an 80% Oklahoma Conservative Index score, placing him in the Top Conservatives list. However, his record in Congress has been markedly less conservative and he was challenged for the nomination by three other Republicans. Congressman Cole easily won renomination with over 76% of the vote.
Three Democrats were competing for the nomination of their party. Mary Brannon, 68, of Washington won the nomination in 2018 and secured the nomination again this time with 63.85% of the primary vote. She is a teacher and school counselor. Brannon received 33% of the vote in the General Election against Cole in 2018.
Also on the November ballot will be Libertarian candidate Bob White, 71, of Norman who was the only Libertarian to file.
District 5
The big news coming out of the 2018 Oklahoma congressional elections was the flipping of the Fifth District seat from Republican to Democrat. Kendra Horn defeated the incumbent, Steve Russell. Oklahoma had not had a Democrat in Congress since 2012. And, for the first time in state history Oklahoma has a Democrat woman to Congress. The Fifth District includes most of Oklahoma, Pottawatomie and Seminole counties in the central portion of the state.
Horn, 43, was a professional mediator and executive director of Women Lead Oklahoma which is a nonprofit organization working to empower women to be leaders and be engaged in civil activities. She had also served as press secretary for former Second District Congressman Brad Carson and previously managed political campaigns. She served as executive director of Sally's List which supports women running for elected office. She lives in Oklahoma City and is a native of Chickasha.
In 2018, Horn won the Democrat runoff with 76% of the vote in the runoff primary over Tom Guild who has been a perennial candidate. Guild, 65, of Edmond was the lone Democrat challenger to Horn this year. Kendra Horn secured renomination with 85.69% of the vote, with Guild receiving just 14.31%.
Nine Republicans were competing to return the seat to the GOP, which made a Runoff Primary Election likely. Since no candidate won more than 50% of the primary vote, the top two contenders advanced to the Primary Runoff Election on August 25. Businesswoman Terry Neese, 72, of Oklahoma City finished first with 36.48% while State Sen. Stephanie Bice, 46, of Edmond finished in second place with 25.41% of the primary vote. However, Bice came out on top in the Primary Runnoff Election, securing the Republican nomination with nearly 53% of the vote.
Bice was elected to the Oklahoma Senate in 2014 and reelected in 2018, and serves as Assistant Majority Floor Leader in the Senate and Chair of the Senate Finance Committee. She is credited with modernizing Oklahoma's liquor laws by engineering the first overhaul since 1959 when prohibition was repealed in the state. Since she will be in the middle of her term, she would remain in her Senate seat if she fails in her election bid for Congress. Bice is moderate Republican, earning a 56% cumulative average on the Oklahoma Conservative Index for the six years that she has been in office.
While Congresswoman Horn managed to narrowly defeat Congressman Russell in the 2018 election, she may have a tough time being reelected. Russell failed to aggressively campaign and was outspent in the 2018 race, but the Republican nominee in 2020 will be mounting a strong, and well-funded campaign. Also, President Trump will be at the top of the ballot and is expected to do well in Oklahoma, providing coattails that should help other Republicans further down on the ballot.
A more detailed examination of the Fifth District race is found in a separate article in this edition.
OKLAHOMA CORPORATION COMMISSION
The Oklahoma Corporation Commission regulates oil and gas drilling, electric and gas utilities, trucking, pipelines, and telecommunications in Oklahoma. There are three Corporation Commission seats with six-year staggered terms. So, every two years one of the seats is up for reelection. Dana Murphy was reelected in 2016, Bob Anthony in 2018, and former Speaker of the Oklahoma House of Representatives, Todd Hiett, was elected commissioner in 2014. The seat held by Hiett is up for election this year. Hiett, 52, is a rancher from Kellyville and was the first Republican House Speaker in Oklahoma since 1921. He earned a 73% cumulative rating on the Oklahoma Conservative Index during his tenure in the Legislature.
Hiett was challenged for the Republican nomination by Harold Spradling, 85, of Cherokee. Spradling ran for the seat held by Bob Anthony in 2018, and finished in third place with 14% of the vote in the Republican Primary. The retired businessman and social worker was also a candidate for the Oklahoma House in 1994. Hiett easily won renomination with 74.59% of vote over Spradling's 25.41%.
No Democrats filed for the seat, but Hiett faces Libertarian candidate Todd Hagopian, 40, of Bixby. Earlier this year, Hagopian ran for the Bixby Public Schools school board and lost in the primary election. Hagopian has been the President of Unarco for two years, and previously was a business unit manager for US Weigh Wrap Division in Dayton, Ohio and before that he worked as a Senior Sales Manager for Whirlpool Corporation.