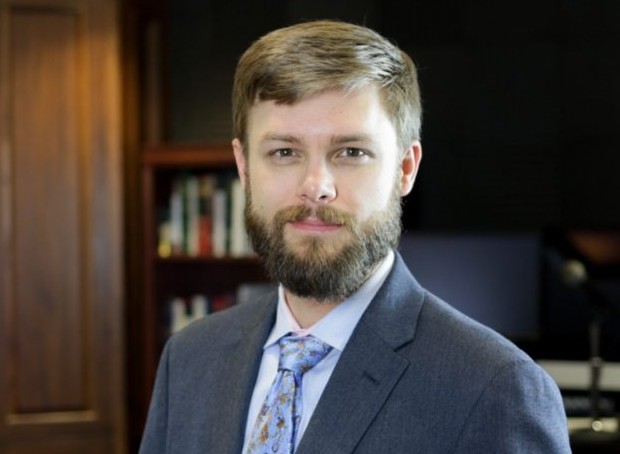 news
Interview with Trent England
By Steve Byas
Interview with Trent England, the author of the new book, Why We Must Defend the Electoral College. He is the founder and executive director of Save Our States and the executive vice president of the Oklahoma Council of Public Affairs.
England has also helped produce a new documentary, Safeguard: An Electoral College Story. His passion for saving the Electoral College is summed up in his book: "The very idea of a constitutional republic is at stake."
England's short book presents the story of why the Founding Fathers opted to create the system of electing a president by electoral votes, its benefits, the arguments against it (along with his rebuttal to those arguments, and the new effort to make an end-run around the Constitution by National Popular Vote state compact.
Editor Steve Byas interviewed England about his new book:
BYAS: What led you to develop such a strong interest in the Electoral College?
ENGLAND: I did my undergraduate studies at Claremont McKenna College in the late 1990s, where I had a professor named Michael Uhlmann. He was a remarkable man, a true gentleman and scholar, and as a U.S. Senate staffer in the 1970s he had written a minority report in support of the Electoral College. He started me down this path. Sadly, he died last year. The new documentary that I helped to produce, Safeguard: An Electoral College Story, is dedicated to Michael Uhlmann.
BYAS: Concerning re-counts, it seems to me that states not in the National Popular Vote (NPV) compact would have no reason, incentive, or obligation to do any recounts at all. This, of course, would lead to only further chaos, in my opinion. What do you think would happen if, say, a bare majority of states to get to 270 had re-counts? Would the other states go along with it, and how widespread do you think ballot-stuffing would then be?
ENGLAND: The NPV compact is dangerously negligent when it comes to recounts. It simply says nothing about how recounts would take place. In other words, it claims to create a national vote but leaves states to apply state-based recount laws. Obviously, once you are in effect commingling ballots across state lines there would be a need to have some uniformity – but NPV provides none. State officials would manipulate their recount processes to suit their political desires, creating conflicts that would – in the end – turn over tremendous power to a handful of federal judges.
BYAS: In my reading of the Constitution, the NPV compact is clearly unconstitutional. However, that does not mean the Supreme Court would rule that way. What do you think would happen in such a lawsuit, and why, and what would be the result of such an obvious circumvention of the Constitution?
ENGLAND: I never put my faith in federal judges. Hopefully all conservatives have learned that lesson by now. And ultimately the Constitution is not just for "We the People" – it relies on "We the People." If a majority of Americans consistently disregard it, we can only lose it.
The challenge of NPV is that there is no explicitly prohibition against it – the idea is so dumb James Madison and the other Framers never even considered it. State legislators affirmatively choosing to give away their state's power in presidential elections? Preposterous! Only a total disconnect from the principles of the Constitution coupled with a radical ideology could lead to such an proposal. And so here we are. It does violate the purpose of the Electoral College, it also clearly violates the balance of power created in the Electoral College and creates various 14th Amendment issues.
If NPV ever takes effect and judges let it stand, it would open the door for similar strategies to nullify other parts of the Constitution, even including the U.S. Senate itself. And it would likely lead to a constitutional amendment that would abolish the Electoral College (at that point, that would be a much tidier solution), coupled with far more federal power over elections and probably gutting part of the First Amendment to grant more government power over political speech.
BYAS: You seem to favor the "winner take all" approach used by 48 states and the District of Columbia. What would be your objection, if any, if every state began to award electoral votes by congressional district (and the two for a state-wide vote)?
ENGLAND: Save Our States simply believes that whatever states do, it must represent in some way their own state. Winner takes all, districts, direct appointment – all those systems represent something intrinsic to the state. Personally, I believe that the Congressional District method used in Maine and Nebraska make sense for states that are not excessively Gerrymandered. Politically, it is an easier sell in smaller states where there are fewer votes in play. The reality of the Congressional District method is that were it applied nationwide, we would have a much smaller battleground due to partisan Gerrymandering. Some time ago, I calculated that about half as many people live in battleground Congressional Districts versus states (although the distinctions are subjective and ever changing).
BYAS: I anticipate a scenario in which a state might decide they do not like the probable outcome of the election, and pull out of the compact. Considering that the compact has no constitutional basis, what do you think would be the result of such an action?
ENGLAND: The NPV compact claims that states cannot pull out within six months of the end of a president's term, in order to prevent this kind of gaming. But it also claims not to require congressional consent. Under current case law, these are mutually exclusive. That suggests that if courts allowed the compact to take effect without congressional consent they would most likely not enforce the provision limiting state withdrawals, but all this is very murky. Once you step away from the Constitution, you step through the looking glass.
BYAS: How likely do you think it is that the NPV will achieve its goal of enough states to get to a majority of the electoral vote count?
ENGLAND: By 2009, NPV was winning states at a rate that would have put it into effect by 2016 (including winning over some Republicans). We launched Save Our States that year and basically fought them to a draw by 2012. Then 2016 made this a high priority for the left and 2018 gave them more state legislative seats, leading to where we are today, with NPV nearly 3/4 of the way to an electoral vote majority. That said, Republicans have become much more supportive of the Electoral College. If we continued with the current status quo, I would say NPV will run out of blue states and remain stalled between about 185 and 205 electoral votes. But there is no standing still in politics. My major concern is that NPV still has millions of dollars and hordes of lobbyists. They will create a narrative from this election, focus on lobbying Republican state legislators (including the swankiest junkets around), and we are for sure going to have some big fights over the next few years.