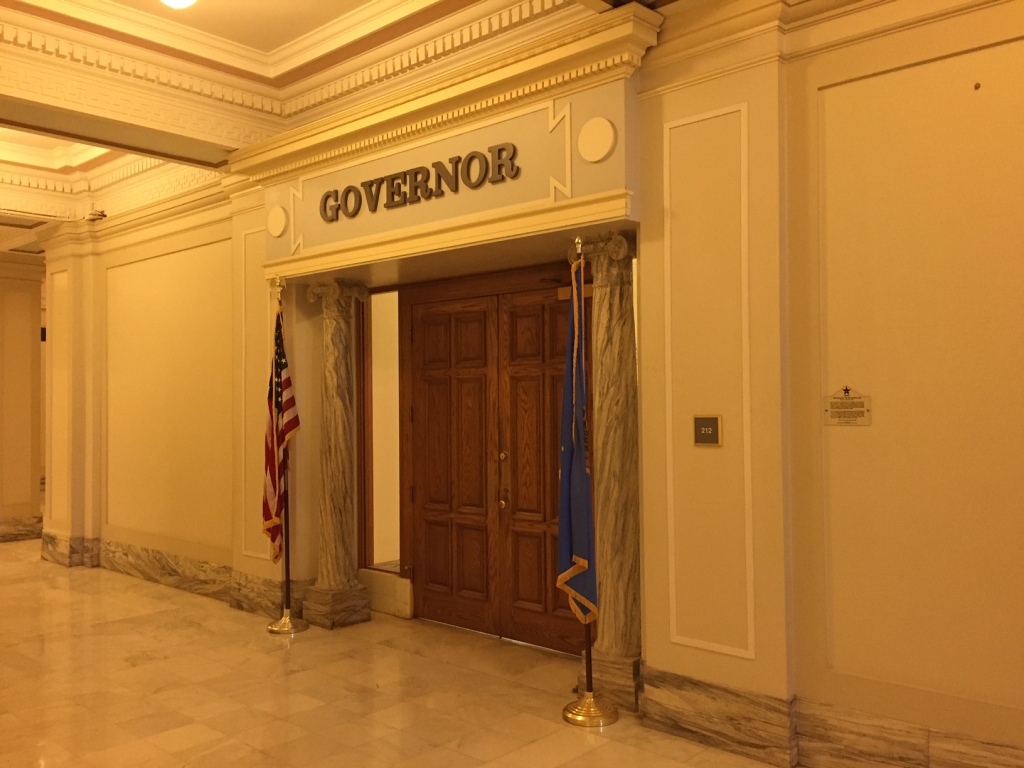 tidbits
Tidbits for Fall 2020
On August 28, Gov. Kevin Stitt issued Fourth Amended Executive Order 2020-20, extending the state of emergency related to COVID-19 that has been in place since March 15, 2020. Since amended Executive Order will still be in effect within 45 days of the November 3 general election, this will trigger the provisions provided under Senate Bill 210 allowing absentee voters to verify their identity by attaching a copy of an approved identification document to their affidavit envelope instead of having their signature notarized or witnessed by two people. The Oklahoma State Election Board reports that more Oklahomans have requested absentee ballots than in any past election.
Oklahoma Voter Registrations Surge
Voter registration rolls in Oklahoma have surged according to statistics released on October 1 by the Oklahoma State Election Board. Voter registration statistics ending September 30 show a net increase of more than 116,000 registered voters since January 15. Oklahoma now has 2,206,208 total registered voters, compared to 2,090,107 on January 15. There are now 1,100,032 registered Republicans, 739,466 registered Democrats, 353,269 registered Independents, and 13,441 registered Libertarians.
Since January 15, Republicans have seen a net gain of 91,463 registered voters, and are now about 49.9% of all registered voters. Democrats have only seen a net increase of 1,210 registered voters since January 15, and are now just 33.5% of all registered voters. There has been a net increase of 21,158 registered Independents since January 15, which are now 16% of all registered voters. Libertarians have seen a net increase of 2,270 registered voters since January 15, and are less than 1% of registered voters. Since the last day to register was October 9, the numbers do not include those last minute registrations.
The 2020 voter registration statistics continue a decades-long trend of growth for Republicans and Independents as a percentage of the electorate. When Oklahoma started tracking voter registration statistics by party in 1960, Democrats were 82% of registered voters and Republicans were only about 17%. In January of 2010, Democrats were 49% of Oklahoma's registered voters and Republicans were a little less than 40%. Democrats were the largest political party in the state until January 2015, when they were surpassed by Republicans for the first time.
State House Redistricting
In a historic move, all Oklahomans will have direct representation in the House of Representatives redistricting process after House Speaker Charles McCall (R-Atoka) appointed all House members to redistricting committees on August 31. Eight regional redistricting subcommittees will go directly to the public to ask citizens how House districts should look for the next decade. In-person and virtual town halls, online submissions, citizen surveys and more will be used to gather extensive public input throughout the fall and winter ahead of the 2021 legislative session. Each House member will serve on a regional subcommittee. Using the public's input, subcommittees will produce regional maps used to build the statewide House district map.
Every ten years, the Oklahoma Constitution requires each legislative chamber to redraw its own districts and congressional districts following the release of decennial U.S. Census data. The 2020 census count has come to an end and final data will be delivered to states in the spring 2021, at which point the Legislature is constitutionally required to enact a redistricting plan for the next decade. A standing House Redistricting Committee will receive each regional subcommittee's plan and be responsible for producing a statewide map for consideration by the full House in the 2021 legislative session.
Shannon Hired as Redistricting Public Liaison
With the U.S. Census count wind up, the Oklahoma House has hired former House Speaker T.W. Shannon to be its public liaison during the redistricting process. "T.W. Shannon is an incredibly effective communicator whose diversity and deep understanding of all of Oklahoma will strongly benefit the House's public-focused redistricting process," said House Speaker Charles McCall. Shannon will assist the House Redistricting Committee and the House Redistricting Office with public interaction and input. He'll try to bridge the gap between the public and the process. Shannon will be the face of the House's redistricting work serving as a spokesman to the public and media. He is currently the president and CEO of Chickasaw Community Bank and the District Three Commissioner on the State Transportation Commission.
Top Ten Status in Bridge Conditions
Gov. Kevin Stitt and Secretary of Transportation Tim Gatz announced on August 13 that Oklahoma had achieved Top Ten status in bridge conditions for the first time by ranking ninth according the latest data from the Federal Highway Administration. For years, Oklahoma was ranked near the bottom in national bridge conditions, including as low as 49th in 2004, due to the number of structurally deficient bridges on the state highway system. "Top Ten isn't just a slogan – it is the vision that helps form and guide our road map to improving state government and changing the future of all 4 million Oklahomans for the better," said Gov. Stitt.
The Oklahoma Department of Transportation (ODOT) embarked on a massive effort in 2005 to improve highway bridges after decades of underfunding to transportation infrastructure took a toll, causing a backlog of critically needed projects. A targeted approach to fixing bridges began taking shape through a series of legislative funding mechanisms and identifying key funding opportunities by the congressional delegation. "This overhaul on our highway bridges took more than 15 years and has only been possible thanks to the consistent vision and support of our governors, legislators and congressional delegates," said Sec. Gatz.
Oklahoma Speed Limits Increased
The passage of HB 1071 by the Oklahoma Legislature earlier this year, set the stage for statewide studies on potential maximum speed limit increases of 75 mph on rural interstates and 80 mph on rural turnpikes. Both the Oklahoma Department of Transportation and the Oklahoma Turnpike Authority carefully studied potential locations to be candidates on each of their systems. At August meeting of the Oklahoma Transportation Commission (OTC) commissioners approved raising the speed limit on nearly 400 miles of rural interstates. The OTC approved six locations on I-35 and I-40 to change the maximum speed limit from 70 mph to 75 mph on 179 miles of identified rural sections of I-35 and on 220 miles of I-40. The Oklahoma Turnpike Authority approved speed limit increases at its July meeting. The posted speeds will be changed from 75 mph to 80 mph on five turnpikes, totaling 104 miles.
Oklahoma REAL ID Compliant
Gov. Kevin Stitt praised the September announcement by U.S. Department of Homeland Security (DHS) that the State of Oklahoma is in full compliance with the REALID Act of 2005. The notification comes after three years of hard work by employees at the Oklahoma Department of Public Safety (DPS) and Office of Management and Enterprise Services (OMES) to implement a new system and standards to allow Oklahoma to come into compliance with REAL ID regulations. DHS had already extended the REAL ID enforcement deadline to October 1, 2021, which is the date Oklahomans have to obtain a REAL ID or acceptable alternative form of identification to fly or to access to federal buildings.
Oklahoma is among a few states that were REAL ID-compliant. The law was put in place in 2005 to improve the reliability of state-issued ID's, making it more difficult for terrorists to obtain fake identification. In 2007, Oklahoma approved a law that said our state would not comply with the REAL ID Act, due to concerns about how personal information would be stored and shared. But, in 2017, House Bill 1845 was signed into law giving Oklahomans the choice of either getting a REAL ID-compliant license or a non-compliant driver's license. REAL ID-compliant licenses are now available at most tag agencies, but you will need to make an appointment and bring a birth certificate and other required documents.
Oklahoma Low Unemployment Rate
On September 18 Gov. Kevin Stitt announced the State of Oklahoma is now ranked 10th in the nation for lowest unemployment rate. New figures released by the Oklahoma Employment Security Commission and the U.S. Department of Labor show Oklahoma's seasonally adjusted unemployment rate declined to 5.7% in August, a significant decrease from 12.6% in May and a further decrease from 7.1% in July. "Oklahoma's perseverance and pioneer spirit continues to shine bright as we bounce back from the economic impact of COVID-19," said Gov. Stitt. "These numbers prove our safe reopening plan is working, and Oklahomans are getting back on their feet and finding jobs thanks to our businesses who continue to innovate and grow their operations." In August, statewide seasonally adjusted employment increased by 51,621 persons (3.1%), while unemployment decreased by 23,085 persons (-18.1%). Statistics show the state had a net gain of 11,100 jobs. During the last four months Oklahoma has regained almost 45% of the jobs that were lost during the early months of the pandemic.
Oklahoma currently has the lowest unemployment rate in comparison to surrounding states, including Texas, Arkansas and Kansas. Surrounding States Unemployment Rates for August 2020 (National Rank): Colorado: 6.7% (20), Texas: 6.8% (21), Kansas: 6.9% (22), Missouri: 7.0% (25), Arkansas: 7.4% (26), New Mexico: 11.3% (45).
September GRF Collections
Oklahoma General Revenue Fund collections in September totaled $562.8 million, which is $9.5 million, or 1.7%, above the monthly estimate. This is $8.5 million, or 1.5%, above collections in September of 2019. Total GRF collections through the first three months of fiscal year 2021 are $1.8 billion, which is $82.3 million, or 4.8%, above the estimate, and $286.4 million, or 19.0%, above prior year collections for the same period. "Similar to last month, unemployment remittances and federal stimulus are inflating total income tax collections," said OMES Director Steven Harpe. "Because Oklahoma is still recovering from job losses as a result of the economic impact of the COVID-19 pandemic, we should remain cautious in our outlook with state collections."
Unemployment remittances continue to lift individual income tax collections and were enhanced by the emergency Lost Wages Assistance federal program. Monthly sales tax allocations of $22 million made to other funds in August through November of fiscal year 2020, but not renewed this year, increased General Revenue collections from prior year. As state government's main operating fund, the GRF is the key indicator of state government's fiscal status and the predominant funding source for the annual appropriated state budget. GRF collections are revenues that remain for the appropriated state budget after rebates, refunds, other mandatory apportionments and after sales and use taxes are remitted back to municipalities. In contrast, gross collections, reported by the State Treasurer, are all revenues remitted to the Oklahoma Tax Commission.
Governor Gives COVID-19 Convalescent Blood Plasma
On August 11, Gov. Kevin Stitt issued a call to Oklahomans who have recovered from COVID-19 to join him in donating convalescent plasma to help more patients recover. Gov. Stitt recently made a plasma donation at the Oklahoma Blood Institute donor center in Enid. "One donation can provide lifesaving plasma for up to four people," said Gov. Stitt. "Donating convalescent plasma is the easiest way Oklahomans who have recovered from COVID-19 can help their friends and neighbors and I urge everyone to make an appointment and join the fight." Convalescent plasma is shown to be an effective treatment for COVID-19, as indicated in a newly released study. The plasma is being given earlier in the patient's treatment, helping contribute to both the greater demand for the product and better patient outcomes. President Donald Trump received convalescent plasma as part of his treatment for COVID-19. Governor Stitt also released a list of cabinet secretaries and state legislators who have recovered from COVID-19 and have answered his call for convalescent plasma donations and would be making donations.
"We're extremely grateful to Governor Stitt for his donation and continued advocacy for convalescent plasma, a critical product in the state's response to the COVID-19 pandemic," said Dr. John Armitage, president and CEO of Oklahoma Blood Institute. Oklahoma Blood Institute provides convalescent plasma and other blood products to more than 160 hospitals and medical facilities across the state, with donor centers located in Ada, Ardmore, Edmond, Enid, Lawton, Norman, Oklahoma City and Tulsa.
Oklahoma Pandemic Center
On October 7, Gov. Kevin Stitt was joined by State Health Commissioner Dr. Lance Frye and other state officials in announcing the development of the Oklahoma Pandemic Center for Innovation and Excellence. The Center is will serve as a virtual umbrella for public health response and in the future. The new center will bring together public and private partners in an effort to prepare for future pandemics, other public health crises and even animal infectious disease outbreaks. If the center were already in existence, it would be able to process up to 100,000 COVID-19 tests per day. The state currently has the ability to process about 6,500 per day, an increase over the state public health laboratory's March capacity of roughly 100 per day.
The project will use existing operational funds within the State Department of Health, CARES Act funding and a $58.5 million bond. A $58.5 million bonding capacity authorized for the public health lab in 2017 by the Oklahoma Legislature will be activated to help build the new facility in Stillwater. It will be located in Stillwater with the state's Public Health Laboratory and will focus on both human and animal related diseases.
New State Office Building
Earlier this year, the Commissioners of the Land Office – often called the state school land commission – purchased the downtown Oklahoma City office tower of SandRidge Energy for $35.5 million. The 30-story office building was constructed in 1971 by Kerr-McGee Corporation, the oil and gas company founded in 1929, and served as its corporate headquarters. In 2006, Anadarko Petroleum acquired Kerr-McGee and all operations were moved to Houston, and the building was sold to Chesapeake Energy. The purchase provides much needed cash for SandRidge while providing a new location for state agencies. The move of nearly 100 employees of the Oklahoma Tourism and Recreation Department to two floors of the building was completed in October. The Oklahoma Tax Commission is moving about 500 employees into the tower and the Oklahoma Department of Health is moving in about 700 employees. Discussions are in progress with other state agencies.
Keating Resigns from OCPA Board
In September, former Governor Frank Keating resigned from the Oklahoma Council of Public Affairs (OCPA) Board. Keating took the position at the conservative think tank in February 2017. An attorney and a former FBI agent, Keating was the third Republican to be elected governor of the state of Oklahoma in 1994. Keating has opposed State Question 805, which would end the use of sentence enhancements for crimes currently not defined as a violent crime in state statutes. OCPA is campaigning in favor of SQ 805. In his resignation letter, Keating notes his disappointment with OCPA's "libertarian drift" among other concerns, including the group's position on State Question 805 and Native American issues. In recent years, OCPA has criticized the existing Model Tribal Gaming Compact between Oklahoma and tribes that operate casinos in Oklahoma. Established in 1993, the OCPA has been an advocate for smaller government, lower taxes, free-markets, school choice and now criminal justice reform.
Oklahoma Fatal Officer-involved Shootings
State Rep. Justin Humphrey (R-Lane) recently requested information from the Office of Criminal Justice Statistics with the Oklahoma State Bureau of Investigation on fatal officer-involved shootings (FOIS). "I think it's time Oklahomans have an honest conversation about policing, but one based on facts and data," Humphrey said. "Only when the public has accurate information about law enforcement and the deaths that occurred while a person was being taken into custody or was in custody, and also the number of law enforcement officers that are killed and assaulted can we decide if changes are needed."
He released the following compiled by the Statistical Analysis Center: In 2018, the most recent complete data available, 30 FOIS occurred. Eighteen decedents were white, five black, three Native American, three Hispanic, and one was listed as other. Twenty-nine were male, one female. The average age was 39 – the youngest 16, the oldest 72. Five of the incidents happened in Oklahoma County and four in Tulsa. In 56.7% of the incidents, law enforcement made contact due to a citizen request for criminal or suspicious activity. Other common contacts were for traffic or vehicle stops (13.3%), warrant service (13.3%), and 16.7% occurred during routine patrol, citizen requests for welfare checks or for other reasons.
Colorado Sex Offender Registry Ruling
On August 20, Oklahoma Attorney General Mike Hunter applauded the 10th U.S. Circuit Court of Appeals for overturning a lower court's decision that prohibited making information on sex offenders unavailable to the public. In 2018, Attorney General Hunter led a brief urging the 10th Circuit to reverse a U.S. district court judge's ruling that the Colorado Sex Offender Registration Act (CSORA) violated the cruel and unusual punishment clause and due-process rights of the Constitution of three sex offenders because it required them to register with the state on a database accessible to the public. Joining the 2018 brief in support of Colorado were attorneys general from all other states in the jurisdiction of the 10th circuit including, Oklahoma, Kansas, New Mexico, Utah and Wyoming. "Today's ruling is a major victory for public safety advocates," Attorney General Hunter said. "Sex offenders are violent, and are statistically speaking, some of the most likely to reoffend. Online sex offender registries allow the public to know who among them is a child predator or has been convicted of rape. To hide this information in order to make individuals convicted of these crimes feel more comfortable is utterly irresponsible." In the court's ruling, judges determined the state of Colorado isn't putting sex offenders on display but is rather disseminating accurate information about a criminal record.
AG Hunter Urges U.S. Senate to Confirm Barrett
On October , Oklahoma Attorney General Mike Hunter sent a letter with a coalition of 21 other state attorneys general to members of the U.S. Senate, urging prompt confirmation of Judge Amy Coney Barrett to the U.S. Supreme Court. In the letter, the attorneys general point to her experience, qualifications and judicial philosophy as hallmarks that will make her an outstanding associate justice. Attorney General Hunter said Judge Barrett will apply the law as written and will enforce the original understanding of the Constitution. In the letter, attorneys general write that Judge Barrett will safeguard the constitutional framework the founding fathers intended based on her opinions from the bench and views of the law.
Governor's Chief of Staff
On August 13, Governor Stitt announced the addition of Bond Payne as his new Chief of Staff. Payne, the co-founder and chairman of Heritage Trust Company and the vice chairman of Argent Financial Group in Oklahoma City, brings years of business acumen and community relationships to the Stitt Administration. "Bond Payne will play a key role in helping us build bridges both inside the Capitol and out in the community," said Gov. Stitt. "He will be a trusted sounding board for me as we work together to carry out my vision of making Oklahoma a Top Ten state."
Payne has served on Oklahoma City's Bond Advisory Committee and Economic Development Trust and has held leadership roles with the Oklahoma City Community Foundation, Oklahoma Medical Research Foundation, the Oklahoma Hall of Fame, the Downtown Club of Oklahoma City and the Oklahoma City YPO chapter. He also worked as a national recruiter for the Oklahoma Department of Commerce from 1995 to 1997.
Secretary of Education
On September 10, Gov. Stitt named Ryan Walters, a public school teacher, and CEO of Every Kid Counts Oklahoma as his Secretary of Education, a cabinet position that requires Senate confirmation. Walters taught eight years as a high school history teacher in his hometown at McAlester High School. During his time at MHS, Walters taught Advanced Placement courses in World History, U.S. History and U.S. Government. He also taught on-level history classes, special education classes and Advancement Via Individual Determination (AVID) classes. The Oklahoma State Department of Education named Walters as an Oklahoma Teacher of the Year Finalist in 2016.
Walters currently serves as CEO of Every Kid Counts Oklahoma and simultaneously teaches AP U.S. History at Millwood High School and McAlester High School in a pilot course through the Oklahoma Supplemental Online Course Program. He previously served as the executive director of Oklahoma Achieves, an education initiative of the State Chamber of Oklahoma that sought to get the business community more actively engaged in education. Additionally, he is a governor's appointee as a commissioner of the Office of Education Quality and Accountability.
Governor Stitt also issued Third Amended Executive Order 2019-01, creating an individual Secretary of Education cabinet position. As Secretary of Education, Walters is responsible for various agencies, boards and commissions, including the State Board of Education, College and University Boards of Regents or Trustees, Office of Educational Quality and Accountability and the State Board of Career and Technology Education.
Secretary of State and Native American Affairs
On October 5, Gov. Stitt announced that Michael Rogers had resigned his positions of Secretary of State and Secretary of Native American Affairs and will transition to a new role as special advisor to the Governor. Prior to joining the Stitt Administration, Rogers served in the Oklahoma House of Representatives from 2015 through 2018 and was the chairman of the House Common Education Committee. On October 12, Stitt named Chief Policy Advisor Brian Bingman as Secretary of State and Native American Affairs. On September 10, Gov. Stitt issued Third Amended Executive Order 2019-01, combining the duties of the Secretary of State and the Secretary of Native American Affairs. Bingman, former President Pro Tempore of the Oklahoma Senate, joined the Stitt Administration in August as the governor's lead negotiator on legislative policy and will continue those duties as Secretary of State. Bingman represented House District 30 from 2004 to 2006 before representing Senate District 12 from 2006 to 2016. He also served as President Pro Tempore of the Oklahoma Senate from 2011 to 2016 and Mayor of Sapulpa from 1992 to 2004.
Mike Mazzei Resigns as Secretary of Budget
On October 12, Gov. Stitt announced he has accepted the resignation of Secretary of Budget Mike Mazzei, effective October 23. As Secretary of Budget, Mazzei's primary responsibilities included coordinating the Governor's Executive Budget Book, improving the state's financial operations and negotiating the state budget with the Oklahoma Legislature. This spring, Mazzei added a role as one of the leaders of the CARES FORWARD team, ensuring efficient and effective distribution of the $1.26 billion in COVID-19 federal relief dollars to cities, counties, state agencies and economic relief grant recipients across Oklahoma.
"I have enjoyed serving in Governor Stitt's administration to help make Oklahoma a Top Ten state," said Mazzei. "After an extraordinary season of time-consuming work, this is the right moment for me to step back and return to my financial planning company." Mazzei has spent a total of 14 years in state government. He was elected to represent Senate District 25 in 2004 and served the maximum of 12 years before reaching his term limit in 2016.
Oklahoma Filming of Reagan Movie
A major feature film based on the life of America's 40th president, Ronald Wilson Reagan, from his childhood to his time in the oval office, began filming in Guthrie in September. Guthrie has been the site of other movies including Rain Man and Twister. Written by Howard Klausner (Space Cowboys), Reagan tells the story of how a young boy escapes poverty growing up in rural Illinois and eventually makes his way to Hollywood to become a leading actor. He later enters politics and is elected governor of California and eventually president, and confronts a belligerent Soviet Union.
Edwin Meese, who worked for Reagan in a variety of ways including U.S. Attorney General, is an unofficial adviser on the movie. The film stars actor Dennis Quaid as the older Ronald Reagan, and the role of a young Reagan will be played by David Henrie who is best known for his role Justin Russo in Disney Channel's Wizards of Waverly Place. Veteran actor Jon Voight plays a Soviet KGB agent.
Death of Former State Senator Mark Snyder
Former Republican state Senator Mark Snyder (R-Edmond) passed away peaceably in his home on September 22 at the age of 74. Snyder represented Senate District 41 from 1987-2004 and ran unsuccessfully for the Oklahoma Corporation Commission in 2002. He later was a partner in Bedlam BBQ, a frequented lunch spot among legislators and state employees just north of the state Capitol, and served as a lobbyist. He graduated from Edmond High School in 1964 and earned a degree from Oklahoma State University in Restaurant and Hotel Administration. He was one of the more moderate Republicans in the Legislature, earning a 62 percent score on the Oklahoma Conservative Index.
Death of Former State Rep. Neil Brannon
Former state Representative Neil Brannon (D-Poteau) died of a heart attack on September 22 at the age of 80. Brannon represented House District 3 from 2003-2010. He ran unsuccessfully for Senate District 4 in 2010. He was one of the more moderate Democrats in the Legislature, earning a 35 percent score on the Oklahoma Conservative Index.
Death of Former House Speaker Jim Glover
Former Speaker of the House Jim Glover (D-Elgin) passed away on October 11 following a brief battle with cancer. He was 74. Glover served 26 years in the House, serving as Speaker from 1989-1996. He was first elected to House District 65 in 1976 and served until his retirement in 2002. He was a farmer and rancher, and worked as a lobbyist after he left the Legislature. He was known for his unmatched ability to rule with a firm hand and gavel, along with his gift of true bi-partisanship and special ability to promote cooperation from both sides of the isle. He earned a 26 percent score on the Oklahoma Conservative Index.