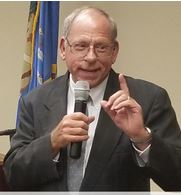 column
From the General Manager
I noted in our Fall edition, that while the USPS would have sufficient funds to maintain operations beyond the election, some might question if they had the ability to handle the additional ballots going through the mail this time. While Oklahoma has had absentee ballots for ages, it is true that there were more absentee ballots this time than in any previous election. In fact, in the 2020 General Election, there were 280,885 absentee ballots cast in the presidential race in Oklahoma.
In states with absentee ballots, only voters who apply for a absentee ballot are sent one. This is much different from the states that sent an unsolicited ballot to every registered voter, whether living or dead. There are many on the voter rolls who are now deceased, or have moved and have not registered at their new address. Many may have even moved to another state. This raises concern about what happened to the ballots sent to non-existent voters.
Potential election fraud was largely averted in Oklahoma due to swift action by the Legislature. The Oklahoma Supreme Court ruled on May 4, 2020, that the Oklahoma State Election Board could not require absentee voters to have their ballots notarized to verify their identity. The ruling came in response to a lawsuit by the League of Women Voters and two Oklahomans. Just days after the ruling, the Legislature passed a bill to reinstate the notary requirement, but included an exception for elections held in 2020 if a State of Emergency related to the COVID-19 pandemic declared by the Governor was in effect 45 days prior to, or within, a scheduled election. In that event, a voter could request an absentee ballot and attach a photocopy of a form of identification to the affidavit, in lieu of having the affidavit notarized or his or her signature witnessed by two people.
The measure also established an alternative process for the delivery of absentee ballot applications to residents of long-term care facilities and modified the criteria to qualify as "physically incapacitated" for purposes of requesting an absentee ballot to include COVID-19-related health issues. The measure passed the House 74-26 on May 6 and the Senate 38-9 on May 7. It was approved by the Governor on May 7. This was one of the ten bills included in our 2020 Oklahoma Conservative Index rating state legislators.
Some of the election fraud in other states could have been averted if they had followed Oklahoma's lead. In many states there were cases of dead voters requesting absentee ballots, and then voting. In other cases, voters showed up on election day, only to find that someone else had already voted absentee for them.
Now, back to the issue of mail delivery. I noted in the Fall edition that the USPS delivers more than 433 million pieces of mail per day. But, if all American voters – approximately 158 million people – did receive a ballot and vote by mail, the total mail volume for both the ballot being sent and the returned ballot would be less than what the USPS handles on a typical day.
I also explained another factor. Official election mail is the highest priority for the USPS, both the ballots being sent by the election agency, and the ballots being returned by voters. In the case of the ballots being returned, they are in specially marked envelopes, and many states also use an unique color. The USPS gives priority to those more than any other type of mail. Concerning the outgoing mail from the election agency, those also have priority. When we mail this newspaper, the postal form we fill out asks you to say yes or no to these statements: "This is Official Election Mail." or, "This is a Political Campaign Mailing." If either of those questions receive an affirmative answer, the mail is tagged for special handling. So, election mail is delivered first – even if it means delaying other mail.
So, what happens to other mail, such as our newspaper. Since, we do not qualify to answer yes to either of those questions, delivery of this publication could be delayed at election time. This was not an issue for us until the election of 2004. After we deliver this publication to the Post Office, it typically takes 3-5 days to reach your mailbox, depending on if it was mailed before or after the weekend, and your location. Following publication of our Fall 2004 edition, we received a number of comments saying what a great edition it was and complimenting us for the election information it included. But, that was followed by the comment: "Unfortunately, we did not receive it until after the election." Conferring with postal authorities, we learned that there was a big slowdown in mail delivery at that time.
Beginning with the Fall 2006 election edition, we added a statement below the address label on the front page, directed to the "Postmaster," saying this was our "Election Edition," and to please deliver before the election. We cannot confirm if this has had any impact, but we had not had a repeat of the experience of 2004. However, we did notice that our Summer 2020 edition took a day or two longer than normal. And, with the emergence of early voting – in 2020 voting began on Thursday, October 29, in Oklahoma – the time for delivery became further compressed. Also, in 2020 the election was a few days earlier in November than is typical. So, we mailed our election edition earlier than in previous election years.
We delivered the Fall edition to the Bulk Mail Entry Unit (BMEU) at the main Post Office in Oklahoma City on the morning of Wednesday, October 21. I always include a copy to myself to monitor the delivery time. Typically, I would have received mine by Saturday, October 24, or Monday, October 26. As the days went by, my concern grew, but I finally received it on Thursday, October 29. Most subscribers I communicated with received their copy around the same time. It appears nearly everyone received it before the election. However, one subscriber reported not getting it until Monday, November 9, almost a week after the election.
Concerning future election editions of this newspaper, we will endeavor to mail it out earlier. Should you not receive your issue before the election, please refer to the articles posted on our website: www.oklahomaconstitution.com
Ron McWhirter is one of the founders of the Oklahoma Constitution newspaper and serves as the General Manager. He may be contacted at the newspaper email: okconsti@aol.com