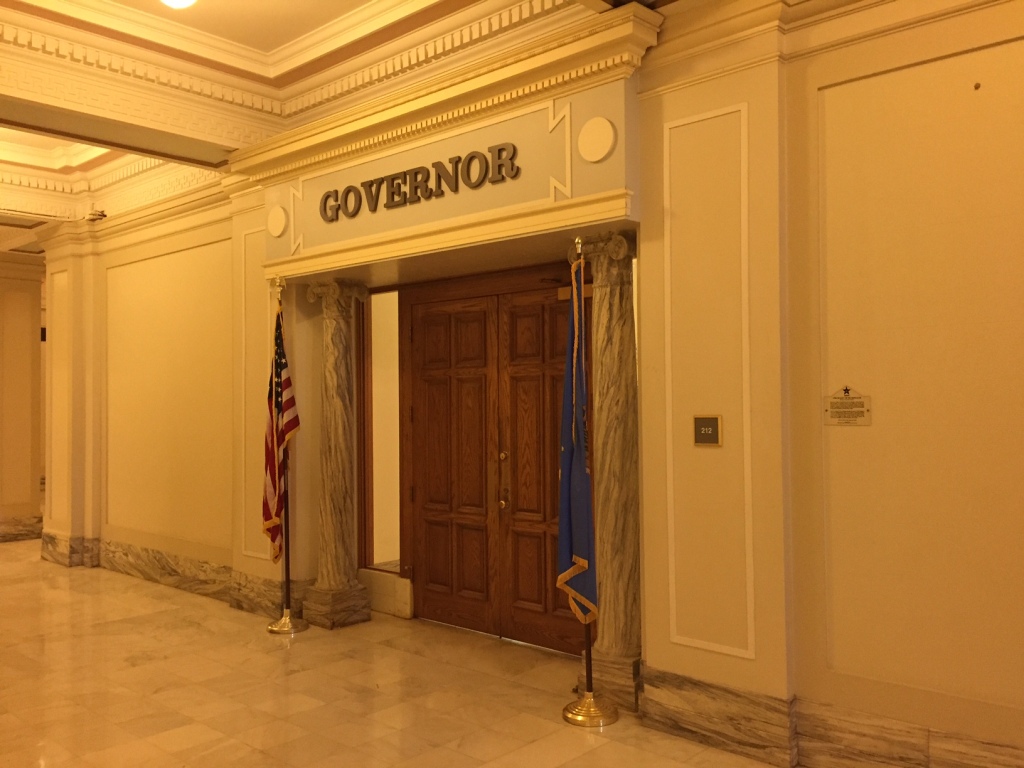 tidbits
Tidbits for Fall 2021
Gov. Kevin Stitt appointed Dana Kuehn to the Oklahoma Supreme Court on July 26. She becomes the third female on the nine-justice court. The appointment filled the vacancy created by the retirement of Justice Tom Colbert on February 1. Kuehn is Stitt's third appointment to the state high court in three years. Under Oklahoma law, the Judicial Nominating Commission selects three nominees from which the governor chooses the appointee.
Judge Kuehn, 50, received her J.D. from the University of Tulsa College of law in 1996 and graduated with a B.A. in Political Science from Oklahoma State University. She is the first woman to serve on both of the State's high courts. Prior to her appointment, Judge Kuehn served as an Oklahoma Court of Criminal Appeals judge since 2017. She was an Associate District Judge of Tulsa County from 2006 to 2017. She is also an experienced attorney and worked as a Tulsa County Assistant District Attorney and as an associate attorney at Steidley and Neal, before becoming a Judge.
AG Urges Overturn of Roe v. Wade
On July 29, in his first major official act as Oklahoma Attorney General, John O'Connor filed a brief asking the U.S. Supreme Court to overturn Roe v. Wade, a decision that for decades has wrongly barred states from prohibiting the killing of unborn children. The case before the U.S. Supreme Court, Dobbs v. Jackson Women's Health Organization, is centered on a Mississippi state law that bans most abortions after 15 weeks of pregnancy. Relying on the Supreme Court's abortion jurisprudence, a lower federal court blocked the law from taking effect. However, in May the Supreme Court agreed to hear the case after a compelling challenge from the Mississippi Attorney General defending the state's authority to protect unborn human children.
O'Connor said the Supreme Court needs to overturn Roe and its infamous follow-up case, Planned Parenthood v. Casey, overturn the lower Mississippi court ruling, and allow the Mississippi law to stand. "Human life begins at conception, and abortion is antithetical to our country's foundation as a free and moral people," O'Connor said. "When the Supreme Court issued Roe v. Wade in 1973, the Court did not adhere to the rule of law or the Constitution, but instead dehumanized an entire class of people by ordering states to allow the abortions. Moreover, it degraded the character of our nation as one that values compassion and condemns violence. My colleagues and I encourage the court to correct this egregious mistake, overturn the lower court's ruling and allow states to protect their unborn children."
Attorneys General from 24 states signed the brief. In the brief, the Attorneys General submit authorities which demonstrate that Roe v. Wade is not grounded in the Constitution, and has distorted other areas of law, applying special rules to abortion that are not applied in any other legal context. As a result, the "right" to end the lives of unborn children is in some ways more protected by this incorrect precedent than rights actually written in the Constitution, like free speech.
AG Files Petition to Overturn McGirt
As promised, Oklahoma Attorney General John O'Connor filed a petition with the U.S. Supreme Court to either overturn or limit the McGirt v. Oklahoma ruling which changed the nature of criminal justice in eastern Oklahoma. The petition also asks the Supreme Court to allow Oklahoma to continue to imprison violent felons who were convicted before the McGirt ruling. It also seeks state prosecution of non-Native Americans who commit crimes against Native Americans in the Muscogee Nation reservation territory.
"Victims of atrocious crimes are being revictimized by going through the legal process a second time, and, in some instances, seeing their loved one's killer set free because federal prosecutors cannot file the claims against the released convicts," O'Connor said. "Some theories sound good in concept but don't work in the real world. The U.S. Supreme Court got this decision wrong and we are respectfully asking the Court to overturn its decision or to limit it to certain federal crimes. The most effective way to right this terrible wrong is for the court to overturn the McGirt decision. Without action, the negative consequences will damage Oklahomans for years to come."
McGirt Is Not Retroactive
On August 12, Attorney General John O'Connor and Governor Kevin Stitt praised the unanimous ruling by the Oklahoma Court of Criminal Appeals that the McGirt case does not apply to convictions retroactively. "This is a significant victory of the people of Oklahoma. I commend the judges who voted in agreement with our position," Attorney General O'Connor said. "There are thousands of cases that would have to be retried if the State had lost this case. In many of those cases, the crimes were committed long ago. Witnesses may be gone. Evidence may be lost. Re-prosecution might be barred by statutes of limitations. That is why I appreciate the judges who stood up for the rule of law and protecting victims that would have been revictimized by another trial, and possibly revictimized if their abuser is set free," said O'Connor. "Make no mistake, McGirt will continue to have disastrous effects throughout the State even despite this latest ruling. But today is nonetheless an important victory for the people of Oklahoma."
Governor Stitt echoed O'Connor's comments. "Today is a major win for victims of crime and public safety in Oklahoma. I am pleased that the Court agreed that retroactively applying McGirt to tens of thousands of cases would unnecessarily traumatize victims and give dangerous criminals opportunities to fall through the cracks. While today's ruling is a significant step forward, McGirt still presents major challenges that threaten the future of Oklahoma. I will continue to work to protect the state's sovereignty and ensure equal protection under the law for all 4 million Oklahomans."
AGs Demand Biden Drop Vaccine Mandate
Oklahoma Attorney General John O'Connor and 23 other state attorneys general sent a letter to President Biden on September 17, warning that litigation will follow the implementation of the proposed mandate on private sector employees to either get a COVID-19 shot, submit to weekly testing, or be fired. The coalition of AGs outlined their legal and policy concerns with the mandate, which will be carried out through an Occupational Safety and Health Act (OSHA) emergency temporary standard. Oklahoma was joined on the letter by the attorneys general of Alabama, Alaska, Arizona, Arkansas, Florida, Georgia, Indiana, Kansas, Kentucky, Louisiana, Mississippi, Missouri, Montana, Nebraska, New Hampshire, North Dakota, Ohio, South Carolina, South Dakota, Texas, Utah, West Virginia, and Wyoming.
"Federal overreach has been a consistent problem, and President Biden has now taken it to the next level," O'Connor said. "Biden's national vaccine mandates are a clear abuse of power, and if he doesn't change course, me and my attorneys general colleagues are prepared to sue to defend the rights of Oklahomans." History has shown that the judicial branch is highly skeptical of the use of OSHA emergency temporary standards because of concerns about state sovereignty and the separation of powers. Further, the AGs raise concerns about the expansion of a federal regulatory agency and public perception of the order's constitutionality.
New Commissioner of Public Safety
On September 2, Gov. Kevin Stitt appointed Oklahoma Highway Patrol Capt. Tim Tipton, an experienced leader and nationally-recognized expert on use of force and other training practices, as Commissioner of Public Safety. As field commander of OHP's Tactical Team and Emergency Response Team, Tipton has coordinated the response to numerous civil disturbances or crowd control events in recent years, including events at the Oklahoma State Capitol, Oklahoma City and Tulsa areas in May 2020; visits by President Obama, President Trump and President Biden; the 2018 teacher walkout protest and multiple gubernatorial inaugural events.
Tipton has been with the Department of Public Safety for 33 years and started his career as an Oklahoma Highway Patrol gunsmith at age 21. He has authored numerous training programs and was selected by the U.S. Department of Homeland Security to instruct law enforcement officers across the country. Tipton has also earned an Advanced Specialist Certification from the Force Science Institute in Chicago and is a graduate of the FBI-Law Enforcement Executive Development Association's Command Leadership Institute. Tipton's appointment became effective September 10 following the retirement of Commissioner John Scully and will require confirmation by the Oklahoma Senate during the 2022 legislative session.
State Education Department Audit
In September, Governor Kevin Stitt submitted a request to the State Auditor and Inspector for an audit of the Oklahoma State Department of Education (OSDE). Specifically, the request demands identification of all revenue sources flowing into OSDE through federal funds, state appropriations, taxes and fees, and to determine whether OSDE and Oklahoma school districts are complying with financial transaction reporting requirements. The first full audit of the OSDE in the agency's history comes as over $3 billion will be spent in education in FY2022, the largest amount ever in Oklahoma history. "I promised Oklahomans that as governor I would clean up state government to make it more transparent and accountable and I am keeping that promise," said Governor Stitt. "As we make record investments in our public education system, students and parents deserve to know that their schools are spending our tax dollars appropriately and in accordance with the law."
School Testing Data on Effects of Pandemic
Statewide school testing data from the spring of 2021 was released September 30. The scores show that Oklahoma students paid an alarming price for the multitude of disruptions caused by the COVID-19 pandemic. Results from the Oklahoma School Testing Program (OSTP) provide the first statewide measure of student performance during the pandemic. Students in Grades 3-8 take assessments in math and English language arts (ELA) and students in Grades 5 and 8 take assessments in science. Students in Grade 11 take a state-developed science assessment as well as the ACT or SAT to fulfill high school testing requirements.
An individual student's score is indicative of where they are relative to the end-of-year grade-level expectations. In 2019, the last time students took spring assessments, 31.9% overall were proficient in math, compared to just 22.1% in 2021. There was a nine-percentage-point drop in proficiency in ELA, declining from 33.4% in 2019 to 24.8% in 2021. In 2019, 34.5% of students tested proficient in science compared to 29.7% in 2021.
"The effects of the pandemic will be seen and felt for years to come," said State Superintendent of Public Instruction Joy Hofmeister. "There is no quick fix, but we must not and cannot give up." Hofmeister said the assessment scores starkly illustrate that Oklahoma, like most states, is at a crisis point in education. "Interruptions to classroom learning are evident in these results, and they underscore the need to provide a safe and stable school environment," she said. "We must restore and create opportunities for all students while considering the reality of the continued pandemic."
GRF Collections above Estimate
State General Revenue Fund (GRF) collections in September totaled $672.2 million, which is $103.9 million, or 18.3%, above the monthly estimate. This is $109.3 million, or 19.4%, above collections in September of 2020. Total GRF collections through the first three months of fiscal year 2022 (which began July 1) are $1.8 billion, which is $246.0 million, or 16.1%, above the estimate, and $16.3 million, or 0.9%, below prior year collections for the same period. As state government's main operating fund, the GRF is the key indicator of state government's fiscal status and the predominant funding source for the annual appropriated state budget.
"Again we see Oklahoma's economy proving strength and resilience," said Oklahoma's Chief Operating Officer and Office of Management and Enterprise Services (OMES) Executive Director Steven Harpe. "In addition to low unemployment, the oil and gas industry continues to show signs of strong recovery. I am encouraged by this sustained progress and overall fiscal outlook."
Turnpike Traffic Increases with PayPlate
Traffic on the Kilpatrick Turnpike in Oklahoma City has picked up since the Oklahoma Turnpike Authority (OTA) switched it to a no-stop cashless "PlatePay" tolling system on July 25. "We are seeing traffic increase since we went cashless," said Jack Damrill, OTA director of communications and facilities. "Traffic already was growing but, since the change, the toll road is carrying 65,000 to 75,000 vehicles on weekdays along its busiest section – between Broadway Extension and Lake Hefner Parkway," Damrill said. Drivers who don't want to stop at toll booths or don't carry cash can now drive straight through tolling areas just like Pikepass customers. A camera takes a photo of the license plate, and an invoice is mailed to the registered owner of the vehicle.
The Kilpatrick is the first toll road to use the new PlatePay system, but all Oklahoma turnpikes will go cashless within three years. Damrill said it is too early to tell how PlatePay is working. "We expect to have a good indication of what's going on after three months." He said PlatePay costs drivers 75% more than paying tolls by cash, and cash costs 20% more than using a Pikepass, which is the most affordable way to travel the turnpike system. OTA's 12th turnpike – the $310 million Gilcrease Expressway under construction on the west side of Tulsa – is the first to be built as a cashless roadway. It is expected to open in summer 2022. The newest completed toll road is the $455 million Kickapoo Turnpike which was developed as a reliever route off Interstate 35 in east Oklahoma County. It will be converted to cashless next year. All existing turnpikes will switch to PlatePay by the end of 2024, with the Turner and Will Rogers the last to convert.
Nine New Pro-Life Laws
On September 9, Governor Kevin Stitt was joined by Susan B. Anthony List President Marjorie Dannenfelser, and bill authors for a ceremonial bill signing to celebrate the nine new pro-life bills he signed into law during the 2021 session. "I promised Oklahomans I would sign every piece of pro-life legislation that came across my desk and I am proud to keep that promise," said Governor Stitt. "As a father of six, it's an honor to be the most pro-life governor in the country and I will always step up to protect the lives of unborn children."
Dannenfelser praised Stitt for approving the bills."Across the nation, pro-life governors are taking bold action to ensure that state laws reflect the will of their constituents and the clear science showing humanity of unborn children. As radical Democrats in Washington push abortion on demand through birth, paid for by taxpayers, and seek to expand dangerous abortion drugs, strong pro-life leaders in statehouses are critically important – and they are stepping up like never before. Life is winning in Oklahoma and Across America. I'm proud to stand with Governor Stitt at this historic moment and thank him for his leadership on behalf of pro-life Americans."
One of the pieces of legislation was House Bill 1102 by Rep. Jim Olsen (R-Roland) and Senator Julie Daniels (R-Bartlesville). This legislation directs the Board of Medical Licensure and Supervision and the State Board of Osteopathic Examiners to revoke the licenses of physicians who perform an abortion for at least one year. The bill provides an exception for abortions performed to save the life of the mother. It was one of the ten bills included on the 2021 Oklahoma Conservative Index rating state legislators.
Courts Puts Abortion Laws on Hold
On October 25, the Oklahoma Supreme Court placed on hold three abortion laws that were set to go in effect on November 1. In the 5-3 decision, the court granted a temporary injunction while the cases are litigated. All three of the votes against the injunction were cast by justices appointed by Gov. Stitt. One judge did not vote. House Bill 1904, would require a doctor who provides abortions to be certified in obstetrics and gynecology. The plaintiffs in the lawsuit allege that such a requirement is not medically necessary and would drastically reduce access to abortions. The two other laws, Senate Bill 778 and Senate Bill 779, would place additional restrictions on drug-induced abortions. Previously, District Judge Cindy Truong blocked House Bill 1102, the law that would have suspended the medical licenses of doctors who perform abortions, and HB 2441 which prohibits abortion once a fetal heartbeat is detected. Those laws also were set to go into effect on November 1. Judge Truong denied injunctions for three laws, and those were the ones that the Oklahoma Supreme Court issued injunctions.
ACLU Lawsuit on Critical Race Theory
Recently, the Civil Liberties Union (ACLU) filed a lawsuit to stop a law that was passed in most recent legislative session. It was one of the ten bills included on the 2021 Oklahoma Conservative Index rating state legislators. House Bill 1775 by Rep. Kevin West (R-Moore) and Sen. David Bullard (R-Durant) was signed into law by Governor Stitt. The bill prohibits Oklahoma public schools, colleges and universities from teaching what is known as "Critical Race Theory" and from requiring mandatory gender or sexual diversity training or counseling. On October 22, Sen. Bullard released the following statement supporting House Bill 1775. "The ACLU and other radical liberal politicians and activists assured us that Critical Race Theory (CRT) was not being taught and there was no intent to ever teach this horrible doctrine in the future. This lawsuit by the ACLU is proof positive that this law was in fact necessary to protect our children from this radical indoctrination. No child should be taught that they should be ashamed due to the pigmentation of their skin, and no child should be told they are responsible for the actions of the past." The bill does not prevent the teaching of history or anything currently in Oklahoma education standards, including curriculum that shows historical examples of racism. The bill adheres to the sentiment expressed by Dr. Martin Luther King Jr. who said, "I look to a day when people will not be judged by the color of their skin, but by the content of their character."
Refugee Resettlement Policy
In response to the news of refugees from Afghanistan being placed in Oklahoma, Sen. Nathan Dahm, (R-Broken Arrow) filed SCR12 calling on Congress to change the federal refugee law. "Under current federal law the placement of refugees is handled by bureaucrats in Washington D.C., and it's done with basically zero input from the State elected officials," Dahm said. "This resolution calls on Congress to change the law." The resolution asks the members of the Oklahoma Congressional Delegation to introduce legislation changing the federal Refugee Act of 1980 by allowing states to decide how to accept refugees by including input from their elected officials, whether it be by the Governor or by the Legislature.
"I've heard from numerous people across Oklahoma about this administration's failures that created this debacle and humanitarian crisis in Afghanistan" Dahm said. "Oklahomans are a welcoming people, but many of them have valid concerns about possible security threats. Especially in light of the negligence and incompetence of the administration that created this crisis." Current reports indicate around 1,800 refugees could be placed in Oklahoma. "I appreciate everyone from across Oklahoma who has reached out to me with their concerns knowing that I will fight for them." Dahm said. "I'll always be a voice for our people and put them first, even if those in 'leadership' positions continue their attempts to ban my communications. And especially when they are seeking their own interests above those of the people of Oklahoma."
Bill for Constitution Courses in Schools
State Senator Nathan Dahm (R-Broken Arrow) has filed SB1097 creating a pilot program for Constitution courses to be offered to high school students in Oklahoma. "The Constitution of the United States is one of the greatest governing documents ever created in the history of mankind," Dahm said. The bill ensures that whatever courses are offered will be provided at no cost to the State Department of Education, participating school districts, and participating charter schools. The legislation calls for the courses to require instruction on several provisions, including an introduction to the Constitution, its meaning and history, the progressive rejection of the Founding Fathers, the rise of bureaucratic despotism, civil rights, and the Federalist Papers. "Our rights protected in the Constitution are constantly under attack, especially now more than ever," Dahm said. "The main reason for that is a lack of understating or even a gross misunderstanding of our Constitution, especially from elected officials who should know better because they swear an oath to uphold and defend the Constitution." The bill sets up a pilot program for a four year period to offer the classes to all eleventh-graders.
Bill to Open Free Market for Gun Suppressors
A measure to create a manufacturing boon for the state and open the free market for the purchase of firearm suppressors, also known as silencers, has been filed by Sen. Micheal Bergstrom (R-Adair) for the 2022 legislative session. Senate Bill 1098 would exempt a firearm suppressor manufactured in Oklahoma that stays in the state from federal law and regulations, meaning Oklahomans could legally possess the gun accessory without federal registration requirements. The silencer must have "Made in Oklahoma" marked or engraved on it in order qualify.
"It's clear federal overreach to require a person who purchases a gun suppressor to pay additional fees out of pocket and wait months or even years for approval," Bergstrom said. "The federal requirement of registering a suppressor through the Alcohol Tobacco and Firearms (ATF) process is lengthy, expensive and a burden placed directly on law abiding citizens. That's why we want to make this simple for Oklahomans – if you buy a suppressor manufactured and used in our state, you don't have to jump through these hoops." Bergstrom said he hopes this measure will be a welcome sign to gun and accessory manufacturers looking for a business-friendly environment to lay their roots, and signal to Oklahomans that their Second Amendment rights are well-protected within the state.
Online Consumer Privacy Bill
State Rep. Logan Phillips (R-Mounds) announced he will pursue a data privacy bill in the 2022 legislative session. House Bill 1130 would require any online business or webpage operator that collects consumers' personal information to post in a conspicuous place prior to the collection what personal information will be collected and the purposes for which it will be used. "Website operators are mining our personal information all of the time and then using that information to market new products to us or to track how we live our lives," said Phillips, chair of the House Technology Committee. "Such information can even be used against us. Consumers deserve to know in advance what information is being collected on them, by whom, and how it will be used. My bill will ensure better transparency for the public." The entity shall not collect additional categories of personal information or use such information without providing consumers with additional notice. The entity must disclose if the information will be sold. Any entity violating the act will face a fine of $1,000 for the first violation and $5,000 for each subsequent offense. The office of the state's attorney general will be authorized to promulgate rules to effectuate the statute should the bill be signed into law.
Data Privacy Act Filed
State House Majority Leader Rep. Josh West (R-Grove) and Rep. Collin Walke (D-Oklahoma City) filed the Oklahoma Computer Data Privacy Act of 2022. "The importance of data privacy legislation cannot be overstated," West said. "In 2018, President Donald Trump created the National Security Commission on Artificial Intelligence. The commission's 700-plus page report explains that not only are '[a]dversaries using AI systems to enhance disinformation campaigns and cyber-attacks,' but they are also 'harvesting data on Americans to build profiles of their beliefs, behavior, and biological makeup for tailored attempts to manipulate or coerce individuals.' I will not sit idly by while private information like our biological makeup is pilfered by profiteering tech companies so they can get rich by selling our data and we can be exploited. I stand beside former President Trump and his commission, and that is why I am authoring this legislation in accordance with the commission's recommendations."
"Your right to privacy is enshrined in our state and federal constitutions and the National Security Commission's report mentions privacy dozens upon dozens of times," Walke said. "The commission literally says, 'the Internet of Things, cars, phones, homes, and social media platforms collect streams of data, which can then be fed into AI systems that can identify, target, and manipulate or coerce our citizens.' What more do we need to be told in order to wake up and realize that this is a real problem that must be taken seriously? I am proud to partner with Representative West again to fight for our constitutional rights and to protect the citizens of this great State."
"Last session we attempted to comprise with many in the tech industry on our data privacy legislation, but many preferred to not meet us halfway and stopped our bill in the Senate," West said. "Because data privacy is clearly a matter of personal, state and national security, we cannot wait any longer for implementation. That is why I am proud that we have authored the most stringent data privacy law in the nation for the second year in a row."
Locking in Daylight Saving Time
State Senator Blake Stephens (R-Grove) hosted an interim study looking at the benefits of "locking the clock" and making Daylight Saving Time (DST) the official time year round in Oklahoma. Testimony indicated the time change in the fall and spring do impact some people adversely. By keeping Daylight Saving Time, it would give more daylight at the end of the day which could allow for further economic and recreational opportunities for individuals and families. There would be a possible benefit for agriculture producers, as well. "Daylight Saving Time is already observed eight months out of the year, so this change would only impact four months – November through March," Stephens said. "Extending daylight at the end of the day has been proven to have a multitude of health and sleep impacts and would also add extra daylight for families to be active, children to participate in extracurricular activities and our farmers and ranchers to safely work in the evenings."
Stephens said he will reintroduce Senate Bill 843, which he filed during the last legislative session to make DST permanent. If the Oklahoma Legislature passes the bill, it would have to wait for Congress to give approval before it would go into effect. Currently, there are 18 states which have already enacted legislation or approved resolutions to make Daylight Saving Time the official time year round if approved by Congress, including Alabama, Arkansas, Delaware, Georgia, Idaho, Louisiana, Ohio, Oregon, Maine, Minnesota, Mississippi, Montana, Oregon, South Carolina, Tennessee, Utah, Washington and Wyoming.
Burns Flat Spaceport
State Rep. Tammy Townley (R-Ardmore) hosted an interim study in September before the House Government Modernization Committee to consider avenues to help the Oklahoma Space Industry Development Authority (OSIDA) reach its full potential as a competitive industrial authority. The OSIDA is a development authority created in 1999 to operate a spaceport near Burns Flat. The Oklahoma Air & Space Port and Aerospace Industrial Park at the Clinton-Sherman Airport (CSM) features the fourth largest all-weather runway in North America at 13,503 feet long, an adjacent 5,193-foot runway, and facilities that include an air traffic control tower, six large hangars and 96 acres of pavement for parking and storage. "I really think that we've got a jewel out there," Townley said while describing her first visit to Burns Flat. "Why are we not doing something with this?"
The Oklahoma State Director of Aeronautics, Grayson Ardies, spoke on the value of the state's airport system. He said the Oklahoma Aeronautics Commission works to ensure a thriving aviation and aerospace industry and grow Oklahoma's aviation and aerospace workforce, an important part of which is the preservation and improvement of the state's 108 public airports. Aviation and aerospace is the state's second largest industry with more than 206,000 jobs and an economic impact of $43.7 billion annually.
Steve Fendley, president for the unmanned systems division of Kratos Defense and Security Solutions, said Kratos opened a facility in Oklahoma because of the existing aerospace hub within the state, as well as the state incentives, supportive community and affordable cost of living. Fendley said the opportunities presented by the facilities at Burns Flat offers a lot of potential.
Legislative Pay Holds Steady
On October 19, members of the Legislative Compensation Board voted 7-1 to maintain the current salary of Oklahoma state legislators at $47,500 per year. The House speaker and Senate president pro tem receive an additional $17,932. Other leaders get $12,300 added pay. In 2019 the board gave legislators a $12,749 raise, the first increase of lawmaker pay in 20 years. In addition to their $47,500 base salary, Oklahoma lawmakers receive $7,919 per year in benefits and a 7% (or $3,325) state retirement contribution. Many lawmakers also receive per diem during the legislative session, which totaled $11,055 for 67 days of a regular session in 2021, except for lawmakers who live within 50 miles of the State Capitol. Oklahoma currently ranks 15th in legislative pay.
The nine member panel has five members appointed by the governor, and two members each are appointed by the leader of the House, and the leader of the Senate. Every two years, the board reviews and may vote to change the compensation paid to the members of the Legislature. Such a change automatically becomes effective on the fifteenth day following the next General Election.
Non-Binary Birth Certificate Settlement
On October 21, Oklahoma Gov. Kevin Stitt and other Republican leaders expressed outrage upon learning that the Oklahoma State Department of Health (OSDH) issued a birth certificate in May with a non-binary gender designation. Non-binary people do not agree with male or female gender assignments. "I believe that people are created by God to be male or female. Period," Stitt said in a statement. "There is no such thing as non-binary sex and I wholeheartedly condemn the purported OSDH court settlement that was entered into by rogue activists who acted without receiving proper approval or oversight." Stitt further said, "I will be taking whatever action necessary to protect Oklahoma values and our way of life."
A lawsuit was filed on August 14, 2020, in U.S. Federal Court for the Western District of Oklahoma by a non-binary individual, Kit Lorelied, who was denied being identified as non-binary on a reissued birth certificate by the OSDH. Seventeen states and the District of Columbia currently recognize nonbinary gender status on identifying documents. The agency, represented by the Office of the Attorney General (then headed by Mike Hunter), reached a settlement which added non-binary as an option on birth certificates. Statements from House Speaker Charles McCall and Senate President Pro Tempore Greg Treat said the settlement amounted to unauthorized overreach by executive agencies and did not follow the required process for approval. State Sen. Micheal Bergstrom (R-Adair) has filed Senate Bill 1100 for the upcoming session that would require male and female to be the only options on birth certificates, meaning non-binary or any symbol representing a non-binary designation, including, or not limited to the letter "X," cannot be used on the birth certificate.
Oklahoma Commissioner of Health Resignation
On October 22, Dr. Lance Frye resigned as the Oklahoma Commissioner of Health. His resignation came one day after Gov. Kevin Stitt criticized "rogue activists" for a lawsuit settlement that caused the Oklahoma State Department of Health (OSDH) to create a process to amend birth certificates to reflect a non-binary sex designation. In a press release, Stitt praised Frye for providing "steady leadership" during the pandemic, but neither Stitt nor Frye addressed the reason for the resignation. Frye has served as interim Commissioner since May 2020.
New Higher Ed Chancellor
The Oklahoma State Regents for Higher Education named Allison Garrett as the next Chancellor for Higher Education. The chancellor heads a state system comprised of 25 state colleges and universities, 11 constituent agencies, one university center, and independent colleges and universities coordinated with the state system. Dr. Garrett is the current President of Emporia State University in Emporia, Kansas. She has also held positions at Abilene Christian University and Oklahoma Christian University. She succeeds Chancellor Glen Johnson who has held the post since 2007. Garrett begins her duties November 8, the day Johnson formally leaves office.
Johnson, the son of former U.S. Congressman Glen D. Johnson Sr., served in the Oklahoma House of Representatives from 1982 to 1996. A Democrat, he became Speaker of the State House at age 36, the youngest in the state's history at the time. Upon leaving the Legislature he served ten years as president of Southeastern Oklahoma State University in Durant, and then was named Chancellor for Higher Education.
Former Norman City Council Member Pleads Guilty
During the President Donald Trump rally in Tulsa in June 2020, then-Norman City Council member Alex Scott climbed a flagpole in protest, and refused to come down, when ordered to by Tulsa police. Bystanders even tried to interfere with the police who were attempting to coax her down. Scott has now pleaded guilty to obstructing an officer. The Norman City Council is notorious for being among the most left-wing in Oklahoma, as a group. They cut police funding in 2020, and several members once turned their backs on a Norman citizen who was speaking to the Council about saving unborn babies from abortion. Scott did not run for reelection, and was replaced by a candidate who opposed the defunding of the police.
Death of Former Sen. Paul Muegge
Former State Senator Paul Muegge (D-Tonkawa) died on August 16 after a long illness. He was 84. He represented Senate District 20 from 1990 to 2002. While he was originally a lobbyist for the agriculture industry, he earned national recognition for his environmental stand against confined hog and chicken feeding operations after being elected to the Senate. In 1998, Governing magazine, the leading journal of state and local government, named Muegge their Legislator of the Year. He was one of the most liberal members of the Senate, with a cumulative average of just 9% on the Oklahoma Conservative Index rating state legislators.
Death of Former Rep. Dale Derby
Former State Rep. George Dale Derby (R-Owasso) died on August 24. He was 72. Dr. Derby was a victim of a drowning accident near Redbud Marina at Oologah Lake. According to Oklahoma Highway Petrol Troopers at the scene, Derby and his wife launched a boat at the marina, but when they had trouble starting it and the boat started to drift, Derby attempted to swim after it without wearing a life jacket. Dr. Derby was the medical director of anesthesiology at Bailey Medical Center in Owasso. He was elected in 2016 and represented House District 74. He served only a single term, opting not to run for reelection in 2018. He was one of the more moderate Republicans in the Oklahoma House, earning a cumulative average of 45% on the Oklahoma Conservative Index rating state legislators.
Death of Former Sen. Charles Ford
Longtime legislator Charles Ford, who served 38 years in the Oklahoma Legislature, died on September 1. He was 90. Ford was the longest-serving Republican state legislator in Oklahoma history. He served as a Tulsa-area representative in the House from 1967 to 1981 and then as a senator until 2004 when he was among the first group of senators to be term-limited. He's noted for writing Oklahoma's "Make My Day" law, which ensured the rights of citizens to protect themselves from intruders. He also championed a legislative referendum creating the Legislative Compensation Board to determine legislative salaries, and he pushed for ethics laws. He was one of the more moderate Republicans in the Legislature, earning a 57% cumulative average on the Oklahoma Conservative Index.
In addition to his time in the Legislature, he was a veteran of the U.S. Naval Reserve. He also was a successful businessman, a pilot, a published author and an art collector. In public life, he is perhaps best known for founding and serving as president of the Oklahoma State Senate Historical Fund Inc. In this role, he helped restore the Senate Chamber and other areas of the Capitol to their original architectural design, as well as raising $2.5 million in private donations to commission works from Oklahoma artists to fill the Capitol. In 2003, the Senate art collection was featured in the book Art Treasures of the Oklahoma State Capitol. Ford co-authored the book The Oklahoma State Capitol: A History of Our Seat of Government, published in 2011, with noted author Bob Burke.
Death of Former Rep. Leonard Sullivan
Former Oklahoma Legislator and Oklahoma County Assessor Leonard Sullivan passed away on October 4, he was 87. Sullivan served in the Legislature from 1986 through 2004. He was the Oklahoma County Assessor from 2004 until he retired 14 years later. He was a Realtor, an appraiser, a real estate developer, a builder, and a property owner/manager. During his time in the Legislature he had a cumulative average of 67% on the Oklahoma Conservative Index rating state legislators. "Leonard knew more jokes and funny stories and shared them with hundreds of friends. He was a kind and generous leader, a great colleague and a wonderful friend. The entire County Assessor family is heartbroken at our loss." said Larry Stein, the current Oklahoma County Assessor, and was the chief deputy for Sullivan during his county service.