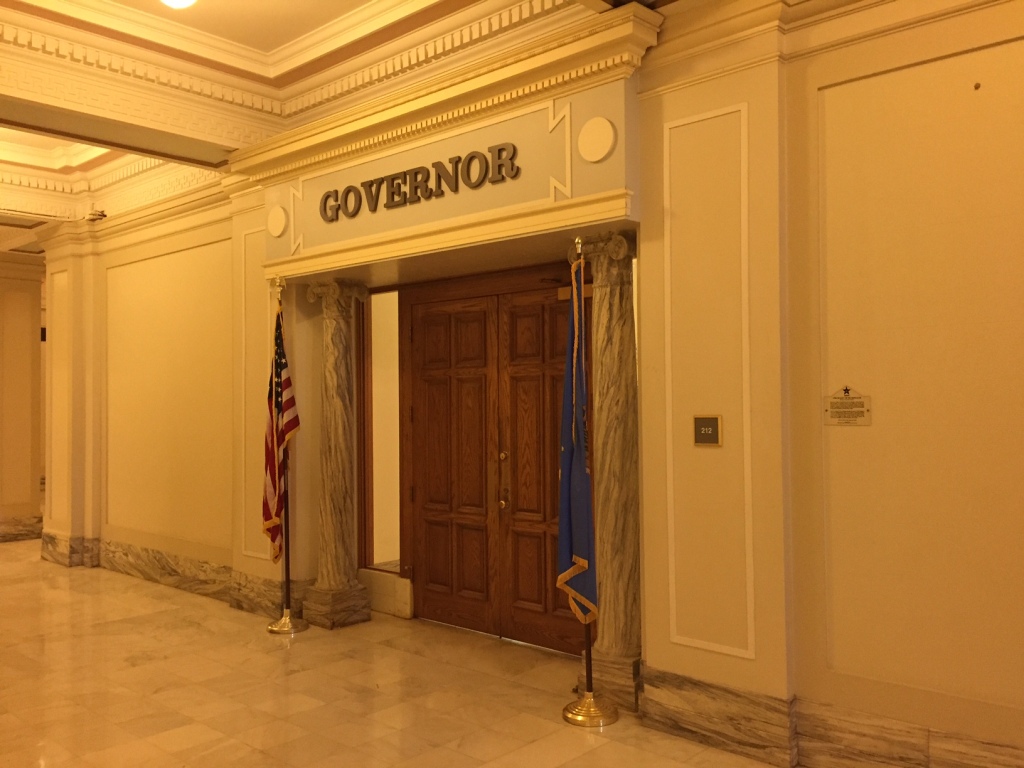 news
The Race for Governor
When one political party becomes as dominant in a state as the Republican Party has become in Oklahoma in the past few years, it is not uncommon for incumbents of that dominant party to face challengers in the primary from within their own party. That seems to be the case with Governor Kevin Stitt, who is making a bid for a second term.
Stitt was a surprise winner in the 2018 Republican primary, having never before held public office, and in fact not having even been involved much in the political process at all. Surprisingly, he did not even vote in the 2016 intensely-fought Oklahoma Republican primary in which Senator Ted Cruz of Texas won over businessman Donald Trump.
Stitt ran as a businessman and a political outsider. He received an accounting degree from Oklahoma State University in 1996 and after graduation worked in the mortgage loan industry. He started Gateway Mortgage Group in 2000 "with only $1,000 and a computer." Gateway grew into an enterprise employing over 1,100 people, and had 145 offices in 40 states. After his election, he converted the company into a mortgage bank.
Stitt, 49, has been a mostly conservative governor, but has been the target of a dark money group, centering the record number of commutations and pardons that he has approved. In some cases, the television commercials and campaign postcards have had to really stretch to give voters the impression that Stitt is "soft on crime." In another televison commercial, a man who identifies himself as a mechanic in Oklahoma hurls more critical statements about Gov. Stitt. The Stitt campaign countered that ad, revealing that the guy was neither a mechanic nor an Oklahoman – he was just an actor portraying such.
Those behind the ads have not been fully uncovered. Because the ad campaign began so early, it was initially thought the group was supporting one of the Republican challengers. But, there are indications that large contributors to the Hofmeister campaign are also contributors to the group. The motivation would be to soften Stitt's support in advance of the fall campaign. It has been reported the group has a goal to spend up to $10 million in the effort.
Meanwhile, Stitt is expected to be the beneficiary of a dark money group affiliated with the Republican Governors Association, which announced it will spend over a half-million dollars on television commercials in his support.
Gov. Stitt has been endorsed by former President Donald Trump who did a fundraiser for Stitt in April.
Among those challenging Stitt in the GOP field is Dr. Mark Sherwood, 57, of Broken Arrow. He is a certified Naturopathic physician and founder of the Functional Medical Institute, a wellness-based medical practice in Tulsa. He and his wife have authored three best-selling books on diet and health. Previously he served 24 years in the Tulsa Police Department, including service on the department's SWAT Team. He is a former Oklahoma state and regional bodybuilding champion, and an ex-professional baseball player. Sherwood has also had little political activity on his resume, and in fact has rarely voted in the past several years. During the campaign he has tried to staked out positions to the right of Stitt.
Joel Kintsel of Oklahoma City is currently on leave from his job as executive director of the Oklahoma Department of Veterans Affairs. Kintsel, 46, is a lieutenant colonel in the Oklahoma Air National Guard, and has been in charge of the state's veterans agency since 2019. He previously was the parliamentarian for the Oklahoma House of Representatives for 14 years.
Kintsel said he is running on an anti-corruption, transparency and accountability campaign. "Kevin Stitt is the ultimate special interest," Kintsel said. "He is a wealthy individual helping his wealthy friends get wealthier and doing it at the expense of the Oklahoma taxpayer." Kintsel did not offer any specifics in his announcement, and also offered no specifics as to his policy views, other than to call himself a "Ronald Reagan conservative."
Moira McCabe, 40, is the third Republican challenger. She is a stay-at-home mother who resides in Oklahoma City.
Whether it is Stitt or one of his challengers, the Republican nominee will have a Democratic Party opponent in the general election.
Considered the front-runner on the Democratic side is State School Superintendent Joy Hofmeister who was elected as a Republican in 2014, defeating incumbent Republican Janet Barresi in the primary. At the time, Hofmeister told the editor of the Oklahoma Constitution that she was opposed to Common Core (which Barresi had supported) and that she was a conservative Republican. Either Hofmeister has changed her views since then, or she was masquerading as a conservative Republican in order to get elected. Hofmeister, 57, has taken increasingly liberal positions while in office, especially after her reelection in 2018. It is therefore no surprise that she changed her registration to Democrat last year.
Former State Senator Connie Johnson, 69, was the Democrat nominee against Senator James Lankford when he ran for a full term in 2014. She received 29% of the vote in that race. Johnson was among the most liberal members of the Oklahoma Senate with a cumulative average of just 12% on the Oklahoma Conservative Index. She ran for governor in 2018, and lost the Democrat nomination to former Oklahoma Attorney General Drew Edmondson who went on to be defeated by Stitt in the General Election. She is opposed to the death penalty and has a solid pro-abortion voting record. She was one of the leaders of a failed effort to get an initiative petition on the ballot to legalize the recreational use of marijuana in Oklahoma.
The surviving Republican and Democratic nominees will face two other candidates on the November ballot.
Libertarian Party candidate, Natalie Bruno, has been a digital marketer and advertiser in Oklahoma for several years working for companies like Cox Media, Tyler Media, Gatehouse Media, the Oklahoman, and is currently the Director of Digital Strategy at Skyline Media Group. Bruno, 37, was the Marketing Director for the Jo Jorgensen and Spike Cohen Presidential/Vice-Presidential Libertarian Party campaign in 2020.
Former State Senator Ervin Stone Yen of Nichols Hills initially said he would challenge Gov. Stitt for the Republican nomination. But, last October he announced that he had changed his registration from Republican to independent. He was registered as a Democrat before changing to Republican prior to his run for the state senate. Yen was elected to the Oklahoma Senate in 2014 and served one term before being defeated for reelection in 2018. He was the first Asian American to serve in that body, and also the most liberal Republican to serve in the Senate with a cumulative average of just 24% on the Oklahoma Conservative Index.
Dr. Yen, 67, is an anesthesiologist and has been critical of Governor Stitt's handling of the COVID pandemic, and even demanded a statewide mask mandate. While serving in the Senate, he pushed for the elimination of religious and personal exemptions for the vaccination of children.
As of now, Stitt has a commanding lead in both the Republican primary and for the general election, but that could change as the campaign progresses.