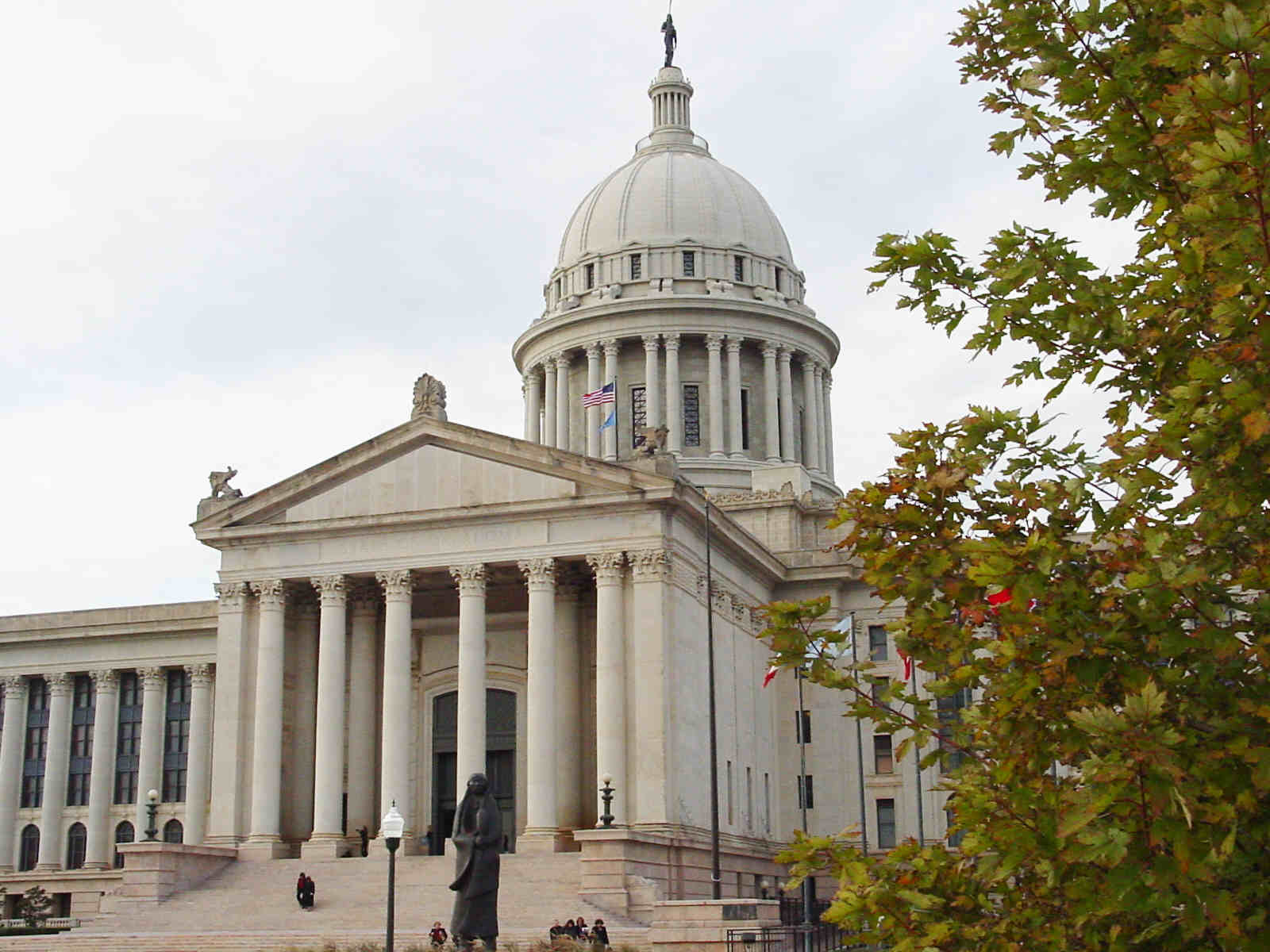 index
2022 Oklahoma Conservative Index
The Oklahoma Constitution presents the 44th annual Oklahoma Conservative Index rating our state legislators. Members of each house of the Oklahoma Legislature were rated on ten key votes. A favorable vote on these issues represents a belief in conservative principles.
After taking suggestions from conservative leaders, proposed bills were reviewed by a joint committee composed of the Oklahoma Constitution newspaper staff and members of the Oklahoma Conservative Political Action Committee (OCPAC). The committee then selected the ten key votes to be used for the ratings. The legislators were rated based on their votes on these bills which included such issues as protecting the life of the unborn, protecting women and children, supporting the right to keep and bear arms, making elections secure, opposing government subsidies to business, preserving government transparency, and avoiding wasteful spending.
RATING CALCULATION
To determine this year's rating, 10 points were earned for each conservative vote (designated by a C), and no points were awarded for a liberal vote (indicated by an L). Each failure to vote (recorded as a Z) provides only three points. When the rating system was created in 1979, it was decided that there should be a difference between voting liberal, and missing a vote. A legislator absent for all the votes could only score 30%.
Thus, a legislator voting conservative on eight votes, liberal on one, and failing to vote on another, would receive eighty plus three, or an 83% conservative rating.
This year's conservative rating was averaged with the legislator's scores from the most recent previous years of service to obtain the Cumulative Average score. As a result of term limits, no legislator will have a cumulative score based on a period longer than twelve years. By examining this year's score in relation to the Cumulative Average, the voting pattern of a particular legislator can be determined. While most score nearly the same, year after year, others trend upward or downward from their average. If your legislator is trending toward conservatism, please offer your encouragement and support. If your legislator is exhibiting a leftward trend, it is time to express your disappointment and suggest the need for a replacement if the trend is not reversed.
The average score this year was 60% in the House and 62% in the Senate. The Top Conservative and Top Liberal legislators were selected based upon this year's scores. Making the Top Conservatives list were 19 lawmakers who scored 80 percent or higher. On the Top Liberals list were 24 lawmakers scoring 20 percent or lower.
TOP CONSERVATIVES
Five legislators scored a perfect 100% conservative rating this year. Senator Shane Jett of Shawnee was the only member of the Senate with a perfect score. The four members of the House with a perfect score were Tom Gann of Inola, Jim Olsen of Roland, Wendi Stearman of Collinsville, and Rick West of Heavener. Senator Nathan Dahm of Broken Arrow scored 93 per cent and Senator Warren Hamilton of McCurtain scored 90 percent. Representative David Hardin of Stilwell also scored 90 percent. Senator Rob Standridge of Norman and Rep. Tommy Hardin of Madill both scored 83 percent. Six senators scored 80 percent including Mark Allen of Spiro, David Bullard of Durant, George Burns of Pollard, Julie Daniels of Bartlesville, Joe Newhouse of Broken Arrow, and Roland Pederson of Burlington. Three members of the House also scored 80% including Trey Caldwell of Faxon, Denise Crosswhite Hader of Yukon, and Randy Randleman of Eufaula.
TOP LIBERALS
No legislator scored zero conservative this year, but Sen. Kevin Matthews of Tulsa scored just 6 percent and Rep. Collin Walke of Oklahoma City scored 9 percent. Nine legislators, two senators and seven representatives, scored 10 percent. Senators Mary Boren of Norman and Michael Brooks of Oklahoma City both scored 10 percent. The seven members of the House scoring 10% were Forrest Bennett of Oklahoma City, Meloyde Blancett of Tulsa, Andy Fugate of Oklahoma City, Cyndi Munson of Oklahoma City who will be the next House Minority (Democrat) Leader, Jacob Rosecrants of Norman, Mauree Turneer of Oklahoma City, and John Waldron of Tulsa. Representative Ajay Pittman of Oklahoma City scored 12 percent. Scoring 13% in the Senate were Carri Hicks and George Young, both of Oklahoma City. Also scoring 13% were House members Mickey Dollens of Oklahoma City, Regina Goodwin of Tulsa, Monroe Nichols of Tulsa, Trish Ranson of Stillwater, and current House Minority (Democrat) Leader Emily Virgin of Norman. Senator Merleyn Bell of Norman scored 15 percent. Representative Jason Lowe of Oklahoma City scored 16 percent. Three senators scored 20% including Jo Anna Dossett of Tulsa, Senate Minority (Democrat) Leader Kay Floyd of Oklahoma City, and Julia Kirt of Oklahoma City.
A description of the bills used for this year's ratings, a list of all the legislators with their vote on each of the ten bills, their score for this year, and their Cumulative Average which includes scores from previous years, is found in the following pages of this section. It is also available by clicking the box labeled "How Conservative is your legislator?" at the top of our home page at: www.oklahomaconstitution.com
BILLS USED FOR THE 2022 OKLAHOMA CONSERVATIVE INDEX
(1) Abortion Trigger Law
Senate Bill 1555 by Senate President Pro Tem Greg Treat (R-Oklahoma City) and House Speaker Charles McCall (R-Atoka) amended Oklahoma's "Abortion Trigger Law." The modified version established that at such time as the Oklahoma Attorney General certifies that the U.S. Supreme Court has overruled its Roe v. Wade decision and Planned Parenthood of Southeastern Pennsylvania v. Casey decision, that Oklahoma's laws protecting the lives of unborn children previously in effect would once again be the law. The amended language specifically cites the enforcement of Section 861 of Title 21 of the Oklahoma Statutes. The measure passed the Senate 34-9 March 10, 2022 and the House 77-14 on April 26, 2022. Governor Kevin Stitt signed the bill into law on April 29, 2022. A Yes vote, in support of the bill, is the Conservative vote.
(2) Save Women's Sports
Senate Bill 2, known as the Save Women's Sports Act, prohibits anyone of the biological male sex from playing on athletic teams designated for females, women, or girls. The legislation, by Sen. Micheal Bergstrom (R-Adair) and Rep. Toni Hasenbeck (R-Elgin), evolved after males, claiming to be females, were allowed to compete in women's sports. Recently, transgender athlete Lia Thomas dominated the NCAA women's swimming championships. Previously known as Will Thomas, the swimmer had the benefit of higher testosterone levels, enhanced lung capacity, and larger hands and feet, gave a distinct advantage against biological females in the competition. In the Senate debate on the bill, Sen. Bergstrom said, "We must protect our female students across this state from losing out on educational opportunities and scholarships because they are competing against men identifying as women."
The bill originally passed the Senate on March 1, 2021. It was amended and passed the House 73-19 on April 19, 2021 and was returned the Senate. This year, the Senate approved the House amendments and passed the bill 37-7on March 24, 2022. It was signed into law by Gov. Kevin Stitt on March 30, 2022. A Yes vote, in support of the bill, is the Conservative vote.
(3) Biological Sex Restrooms
Senate Bill 615 by Sen. David Bullard (R-Durant) and Rep. Danny Williams (R-Seminole) requires restrooms or changing rooms in Oklahoma public schools to be designated exclusively based on biological sex. The measure affects public schools and public charter schools that serve students in pre-K through 12th grade. It requires that every multiple occupancy restroom or changing room be designated for the exclusive use of the male or female sex. It defines "sex" as the physical condition of being male or female based on genetics and physiology, as identified on an individual's original birth certificate. It requires each school to provide a reasonable accommodation – a single-occupancy restroom or changing area – to anyone who does not wish to comply with the requirement. Exceptions are provided for individuals to enter a restroom or changing area designated for the opposite sex for custodial, maintenance, inspection purposes or to render emergency medical assistance. Any school district or charter school found not in compliance will have their state funding reduced by five percent the following fiscal year. The bill passed the Senate 38-7 on May 19, 2022 and the House approved 69-14 on the same day. It was signed into law by Gov. Kevin Stitt on May 25, 2022. A Yes vote, in support of the bill, is the Conservative vote.
(4) Protect Firearms Entities
House Bill 3144, by Rep. Kevin West (R-Moore) and Sen. Casey Murdock (R-Felt), would disallow the state of Oklahoma from contracting with any company that discriminates against the firearms industry. A 2013 program by the Obama Administration, code named Operation Chokepoint, aimed to deny "disfavored" industries from essential services such as banking, payment processing, and insurance. The firearms industry was the primary target of the operation. While the program was ended by the Trump Administration in 2016, many of America's largest companies have since privatized and continued the effort. The legislation provides that a governmental entity may not enter into a contract with a company for the purchase of goods or services unless the contract contains a written verification from the company that it does not have a practice, policy, guidance, or directive that discriminates against a firearm entity or firearm trade association based solely on firearms. The bill further specifies that the company will not discriminate in such manner during the term of the contract.
The measure originally passed the House on March 23,2022. It was amended and approved by the Senate 37-8 on April 27, 2022. The House rejected the Senate amended version and a Conference Committee resolved differences between the House and Senate versions of the bill. The bill was then approved by the House 73-18 on May 17, 2022. It failed to receive a final vote in the Senate before the end of the session. A Yes vote, in support of the bill, is the Conservative vote.
(5) Online Absentee Ballot Voter ID
Rep. Eric Roberts (R-Oklahoma City) and Sen. John Haste (R-Broken Arrow) authored House Bill 3364 requiring online absentee ballot requests to include identification in addition to a voter's name and birth date. Identification may include their driver's license number, state identification number, or the last four of their Social Security number. The voter will also have to confirm their address. The legislation makes it more difficult for someone to fraudulently obtain an absentee ballot. Under the bill, voters who registered prior to the requirement for additional identification information may submit a paper absentee ballot request or reregister to vote with the additional identification. It originally passed the House on March 9, 2022. It was amended and passed the Senate 37-8 on April 27, 2022 and was returned to the House for consideration of the amendments. The House accepted the amendments and gave final passage 75-16 on May 16, 2022. It was signed into law by Gov. Kevin Stitt on May 20, 2022. A Yes vote, in support of the bill, is the Conservative vote.
(6) Private Funding of Elections
The Prohibit Private Funding in Elections Act by Rep. Mark Lepak (R-Claremore) and Sen. Julie Daniels (R-Bartlesville) prohibits any government or election official from soliciting, taking, or otherwise accepting anything of value for purposes of conducting state or local elections. All elections must be conducted with public funds. Meta (Facebook) CEO Mark Zuckerberg, along with his wife Priscilla Chan, donated over $400 million for election access efforts in 2020. The funds were given to political organizations that in turn gave the money as grants to government election boards and offices. In exchange for the money, election agencies were required to conduct their elections according to conditions set out by the organizations. The funds enabled fraud-breeding practices like ballot harvesting, mass mailing of absentee ballots, the use of ballot drop boxes, and absentee voting without strict signature-matching requirements. House Bill 3046 passed the House 79-18 on May 9, 2022 and the Senate 37-9 on April 27, 2022. It was signed into law by Gov. Kevin Stitt on May 4, 2022. A Yes vote, in support of the bill, is the Conservative vote.
(7) Commercial Air Service Grants
Senate Bill 1461 by Sen. Paul Rosino (R-Oklahoma City) and Rep. Jon Echols (R-Oklahoma City) created the Oklahoma Air Service Development Grant Program. The program will be managed by the Oklahoma Aeronautics Commission and will provide grants to private or public entities for commercial air service development projects supporting the introduction of new airline service in the state. Funding may be used for commercial air service projects including providing minimum revenue guarantees for specific new routes, marketing and advertising of the new air service, and market study and research to develop data to support a business case for new service. The measure passed the Senate 42-4 on March 14, 2022 and the House 78-5 on April 28, 2022. It was approved by Gov. Kevin Stitt on May 4, 2022. A No vote, opposing the bill, is the Conservative vote.
(8) Student Inappropriate Materials
House Bill 3702 by Rep. Todd Russ (R-Cordell) and Sen. Darrell Weaver (R-Moore) requires any Oklahoma school district, charter or virtual charter school, state agency, public library, or university that offers digital or online library database resources to K-12 students to do so only if the vendor, person, or entity providing the resources verifies that the resources comply with the provisions of the new law. It requires schools and libraries to have safety policies and technology protections in place to prevent students from sending, receiving, viewing, or downloading materials that are child pornography or obscene as defined in current state statutes. Filters or blocks to such materials are easily available and would be required. The bill passed the Senate 41-5 on April 27, 2022 and the House 71-15 on May 12, 2022. Governor Kevin Stitt signed the bill into law on May 18, 2022. A Yes vote, in support of the bill, is the Conservative vote.
(9) Oklahoma Open Records Act Exemption
Senate Bill 1733 by Senate President Pro Tem Greg Treat (R-Oklahoma City) and House Speaker Charles McCall (R-Atoka) provides that a public body subject to the provisions of the Oklahoma Open Records Act shall not include any 501(c)(3) organization whose sole beneficiary is a college or university that is a member of The Oklahoma State System of Higher Education. Critics say the legislation allows these organizations, created exclusively for the institution, to avoid public inspection of their records. The anti-transparency measure passed the Senate 27-17 on May 20, 2022 and the House 51-24 on the same day. Governor Kevin Stitt signed the bill into law on May 26, 2022. A No vote, opposing the bill, is the Conservative vote.
(10) Capitol Tunnel Repair Bond Debt
House Bill 3567 by Rep. Mark McBride (R-Moore) and Sen. Roger Thompson (R-Okemah) authorizes a bond issue to borrow up to $19 million to repair the system of tunnels underneath the State Capitol Office Complex. This comes at a time when millions of dollars are being deposited into the state "rainy day fund." The debt will remain on the books for as many as 25 years. This proposal was initially slated to be an appropriation but was converted into a bond proposal to borrow the money for the improvements. Under the bill, the Legislature would be obliged to appropriate to the Office of Management and Enterprise Services (OMES) sufficient monies to make the annual payments to retire the obligations. While the exact cost to barrow the funds was not stated, it is estimated that about $25 Million may be required to retire the bonds over 25 years. The bill passed the House 74-9 on May 20, 2022 and the Senate 37-6 on May 20, 2022. It was approved by Gov. Kevin Stitt on May 26, 2022 A No vote, opposing the bill, is the Conservative vote.
A PDF file showing all the legislators in each chamber (House and Senate) of the Oklahoma Legislature, with each legislator's vote on each of the ten bills, their score for this year, and their Cumulative Average which includes scores from previous years, is found below. Files for previous years are also posted.
PDF FILES OF OKLAHOMA CONSERVATIVE INDEX