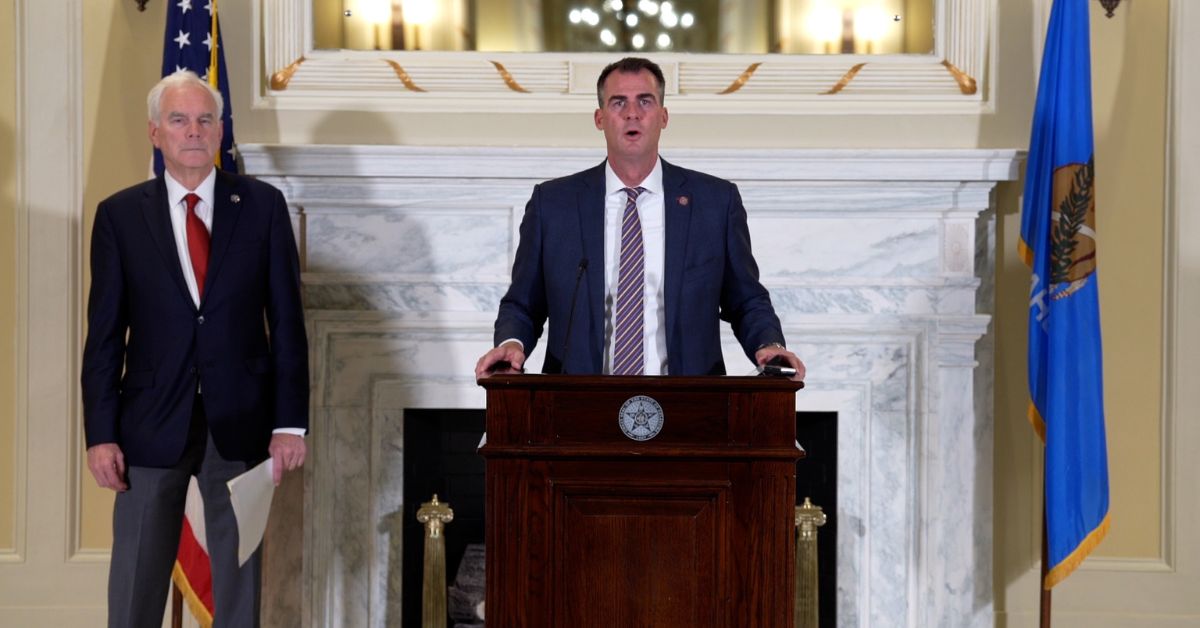 Pictured: AG O'Connor and Gov. Stitt
news
Oklahomas Abortion Laws
Earlier this year numerous prolife bills were passed by the Oklahoma Legislature and signed into law by Gov. Kevin Stitt. With the issue returned to the states, at least three laws now govern abortion in Oklahoma.
Senate Bill 1555 by Senate President Pro Tem Greg Treat (R-Oklahoma City) and House Speaker Charles McCall (R-Atoka) amended Oklahoma's "Abortion Trigger Law" passed in 2021 (Senate Bill 918). The modified law established that at such time as the Oklahoma Attorney General certifies that the U.S. Supreme Court has overruled its Roe v. Wade decision, Oklahoma's laws protecting the lives of unborn children that were in effect prior to the 1973 ruling would once again be in effect. It passed the Senate 34-9 March 10, 2022 and the House 77-14 on April 26, 2022. Governor Kevin Stitt signed the bill into law on April 29, 2022.
Later in the day following the court ruling, Oklahoma Attorney General John O'Connor certified that Roe and Casey had been overruled and he would begin efforts immediately to enforce Oklahoma's abortion prohibitions, especially the one found in Section 861 of Title 21 of the Oklahoma Statutes. The original statute was passed into law in 1910:
"Every person who administers to any woman, or who prescribes for any woman, or advises or procures any woman to take any medicine, drug or substance, or uses or employs any instrument, or other means whatever, with intent thereby to procure the miscarriage of such woman, unless the same is necessary to preserve her life shall be guilty of a felony punishable by imprisonment in the State Penitentiary for not less than two (2) years nor more than five (5) years."
Back in 1910 the term "abortion" was not in common use, and therefore it is described as "procure the miscarriage."
On August 26, an additional law will go into effect. Senate Bill 612 by state Sen. Nathan Dahm (R-Broken Arrow) and Rep. Jim Olsen (R-Roland) makes it a felony to perform, or attempt to perform, an abortion. A person convicted of performing or attempting to perform an abortion shall be guilty of a felony punishable by a fine not to exceed $100,000 or by confinement in the custody of the Department of Corrections for a term not to exceed ten years, or by such fine and imprisonment. The law bans all abortions in Oklahoma except to save the life of a pregnant woman in a medical emergency. The Senate passed the bill last year, 38-9 on March 10, 2021, but it was not acted on by the House. On April 5, 2022 of this year, it passed the House 70-14. It was signed into law by Gov. Kevin Stitt on April 12, 2022.
But, even before the high court ruling, abortion in Oklahoma had already come to an end, thanks to House Bill 4327 which had gone into effect when it was signed by Gov. Stitt in May.
House Bill 4327, by Rep. Wendi Stearman (R-Collinsville) and Sen. Julie Daniels (R-Bartlesville), enables private civil lawsuits against those who perform an abortion, much like the Texas heartbeat law which the United States Supreme Court had allowed to go into effect last year. However, this bill goes one step further and sets the abortion restriction at conception, rather than when a heartbeat is detected. It also provides for civil lawsuits against anyone who knowingly engages in conduct to aid or abet an abortion, including paying for or reimbursing the cost of an abortion through insurance or otherwise. A woman who has an abortion would not be subject to being sued. Exceptions to the law include saving the life of the mother, or pregnancies resulting from rape or incest reported to law enforcement. It originally passed the House on March 22. It was amended and passed the Senate 35-10 on April 28, 2022 and was returned to the House for consideration of the amendments. The House adopted the amendments and approved the final bill 73-16 on May 19, 2022. It was signed into law by Gov. Kevin Stitt on May 25, 2022. Based upon the threat of impending lawsuits, Oklahoma abortion providers halted their operations when it was signed.
After 45 years of battling for the lives of unborn children, Tony Lauinger, president of Oklahomans for Life, is very happy about the Oklahoma laws. Lauinger has devoted almost all of his adult life to lobbying against abortion at the state capitol. But he also warned that there will be some who will travel across state lines where abortion is legal, so as to obtain an abortion there. Noting that the pro-abortion lobby will not concede, Lauinger told The Oklahoma Constitution, "We need to win the hearts and minds of the people," both in other states and in Oklahoma, as well, arguing that educational efforts need to continue.
He explained that the civil lawsuit law is a "great way" to avoid the problem of pro-abortion district attorneys using "prosecutorial discretion" to refuse to file charges against abortionists. This is a position – the use of civil lawsuits – that National Right to Life has pushed for more than a quarter of a century, Lauinger said, adding that it is a "particularly effective complement" to the strong anti-abortion legislation that Oklahoma's lawmakers have enacted this past session. It is also raises a question to ask candidates for district attorney: Will you prosecute violations of Oklahoma's laws against abortion?
The laws defending the lives of unborn children are the culmination of decades of pro-life advocacy, by Lauinger and many others. Lauinger said that in the late 1970s and into the 1980s, he "used to walk into the [Capitol] building and feel an oppressive environment, but over time the values of the people of Oklahoma changed." But, as Lauinger also said, this battle will not end "this side of Heaven."