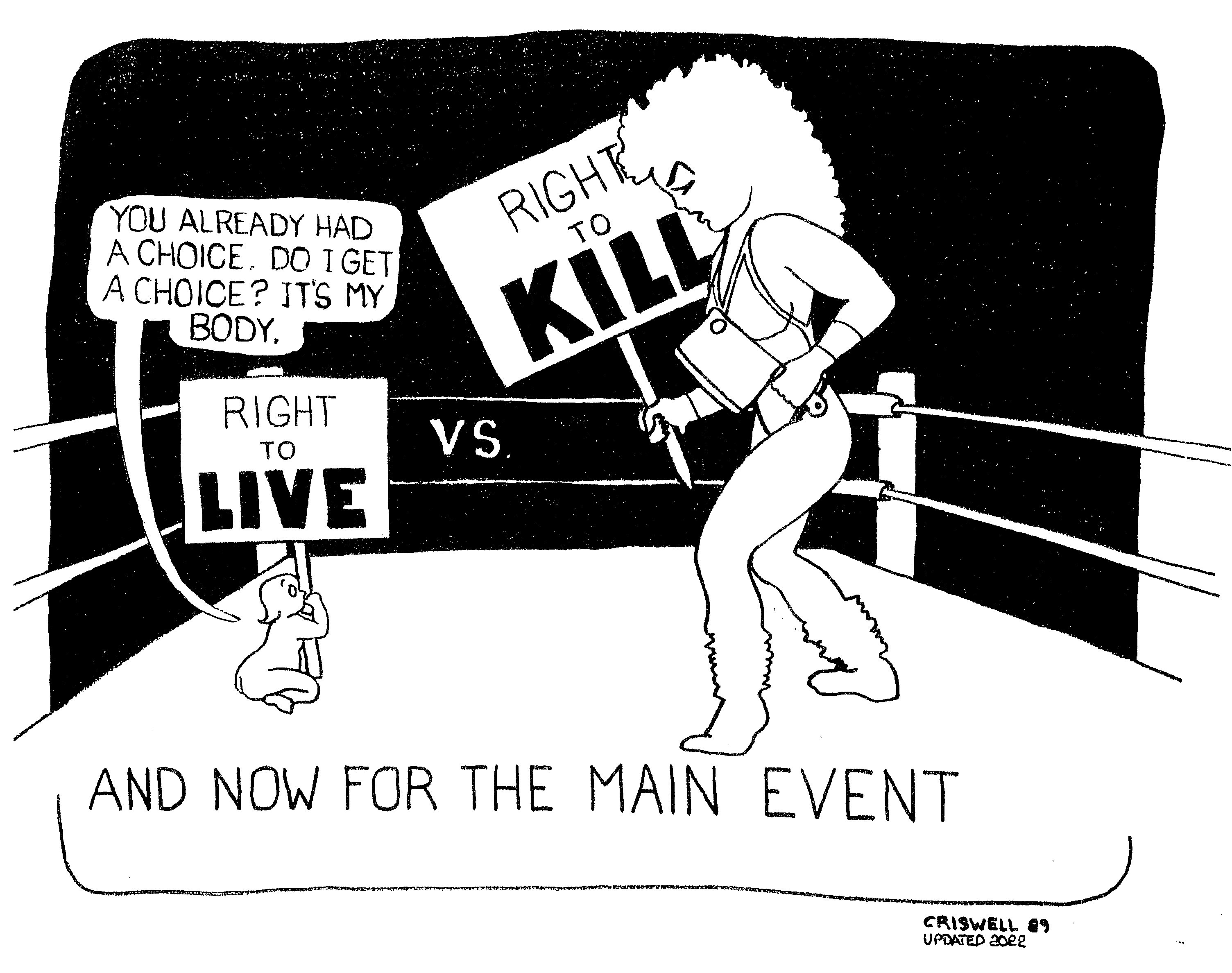 Pictured: Abortion Cartoon
news
The New Battle to End Abortion in Oklahoma
Senate Bill 612 was not the first anti-abortion law to become effective since the issue was returned to the states. On June 24, the United States Supreme Court overruled the Roe v. Wade (1973) and Planned Parenthood v. Casey (1992) decisions concerning abortion. Those prior decisions had invented a "constitutional right" to abortion. In the 6-3 majority ruling overturning those prior opinions, the high court said: "The Constitution makes no reference to abortion, and no such right is implicitly protected by any constitutional provision." Since the Constitution is silent on the issue, it is left to each state to regulate abortion. "We now overrule those decisions and return that authority to the people and their elected representatives," Justice Samuel Alito wrote in the majority opinion.
Senate Bill 1555 by Senate President Pro Tem Greg Treat (R-Oklahoma City) and House Speaker Charles McCall (R-Atoka) amended Oklahoma's "Abortion Trigger Law" passed in 2021 (Senate Bill 918). The modified law established that at such time as the Oklahoma Attorney General certifies that the U.S. Supreme Court has overruled its Roe v. Wade decision, Oklahoma's laws protecting the lives of unborn children that were in effect prior to the 1973 ruling would once again be in effect. It passed the Senate 34-9 March 10, 2022 and the House 77-14 on April 26, 2022. Governor Kevin Stitt signed the bill into law on April 29, 2022.
Later in the day following the court ruling, Oklahoma Attorney General John O'Connor certified that Roe vs. Casey had been overruled and he would begin efforts immediately to enforce Oklahoma's abortion prohibitions, especially the one found in Section 861 of Title 21 of the Oklahoma Statutes. The original statute was passed into law in 1910:
"Every person who administers to any woman, or who prescribes for any woman, or advises or procures any woman to take any medicine, drug or substance, or uses or employs any instrument, or other means whatever, with intent thereby to procure the miscarriage of such woman, unless the same is necessary to preserve her life shall be guilty of a felony punishable by imprisonment in the State Penitentiary for not less than two (2) years nor more than five (5) years."
Back in 1910 the term "abortion" was not in common use, and therefore it is described as "procure the miscarriage."
The most significant change enacted by Senate Bill 612 was the increase in the penalty from 2 to 5 years imprisonment to up to 10 years, and providing the fine of up to $100,000.
But, even before the high court ruling, performing an abortion in Oklahoma had already come to an end, thanks to House Bill 4327 which had gone into effect when it was signed by Gov. Stitt in May.
House Bill 4327, by Rep. Wendi Stearman (R-Collinsville) and Sen. Julie Daniels (R-Bartlesville), enables private civil lawsuits against those who perform an abortion, much like the Texas heartbeat law which the United States Supreme Court had allowed to go into effect last year. However, this bill goes one step further and sets the abortion restriction at conception, rather than when a heartbeat is detected. It also provides for civil lawsuits against anyone who knowingly engages in conduct to aid or abet an abortion, including paying for or reimbursing the cost of an abortion through insurance or otherwise. A woman who has an abortion would not be subject to being sued. Exceptions to the law include saving the life of the mother, or pregnancies resulting from rape or incest reported to law enforcement. It originally passed the House on March 22. It was amended and passed the Senate 35-10 on April 28, 2022 and was returned to the House for consideration of the amendments. The House adopted the amendments and approved the final bill 73-16 on May 19, 2022. It was signed into law by Gov. Kevin Stitt on May 25, 2022. Based upon the threat of impending lawsuits, Oklahoma abortion providers halted their operations when it was signed.
But battle to end abortion in Oklahoma is far from over. The new battle is over chemical abortions, and more specifically, self-administered chemical abortions.
According to Guttmacher Institute, the research arm of Planned Parenthood, as of 2020 over half of all abortions were being administered chemically. That number is expected to dramatically increase, especially in states like Oklahoma where surgical abortions are no longer legal. The Guttmacher Institute surveys all abortion providers in America every three years, not just the ones operated by Planned Parenthood. In 2020, chemical abortions accounted for 54 percent of the total. The proportion of chemical abortions has steadily increased with each survey. The number was 44 percent in 2019, 39 percent in 2017, and 29 percent in 2014.
The current method of chemical abortion began in September 2000 when the Food and Drug Administration (FDA) approved mifepristone/RU-486. It is sold under the brand name Mifeprex, and cuts off blood and nutrients to the unborn baby, starving it to death in under two days. It is taken with misoprostol, which induces labor and causes severe cramping, contractions and bleeding to expel the baby from the womb.
As the pandemic closed healthcare facilities across the country, the FDA issued a temporary order which allowed the telemedicine prescribing and mailing of mifepristone. On December 16, 2021, the Biden administration made the rule permanent. So, in states where is in now illegal to prescribe an abortion drug, a doctor outside the jurisdiction of that state can prescribe the drugs. The woman seeking an abortion can then get the drugs by mail, thus avoiding any state restrictions on in-state pharmacies.
Prolife legislators in many states are working to block this approach. In 19 states, the doctor must be present at the time mifepristone is administered. Arizona, Arkansas and Texas have made it illegal for patients to obtain the abortion pills by mail. Other legislation to prevent such abortions are also being developed. It will be interesting to see if Oklahoma will join in the battle to prevent self-administered chemical abortions.