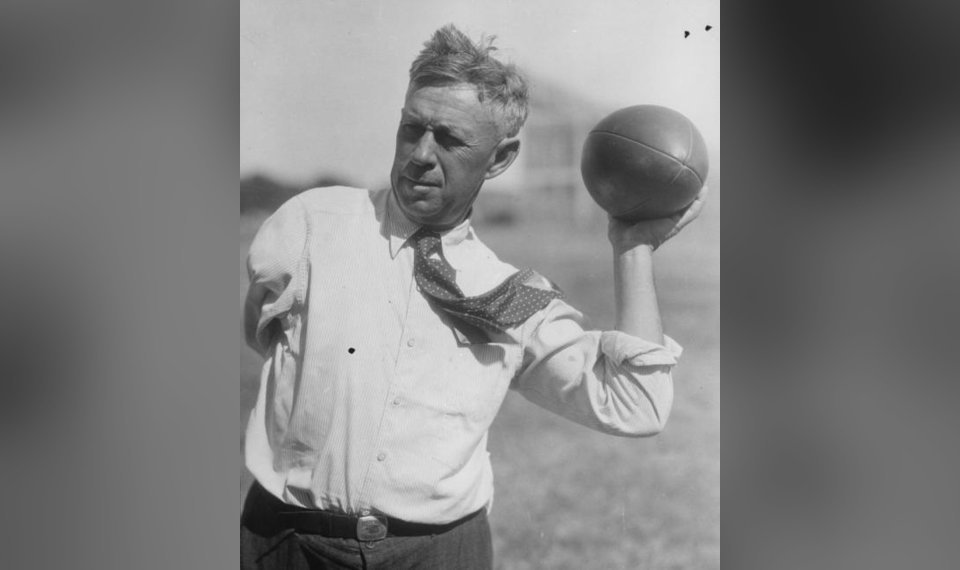 news
OKLAHOMA HISTORY: Missing B at OU
By Steve Byas
Since the hiring of Coach Brent Venables to coach the football team at the University of Oklahoma, it has become quite common to see shirts fitting Venables in with other coaches – legendary coaches – who share a first name that begins with B, and the distinction of having won more than 100 games at the institution.
Certainly, Bud Wilkinson, Barry Switzer, and Bob Stoops deserve all the acclaim they have received. Bud Wilkinson created the "monster," and Barry Switzer "fed the monster." Bob Stoops brought the Sooners back to national prominence after ten mediocre to poor seasons in the 1990s.
But, alas, so many fans are unaware of the man who laid the foundation for OU as perhaps the greatest football program in the history of the college game – Bennie Owen. His name should grace any shirt lauding the great "B" coaches at OU.
There is a reason that the field – Owen Field – is named for Bennie Owen.
He is the longest-tenured coach in OU's storied history, coaching 22 seasons. One does not coach at one school that long without winning games, and lots of them. Owen won 122, lost 54, with 16 ties. In 1951, Owen was in the first class inducted into the College Football Hall of Fame.
Because of Owen, Memorial Stadium was built, with the first game played, in a stadium that seated 16,000. Then-OU President George Cross (a legend himself) said of Owen in 1963, "In the face of almost overwhelming financial obstacles, he visualized, promoted and constructed practically every athletic facility that serves the University's intercollegiate and intramural sports program."
Owen played football at the University of Kansas – then considered a greater football power than Oklahoma – under Fielding Yost. He later was an assistant coach for Yost at the University of Michigan. In 1905, Owen accepted the offer from then-Athletic Director Vernon Parrington to coach at OU, for a three-month contract of $900.
He was worth every penny. That first year, the Sooners (then called the Boomers) achieved their winningest season at that point, at 7-2.
In 1907, Owen was almost killed in a hunting accident, when one of the hunting dogs stepped on a 12-guage shotgun in Owen's lap, causing the gun to discharge into his arm. Fortunately, his fellow hunter, John Barbour, a local pharmacist, got Owen into town, where his life was saved, but not his right arm.
From 1911-1915, Owen hit his stride and OU was established as a great football power. During those years, his teams had two undefeated seasons, won the Southwest Conference, and outscored their opponents 1,612-289. Many football historians consider his undefeated 1915 team the Nation's best.
Owen taught his players what was then a revolutionary play – the forward pass. In 1912, OU defeated Texas at the State Fair of Texas (the first game between the two schools at the neutral site), with a solid victory of 21-6.
Yes, fans, your shirt with Bud, Barry, Bob, and Brent should add another name – Bennie.
Steve Byas teaches Oklahoma History at Randall University in Moore, OK and was the consulting editor of both volumes of John Dwyer's The Oklahomans.