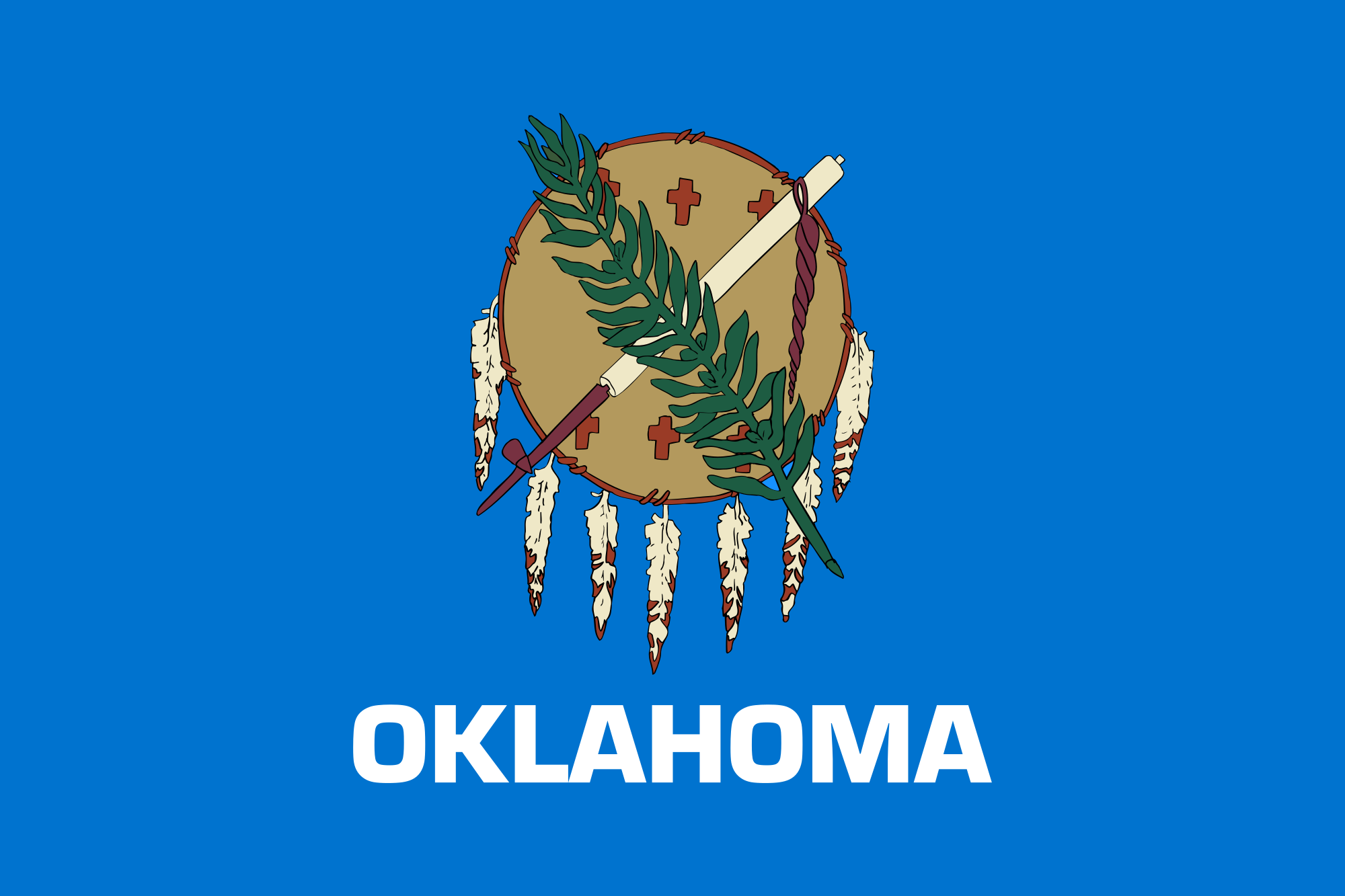 tidbits
Tidbits for Fall 2022
General Election Ballot Order Set
A public drawing was held on Sunday, July 31 to determine the ballot order of political parties for the 2022 Oklahoma November General Election ballot. The drawing was conducted by the Secretary of the State Election Board at the State Capitol in Oklahoma City. Representatives of the Democratic, Republican, and Libertarian parties were invited to attend the public drawing. Democrats failed to send a representative. Republican state chairman A.J. Feretes was in attendance along with Libertarian Party chair Will Daugherty who is running for Labor Commissioner. Political party candidates will be placed on the General Election ballot in the order that their party was drawn, followed by Independent candidates. As a result of the drawing, the party order is as follows: The Libertarian Party candidates will be listed first, Republican candidates will be listed second, and Democrats will be listed third. Independent candidates will be listed last on the ballot. A drawing is also required for the order of the independents, but was not necessary since there are no races with more than one independent candidate.
Voting in the General Election
The 2022 General Election is Tuesday, November 8. Polls will be open 7am-7pm on Election Day. In addition to voting at your polling place on Election Day, in-person absentee voting – more commonly referred to as "early voting" in Oklahoma – is available to all voters. No excuse is needed. Early walk-in voting will be available Wednesday, November 2 through Friday, November 4 from 8am-6pm and Saturday, November 5 from 8am-2pm at all 77 county election boards.
Latest Voter Registration Numbers
Voter registration numbers have continued to increase in Oklahoma since the last official voter registration numbers were released on January 15. The registration statistics released for September 30 showed that there were 2,286,039 registered voters. This was a net increase of nearly 68,000 voters statewide since January 15. The net increase was 47,669 for Republicans, 28,529 for Independents, and 1,558 for Libertarians. Meanwhile, Democrats had a net decrease of 10,091 voters. People could continue to register through October 14, so the total was expected to increase for the General Election on November 8.
Historic State Savings of $2.8 Billion
The State of Oklahoma achieved a historic $2.8 billion in state savings with the close of Fiscal Year 2022 on June 30. The savings accumulates into what is often called the "Rainy Day Fund." Oklahoma has seen three years of historic General Revenue Fund collections and unprecedented state savings growth. "While Washington, D.C. spends trillions of taxpayer dollars unchecked, I am proud of our conservative fiscal discipline to protect the Oklahoma taxpayer, keep recurring revenue in line with recurring expenses, and build our state savings accounts to historic highs," said Gov. Kevin Stitt. "With $2.8 billion in savings, we are in a definitive position to deliver real relief to Oklahomans who are struggling from the devastating inflation crisis created by President Biden and his failed economic policies."
Total collections for the 2022 fiscal year were $8.5 billion, which outperformed the 2022 fiscal year estimate by $1.9 billion, or 28.3%, and $1.5 billion, or 21.6%, above the prior year collections. The governor's state savings target of $2.3 billion was also exceeded to total $2.8 billion. "I appreciate my partners in the legislature who also demonstrated their commitment to fiscal conservatism these past few years," added Governor Stitt.
A historically large cash balance of nearly half a billion dollars also accumulated in the Education Reform Revolving Fund. Pre-covid economy, the fund rarely carried a surplus over a few tens of millions but is now the state's third largest source of unbudgeted cash.
"We are thrilled to see fiscal year 2022 revenue collections and the deposit to the Rainy Day Fund both set new state records," said Steven Harpe, Oklahoma Chief Operating Officer and Office of Management and Enterprise Services executive director. "This momentum ensures the state is on a firm foundation moving into fiscal year 2023 and emphasizes Oklahoma's continued economic expansion."
September General Revenue Fund Collections Increase
General Revenue Fund (GRF) collections in September totaled $849.1 million, which was $243.7 million, or 40.2%, above the monthly estimate. This is $176.9 million, or 26.3%, above collections in September 2021. Total GRF collections for the first three months of Fiscal Year 2023 (the state government Fiscal Year starts July 1 and ends June 30 the following year) are $2.2 billion, which is $510.2 million, or 30.8%, above the estimate, and $392.8 million, or 22.1%, above prior year collections for the same period.
"September revenues exceeded both estimates and prior year collections across all tax categories, demonstrating a strong job market," said state Chief Operating Officer and OMES Executive Director Steven Harpe. "Additional indicators that continue to drive encouragement include that Oklahoma is among the nation's leaders in lowest unemployment rates and currently possess the largest labor force in our state history."
As state government's main operating fund, the GRF is the key indicator of state government's fiscal status and the predominant funding source for the annual appropriated state budget. GRF collections are revenues that remain for the appropriated state budget after rebates, refunds, other mandatory apportionments and after sales and use taxes are remitted back to municipalities. In contrast, Gross Collections, reported by the State Treasurer, are all revenues remitted to the Oklahoma Tax Commission.
All Oklahoman's must Pay Income Taxes
On October 12, Gov. Kevin Stitt released the following statement after the Oklahoma Tax Commission ruled in favor of the state reaffirming that all Oklahoma citizens must pay individual state income taxes: "I am pleased to learn that today the Tax Commission released a decision reaffirming that every Oklahoma citizen is required to pay their fair share. This is a ruling in favor of certainty, fairness, and equality for all Oklahomans. We all drive on the same roads, send our kids to the same public schools and benefit from the same state services, so it is only right that every citizen of the state of Oklahoma, regardless of race or heritage, should contribute their fair share." There are 9,261 taxpayers that have claimed an exemption from state taxation due to the tribal income exclusion, from the period of August 2020 to September 20, 2022. Of those who disagreed with the Tax Commission's handling of the claimed exemption, 642 filed protests. Estimates project a potential loss of $75 million in state revenue each year if the courts were to expand the U.S. Supreme Court's July 2020 decision in McGirt v. Oklahoma, a decision which was narrowly tailored to only impact criminal law.
Lankford Works to Protect Use of Paper Money
On September 29, Oklahoma U.S. Senator James Lankford introduced the No Digital Dollar Act to prohibit the U.S. Treasury and the Federal Reserve from interfering with Americans using paper currency if a digital currency is adopted. It also makes certain individuals can maintain privacy over their transactions using cash and coins. "Oklahomans have expressed to me their concern that the Treasury could phase out paper money and transition to a digital dollar. While some Oklahomans are open to digital currencies, many still prefer hard currency or at least the option of hard currency. There are still questions, cyber concerns, and security risks for digital money," said Lankford. "There is no reason we can't continue to have paper and digital money in our nation and allow the American people to decide how to carry and spend their own money. As technology advances, Americans should not have to worry about every transaction in their financial life being tracked or their money being deleted."
The bill comes after President Biden signed Executive Order (EO) 14067 on "Ensuring Responsible Development and Digital Assets." The EO places an urgency on research and development of potential Central Bank Digital Currency (CBDC), which is a digital form of a dollar that would share some of the same features as private digital currencies and would enable the general public to make digital payments. Unlike cryptocurrencies like Bitcoin, CBDCs are issued and backed by the government. There is currently no federal statute that prohibits the Treasury from only having a digital currency and declaring paper money invalid.
Greenwood Historic District
In September the State Historic Preservation Office (SHPO), a division of the Oklahoma Historical Society, announced the acceptance by the National Park Service of the Greenwood Historic District into the National Register of Historic Places. The Greenwood Historic District, also known as "Black Wall Street," is in the northern part of Tulsa, Oklahoma. During the 1921 Tulsa Race Massacre Greenwood was decimated. SHPO said the district represents major property types and architectural styles present within the larger Greenwood community during the early and mid-20th century. The district is locally significant for its development as a self-contained, city-within-a-city due to Tulsa's strict segregationist policies that excluded African Americans from white businesses, neighborhoods and schools during the early and mid-20th century. The district is also notable for its good, largely intact examples of commercial buildings, Late Gothic Revival- and Classical Revival-styled church buildings and one Prairie School-styled brick dwelling that are representative of the level of design and construction in Greenwood at the height of its development following the Tulsa Race Massacre of 1921. The National Register of Historic Places is the Nation's official list of properties significant in our past.
New Open Transfer Law Popular
Thousands of Oklahoma families have used Oklahoma's new open transfer law to send students to the public school that best meets their needs. Between January 1 and August 15, 2022, the Oklahoma State Department of Education (OSDE) received nearly 11,000 transfer requests (10,924), a dramatic increase over previous years. There were only 391 transfer requests in 2020 and 1,221 in 2021. Nearly 90% of transfer denials were due to district capacity limits, while the remainder were due to student behavior, attendance or documentation issues.
The Oklahoma Legislature made comprehensive reforms to Oklahoma's school transfer laws in 2021 with Senate Bill 783, including revising the requirements for accepting and denying student transfers, and requiring school districts to set and list enrollment capacities on their websites. Students in any grade PreK through 12th grade are now eligible to request a transfer to any district in the state, regardless of where they live. You may request a transfer at any time of the school year with a limit of two out-of-district transfers per school year (or one transfer to a statewide virtual charter school per school year). Previously, families could not transfer among districts unless the receiving district had a transfer option.
The OSDE created an online portal to facilitate the student transfers. To request a transfer, simply complete the Oklahoma Student Open Transfer Application on the Oklahoma State Department of Education website. Students without access to the internet may obtain the form from the local school district of residency.
Protecting Oklahoma Teachers
On August 19, Gov. Kevin Stitt issued Executive Order 2022-18 to protect Oklahoma's teachers' and school district employees' First Amendment rights by fighting back against liberal teachers' unions. With the executive order, Oklahoma educators will be assured of the freedom to decide whether or not to participate in unions, rather than allowing the union to intimidate teachers into handing over part of their salaries. "It is time we fight back against the liberal unions that have been keeping a stranglehold on their cut of teacher pay, and stand up for Oklahoma educators' first amendment rights," said Governor Stitt. "Teachers should know they have the freedom to opt-in not opt-out of unions." The Executive Order urges the State Board of Education to take action to ensure that payroll deductions meet the requirements of state and federal law and that school district employees are fully informed of their First Amendment rights. "This is another step in the right direction to focus our classrooms on parents, teachers and kids," said Secretary of Education Ryan Walters. "We are cutting the liberal union chains off of our teachers."
Health Plans in the 2023 Oklahoma Marketplace
On October 4, the Oklahoma Insurance Department announced that seven health insurance companies will offer plans in the Oklahoma Affordable Care Act (ACA) Marketplace for 2023. The ACA is also known as Obamacare. The 2023 ACA Open Enrollment Period for individual health insurance plans runs from November 1, 2022, through January 15, 2023. Seven insurers that offered individual health plans on the 2022 Oklahoma Marketplace will return for 2023 – Blue Cross Shield of Oklahoma (BCBSOK), Medica Insurance Company, Oscar Health, UnitedHealthCare (UHC), CommunityCare Oklahoma (CCOK), Ambetter of Oklahoma and Friday Health Plans. BCBSOK and Medica offer statewide plans while the other carriers' plans will be available in selected counties in Oklahoma.
Oklahoma Insurance Commissioner Glen Mulready said. "I strongly encourage those seeking health insurance to visit healthcare.gov to check out their coverage options and enroll in a plan that truly meets their needs." Premium will increase by 8-10% on average, reflective of rising prices in the health services sector. Premium increases will vary by plan based on the benefits included in each plan. Premium subsidies remain in place, along with a 3 year extension (2023-2025) of the ARPA eligibility enhancement by the passage of the so-called Inflation Reduction Act.
Tracking Firearm Purchases
In September. Oklahoma Attorney General John O'Connor joined a coalition of 24 states alerting the chief executive officers of three major credit card companies that the recent creation of a Merchant Category Code for the processing of firearms purchases from gun stores is potentially a violation of consumer protection and antitrust laws. In a letter to the CEOs of American Express, Mastercard and Visa, the attorneys general said the monitoring and tracking of firearms purchases creates a "list of gun buyers" and creates the obvious risk that law-abiding consumers' information will be obtained and misused by those who oppose Americans exercising their Second Amendment rights. The credit card companies intend to adopt a new code for gun stores that is the result of transnational collusion between large corporations leveraging their market power to further their liberal social agenda. Activists pressured the International Organization for Standardization (ISO) to adopt this policy as a means of circumventing and undermining the American legislative process.
"Press releases from public officials make clear that the new merchant code was created and adopted in concert with various state actors, which may additionally create the potential for both civil and criminal liability for conspiracy to deprive Americans of their civil rights," the coalition of attorneys general wrote. "Social policy should be debated and determined within our political institutions. Americans are tired of seeing corporate leverage used to advance political goals that cannot muster basic democratic support. The Second Amendment is a fundamental right, but it's also a fundamental American value. Our financial institutions should stop lending their market power to those who wish to attack that value." The letter is led by Tennessee Attorney General Jonathan Skrmetti and Montana Attorney General Austin Knudsen. The following states joined: Alabama, Alaska, Arkansas, Arizona, Florida, Georgia, Indiana, Kansas, Kentucky, Louisiana, Mississippi, Missouri, Nebraska, New Hampshire, Ohio, Oklahoma, South Carolina, Texas, Utah, Virginia, Wyoming, and West Virginia.
States Reach Agreement with JUUL Labs
On September 6, Oklahoma Attorney General John O'Connor announced a $438.5 million agreement between JUUL Labs and 34 states and territories resolving a two-year bipartisan investigation into the e-cigarette manufacturer's marketing and sales practices. JUUL was, until recently, the dominant player in the vaping market. The multistate investigation revealed that JUUL rose to that position by engaging in an advertising campaign that appealed to youth, even though its e-cigarettes are both illegal for youth to purchase and unhealthy for youth to use. Of the $438.5 million, Oklahoma will receive approximately $8.9 million. The settlement will also force JUUL to comply with a series of strict injunctive terms severely limiting their marketing and sales practices.
The investigation found that JUUL relentlessly marketed to underage users with launch parties, advertisements using young and trendy-looking models, social media posts and free samples. It marketed a technology-focused, sleek design that could be easily concealed and sold its product in flavors known to be attractive to underage users. JUUL also manipulated the chemical composition of its product to make the vapor less harsh on the throats of the young and inexperienced users. To preserve its young customer base, JUUL relied on age verification techniques that it knew were ineffective.
The investigation further revealed that JUUL's original packaging was misleading in that it did not clearly disclose that it contained nicotine and implied that it contained a lower concentration of nicotine than it actually did. Consumers were also misled to believe that consuming one JUUL pod was the equivalent of smoking one pack of combustible cigarettes. The company also misrepresented that its product was a smoking cessation device without FDA approval to make such claims.
Oklahoma was joined by Alabama, Arkansas, Connecticut, Delaware, Georgia, Hawaii, Idaho, Indiana, Kansas, Kentucky, Maryland, Maine, Mississippi, Montana, North Dakota, Nebraska, New Hampshire, New Jersey, Nevada, Ohio, Oregon, Puerto Rico, Rhode Island, South Carolina, South Dakota, Tennessee, Texas, Utah, Virginia, Vermont, Wisconsin, Wyoming on the settlement agreement. The investigation was led by Connecticut, Texas, and Oregon.
Free Speech of Small Business Owners
Oklahoma Attorney General John O'Connor has led a coalition of 17 state attorneys general in filing an amicus brief at the U.S. Supreme Court supporting small business owners' First Amendment right to free speech and religious freedom. In Klein v. Oregon Bureau of Labor and Industries, the coalition argues that the U.S. Supreme Court should hear the appeal of the owners of a small cake business who were fined by Oregon courts for declining to bake a specialized cake for an event they did not support. Custom cakes are artistic works protected by the First Amendment, the coalition argues. Due to the Klein's religious beliefs, they declined to bake a cake for a same-sex wedding, which led to an initial $135,000 fine and forced them to close their business and move to a different state. In the brief, Attorney General O'Connor writes, "Artistic work, whether viewed as pure speech itself or as conduct that is inherently expressive, has always received full First Amendment protection. Even when artistic works may seemingly lack any aesthetic or communicative value, this Court has determined that those works will be treated as expression entitled to full protection under the First Amendment if the individual made a serious attempt at creating art." Joining Attorney General O'Connor are the attorneys general of Alabama, Alaska, Arizona, Arkansas, Idaho, Kansas, Kentucky, Louisiana, Mississippi, Montana, Nebraska, South Carolina, Tennessee, Texas, Utah and West Virginia.
OU President Supports Free Speech Statement
In mid-October, just in advance of Free Speech Week at the University of Oklahoma, OU President Joseph Harroz announced that he is recommending the OU Regents adopt the Chicago Statement, supporting free speech on campus. The Chicago Statement was crafted in 2014, and has been since adopted by 80 universities.
Harroz said, "(A)s a public university, the freedom to speak and express forms the cornerstone of our academic enterprise. A university, at its best, is a lively crucible of personal and intellectual transformation, where free inquiry and diversity – in all its forms – flourish simultaneously." Harroz added that "the rights of free speech, inquiry, and expression, which have been at the heart of the great American experiment since our very founding" is something that should be celebrated.
Harroz should be commended for supporting free speech on the campus. We hope that he will follow through with that commitment when conservative ideas are expressed by students and faculty, as well as those from the Left. A good place to demonstrate his sincerity would be to address the lack of conservative voices on his campus, as in the case of a history faculty of 35 instructors, with zero Republicans – not even a token RINO.
New Secretary of Energy and Environment
On August 15, Gov. Kevin Stitt announced the appointment of Ken McQueen to serve as Oklahoma's Secretary of Energy and Environment following the resignation of Ken Wagner effective September 3, 2022. McQueen is an energy, environment, and natural resource professional in the southwest U.S. with 40 years' experience in government, industry, and academia. He's held significant governmental and regulatory roles post-industry; most recently serving as federal Environmental Protection Agency (EPA) Region 6 Administrator in Dallas and EPA Regional Energy Policy Advisor, being the first and only native-born Oklahoman to serve as a regional administrator at the EPA. Prior to federal service, McQueen was New Mexico's Cabinet Secretary for Energy, Minerals and Natural Resources and led New Mexico's energy efforts to become the third largest crude oil producer in the United States. McQueen received his Bachelor of Science in Petroleum Engineering from the University of Tulsa, where he continues his involvement on their Industry Advisory Board. He also served as a petroleum engineering adjunct professor at the university and guest lecturer at other colleges and universities.
New Secretary of Commerce and Workforce Development
On October 04, Gov. Kevin Stitt announced the appointment of Chad Mariska to serve as Oklahoma's Secretary of Commerce and Workforce Development. Mariska's appointment follows the resignation of Scott Mueller. Mariska is president of Mariska Family Holdings, a diversified investment company, and trustee of Mariska Family Foundation, a private charitable trust. He has also served as chair of the business engagement committee under the Oklahoma Governor's Council for Workforce and Economic Development. Prior to serving as president of Mariska Family Holdings, he was the chairman, president and CEO of APS FireCo Holdings Company (APS FireCo). Under his leadership, the company emerged as the largest fire protection company based in Oklahoma.
New Tourism and Recreation Department Director
On October 4, Gov. Kevin Stitt announced the appointment of Shelley Zumwalt to serve as the Executive Director of the Oklahoma Tourism and Recreation Department (OTRD). She succeeds Jerry Winchester who resigned last April. Prior to this appointment Zumwalt served as the Executive Director of the Oklahoma Employment Security Commission (OESC) since May of 2020.
Zumwalt started her state service over a decade ago in an entry-level position as a budget analyst at the Office of State Finance, overseeing the Health and Human Services cabinet. Since then, Zumwalt has served the state in a variety of capacities, including in the Office of the Governor under the Fallin Administration as Office of Public Affairs Director, as Chief of Communications Strategic Engagement for the Oklahoma Health Care Authority and in multiple roles at the Office of Management and Enterprise Services.
In her most recent role as executive director of OESC, Zumwalt led Oklahoma through a critical time as she oversaw the agency through the pandemic and unemployment crisis. Zumwalt oversaw the distribution of over $5 billion in federal and state benefits and worked to drive down the unemployment rate that was at nearly 15% when she arrived to record lows with more citizens in the workforce than at any other time in state history at over 1.8 million.
Gov. Stitt Makes Three More Appointments
On October 13, Governor Stitt announced three executive appointments. Gov. Stitt named Steven Harpe to serve as the Executive Director of the Department of Corrections. He is replacing Scott Crow who will retire on October 31. Prior to this appointment, Harpe has served as the state's Chief Operating Officer (COO), the Executive Director of the Office of Management and Enterprise Services (OMES), and deputy secretary of Digital Transformation and Administration. He has also previously served the state as Chairman of the Board of Corrections. Prior to state service, for over 30 years Harpe led technology solutions in companies such as American Airlines, Capital One, Sabre, HireRight and CGI and worked on initiatives for the U.S. Navy and Marines. He brought his "Get Stuff Done" culture to state government that helps 189 agencies, affiliates and municipalities accomplish their daily missions on behalf of Oklahoma citizens.
With Harpe moving to the Department of Corrections, the governor named John Suter as the state's new Chief Operating Officer and interim director of OMES. Suter boasts 31 years of experience in management, including serving in senior leadership roles with a focus on profitability, productivity, and efficiency. Most recently, he served as the COO and interim CEO of Sandridge Energy during his last four years with the company. He also previously served as vice president of operations for American Energy. Suter has a proven track record of executing extensive cost cutting measures and efficiency improvements through continual rightsizing of personnel and simplification of corporate infrastructure.
Governor Stitt also announced the appointment of John Laws to serve as the Secretary of Budget and as statewide Chief Financial Officer (CFO). The position has been open since the resignation of Mike Mazzei in 2020. The Secretary of Budget cabinet position was created through executive order. Laws has over 20 years of executive experience in the leadership and management of corporate finance, business development, mergers and acquisitions, and strategic planning activities. Most recently, Laws served as Executive Vice President, Chief Financial Officer and Treasurer of Enable Midstream, LP. In this role, he served as a member of Enable Midstream's executive leadership team and provided leadership to the areas of corporate finance, corporate risk, treasury, accounting and tax and investor relations. Laws has held other leadership positions at Enable Midstream and its predecessor entities where he led the teams focused on capital markets, economic evaluation of new projects, system optimization, capacity planning and commodity management. Laws was employed with OGE Energy Corporation where he served as Director of Corporate Development.
Rep. Luttrell Named to CLEER Board
In September, Oklahoma state Rep. Ken Luttrell (R-Ponca City) was elected to serve on the The Energy Council's Center for Legislative Energy and Environmental Research (CLEER) Board of Directors at its 2022 Annual Meeting in San Antonio. The Energy Council is an international non-partisan legislative organization founded in 1975 to promote a balanced energy strategy and related environmental policies. CLEER provides support for the Council and helps educate members with regard to state, national and global energy issues. "Energy is a huge part of our state's economy and history," Luttrell said. "It is my honor to serve with other legislators and energy partners to educate and advocate for responsible state and global energy policy, and I look forward to working in this new role." Luttrell was appointed to The Energy Council by Speaker Charles McCall (R-Atoka) in 2018. His district includes the Phillips 66 refinery in Ponca City, which employs nearly 1,000 people and is the largest refinery in Oklahoma. Luttrell has served House District 37 in the Oklahoma House of Representatives since 2018. He previously served in the Legislature from 2006 to 2010, during which time he was appointed to the National Energy Council. Rep. Luttrell has a cumulative average of 56% on the Oklahoma Conservative Index rating state legislators published by the Oklahoma Constitution newspaper. The score places him in the RINO (Republican In Name Only) category.
CSG 20 Under 40 Leadership Award
In October, two Oklahoma legislators – Rep. Daniel Pae and Sen. John Montgomery – were named winners of the CSG 20 Under 40 Leadership Award which recognizes the work of 20 "up-and-coming" officials from across the country. The Council of State Governments (CSG) serves all three branches of state government and is a region-based forum that fosters the exchange of insights and ideas to help state officials shape public policy. Rep. Daniel Pae (R-Lawton) was elected to the Oklahoma House in 2018. In 2020, he was named a co-vice chair of the House State and Federal Redistricting Committee following the decennial U.S. census. Prior to his election to the House, he worked in municipal government in Lawton. State Sen. John Montgomery (R-Lawton) is the chair of the Senate's Retirement and Insurance Committee and serves as vice chair of the Senate Appropriations Subcommittee on General Government and Transportation. He was elected to the Senate in 2018 after serving in the House since 2014. Interestingly, both legislators have a cumulative average score of 55% on the Oklahoma Conservative Index rating state legislators. The score places them in the RINO (Republican In Name Only) category.
Inhofe Honored by Heritage
The Heritage Foundation, in releasing its annual Index of U.S. Military Strength, has dedicated this year's Index to retiring U.S.Senator Jim Inhofe. Heritage said of Inhofe, "Over nearly four decades of service in the United States Congress, Senator James M. Inhofe has been a stalwart advocate for a strong national defense, consistently noting that the first function of the federal government is to protect the country." Senator Inhofe was quoted by the Heritage release. "The credibility of American deterrence rests on a simple foundation. America prevents wars by convincing its adversaries they cannot win." Heritage summed up the release praising Inhofe: "(H)is years of dedication to the safety and security of our country have produced a legacy that will remain profoundly meaningful for generations to come." Indeed, The Oklahoma Constitution joins Heritage in praising the long career of Jim Inhofe, who was almost alone years ago in decrying the hoax of human-caused global climate change.
Death of Former State Sen. Mike Johnson
Former Oklahoma State Sen. Mike Johnson (R-Kingfisher) died July 30, following complications from a recent hip surgery. He was 78 years old. He represented Senate District 22 from 1998 to 2010. He became the first Republican in state history to serve as chairman of the Senate Appropriations and Budget committee. He was unable to run for reelection in 2010 due to Term Limits. His son, Rob Johnson , filled his vacated seat. Prior to his service in the Senate, Johnson served as Edmond City Treasurer and on the Kingfisher School Board for 10 years. He earned his B.S. in Accounting from Oklahoma State University. His professional experience includes being the President and CEO of Johnson's of Kingfisher, an auto dealership. He had a cumulative average of 59% on the Oklahoma Conservative Index.
Passing of Former State Sen. Kay Dudley
Former State Senator Kay Dudley (R-Oklahoma City) passed away September 27, 2022 at the age of 87. Kay went to nursing school in St. Louis, Missouri and later practiced pediatric nursing. Kay and her husband Tom, relocated to Oklahoma City where Tom started his practice in Oral Surgery. In the mid 1960's they became active in local politics. In an election upset, Kay Dudley won election to Senate District 44 in 1986 defeating longtime Democrat Senate Pro Tempore Marvin York. She was defeated in her 1990 reelection bid by the late Democrat Senator Keith Leftwich. Dudley was a prominent figure in the Oklahoma Republican Party for years serving the party at all levels including State Vice Chairwoman. She served as Director of Appointments for Governor Frank Keating from 1995 to 2003. She was interim Secretary of State during the last six months of Frank Keating's term after which time she retired from active involvement in politics. She had a cumulative average of 70% on the Oklahoma Conservative Index.
Passing of Former Congressman Bill Brewster
Former Oklahoma Congressman William K. "Bill" Brewster passed away on October 3 at his home in Marietta. He was 80 years old. He earned his Bachelor of Science in pharmacy from Southwestern Oklahoma State University in 1968. After graduation, he moved to Colleyville, Texas, where, as a licensed pharmacist, he owned and operated Colleyville Drug. In 1968, he also began a career as a cattleman and rancher when he started Brewster Angus Farms, as well as owning a real estate business. In 1977, he settled in Marietta, Oklahoma. He won election to the Oklahoma House of Representatives in 1982 serving four terms until 1990 at which time he ran for Congress to succeed longtime Congressman Wes Watkins who was not seeking reelection in order to run for governor. Brewster won the heavily contested Democratic party nomination against Lieutenant Governor Robert S. Kerr III and went on to win the General Election. He served three terms before becoming a lobbyist in Washington, D.C.