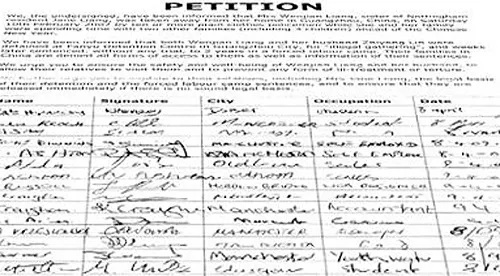 Pictured: Initiative Petitions
news
State Initiative Creating a Right to Abortion Withdrawn
The initiative was filed by Roger Lee Coody-Rosamond of Tulsa, Rachel Anne Tafoya of Bixby, and Maegan Louise Kandi Richison of Tulsa. In announcing the withdraw, Roger Lee-Coody-Rosamond, a Tulsa hairstylist, explained the reasons for the halt: "We have decided to pause, re-calibrate the timing of signature collection and build our coalition to increase our chance of getting the signatures required. With short time frames and high signature requirements, we must be organized, we must have resources, and we need to make sure that all key stakeholders are brought to the table."
Since they were proposing an amendment to the state constitution, 172,993 valid signatures of registered voters would have been needed to get it on the ballot. Since many signatures turn out not to be valid during the verification process, the proponents would have probably needed to collect more than 200,000 raw signatures.
The quick approval to collect signatures took proponents off guard. They had anticipated challenges to be filed during the protest period, which would have extended the process by several month. But, when no protests were filed and the Secretary of State quickly set the date for the collection of signatures, they were not ready. They had expected on collecting signatures in the warmer springtime when there are outdoor festivals and other events, rather than the cold winter months when the days are shortest. In fact, they did not have the funds and other resources in place to proceed on December 7. Since the initiative was withdrawn, the proponents will have to start all over. They cannot just decide to start collecting signatures at a future time. They may file a new petition and target the collection of signatures for the summer.
State Question 828, the Right to Reproductive Freedom Initiative, stated that every individual has a fundamental right to reproductive freedom, which entails the right to make and effectuate decisions about all matters relating to pregnancy. However, it would allow the state to regulate abortion after fetal viability, but not prohibit if medically needed to protect a patient's life or physical or mental health. The ballot title would have been as follows:
"This proposed constitutional amendment would add Article 2 section 38 and establish new individual right to reproductive freedom, including right to make and carry out all decisions about pregnancy, such as prenatal care, childbirth, postpartum care, contraception, sterilization, abortion, miscarriage management, and infertility; Allow state to regulate abortion after fetal viability, but not prohibit if medically needed to protect a patient's life or physical or mental health; Forbid state discrimination in enforcement of this right; Prohibit prosecution of an individual, or a person helping a pregnant individual, for exercising rights established by this amendment; Invalidate state laws conflicting with this amendment."
On June 24, 2022, the United States Supreme Court overruled the Roe v. Wade (1973) and Planned Parenthood v. Casey (1992) decisions concerning abortion. Those prior decisions had invented a "constitutional right" to abortion. In the 6-3 majority ruling overturning those prior opinions, the high court said: "The Constitution makes no reference to abortion, and no such right is implicitly protected by any constitutional provision." Since the U.S. Constitution is silent on the issue, it is left to each state to regulate abortion.
Oklahoma Senate Bill 1555 by Senate President Pro Tem Greg Treat (R-Oklahoma City) and House Speaker Charles McCall (R-Atoka) amended Oklahoma's "Abortion Trigger Law" passed in 2021 (Senate Bill 918). The modified law established that at such time as the Oklahoma Attorney General certified that the U.S. Supreme Court overruled its Roe v. Wade decision, Oklahoma's laws protecting the lives of unborn children that were in effect prior to the 1973 ruling would once again be in effect.
Later in the day following the court ruling, Oklahoma Attorney General John O'Connor certified that Roe vs. Casey had been overruled and Oklahoma's abortion prohibitions, especially the one found in Section 861 of Title 21 of the Oklahoma Statutes would be enforced. The original statute was passed into law in 1910:
"Every person who administers to any woman, or who prescribes for any woman, or advises or procures any woman to take any medicine, drug or substance, or uses or employs any instrument, or other means whatever, with intent thereby to procure the miscarriage of such woman, unless the same is necessary to preserve her life shall be guilty of a felony punishable by imprisonment in the State Penitentiary for not less than two (2) years nor more than five (5) years."
Back in 1910 the term "abortion" was not in common use, and therefore it is described as "procure the miscarriage." Later last summer, on August 26, a new state law against abortion went into effect. Under Senate Bill 612 by state Sen. Nathan Dahm (R-Broken Arrow) and Rep. Jim Olsen (R-Roland) a person convicted of performing or attempting to perform an abortion shall be guilty of a felony punishable by a fine not to exceed $100,000 or by confinement in the custody of the Department of Corrections for a term not to exceed ten years, or by such fine and imprisonment. The law baned all abortions in Oklahoma except to save the life of a pregnant woman in a medical emergency. The most significant change enacted by Senate Bill 612 was the increase in the penalty from 2 to 5 years imprisonment to up to 10 years, and providing the fine of up to $100,000.
In 2022 there were measures on the ballot in six states concerning abortion. Measures supporting or creating a right to abortion were approved in California, Michigan, and Vermont. Measures that would have restricted a right to abortion were defeated in Kansas, Kentucky, and Montana.
While it did not gain as much attention as the effort for State Question 828, the proponent of another measure addressing abortion reached the end of the signature collection stage. State Question 825, the Reproductive Rights Initiative, was approved to gather signatures beginning on October 26, 2022 and signed petition pamphlets were due no later than 5:00 p.m. on January 23, 2023. Based on the signature requirements in effect at that time, the constitutional amendment needed 177,958 signatures. No signature sheets were submitted by the deadline and the measure died.
The initiative would have added a sentence to the state constitution stating, "Subject to advice and consent of Indian tribes and Nations on treaty land, the reproductive rights of all persons are inherent, sovereign, and shall not be infringed."
The initiative was filed by Paul Tay of Tulsa on September 12, 2022. In 2019, Tay filed an initiative petition to place State Question 808 on the Oklahoma ballot for legalization of the use of marijuana. No signatures were submitted for that measure either. Tay has previously run for various offices in Tulsa including the Tulsa City Council and mayor. In 2021, Tay announced that he was running for governor as an independent, but abandoned that effort after he was arrested and charged with kidnaping and raping a woman who had responded to an ad for a job on Tay's gubernatorial campaign. On his filing for State Question 825, he listed his mailing address as being a resident of the Tulsa County Day Center for the Homeless.