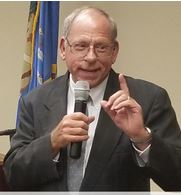 column
Why Did Pre-election Polls Show Gov. Stitt Behind?
The last time Oklahoma voters elected a Democrat to statewide office in Oklahoma was 2006. So, who could think that in deep red Oklahoma there was a real race going on for governor? Yet, some polls in the weeks before the election showed Republican incumbent Gov. Kevin Stitt losing to Democrat Joy Hofmeister. Meanwhile, the Stitt campaign released data from their pollster showing the governor leading by 15 points, which turned out to be very accurate. On November 8, Gov. Stitt won over Hofmeister by over 13 percentage points – 55.45% to 41.79 percent. This was larger than the 12 point margin in his 2018 election victory. So, how could other polls be so wrong?
I attended a small campaign fundraiser for Gov. Stitt on October 21 in Guthrie. The governor confidently predicted, "We are going to win this thing." This did not appear to be just a predictable campaign statement to keep up the spirits of supporters. Indeed, as I commented about this statement to friends in the following days, I judged that Stitt sincerely believed what he said – either Stitt knew what was really happening, or perhaps he naively believed their own polling.
Chris Wilson was the pollster for Gov. Stitt. Wilson's firm, WPA Intelligence, has offices in Edmond Oklahoma, Austin Texas, and Washington D.C. He was the pollster and strategist for Sen. Ted Cruz, both for his senate campaign and the 2016 presidential campaign. I have known Chris for several decades and he has a good track record. Although, I do remember Chris meeting with a group of us one week prior to the November 2016 Presidential election. We were mostly Trump supporters, and he said he hated to dampen our enthusiasm, but Trump was not going to win. This was not a matter of voter support, but campaign logistics. He explained that Trump did not have the organization – the network of campaign offices and paid staff – necessary to compete with the massive Clinton campaign to turn out the vote on election day.
The polls showing Stitt running behind indicated that he was losing support from independent voters, suburban women, and voters in rural areas to his Democrat opponent.
In the weeks prior to the election, Ascend Action, a Republican political consulting firm, released results showing Hofmeister with a 7-point lead. In the survey of 638 likely voters, Hofmeister garnered 49% of responses, with Stitt getting 42 percent. The Amber Integrated pollsters for KOCO-TV in Oklahoma City had Hofmeister up 46%-45% against Stitt. The SoonerPoll had Hofmeister with a near 4-point lead over Governor Stitt. That poll was commissioned by News 9 in Oklahoma City and News on 6 in Tulsa, the largest Oklahoma television stations in their respective markets.
Bill Shapard is the founder of SoonerPoll.com and ShapardResearch, a market research firm based in Oklahoma City. I have also known Bill for a long time. He began his career in polling after working on major campaigns for both Republicans and Democrats in Oklahoma from 1996 until founding SoonerPoll in 2004. SoonerPoll has become a leading public opinion polling company in the state of Oklahoma conducting more public opinion polls for the Oklahoma news media than all other pollsters combined.
On October 25, 2022, Shapard posted an article on his website: "2022 in Oklahoma Could Possibly Be the Year of the 'Unstable Polls.'" In the post, Shapard said "Polling is both science and art. The science is rather straight forward. The art however, is where polling can go wrong and this year in Oklahoma, less than a month out from the election, the signs of it going wrong are everywhere."
One of the things he pointed to is that "Republicans are becoming less likely to put Republican stickers on their cars, put Republican signs in their yards, or tell others who they are voting for, in fear of being shamed, cancelled, or risking their jobs or livelihoods. If these now more silent Republicans stop talking to pollsters, this creates a greater non-response bias and thus, polling becomes unstable." He also questioned how the turnout of Democrats would be impacted following the COVID pandemic. "In 2020 Democratic turnout in the more urban areas, Oklahoma County in particular, increased due to a rise in absentee voting." He also pointed to less adherence to straight party voting, especially among Republicans: "64 percent of voters told us in our last poll that they are voting on individual races this year and not voting straight party..." So, you could see how some individual races might deviate from the norm, with an individual candidate losing while others in the same party win in a landslide.
Still, it was a mystery to me how a voter could go down the list, voting for the Republican candidate in both U.S. Senate races, their U.S. House district, and nearly every other state office, and not vote for Gov. Stitt.
One explanation was that Hofmeister was a Republican until she decided to run against Stitt as a Democrat. In fact she was elected twice statewide as a Republican. This gave her an unique opportunity to take votes away from Stitt.
Another factor that might single out Gov. Stitt from most other Republican candidates was the well-financed dark money campaign against him. According to data from AdImpact, a national ad tracking firm, over $7 million in advertising had been booked by groups either attacking Stitt or boosting Hofmeister in the General Election. That is on top of the at least $6 million spent against Stitt in the GOP primary. The full extent of the dark money expenditures against Stitt is difficult to document, but some estimates show it exceeding $25 million. So, the impact of this dark money campaign could single out Gov. Stitt for a loss.
However, another statewide Republican that I worried about was Ryan Walters, the Republican candidate for State Superintendent of Public Instruction. Walters was also shown to be behind in the polls. Some polls showed his Democratic opponent, Jena Nelson beating Walters. The Amber Integrated pollsters asked 500 likely voters their preference for state superintendent, 49 percent picked Nelson, and 44 percent picked Walters. That's nearly identical to one by SoonerPoll the showed Nelson with a five-point lead.
One factor in that campaign is that Walters did not win the Republican nomination until the August Runoff Primary. Like Gov. Stitt's race, millions of dollars in dark money was spent against Walters in the primaries and that effort continued into the General Election. Both Stitt and Walters were being attacked in dark money ads for their support for Education Freedom, also called School Choice, or School Vouchers.
Gov. Stitt appointed Walters as his Education Cabinet Secretary, and their Democratic opponents brought the Education Freedom issue front and center. Perhaps that could explain why only these two statewide Republican candidates were behind. Both Democratic candidates were united in arguing that Education Freedom legislation would harm rural government schools, which are often the only option outside the home in small communities. "We all know that [Stitt's] voucher scheme is a rural school killer," Hofmeister said in the October 19 debate with Gov. Stitt. "If you kill the school, you kill the community." Nelson also argued that voucher plans hurt the rural government schools. "Vouchers are a way to defund public education and they are a rural school killer," Nelson said. Television campaign commercials asserted that the plans supported by Stitt and Walters would destroy rural Oklahoma. More than any other factor, Education Freedom was the issue that some believed might take down both Stitt and Walters, while other statewide Republicans win in a landslide.
As it turns out, Education Freedom was not the wedge issue that would defeat Gov. Stitt for reelection or prevent the election of Walters. Both Republicans carried nearly every rural county. Hofmeister and Nelson each carried only three counties, and lost in 75 counties. Both carried Oklahoma County, the most populace and urban county. Both also won Cleveland County, not considered rural and is the home of the University of Oklahoma. Urban Tulsa County was a narrow win for Hofmeister. Nelson barely won in Payne County, the home of Oklahoma State University. But, Stitt and Walters received 60 percent or more of the vote in most of the rural counties.
In the past, some Republican leaders such as the Speaker of the Oklahoma House of Representatives, have blocked Education Freedom legislation in the belief that it could spell doom for GOP candidates. But, the failure of Democrats to take out Stitt and Walters on this issue hopefully will allow the legislation to move forward now.
Ron McWhirter is one of the founders of the Oklahoma Constitution newspaper and serves as the General Manager. He may be contacted at the newspaper email: okconsti@aol.com