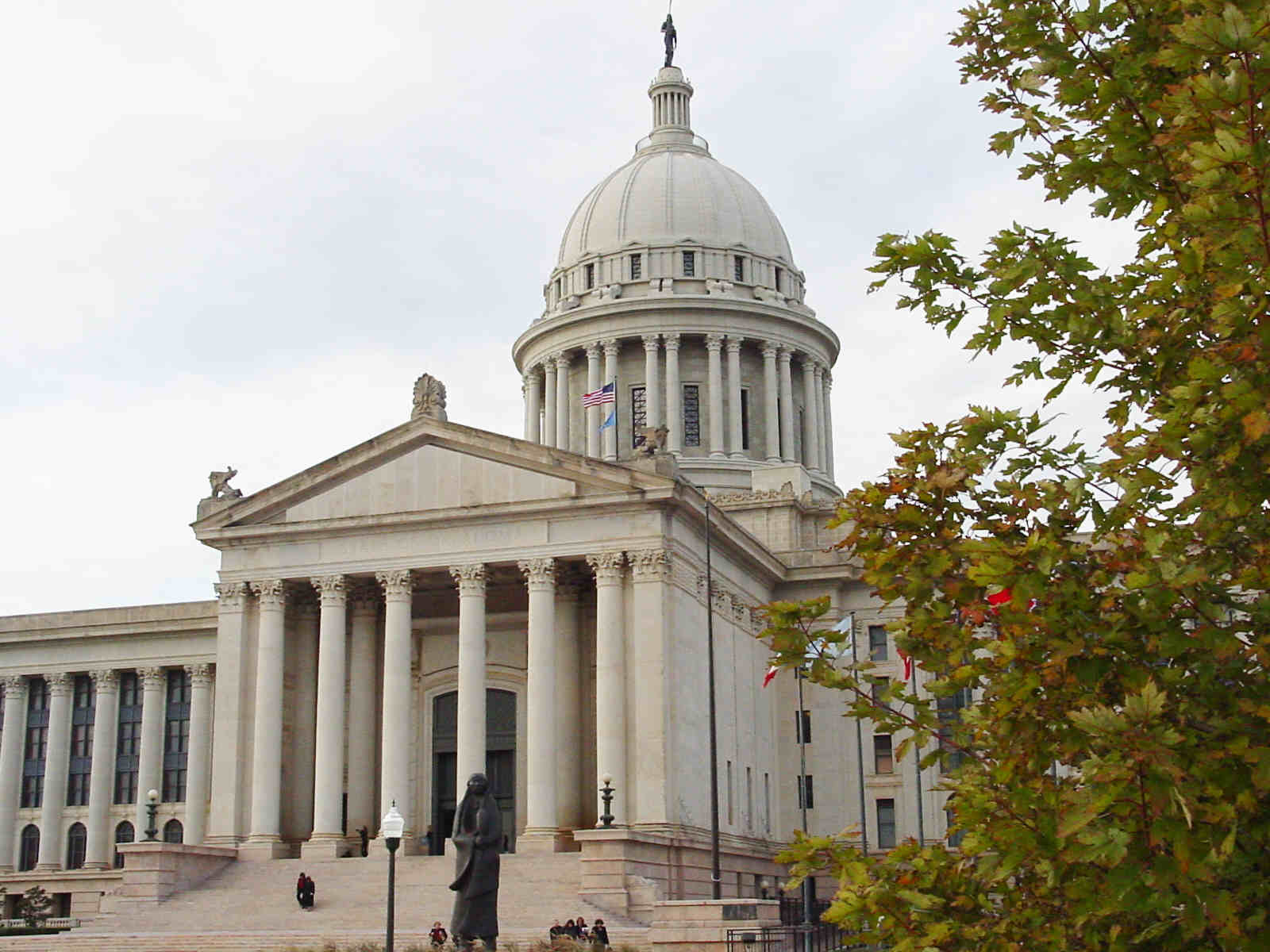 index
2023 Oklahoma Conservative Index
The Oklahoma Constitution presents the 45th annual Oklahoma Conservative Index rating our state legislators. Members of each house of the Oklahoma Legislature were rated on ten key votes. A favorable vote on these issues represents a belief in conservative principles.
After taking suggestions from conservative leaders, proposed bills were reviewed by a joint committee composed of the Oklahoma Constitution newspaper staff and members of the Oklahoma Conservative Political Action Committee (OCPAC). The committee then selected the ten key votes to be used for the ratings. The legislators were rated based on their votes on these bills which included such issues as protecting children from gender transition surgeries and therapies, providing parents education freedom for their children to escape failing government schools, restricting foreign ownership of land in Oklahoma, opposing voting by non-citizens, ending government run television, interference in the free market, avoiding wasteful spending, and opposing government subsidies to big business.
RATING CALCULATION
To determine this year's rating, 10 points were earned for each conservative vote (designated by a C), and no points were awarded for a liberal vote (indicated by an L). Each failure to vote (recorded as a Z) provides only three points. When the rating system was created in 1979, it was decided that there should be a difference between voting liberal, and missing a vote. A legislator absent for all the votes could only score 30%.
Thus, a legislator voting conservative on eight votes, liberal on one, and failing to vote on another, would receive eighty plus three, or an 83% conservative rating.
This year's conservative rating was averaged with the legislator's scores from the most recent previous years of service to obtain the Cumulative Average score. As a result of term limits, no legislator will have a cumulative score based on a period longer than twelve years. By examining this year's score in relation to the Cumulative Average, the voting pattern of a particular legislator can be determined. While most score nearly the same, year after year, others trend upward or downward from their average. If your legislator is trending toward conservatism, please offer your encouragement and support. If your legislator is exhibiting a leftward trend, it is time to express your disappointment and suggest the need for a replacement if the trend is not reversed.
The average score this year was 45% in the House and 48% in the Senate. The Top Conservative and Top Liberal legislators were selected based upon this year's scores. Making the Top Conservatives list were 19 lawmakers who scored 80 percent or higher. On the Top Liberals list were 29 lawmakers scoring 20 percent or lower.
TOP CONSERVATIVES
Four legislators scored a perfect 100% conservative rating this year. Senator Warren Hamilton of McCurtain was the only member of the Senate with a perfect score. The three members of the House with a perfect score were Tom Gann of Inola, Jim Olsen of Roland, and Rick West of Heavener. Three legislators, all members of the House, scored 93 per cent including Sherrie Conley of Newcastle, Cody Maynard of Durant, and Kevin West of Moore. Three senators and four representatives scored 90 percent. The senators scoring 90 percent were David Bullard of Durant, George Burns of Pollard, and Shane Jett of Shawnee. The representatives scoring 90 percent were Denise Crosswhite Hader of Yukon, John Kane of Bartlesville, Gerrid Kendrix of Altus, and Jay Steagall of Yukon. One senator, Dana Prieto of Tulsa, scored 80 percent. Also scoring 80 percent were representatives David Hardin of Stilwell, David Smith of Arpeler, Chris Sneed of Fort Gibson, and Marilyn Stark of Bethany.
TOP LIBERALS
Four legislators, three senators and one representative, scored zero percent conservative this year. The senators, all of Oklahoma City, include Michael Brooks, Senate Minority (Democrat) Leader Kay Floyd, and George Young. The representative scoring zero percent was Amanda Swope of Norman. One representative, Annie Menz of Norman, scored 3 percent. Representative Jacob Rosecrants of Norman scored 6 percent. Two representatives, Mauree Turneer and Jason Lowe, both of Oklahoma City, scored 9 percent. Twelve legislators, three senators and nine representatives, scored 10 percent. Senators scoring 10 percent include Jo Anna Dossett of Tulsa, Carri Hicks of Oklahoma City, and Julia Kirt of Oklahoma City. The representatives scoring 10 percent are Arturo Alonso-Sandoval of Oklahoma City, Forrest Bennett of Oklahoma City, Meloyde Blancett of Tulsa, Jared Deck of Norman, Regina Goodwin of Tulsa, Ellyn Hefner of Oklahoma City, Trish Ranson of Stillwater, Suzanne Schreiber of Tulsa, and John Waldron of Tulsa. Senator Kevin Matthews of Tulsa, and Oklahoma City representatives Mickey Dollens, Cyndi Munson House Minority (Democrat) Leader, and Ajay Pittman scored 13 percent. Representative Andy Fugate of Oklahoma City scored 16 percent, as did Melissa Provenzano of Tulsa. Two representatives, Eddy Dempsey of Valliant and T.J. Marti of Tulsa, scored 19 percent.
Bills used for the 2023 Oklahoma Conservative Index
(1) Gender Transition of Children
Senate Bill 613 by Sen. Julie Daniels (R-Bartlesville) and Rep. Toni Hasenback (R-Elgin)
This legislation bans genital mutilation of minors (under age 18), including the surgical removal of sex organs (such as female breasts and male penises), or the administration of drug therapies to block puberty and/or aid in the transition to another sex. While minors cannot get a tattoo, buy cigarettes, vote, get a commercial driver's license, buy a gun, or buy alcohol, they have been allowed to have these life-altering surgeries and drug therapies. The bill passed the House 73-18 on April 26 and the Senate 37-8 on April 27. Gov. Stitt approved on May 1. The "Yes" vote is conservative.
(2) Education Freedom
House Bill 1934 by House Speaker Charles McCall (R-Atoka) and Senate Pro Tem Greg Treat (R-OKC)
The Oklahoma Parental Choice Tax Credit Act establishes a tax credit for private school students ranging from $5,000 to $7,500 depending on household income (those with lower incomes would qualify for the highest tax credits), and up to $1,000 for home school students. This education freedom legislation enables students in poor quality schools, or those not offering an education appropriate to the student, to escape the government schools. No longer will the quality of a student's education be determined by the zip code where they live. It passed the Senate 36-10 on April 27 and the House 61-31 on May 2. Gov. Stitt approved on May 25. The "Yes" vote is conservative.
(3) Foreign Ownership of Land
Senate Bill 212 by Sen. David Bullard and Rep. Justin Humphrey (R-Lane)
Currently, it is illegal for non-U.S. citizens to acquire or own land in Oklahoma, and if they acquire it "by devise or descent," they must dispose of it within five years. But the growing involvement of foreign actors in marijuana cultivation since the legalization of medical marijuana and the development of growing facilities shows that America's competitors are determined to get around the state law. China has been acquiring U.S. farmland at an alarming rate in recent years. This bill addresses the common practice of foreigners using "straw owners," which can be individuals, businesses, or trusts, to fraudulently complete real estate transactions to get around the law. This has been a growing problem. The bill requires any deed recorded with a county clerk to include an affidavit signed by the person or entity coming into title attesting that the individual, business entity, or trust is lawfully obtaining the land and that no funding source is being used in the sale or transfer that violates any state or federal laws. It it gained final passage in the House 78-6 on April 26 and the Senate 40-6 on May 19. It was approved by Gov. Stitt on June 6. A "Yes" vote is conservative.
(4) Non-citizen Voter Registration
Senate Bill 377 by Sen. Brent Howard (R-Altus) and Rep. Carl Newton (R-Cherokee)
This bill requires the cancellation of the voter registration of anyone who has been excused from jury duty for not being a U.S. citizen. It would require county court clerks to prepare a list each month of everyone who falls into this category and provide that information to their county election board secretary. The secretary would then be required to cancel the registrations of those individuals and report them to the district attorney and the U.S. attorney for that county. It gained final passage in the Senate 37-5 on May 25 and the House 77-18 on May 25. It approved by Gov. Stitt on June 7. A "Yes" vote is conservative.
(5) Extend OETA Sunset
House Bill 2820 by Rep. Gerrid Kendrix (R-Altus) and Sen. Micheal Bergstrom (R-Big Cabin)
The Oklahoma Educational Television Authority (OETA) was set to sunset, or expire, on July 1, 2023. Oklahoma would have then joined 14 other states that do not directly fund or operate government television stations. The bill extended the sunset of OETA, enabling it to continue until July 1, 2026. After passing the House and the Senate, Governor Stitt vetoed the bill on April 26. In his veto message, Gov. Stitt said: "Although the OETA may have played a principal role in the provision of educational television services at one time, today the OETA's long-term, strategic value is at best unclear, if not outright imagined." The governor later elaborated that he did not see a need for Oklahoma taxpayers to be funding television stations to compete against those in the private sector. He also raised the issue of the woke agenda being promoted by the Public Broadcasting Service (PBS) which provides the majority of programing for OETA stations. The Oklahoma Legislature overrode the governor's veto. The House overrode the veto 73-23 on May 25, and the Senate 38-6 on the same day. The "No" votes, against the override, is the conservative vote.
(6) Regulate Restaurant Delivery
House Bill 1079 by Rep. Ken Luttrell (R-Ponca City) and Sen. Bill Coleman (R-Ponca City)
This legislation would have required food delivery services to have an agreement with each restaurant in order to transport a restaurants' products to consumers. The bill was vetoed by the Governor. In his veto message, Gov. Stitt said "the government would be given the ability to further regulate private industry, thereby growing bureaucracy and interfering with the free market." The House passed the bill 64-24 on March 7 and the Senate 35-9 on April 25. Gov. Stitt vetoed the bill on May 2. The Legislature did not attempt to overturn the Governor's veto. A "No" vote is conservative.
(7) Cultural Museum Funding
Senate Bill 31X by Sen. Roger Thompson (R-Okemah) and Rep. Kevin Wallace (R-Wellston)
This appropriation to the Oklahoma Historical Society includes $5 million for the operation of the Native American Cultural Center – renamed as the First Americans Museum (FAM) – for the coming two years, and an additional $18 million to complete the Oklahoma Museum of Popular Culture (OKPOP) in Tulsa. The state provided $63 million in bonds for construction of FAM, and when it opened in 2021 it was claimed that no additional funds would be required from the state. Oklahoma Indian tribes and the City of Oklahoma City were to be responsible for future funding. And when in 2015 the state provided $25 million in bonds to pay for construction of the OKPOP museum, it was claimed that was all the state would need put into the project. The additional funding for these cultural museums passed the Senate 29-16 on May 24 and the House 75-19 on May 26. It became law without the Governor's signature on June 2. A "No" vote is conservative.
(8) Subsidize Housing Loans
House Bill 1031X by Rep. Kevin Wallace (R-Wellston) and Sen. Roger Thompson (R-Okemah)
The Oklahoma Housing Stability Program creates several new government programs to channel funds for low and zero interest home building loans to subsidize the construction of "affordable" housing. The Homebuilder Program authorizes loans as low as zero percent interest for homebuilders of single-family units. This type of government meddling in the real estate industry is what led to the artificial boom, and the subsequent "bust" in the financial meltdown of 2008, creating an artThe Increased Housing Program allows developers to apply for "gap financing" for single-family and multifamily housing projects. It also allows home buyers to apply for a grant to assist with making a down payment on a home. The General Appropriations bill included $109 million to fund the programs created by the legislation. The House passed the bill 72-26 on May 24 and the Senate 25-18 on May 26. It became law without the Governor's signature on June 2. A "No" vote is conservative.
(9) Extend OKC Thunder Incentives
Senate Bill 13X by Sen. Roger Thompson (R-Okemah) and Rep. Kevin Wallace (R-Wellston)
This bill extended the Quality Jobs Act subsidy for the Oklahoma City Thunder basketball franchise for an additional fifteen years. The original fifteen years of incentives were provided to lure the ball team to relocate to Oklahoma. Government should not be in the business of providing subsidies to a favored business. The Senate passed the bill 31-13 on May 24 and the House 70-27 on May 26. It became law without the governor's signature on June 2. A "No" vote is conservative.
(10) Enel North America Rebates
Senate Bill 1177 by Sen. Roger Thompson (R-Okemah) and Rep. Kevin Wallace (R-Wellston)
This bill creates the Perform Act, an investment rebate program to attract a business to Oklahoma. To qualify, the business must have at least $1 billion in planned expenditures and meet certain job creation thresholds. If a business meets all of the job targets, the amount of the rebates will total $180 million. The bill was specifically targeted to lure Enel North America, a woke power corporation based in Massachusetts, to construct a solar panel manufacturing operation in Oklahoma. According to its website, Enel North America is: "The clean energy leader tackling climate change by creating a world that runs on 100% clean electricity." They also are a leader in Diversity, Equity, and Inclusion (DEI). "We aim to create a space for LGBTQ+ employees and allies to receive support and mentorship and to promote a more inclusive company for all employees." Government should not be in the business of providing subsidies to a favored business. It passed the Senate 37-5 on May 10 and the House 81-19 on May 15. It was approved by Gov. Stitt on May 17. A "No" vote is conservative.
Scores of the Legislators
A PDF file for each chamber (House and Senate) of the Oklahoma Legislature showing a list of the legislators with their vote on each of the ten bills, their score for this year, and their Cumulative Average which includes scores from previous years, is found by clicking the links below.