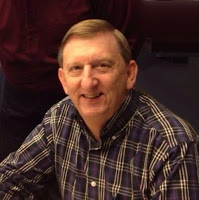 column
Clone Ryan Walters
By Steve Byas
"I want to put this man in a box," said State Representative Mark McBride recently, supposedly a Republican from Moore, in reference to our State Superintendent of Public Instruction Ryan Walters.
Why on earth does McBride want to undercut our state superintendent?
Walters is doing what he said he would do when he was running for office last year. McBride, on the other hand, represents one of the state's most Republican districts. Yet McBride talks more like a liberal Democrat than a Republican.
Walters is fighting for our children, who are being subjected to pornography and perversion in our public schools. Not all of our schools, but definitely some of them.
Instead of trying to put Ryan Walters in a box, McBride and the other Republicans in our state legislature should be applauding him. It makes one wonder just what do McBride and the other "Republican" legislators who are also opposing Walters' heroic efforts really believe.
The once-conservative Oklahoman newspaper has not only called for Walters to resign, they have even called for the Oklahoma Legislature to take action against him. Forget that the voters put him into office. So much for "democracy."
I recently attended a meeting of the Oklahoma Conservative Political Action Committee (OCPAC) in which Superintendent Walters was the speaker. While McBride and others of his persuasion act like all of Oklahoma's public school teachers are in lock-step with using our schools as radical indoctrination centers, the truth is they are not, as Walters explained. .
As Walters said at OCPAC, "Teachers have told me that they did not know" what the National Education Association and the Oklahoma Education Association are pushing. According to Walters, these radicals want to "own" our kids, adding that they hate Christianity and are supporting a "Marxist utopia."
OCPAC played the video that Walters had previously showed some teachers. The USA Today-run Oklahoman reported that some teachers were so horrified at the video that they left shaking and in tears. I can understand that they would be in tears – the speakers on the screen at the NEA national convention were spouting all kinds of support for perversion and radicalism – but according to the Oklahoman newspaper, they were upset not at what the NEA speakers said, but they were upset that he showed the video!
What he was doing was informing – you know, educating – them of what was going on. Perhaps they did not like being exposed.
As Walters said, he inherited a state department of education "run by the teacher unions" under the leadership of then-State School Superintendent Joy Hofmeister. Hofmeister ran as a Republican to get elected as State School Superintendent, but she revealed her true colors and switched to Democrat in registration (as well as in reality) to make a run for governor. She told me personally when she first ran that she was a conservative. It is amazing what some will say in order to get elected.
"We need to listen to parents and taxpayers," Walters said. For the taxpayers, Walters noted that he had cut $1.3 million from the department budget in less than 30 days. How did he do that? He explained that they did not need 15 employees in their communications department (as they had under Democrat Hofmeister) but only one.
One has to wonder. Just what is upsetting McBride so much? Walters told OCPAC, "We will not allow boys to play girls' sports in the state of Oklahoma. I will not back down to these radicals. We are not going to have that porn in our schools."
If McBride does not agree with Walters on these policies and statements, he needs to say so.
But Walters is not just on a crusade to save our children from those advancing radical leftist agendas, he is recruiting teachers from outside Oklahoma to mitigate our present teacher shortage, all with the promise that Oklahoma will not allow them to be bullied by a radical teachers union. According to Walters, this brought in 600 new teachers in just three weeks!
Walters warned that the Left will go as far as we let them go.
For far too long, the Left has been allowed to use the taxpayer-supported public school system to advance their agenda, Walters concluded.
Finally, we have a champion who is not afraid to take them on.
We need to clone Ryan Walters, not put him in a box.
Steve Byas is Editor of the Oklahoma Constitution and author of several magazine articles and books, including History's Greatest Libels. He may be contacted at byassteve@yahoo.com