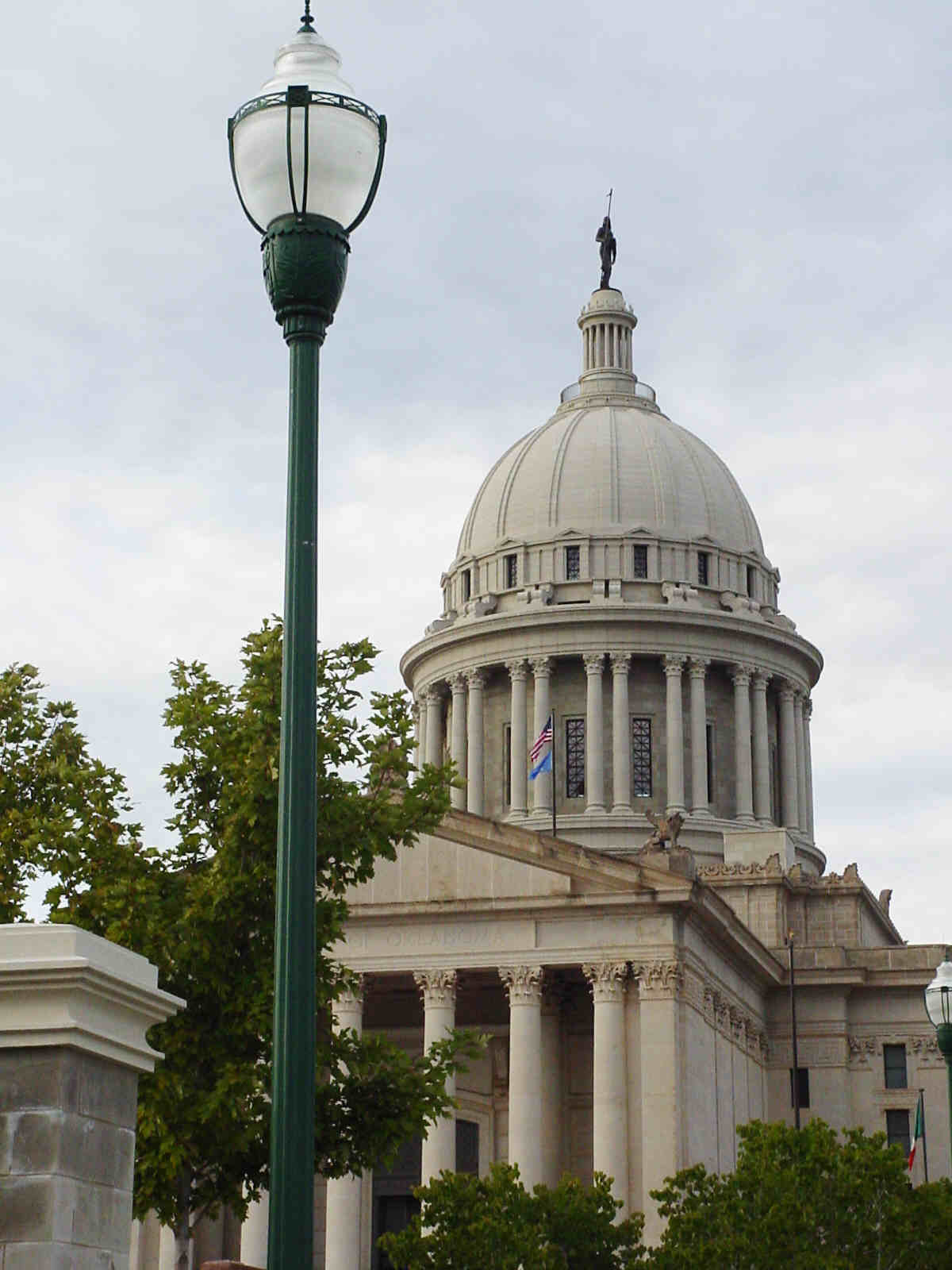 tidbits
TIDBITS FOR SUMMER 2023
Earlier this year, the Oklahoma Ethics Commission raised the individual contribution limit that applies to 2024 candidate committees from $2,900 to $3,300 for the 2024 election cycle. The Ethics Commission is required to review contribution limits in odd years to help adjust for inflation using the Consumer Price Index. The new limit does not affect contribution limits for any other committee or any other election. That includes contributions being collected by older candidate committees.
Audits Show Accuracy of Oklahoma's Voting System
Oklahoma State Election Board Secretary Paul Ziriax announced on June 28 that the agency had published the results of post-election audits conducted in 2023 – including an audit of election results in all 77 counties for the State Question 820 held on March 7, 2023. The post-election tabulation audits for the February 14, March 7, and April 4 elections were conducted by county election boards from May 22 through May 25. The tabulation audits for the June 13 elections were conducted from June 21 through June 23. Post-election audits were open to the public, and included a mix of Election Day, mail absentee, and "early voting" ballots.
Each of the post-election audits confirmed the accuracy of the certified election results. Ziriax also noted that two candidate-requested hand recounts were included in the April 4 audit report and provided additional verification of the consistency and accuracy of Oklahoma's voting process. "It is unfortunate that we continue to hear some outlandish claims that Oklahoma elections are being determined by computer algorithms, 'phantom' voters, and other such nonsense," Ziriax said. "But the facts tell a different story: Oklahoma has one of the most accurate voting systems in the entire nation."
The 2023 post-election audit reports and archived post-election audit reports are available on the State Election Board's website. Oklahoma began conducting post-election tabulation audits in 2022, pursuant to legislation enacted by the Oklahoma Legislature. For more information about Oklahoma's voting devices and election security, visit the Oklahoma State Election Board website at www.oklahoma.gov/elections.
Voter Address Confirmation Notices
Oklahoma voters who received an Address Confirmation Notice in the mail from the State Election Board this summer are asked to respond as soon as possible to avoid having their registration become "inactive." Notices were sent to 326,603 registered voters as part of the voter list maintenance process required by both state and federal law. State law requires the notices to be sent to some voters, such as those who have had a first-class mailing returned as "undeliverable," those with a possible duplicate registration in Oklahoma or another state, or those that have not updated their registration or voted since the second previous general election.
There are two ways to respond – online using the OK Voter Portal or by completing the Address Confirmation Notice return card and returning it by mail. Voters who don't respond within 60 days will be designated as "inactive," and will be removed from the voter rolls after the 2026 General Election. However, "inactive" voters can reverse their status and avoid removal by updating their voter registration or by voting in an election on or before the 2026 General Election. Voters who did not receive a notice, but need to update their registration can do so using the OK Voter Portal or by completing a new Voter Registration Application and submitting it to their County Election Board.
Oklahoma Online Voter Registration
On July 11, State Election Board Secretary Paul Ziriax announced that the Oklahoma State Election Board had launched its new Online Voter Registration System. The new online system allows individuals to complete and submit a Voter Registration Application electronically from a desktop or mobile device following a match of data from the applicant's Oklahoma Driver License or State Identification Card.
To register to vote online, state law requires that eligible applicants must: Be a citizen of the United States, a resident of the State of Oklahoma, and 18 years or older by Election Day; have a valid Oklahoma Driver License or State Identification Card issued by Service Oklahoma (Oklahoma's driver license agency); and have a digital signature on file with Service Oklahoma. Those unable to meet those requirements may fill out an application using the OK Voter Portal "voter registration wizard" and submit the application by mail or in person to the applicant's County Election Board.
All Voter Registration Applications – including those submitted online – are reviewed and manually processed by the County Election Board Secretary prior to approval. Once a Voter Registration Application has been processed and approved, the voter will receive a Voter ID card by mail confirming the registration. If an application is unable to be approved, the County Election Board will notify the applicant by mail. Oklahomans can register online at: https://okvoterportal.okelections.us/Home/RegWizard
Federal Debt Ceiling Vote
The U.S. House and Senate approved H.R. 3746, the Fiscal Responsibility Act of 2023, which came together within days of President Joe Biden and House Speaker Kevin McCarthy reaching an agreement. It sailed through the House by a vote of 314 to 117 on May 31, and it cleared the Senate on June 1 by a vote of 63 to 36. President Biden then signed the legislation. In the House, a majority of each party's members – 149 Republicans and 165 Democrats – voted to pass the bill. Seventy-one Republicans and 46 Democrats voted against it. The Oklahoma House delegation was split on passing the bill. Freshman Congressman Josh Brecheen provided a no vote, while the other four voted to send it to the Senate. Oklahoma's U.S. Senate delegation also split on the measure. U.S. Senator James Lankford voted against the bill while Senator Markwayne Mullin voted for it.
Record State Budget Becomes Law
On June 2, a record state budget became law. It was approved by the Legislature during the Special Session. Gov. Kevin Stitt let the budget for Fiscal Year 2024 go into law without his signature, subject to objections. The budget package included the General Appropriations bill, HB 1004x. The governor shared his reasoning in a message filed with the bill: "Through House Bill 1004x, the legislature has spent 12.96 billion dollars in taxpayer money. The problem is that the legislature has relied upon one-time revenue to support recurring expenditures that exceed recurring revenues by roughly 220 million dollars. They have also drawn down the State's savings from about 6.2 billion dollars to 4.2 billion dollars. Because this approach is neither sustainable nor fiscally wise, I have not signed House Bill 1004x. Nevertheless, subject to objections to the unique process by which the Bill made its way to my desk, the Bill will become law without signature."
AG Joins Coalition Opposing Biden Immigration Policy
On May 26, Attorney General Gentner Drummond announced that he had joined an amicus brief led by Virginia Attorney General Jason Miyares in the case of Florida v. Mayorkas, supporting the State of Florida's lawsuit against the Biden Administration's unlawful immigration policy that is creating a dangerous crisis on our southern border. Rather than detaining illegal immigrants as the law requires, the Biden Administration has released those cited at the border into the U.S. This policy flagrantly violates federal immigration law and encourages immigrants to try crossing the border illegally.
According to the brief, President Biden has overseen an illegal immigration explosion of more than 5.5 million – larger than the population of 28 states. The Administration has released more than a million immigrants it encountered at the border into the U.S. "The Biden Administration is failing to secure our southern border and protect our communities," said Drummond. "This catch-and-release immigration policy is worse than irresponsible. It is shameful and presents a serious threat to public safety. Sex trafficking and the fentanyl trade are enacting a horrific toll on our nation. I am proud to stand with fellow attorneys general across the country to protect the rule of law."
In addition to Oklahoma, Attorney General Miyares' brief was joined by the following states: Alabama, Alaska, Arkansas, Georgia, Idaho, Indiana, Iowa, Kansas, Kentucky, Louisiana, Mississippi, Missouri, Montana, Nebraska, North Dakota, Ohio, South Carolina, South Dakota, Utah, West Virginia and Wyoming.
Stitt Sends National Guard to Southern Border
On June 1, Gov. Kevin Stitt announced the commitment of Oklahoma National Guard troops to the southern border with Mexico in the wake of President Biden's failure to secure and protect our nation. The commitment comes in response to Gov. Greg Abbott's call for reinforcements as Texas responds to the ongoing crisis. Twelve other Republican governors are sending troops and other resources to Texas as well. The total commitment from Republican governors to Texas includes 1,305 National Guardsmen and 231 law enforcement personnel.
"As Governor, the decision to deploy members of the National Guard is not one I take lightly and, as the parent of a deployed soldier, I am acutely aware of the sacrifices made by the brave men and women of our National Guard and their families during deployment. However, I believe it is in the best interest of Oklahoma and the nation to take decisive action to address the federal government's utter failure to secure our southern border," said Stitt. "Republican governors continue to step up to the plate when President Biden refuses to lead; and by deploying our brave National Guard Troops, we are sending a strong message that we remain dedicated to defending our borders and upholding law and order in our nation."
AGs Negotiate Suboxone Settlement
On June 2 it was announced that Oklahoma Attorney General Gentner Drummond, Wisconsin Attorney General Josh Kaul and 40 other U.S. attorneys general had negotiated a $102.5 million settlement with the maker of Suboxone, a prescription medication used to treat opioid addiction. Oklahoma will receive approximately $1.27 million from the settlement against the pharmaceutical company, Indivior Inc.
In 2016, the 42 States filed a complaint against Indivior Inc. alleging that the company used illegal means to switch the Suboxone market from tablets to film while attempting to destroy the market for tablets, in order to preserve its drug monopoly. Trial had been set for September 2023.
The agreement, which will be submitted to the court in the Eastern District of Pennsylvania for approval, requires Indivior to pay the states $102.5 million. Indivior is also required to comply with negotiated injunctive terms that include disclosures to the States of all citizen petitions to the FDA, introduction of new products or if there is a change in corporate control, which will help the States ensure that Indivior refrains from engaging in the same kind of conduct outlined in the complaint.
Religious Freedom for Tulsa Hospital
In May, Senator James Lankford, Senator Markwayne Mullin, Representative Kevin Hern, Representative Tom Cole, Representative Frank Lucas, Representative Stephanie Bice, and Representative Josh Brecheen issued the following statement after the Centers for Medicare and Medicaid Services (CMS) threatened to resend the accreditation of St. Francis Hospital in Tulsa, for having a single, enclosed religious "living flame" present in the hospital's chapel, claiming the candle posed a fire hazard: "CMS inexplicably threatened to revoke Saint Francis Hospital's accreditation because of a religious eternal flame, which is unrelated to healthcare. St. Francis is a Catholic hospital seeking to serve all who need care in Tulsa, Oklahoma. This was a violation of religious freedom-a bedrock of our Nation's founding. Our Oklahoma Delegation immediately worked to stop this injustice and was thankfully successful. The sight of an eternal flame is to give hope-we will not allow any federal agency to extinguish Oklahomans' right to exercise their freedom of religion-especially in a time of need. We'll now get to work to ensure this doesn't happen anywhere or to anyone else."
AG Says Religious Charter Schools Unconstitutional
Following the Statewide Virtual Charter School Board's approval of an application for what would be the Nation's first publicly funded religious charter school, Attorney General Gentner Drummond said the decision is unconstitutional and that legal action is likely after a contract for the school is signed. On June 5, the Board voted 3-2 to approve an application by the Catholic Archdiocese of Oklahoma City to establish St. Isidore of Seville Virtual Catholic Charter School as an online public charter school.
"The approval of any publicly funded religious school is contrary to Oklahoma law and not in the best interest of taxpayers," Drummond said. "It's extremely disappointing that board members violated their oath in order to fund religious schools with our tax dollars. In doing so, these members have exposed themselves and the State to potential legal action that could be costly."
However, some question Drummond's opinion. Last year the U.S. Supreme Court ruled that a school tuition voucher program in Maine must include religious schools. And, this year the Oklahoma Legislature and the governor approved Senate Bill 404, the Oklahoma Religious Freedom Act, that establishes that no governmental entity shall substantially burden a person's free exercise of religion and deems that any exclusion of a person or entity from participation in or receipt of governmental funds, benefits, programs, or exemption based solely on religious character or affiliation would be a substantial burden.
"Moment of Silence" for Oklahoma Public Schools
During Oklahoma Board of Education Meeting on June 22, State Superintendent of Public Instruction Ryan Walters announced that the "Oklahoma Advisory Committee on Founding Principles" had made three recommendations for Oklahoma public schools. One of those recommendations was a minute of silence to be used for prayer or meditation. Another was the posting of the Ten Commandments in every classroom. The third was for history teachers to receive training from the private Christian liberal arts college, Hillsdale College. Walters recommended that public schools implement a daily moment of silence and to let students know they can pray in their faith tradition.
Drummond Files Support Brief in Glossip Petition
On July 5, Oklahoma Attorney General Gentner Drummond filed a brief in support of death row inmate Richard Glossip's petition to the U.S. Supreme Court for a writ of certiorari in his case. As the state's chief law enforcement officer, Drummond contends Glossip's conviction for the 1997 murder of Barry Van Treese should be vacated and remanded back to district court amid revelations of false testimony by the prosecution's key witness. Glossip was convicted of the murder of Oklahoma City hotel owner, Barry Van Treese. His first conviction was thrown out and sent back to district court due to ineffective assistance of counsel. He was convicted again and sentenced to death. Since then, Glossip had several execution dates set. The U.S. Supreme Court issued a stay to review Glossip's case ahead of this year's date.
Attack on Gas-powered Vehicles Opposed
On July 11, Oklahoma Attorney General Gentner Drummond announced that he had joined the attorneys general of 24 other states in challenging the Biden Administration's regulations on tailpipe emissions. The Biden plan would forcibly phase out gas-powered vehicles and restructure the automobile industry around electric vehicles (EVs). The proposal aims to boost certain EV sales from 8.4 percent of total vehicle sales today to 67 percent by 2032.
Drummond joined the Kentucky and West Virginia-led coalition in a letter opposing the Environmental Protection Agency (EPA) plan, arguing the move would damage our economy, undermine the reliability of our electrical grids, tax the families and businesses who depend on them, and threaten our national security. The letter sent by the attorneys general, Kentucky Attorney General Daniel Cameron and West Virginia Attorney General Patrick Morrisey are joined by: Alabama, Alaska, Arkansas, Florida, Idaho, Indiana, Iowa, Kansas, Louisiana, Mississippi, Missouri, Montana, Nebraska, North Dakota, Ohio, South Carolina, South Dakota, Tennessee, Texas, Utah, Virginia and Wyoming.
Oklahoma Denied Federal Funds for Not Supporting Abortion
Oklahoma has been denied funding to expand medical care to low-income women by the Biden administration. The U.S. Department of Health and Human Services (HHS) recently rescinded a $4.5 million Title X grant to the Oklahoma State Department of Health to provide family planning services, such as birth control, counseling, STI testing and treatment, and other health services, to low-income individuals. In May, HHS accused Oklahoma of being "out of compliance" with the family planning program and therefore ineligible for the grant money. The action was taken because Oklahoma protects unborn babies by banning elective abortions and taxpayer funding for abortions. To receive the grant money, the Biden administration now requires states to promote abortions through abortion referrals.
A letter to HHS Secretary Xavier Becerra, signed by all members of Oklahoma's congressional delegation, demanded that HHS restore the funds. The pro-life lawmakers said the Title X grants provide health care to about 30,000 people every year in Oklahoma, and revoking the funds puts their health at risk. Now, innocent people are "caught in the crossfire of HHS' continued work to promote abortion," they told the federal agency. What's more, they said the Biden administration based its defunding decision on its own "willfully ignorant" misinterpretation of federal law.
Title X funds are not supposed to be used for abortions. The program provides family planning services to low-income individuals, and the law states that grants may not be used "where abortion is a method of family planning." In 2021, however, the Biden administration implemented a new rule that contradicts the law and requires Title X recipients to refer for abortions. A dozen states sued to challenge the pro-abortion rule, but it remains in effect.
White House Meeting on Abortion
Ahead of the one year anniversary of the Dobbs decision overturning Roe v. Wade, Oklahoma state Sen. Carri Hicks (D-Oklahoma City) joined dozens of state legislators from around the nation in June to attend the State Legislative Convening on Reproductive Rights at the White House. The two-day event highlighted state-level attacks on the access to abortion. "I'm continuing to work with legislators in red states who refuse to give up on this life or death issue," Hicks said. "I'm committed to protecting individual freedoms on when, if, and how to become parents. It is an incredibly personal decision and, therefore, the government should not be interfering with individual liberties."
The Oklahoma City Democrat attended the event, along with 48 other members from 25 conservative states that are attempting to roll back access to abortion. Panel discussions included lessons from North Carolina, Nebraska and South Carolina on their recent legislative battles and tactics to fight back; ideas for policies to continue pushing for abortion access; and about Ohio's path to a ballot initiative in August.
Hicks shared about Oklahoma's numerous abortion bans that has left medical professionals refusing to provide necessary medical care to women in dangerous situations. "It's comforting to know that we in Oklahoma are not alone in our fight to protect the rights and health of women," Hicks said. "I'm grateful I was invited to attend this special event and am anxious to share the insight and tactics I learned with our caucus, so we can continue expanding our strategy and policy agenda on this important matter for Oklahoma women and families."
Court Rejects Traffic Ticket of Choctaw Man
On June 28, the 10th U.S. Circuit Court of Appeals overturned a lower court's ruling that the City of Tulsa could issue a speeding ticket to a Choctaw man. Justin Hooper, a citizen of the Choctaw Nation, was cited for speeding in 2018 by Tulsa police in a part of the city within the historic boundaries of the Muscogee (Creek) Nation. The ruling marks an apparent expansion of the U.S. Supreme Court's 2020 ruling in the McGirt case that found that much of eastern Oklahoma, including Tulsa, remains an Indian reservation because it was never formally disestablished by Congress. That ruling has since been expanded to include several other reservations in eastern and southern Oklahoma that make up about 40% of the state. Governor Kevin Stitt panned the 10th Circuit's decisions, while several tribal leaders praised it as a recognition of their sovereignty.
Oklahoma Civil Rights Trail
A bill highlighting Oklahoma's contributions to the Civil Rights Movement was signed into law in June. Sen. Kevin Matthews (D-Tuls) and Sen. Bill Coleman (R-Ponca City) were the Senate principal authors of Senate Bill 509, creating the Oklahoma Civil Rights Trail, and the House principal authors were Rep. Jason Lowe (D-Oklahoma City) and Rep. Ken Luttrell (R-Ponca City). The legislation creates the Oklahoma Civil Rights Trail revolving fund, which will be administered by the Oklahoma Historical Society, into which state and federal funds as well as gifts and donations will be deposited to provide grant funding for the development of the trail and related attractions.
Oklahoma originally had more than 50 Black towns, 13 of which still exist today. The Oklahoma Civil Rights Trail will connect all-Black towns and locations significant to the Civil Rights Movement, including many Native American sites of historical significance, stimulating tourism, fostering entrepreneurship, and promoting economic development within these communities. The trail will begin at Standing Bear Park, Museum and Education Center in Ponca City, then proceed to the site of the 1920s "Osage Reign of Terror," in Fairfax. The trail will continue through the state's all-Black communities, which include Boley; Brooksville; Clearview; Grayson; Langston; Lima; Red Bird; Rentiesville; Summit; Taft; Tatums; Tullahassee; and Vernon. The trail will then move to Greenwood Rising and the Pathway to Hope in Tulsa before ending at the Clara Luper Center, to be constructed in Oklahoma City.
Enel Announces $1.8 Billion Solar Plant
Enel North America, the green energy company that built 13 wind farms in Oklahoma, formally announced on May 22 that it had chosen Inola in northeastern Oklahoma as the location for its nearly $1.8 billion solar panel manufacturing operation. The plant will be built at the Tulsa Port of Inola. The 2,500 acre site had been widely promoted by Gov. Kevin Stitt and legislative leaders who approved $180 million in incentives to Enel to build the plant, as long as the company hired 1,400 employees. In its announcement, Enel said its affiliate 3Sun USA, LLC and its site selection had the support of numerous Oklahoma leaders and the Biden Administration. The facility is expected to produce 3 gigawatts(GW) of high-performance bifacial photovoltaic (PV) modules and cells annually with the possibility of a second phase that would scale production up to 6 GW. The facility is expected to create around 1,000 new direct jobs by 2025 with the potential of an additional 900 new direct jobs in a second phase. Construction of the proposed factory is intended to begin in fall of 2023, and it's anticipated that the first panel will be produced and available to the market by the end of 2024.
New Oil Refinery Coming to Cushing
In May, Southern Rock Energy Partners (SREP) announced that it selected Cushing as the site for a $5.6 billion refinery. The 250,000 barrels per day crude refinery will process domestically produced light, sweet shale (WTL and WTC) and light, sweet crudes (WTI) into low carbon transportation fuels by utilizing advanced technologies with a zero-carbon footprint. Cushing is known as the "Pipeline Crossroads of the World" for crude oil and has approximately 100 million barrels of storage in the tank farms surrounding the community. The project is anticipated to create over 400 full-time jobs. Construction is scheduled to begin in 2024 and operations are expected to begin in 2027.
The refinery will generate and consume hydrogen as a fuel source, capture and sequester carbon dioxide emissions, generate and consume electricity from waste heat, geothermal, and renewable assets, produce water from waste vapor streams, and recycle and repurpose wastewater. As a result, 95% of greenhouse gas emissions will be reduced or eliminated, water production and consumption will be reduced by 90% with 80% being recycled and repurposed, 100% renewable electricity will be consumed, 98% of fugitive emissions will be eliminated, and the land footprint will be reduced by 65%.
Oklahoma Theme Park and Resort
In July, Mansion Entertainment Group announced that it will build a theme park, the American Heartland Theme Park and Resort, on Route 66 in Vinita, just west of Grand Lake. A 300-room hotel, a indoor water park, a 750 space RV campground, and 300 cabins are also set to be constructed to accommodate visitors to the park and area tourists. The facility is expected to open in 2026 and will be comparable in size to Disneyland. Spanning 125 acres of the 1,000-acre resort property, the park will offer rides, shows, dining and other attractions. The group says 4.9 million guests are anticipated annually.
Governor Stitt Endorses DeSantis
Gov. Kevin Stitt has endorsed Florida Governor Ron DeSantis for President. DeSantis received Stitt's endorsement at a campaign rally in Tulsa on June 10. It was the first gubernatorial endorsement for DeSantis. "I believe he is the right guy to beat Joe Biden and to be in office for eight years," said Gov. Kevin Stitt. "I am officially 100% endorsing Ron DeSantis for President." Many were surprised by the early endorsement, especially since former President Donald Trump had endorsed Stitt for reelection last year and even hosted a fundraiser at Mar-a-Lago for him at a critical time. Trump also endorsed Stitt in 2018. While Stitt gves his full support to DeSantis, Stitt said he will ultimately back whoever earns the Republican nomination.
Twenty Legislators Endorse DeSantis
Prior to the same rally in Tulsa where Gov. Stitt endorsed Ron DeSantis for President, 20 Oklahoma Republican legislators endorsed DeSantis."We need a two-term president to unwind the unconstitutional and disastrous polices out of Washington, D.C. that has bolstered the federal government's power to pick winners and losers across America," said Rep. Jon Echols, Majority Leader of the Oklahoma House. "Ron DeSantis has the courageous vision and the fighting power to give Oklahomans representation of our conservative cause for eight years, and I am confident he can deliver the election victory we need."
Only one of the legislators made the Top Conservatives list based on their scores on the Oklahoma Conservative Index this year, and 17 members of the group would be considered RINO's (Republican In Name Only). The senators endorsing DeSantis include: Lonnie Paxton (SD 23), Chris Kidd (SD 31), Roland Pederson (SD 19), John Michael Montgomery (SD 32) and Brent Howard (SD 38). The representatives are: Jon Echols (HD 90), Trey Caldwell (HD 63), John Pfeiffer (HD 38), Mike Osburn (HD 81), Neil Hays (HD 13), Ryan Martinez (HD 39), Nick Archer (HD 55), Anthony Moore (HD 57), Dell Kerbs (HD 26), Mark Lepak (HD 9), Josh West (HD 5), Chris Kannady (HD 91), Chad Caldwell (HD 40), Terry O'Donnell (HD 23) and Chris Sneed (HD 14).
New Secretary of Human Services
Governor Kevin Stitt has announced the appointment of Dr. Deborah Shropshire to serve as the state's new Secretary of Human Services. "Dr. Shropshire is a true public servant as well as an experienced and trusted physician. She has helped make Oklahoma one of the best states in the country for families," Stitt said in a release. "Her willingness to serve her state in this capacity is admirable. I am grateful that she has accepted this role and I look forward to having her as a member of my cabinet." Shropshire was the first woman in Oklahoma history to serve as director of the Department of Human Services. She has spent her career serving the children and families of Oklahoma, as a pediatrician, deputy director then director of child welfare services. In January, she was appointed by Stitt and confirmed by the Senate as director of Oklahoma Human Services. Shropshire succeeds Justin Brown who had served in Stitt's administration since 2019.
Pinnell Named Secretary of Workforce Development
Gov. Kevin Stitt has asked Lt. Governor Matt Pinnell to take the lead in workforce development and has nominated him to be the next Secretary of Workforce Development. Pinnell's focus will be working with the Department of Education and Department of Commerce to develop a workforce pipeline. Pinnell is currently serving in Stitt's cabinet as Secretary of Tourism. If confirmed by the Oklahoma Senate in the next legislative session, Pinnell would step away from Secretary of Tourism to take on the duties as Secretary of Workforce Development.
"I am excited to take on the role of Secretary of Workforce Development and help lead the modernization of our economic development practices," said Pinnell. "As an entrepreneur myself, I know Oklahoma is one of the best places to run a business. Companies are looking for a pipeline of talent to hire a quality workforce and get Oklahomans the jobs they need. I look forward to helping businesses partner with education and career training programs."
State Sen. Montgomery Resignation
On July 7, state Sen. John Michael Montgomery (R-Lawton) announced that he would be resigning from the Oklahoma Senate, effective August 1, 2023, to accept the role of president and CEO of the Lawton-Fort Sill Chamber of Commerce. Montgomery previously served two terms in the House (House District 62) from 2015-2019 before winning election to Senate District 32 in 2018. He was reelected last year to a second four-year term. Gov. Kevin Stitt will set a Special Election date of which the winner will serve the remaining three years of Montgomery's term.
Lamb New UCO President
On July 1, former Oklahoma Lt. Governor Todd Lamb became the 22nd president of the University of Central Oklahoma (UCO) in Edmond, replacing Andrew K. Benton, who has served as interim president since January. Born in Enid, Oklahoma, President Lamb earned his bachelor's degree from Oklahoma State University, also attending classes at UCO during his undergrad pursuit. He earned a Juris Doctor from Oklahoma City University.
Early in his professional career, Lamb was a Special Agent with the U.S. Secret Service. He later worked on the staff of U.S. Senator Don Nickles. He was elected to the Oklahoma Senate in 2004 where he represented portions of Edmond and northwest Oklahoma City. He was elected Lt. Governor in 2010 and served through 2018. He ran for Governor in the 2018 election, losing in the primary election to Mick Cornett, former mayor of Oklahoma City, and businessman Kevin Stitt. He later was an attorney with McAfee Taft in Oklahoma City and is co-host of Flashpoint, Oklahoma's longest running public affairs television show.
Holt Named Dean of OCU School of Law
David Holt became the fourteenth Dean of the Oklahoma City University School of Law on July 1, 2023. The law school has more than 400 students and is located in downtown Oklahoma City, near city, county, state and federal government buildings, numerous law firms, and county and federal courthouses. His selection followed a multi-month, national search that launched after dean, Jim Roth, announced he would leave the position following the expiration of his contract on June 30.
Holt is a 2009 graduate of the OCU School of Law and has worked as a practicing attorney and in various roles in local, state and federal government, including as an executive assistant to the U.S. House Speaker and in legislative affairs at the White House. He previously served more than seven years as a state senator. Holt was born and raised in Oklahoma City and is a member of the Osage Nation.
He currently serves as mayor of Oklahoma City. In Oklahoma City's form of government, service as mayor is a public service and the holder of the position historically maintains professional employment. Prior to the appointment, Holt was employed as managing director of communications at Hall Capital, a family-owned private investment company. Holt will continue his public service as mayor.
OKC Mayor Elected President of US Conference of Mayors
In June, Oklahoma City Mayor David Holt was elected to serve as the 2025-26 president of the U.S. Conference of Mayors. Holt will become the first vice president in 2024 and will become the 83rd president in the summer of 2025. During their one-year term, the president of the U.S. Conference of Mayors speaks for the Nation's mayors and their cities. Holt is the second Oklahoma City mayor to hold the position. Mick Cornett served as the president from 2016-17. Holt served for five years as Cornett's chief of staff before being elected to the Oklahoma Senate in 2010. He was reelected to the Senate in 2014, but had to resign from the seat after he was elected mayor. Holt has been mayor of Oklahoma City for the past five years, originally taking office in April of 2018. He was reelected to a second four-year term last year.
During his time in the Oklahoma Senate Holt was considered a Republican In Name Only (RINO). He had a cumulative average score of just 54 percent on the Oklahoma Conservative Index rating state legislators. He has been a longtime critic of President Donald Trump. In June 2020, Politico magazine reported that the Trump campaign chose Tulsa over Oklahoma City for its first reelection rally during the pandemic "because they saw (Tulsa's) local officials as more Trump-friendly."
State Rep. Nichols Running for Tulsa Mayor
State Rep. Monroe Nichols (D-Tulsa) has announced that he is running for Mayor of Tulsa. Nichols is the first candidate to formally announce for the city's highest municipal office. The election will be in August 2024. Before his reelection in 2020, Tulsa's current mayor, G.T. Bynum, said he would not seek a third term in 2024. If he is elected mayor next year, Nichols said he would finish his current term as state representative before stepping into his role as mayor.
Since 2017, Nichols has represented House District 72, which includes midtown, downtown and north Tulsa. He has a cumulative average score of just 13% on the Oklahoma Conservative Index rating state legislators. Nichols co-founded Impact Tulsa, which is the local partner in the Obama Foundation's My Brother's Keeper initiative. He is also the director of policy and partnerships for the national nonprofit StriveTogether. Nichols has previously held jobs with the mayor's office and the Tulsa Regional Chamber of Commerce. He played football at the University of Tulsa while studying Political Science and Economics. He later earned a Master's Degree in Public Administration from the University of Oklahoma.
Former Sen. Loveless Joins Consulting Firm
Former State Senator Kyle Loveless (R-Oklahoma City) has joined the political consulting firm, WPA Intelligence, as a strategist. He was elected to Senate District 45 in 2012 and served through 2016. Loveless resigned from the Legislature in 2017 as the Oklahoma Ethics Commission began looking into possible campaign spending violations, concerning the misuse of campaign funds. During his time in the legislature, he had a cumulative average score of 73 percent on the Oklahoma Conservative Index. Before becoming a legislator, Loveless worked with former Congressman Earnest Istook. He also managed his family's business, Loveless Orthopedic Appliance and Custom Footwear. Prior to joining WPA Intelligence, Loveless was the Chief Operating Officer for SoonerPoll.
Death of Jan Collins
Former Oklahoma state representative Elna "Jan" Collins (R-Oklahoma City) died on May 9, 2023 in her home in Oklahoma City. She was 79. Collins was elected to the Oklahoma House District 93 seat in 1984 and served one term. She focused strongly on legislation concerning education. She earned a cumulative average score of 95 percent on the Oklahoma Conservative Index, ranking her as one of the most conservative legislators. After her term in the House, Collins was elected as a County Commissioner for Cleveland County, serving from 1991 to 1995.
Death of Former Rep. Bill Lancaster
Former state representative Bill Lancaster (D-Wagoner) passed away on May 19, 2023. He was 84. Lancaster was a graduate of Oklahoma State University and took over the Lancaster Agency, a Wagoner insurance agency from his father. He served as Mayor of Wagoner for 12 years in the 1960's and was elected to the Oklahoma House of Representatives for District 12 in 1972 and served through 1984. With a cumulative average score of 65 percent on the Oklahoma Conservative Index, he was one of the most conservative Democrats in the Legislature, even being named a Top Conservative Legislator in 1983.
State Sen. Nathan Dahm Misses Votes
This is the eleventh year that State Sen. Nathan Dahm (R-Broken Arrow) has been scored in our Oklahoma Conservative Index rating state legislators. Every year, except for this year, Sen. Dahm has made the Top Conservatives list. However, this year the senator missed seven of the ten votes used for this year's ratings, which greatly depressed his score. Still, his cumulative average for the eleven years is an impressive 95 percent. The reason that Sen. Dahm missed so many of the votes involved his wife's complicated pregnancy for their first child. Thankfully, the birth was ultimately successful.
Oklahoma's Congressional Delegation Rated
Freshman U.S. Representative Josh Brecheen of Oklahoma's Second Congressional District scored 100 percent of the "Freedom Index" of the national New American magazine, to lead the Oklahoma Congressional delegation. The Freedom Index rates members of Congress on their fidelity to the U.S. Constitution, as measured by their votes on some key issues.
Following Brecheen in the House of Representatives was Kevin Hern of the First Congressional District, who scored 90 percent. The other three members of the House from Oklahoma, on the other hand, only scored 50 percent. They are Frank Lucas (district three); Tom Cole (district four); and Stephanie Bice (district five). Lucas recently blamed industrial activity for global warming.
Senator James Lankford made an 80 percent, followed by freshman Senator Markwayne Mullin, with a score of 70 percent.
By way of comparison, some well-known members of Congress, with their scores: Senator Rand Paul of Kentucky made 100 percent, as did Senator Mike Lee of Utah. Presidential hopeful Tim Scott made a 70.