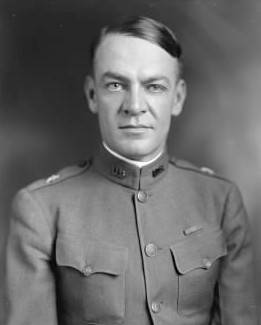 Pictured: Gen. Hugh Johnson
news
Oklahoma History - General Hugh Johnson
By Steve Byas
Although born in Kansas in 1882, General Hugh Johnson, President Franklin Roosevelt's director of the New Deal era National Recovery Administration (NRA), was raised in Alva, Oklahoma Territory.
As head of the NRA, Johnson favored the reduction of competition so as to raise wages and prices – which, with Roosevelt, he believed would bring the country out of the Great Depression. Johnson unveiled the symbol of the NRA, a blue eagle, which he encouraged businesses to display in their storefront windows, telling the press, "There better not be anybody mess with this bird."
The inspiration for Johnson's NRA was the fascist economy of Italian dictator Benito Mussolini. He distributed copies of a fascist tract, "The Corporate State," to FDR's cabinet. Under Johnson, businesses were encouraged to adopt policies that would raise both wages and prices, and he condoned practically any type of price fixing, reduction of production, and other anti-competitive practices.
Each industry would adopt its own price codes, designed to drive up prices. For example, tailors were not allowed to press suits for less than 40 cents. When an enterprising tailor reduced his price anyway – to 35 cents – he was arrested by agents of the federal government, and jailed.
Johnson promoted the NRA and its policies of regimentation with parades, similar to Christmas parades, but instead of Santa Claus following the bands and floats, General Johnson was the featured person at the parade's end. As it was fairly well known among conservative critics that Johnson had modeled the NRA after what was going on in Fascist Italy, a photograph was snapped of him waving to the crowd. The photo was then captioned that Johnson, in full military uniform, was giving a fascist salute to the crowd.
In the next parade, Johnson kept his arms to his side.
Finally, the NRA decided to make an example of some Jewish brothers who had immigrated from Hungary, believing America was the land of opportunity and the land of liberty. The Schecter brothers came to New York and opened a kosher chicken business, but this ran afoul of NRA anti-competitive practices. The Roosevelt Administration wanted to send them to federal prison, and they did obtain a conviction.
Fortunately, the Schecters were able to appeal on the grounds that the National Industrial Recovery Act was unconstitutional. In the case, Schecter v. United States, the United States Supreme Court handed FDR and the NRA a stunning defeat, 9-0, in a ruling that the NRA was indeed, unconstitutional.
After leaving the Roosevelt Administration, Johnson supported FDR for re-election in 1936, only to denounce his attempt to "pack" the Supreme Court with six new members in 1937. By 1939, Johnson was publicly criticizing Roosevelt for policies which Johnson believed were going to get the United States into World War II. He even endorsed Republican Wendell Willkie for president in 1940.
Johnson wrote a syndicated column, writing mostly about politics. He died of pneumonia in 1942 at the age of 60, and is buried at Arlington National Cemetery.
Steve Byas is editor of the Oklahoma Constitution and a professor of history and government at Randall University in Moore, and was the editor of John Dwyer's award-winning two-volume books on Oklahoma history.