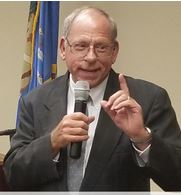 column
AG Drummond Supports Religious Discrimination
The three members approving the contract – Scott Strawn, Brian Bobek and Nellie Sanders – signed the contract after Chairman Robert Franklin, who voted against the contract along with William Pearson, refused to sign on behalf of the board. The AG then filed suit against the three members signing the contract.
The lawsuit was filed in the Oklahoma State Supreme Court. The litigation argues that the would-be school violates the Establishment Clause of the First Amendment to the U.S. Constitution. The lawsuit also notes that the state Constitution prohibits "sectarian control" of public schools.
Drummond said that if Catholics are permitted to have a charter school, "a reckoning will follow" where the state will be faced with requests from other sectarian groups. According to Drummond's warped thinking, allowing the church-sponsored school impinges on religious freedom.
Gov. Kevin Stitt responded to Drummond's lawsuit: "This lawsuit is a political stunt and runs counter to our Oklahoma values and the law. AG Drummond seems to lack any firm grasp on the constitutional principle of religious freedom and masks his disdain for the Catholics' pursuit by obsessing over non-existent schools that don't neatly align with his religious preference. His discriminatory and ignorant comment concerning a potential Muslim charter is a perfect illustration."
State Superintendent of Public Instruction Ryan Walters also responded to the lawsuit, "The Constitution is crystal clear on religious liberty, but that fundamental truth is lost on some people. Oklahomans hold their faith and their liberty sacred, and atheism should not be the state-sponsored religion. We should not play politics with the future of our kids through this misguided lawsuit."
Governor Stitt and Superintendent Walters are correct, and in fact the United States Supreme Court has ruled against such religious discrimination.
Last year, Drummond's predecessor, Attorney General John O'Connor, advised the OSVCSB that prohibitions on religious charter schools are unconstitutional. O'Connor said such prohibitions are contrary to the non-discrimination principle articulated by the U.S. Supreme Court in recent years, including Espinoza v. Montana (2020), Trinity Lutheran Church of Columbia, Inc. v. Comer (2017), and Carson v. Makin (2022). Those cases make clear that when the government creates a program to support private organizations who help serve the public good, including ones providing education, it may not bar religious organizations from participating.
Drummond defeated O'Connor in the November 2022 election, and withdrew O'Connor's advisory opinion on February 23, 2023. Drummond alleged that Attorney General O'Connor's opinion "misuse[d] the concept of religious liberty by employing it to justify state funded religion," including "tax-payer funded religious schools." Drummond was wrong then and is still wrong now.
As the U.S. Supreme Court stated in Espinoza, "A State need not subsidize private education, but once a State decides to do so, it cannot disqualify some private schools solely because they are religious." The schools established and funded by the Oklahoma charter school laws are private schools.
And, concerning the state constitution and the charter school laws, the issue has already been litigated. The Lindsey Nicole Henry Scholarship for Students with Disabilities Program was upheld by the Oklahoma Supreme Court in Oliver v. Hoffmeister, (2016). That program provides publicly funded scholarships to enable children with special learning needs to attend private and religious schools. The State also contracts with religious organizations, including both Catholic dioceses in Oklahoma, to provide refugee resettlement and foster care services.
Drummond alleges that approval of the SISCVS contract starts us on a "slippery slope" that might open the door to charter schools sponsored by all faiths. He apparently believes in freedom from religion, not freedom of religion.
Drummond was elected Attorney General last year as a Republican. But, he had not previously been active in the Republican Party and had contributed to Democrat candidates who ran against Sen. Jim Inhofe, Sen. Tom Coburn, and Congressman Jim Bridenstine. He also contributed to Joe Biden in August of 2020. So, just because he ran under the Republican banner, should not shield him from criticism. He needs to be called out when he is wrong. And, in my opinion, he is definitely wrong in this lawsuit.
Ron McWhirter is one of the founders of the Oklahoma Constitution newspaper and serves as the General Manager. He may be contacted at the newspaper email: okconsti@aol.com