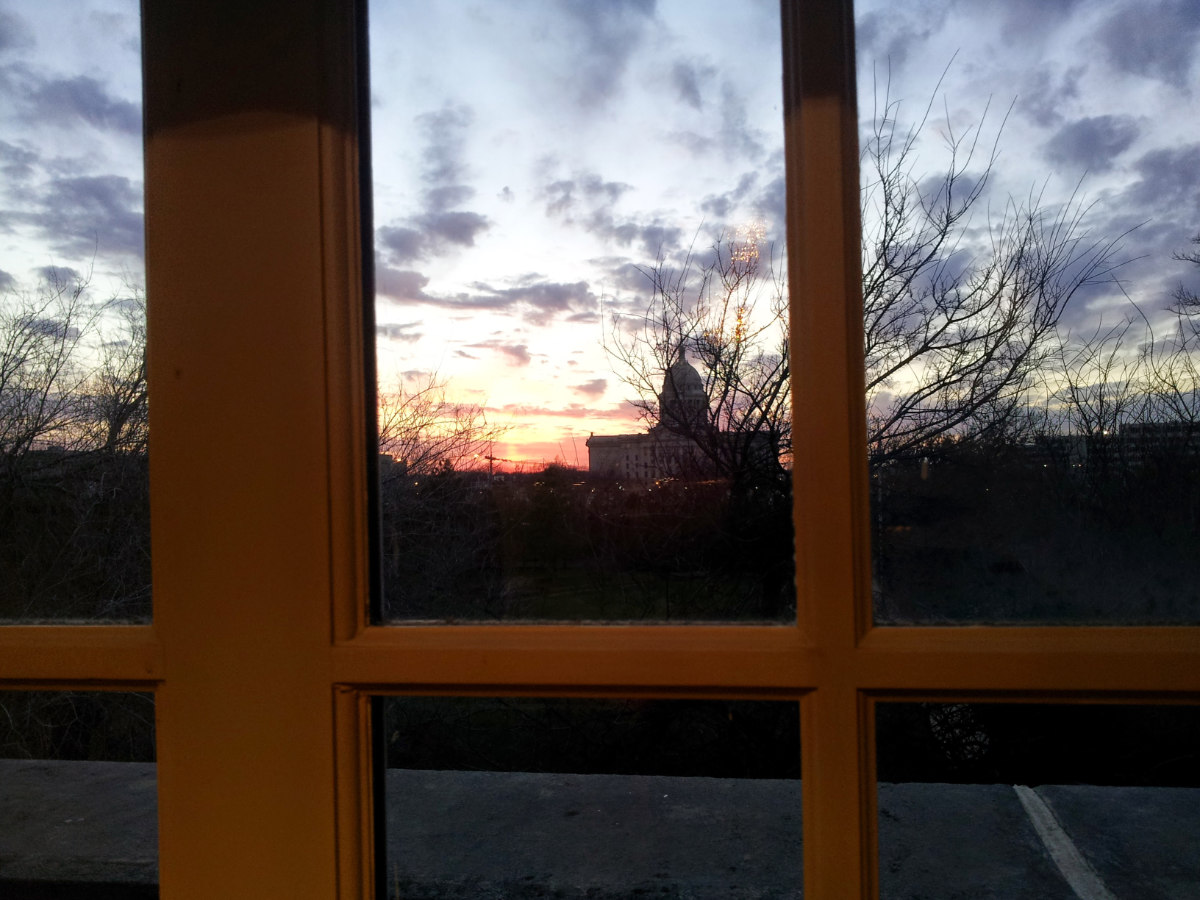 news
The Race for Congress
U.S. House of Representatives
First District
Congressman John Sullivan , 47, of Tulsa was elected to represent the Tulsa area district in a Special Election ten years ago. He is being challenged by another Republican candidate, Jim Bridenstine, 36, also of Tulsa. Bridenstine, a Navy combat pilot who flew missions in Iraq and Afghanistan, has criticized Sullivan for voting for TARP, the Troubled Asset Relief Program: "He (Sullivan) told us the United States government was going to buy bad assets off the balance sheets of banks. Instead, they took a $700 billion check from the taxpayer…and they started taking ownership of banks, insurance companies and ultimately General Motors." Bridenstine served as executive director of the Tulsa Air and Space Museum and resigned from the museum in 2010 to concentrate on his career in the Naval Reserve.
John Olson, 34, an Army Reservist for the past 15 years is the only Democrat in the race. Craig Allen, a pilot from Tulsa, filed as an independent candidate. Allen, 53, was among the candidates who lost in the Republican primary to Sullivan in 2010.
Second District
Second District Congressman Dan Boren is not seeking reelection. Boren was elected to the second district in 2004 and is the only Democrat in the Oklahoma congressional delegation. The district voted 59 percent for George W. Bush in 2004, and in 2008 gave John McCain 66 percent. McCain won every county in the district. While Boren won with 71 percent of the vote in 2008, he received just 57% in 2010. In the2010 race Boren had to do extensive campaigning and spent $1.8 million on the race, while the Republican nominee spent just over $100,000.
The district covers 26 counties in eastern Oklahoma, stretching south from the Kansas state line to the Red River border with Texas. After the 2010 census and minor redistricting, the district remains the most Democratic in the state by registration. In redistricting, some Republican parts of Rogers County were added, but Democrat-leaning parts of Marshall County were also inserted. Ten candidates filed for the open seat.
Six Republicans are in the race. State Rep. George Faught, 49, is the longtime owner and operator of a Muskogee carpet cleaning business which he runs with his wife and two of their children. He is in the middle of his third term in the Oklahoma Legislature after becoming the first Republican ever elected to the legislative district. He has a 73% cumulative average on the Oklahoma Conservative Index. Fought pledges to limit his tenure in the U.S. House of Representatives to no more than three full terms if he is elected.
Markwayne Mullin, 34, of Westville took over the family plumbing business, Mullin Plumbing, 15 years ago with six employees and has expanded it into one of the largest service companies in Oklahoma with more than 100 employees. He also owns Mullin Environmental, Mullin Services and Mullin Properties along with ranching operations in Adair and Wagoner counties. Mullin is known across a good portion of the district because of his business ads and his employees who travel the state in red vans. Mullin also hosts a Saturday morning radio program, House Talk, on conservative Talk Radio 1170 KFAQ in Tulsa.
Former state Rep. Wayne Pettigrew, 49,is a businessman and insurance broker. Pettigrew founded two Oklahoma-based companies that now have over $70 million in assets and 50 employees. Pettigrew was a state Representative from Edmond, a suburb north of Oklahoma City, serving from 1994 to 2004. His cumulative conservative rating on the Oklahoma Conservative Index was 76%. He returned to his hometown of McAlester in 2009 to care for his mother who passed away in May 2010.
Dustin Rowe, 36, is an attorney from Tishomingo. A lifelong resident of the district, he began his interest in elective office at the age of 18. That year, he registered as a Republican and ran for mayor of his hometown becoming the nation's youngest mayor and served for two terms. After working for U. S. Senator Don Nickles in Washington, D.C., Rowe and his wife, Nicole, moved to Stillwater to work on Wes Watkins' successful congressional campaign. At the age of 22, Dustin was named District Director for the newly-elected Republican congressman. For the past decade he has been practicing law in the community where he was raised and calls home. He also serves as city attorney and prosecutor to several small towns in the second district.
Dwayne Thompson, 53, of Fort Gibson grew up north of Owasso. In the early nineties, Thompson obtained a Masters degree from Southwestern Baptist Theological Seminary and then moved to Montana as a church planter. He started two churches from zero and helped another church recover from a church split. One of the churches is in Muskogee where he still serves.
Retired Lt. Col. Dakota Wood, 49, of Claremore is a Naval Academy graduate. After retiring from the Marine Corps in 2005, he went to work for the Center for Strategic and Budgetary Assessments, a group that consults with Congress and the Pentagon.
There are three Democrats running for the seat. Wayne Herriman, 59, is the owner of Sunburst Seed Co. in Muskogee and Holman Seed Farm in Collinsville. He also has Sunburst Spraying Co. in Muskogee. Assistant U.S. Attorney Rob Wallace, 48, served as District Attorney in LeFlore and Latimer counties from 1999 to 2004. He left that post to take a position as assistant U.S. Attorney for the Eastern District of Oklahoma. The third Democrat is Earl E. Everett, 78, of Fort Gibson.
An Independent candidate is also in the race. Michael G. Fulks, 53, of Heavener is a member of the support staff at Carl Albert State College. Fulks said he has been an independent all his life and describes himself as a centrist.
Third District
Frank Lucas, 52, of Cheyenne was first elected to Congress in a Special Election in 1994. His opposition to the federal TARP bailout in 2008 -- he was the only member of the U.S. House from Oklahoma to oppose it -- reinforced his support from conservatives. Lucas is being opposed for the GOP nomination by William Craig Stump, 45, from Drumright.
There are two Democrats in the race. Frankie Robbins, 66, of Medford lost to Lucas in 2008 and 2010. Robbins is a Civil Engineer, and is retired from the U.S. Forest Service. Timothy Ray Murray, 45, from Moore is the other Democrat in the race. He has worked with large pharmacy chains. William M. Sanders, is an independent candidate from Stillwater. Sanders, 42, served for 12 years with the Oklahoma National Guard as a supply specialist and was discharged last year.
Fourth District
Congressman Tom Cole, 62, of Moore was elected to Congress in 2002. Cole was challenged for the Republican nomination in 2010 by R.J. Harris of Norman. Cole defeated Harris in the GOP Primary, receiving 77% of the vote. Harris, 39, is running as an Independent this time saying he wants to offer voters a true conservative in November. Harris abandoned his recent bid for the Libertarian presidential nomination to make the race. Gary D. Caissie, 51, of Norman is challenging Cole in the Republican Primary this time. Caissie says Cole is not representing conservative Republicans.
There are two Democrats in the race. Bert Smith, 64, ran for the 5th Congressional District three times (2004, 2006, 2008), but moved to Moore. The other Democrat is Donna Marie Bebo of Fletcher. Bebo, 34, moved to Oklahoma in 2008 and says she is concerned with the corporate influence in politics.
Fifth District
Edmond Republican James Lankford, 44 , is running for his second term on his conservative record. On the Democrat side will be Tom Guild,57, of Edmond who taught political science and legal studies at the University of Central Oklahoma for 27 years and for three years at Oklahoma City University. He ran for the seat two years ago but was defeated in the Democrat Primary. Years ago, when he was a registered Republican, Guild made three races for a seat on the Corporation Commission, but lost in the Republican primary the last two times. He even went so far as to put the word "Reagan" on his campaign signs, and claimed to be a conservative Republican. He now calls himself a Progressive Democrat.
Two Independent candidates are also in the race. Robert T. Murphy, 64, of Norman (you don't have to live in the district) has run for various offices in the past, including Congress. He has previously run as a Libertarian and as an Independent. The other Independent is Pat Martin, 28, of Jones who is a training manager at a software company. He was formerly registered as a Republican.