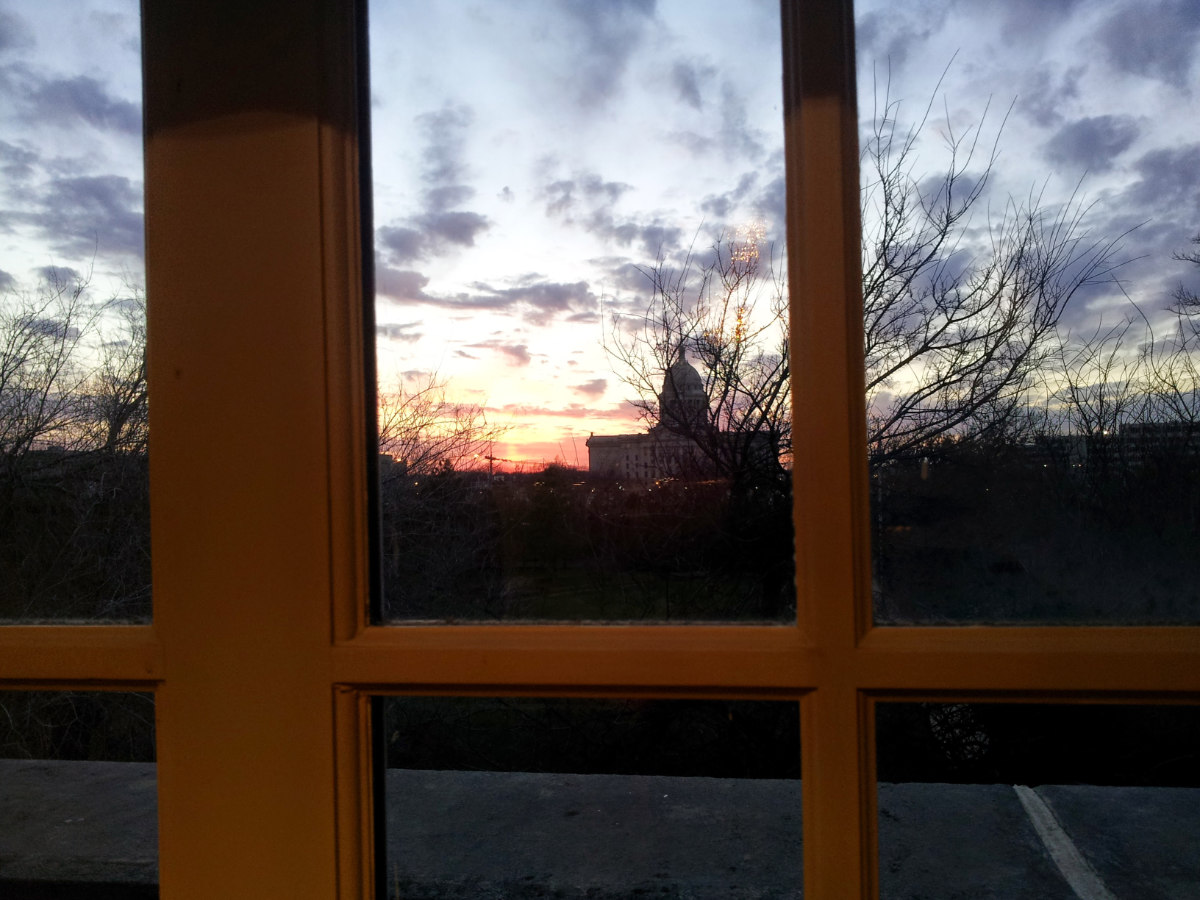 column
The Federal Page for Spring 2016
Nothing is going to change in politics until some of our leaders are replaced. Nothing. The reason is that many politicians crave power, and elective office means more to them than almost anything else. Once a few lose their offices due to bad votes or decisions, the others will think twice before casting bad votes or making bad decisions. That sounds simplistic, but it's true.
Reverend Dr. James Taylor is in a political battle that could be compared to something biblical. He's running to be the Republican nominee for Oklahoma's Fourth District in the House of Representatives against the congressman, former state senator, and former Republican state chairman Tom Cole. No one in Oklahoma politics today is more establishment than Congressman Tom Cole. For James Taylor, the pastor of Christ's Church in Norman and middle school American history teacher, to challenge Tom Cole is like David challenging Goliath, but Reverend Taylor prefers to compare his race to David verses King Saul. He argues that "God anointed David to supplant Saul, and James means "one who supplants.'" He, Reverend Dr. James Taylor, wants to supplant Tom Cole.
He says he has been considering a run for several years but didn't think the time right until now. The omnibus spending bill last year, for which Congressman Cole voted, was the decision point for him. "We can't be doing this with other people's money!" (Omnibus is Latin, meaning everything, a cluster of stuff thrown together without much consideration, and it's expensive.) Taylor adds, "He [Cole] voted for the last seven continuing resolutions" (CRs) to fund the federal government. A CR is a legislative procedure to fund the government at the previous year's funding level without a formal budget. This is how Planned Parenthood and Obamacare have been funded by the Republican-controlled House of Representatives in which Tom Cole is the fourth-ranking leader.
In last winter's issue of The Oklahoma Constitution, Congressman Cole wrote: "Members of Congress are elected to run the government, not shut it down. They are elected to debate and thoughtfully consider the formulation of public policy, not to obstruct the process when they don't get everything they want. And they are expected to have the manners and decorum we would expect from any small business owner, teacher, or CEO -- not those of petulant children."
Reverend Taylor says it is with this high-handed and haughty attitude that Congressman Cole dismisses critics at his town hall meetings. It is important to note that maintaining "manners and decorum" have gotten us over 19 trillion dollars in debt.
Reverend Taylor wrote a book titled It's Biblical, Not Political about his political beliefs, and he says the Bible has 160 references to immigration and Acts 17 refers to national sovereignty.
He says that, if elected, he will never vote for a continuing resolution or an omnibus bill and, before voting for something, will ask himself three questions: "Do we need it? How much is it going to be? Can we afford it?"
When I spoke on the phone with Reverend Dr. Taylor, the first thing he mentioned was Albert Einstein's famous definition of insanity: doing the same thing over again and expecting a different result.
Re-electing Tom Cole will not change anything. Only by replacing Tom Cole is there a possibility that anything can be better in Congress. Reverend Dr. James Taylor's campaign may be reached at: www.taylorok.com
Mullin Plans to Break His Three-term Pledge
In 2012, candidate Markwayne Mullin repeatedly pledged, if elected to the House of Representatives, he would serve no more than three terms and then "get his life back." Two terms later, Second District Congressman Mullin walked back his 2012 pledge when, after telling The Oklahoman on March 31 he intended to make this next term his last one, he said, "However, Christie and I will continue to seek the Lord's guidance and do what is best for our family and the Second District of Oklahoma [i.e. run for a fourth term]." This is pious balderdash. When, after learning Mullin said he may break his pledge not to run for re-election, his opponent Jarrin Jackson proceeded to snatch a likely defeat from the jaws of a possible victory by calling for Congressman Mullin's immediate resignation! In politics, that tactic is nuts. When an opponent stumbles, as this congressman did, it is not necessary to respond in an unreasonable way.
Justice Antonin Scalia
"All of us here saw him as a stalwart defender of our way of life in Texas, in a real sense," said John Poindexter, owner of the 30,000 acre ranch near Marfa, Texas, where United States Supreme Court Justice Antonin Scalia died in his sleep at 79. The same thing could be said about him and our way of life in Oklahoma. He was a champion for American constitutional liberty. Antonin Scalia was a truly great American for the right to freedom of speech, the right to bear arms, the right to life of the unborn, the right to have private property, and the right to enjoy religious liberty. He was so great that when I thought him wrong about a decision, it was I who was wrong, not he. For example, he voted in the majority in the 1989 case of Texas v. Johnson that a person, because of freedom of speech, has the right, albeit repulsive, to destroy an American flag if the flag is that person's personal property.
If James Madison made it to heaven, and I hope he did, he surely gave a warm embrace to Antonin Scalia if he made it to heaven, and I certainly hope he did. Twelve years ago, I organized a fundraiser in the Washington, D.C. area for Clear Creek monastery in Cherokee County in northeastern Oklahoma. Father Paul Scalia, who preached a great eulogy at his father's funeral Mass, was one of our speakers. I told him that his dad was President Reagan's second greatest legacy.
The founding fathers must have turned over in their graves several times since our republic was born. I'd like to think they turned over fewer times during the years Justice Scalia was on the Court. He always guided his decisions by what the framers actually wrote. He did not believe the Constitution is a "living, breathing document" but is instead what the founders had written. Fredric Nietzsche wrote that "God is dead" because we have ignored Him to death. Then, in 1900, Nietzsche died, and we don't hear from him except from university professors. The United States Constitution can die if we ignore it.
This election is it. There are no more exit signs after 2016. We either get off this highway leading us off the cliff or we don't. This is no time for a reality television "star" who might as well be a professional wrestler. Oh, and President Reagan's first greatest legacy? That business about the Soviet Union collapsing without a shot being fired.
Remembering Nancy Reagan
Former First Lady Nancy Reagan died on March 6; she was 94. Mrs. Reagan was a dignified and elegant first lady, but she was first and foremost her husband's helpmate and best friend. President Obama declined to attend her funeral, opting instead to attend the South by Southwest music festival in Austin, Texas. He's a liberal fanatic and would have been out of place at her funeral.
Wrong about Jeb
I was wrong. Last summer in this column, I wrote that Jeb Bush would be the Republican presidential nominee. I knew of no other alternative. I wrote that because his father and his brother had been the president, and all of my life Republicans have fallen in line behind the leader without questioning why. I believed people were tired of the Bush brand, but it didn't matter. Jeb had over a hundred million dollars to spend. Men like former Ambassador Francis Rooney of Tulsa cut him huge checks just as they had done for his older brother and their father. Once elected, the third Bush would reward his supporters with appointments or contacts just as his brother had done for Ambassador Rooney. But 2016 is not a normal election year. In fact, it's pretty strange, and after losing the South Carolina primary, Jeb Bush called it a campaign.
"Please clap."
-- Jeb Bush in Hanover, New Hampshire, after telling his audience he won't be "blowhardin'" like Trump. He added he would have been a "quieter" commander in chief.
Theodore J. King is an Oklahoma native. He spent the summer of 1994 at the Republican National Committee, worked at National Right to Work Committee, and on the Hill in Washington D.C. In 1999 he worked for Congressman Kevin Brady of Texas and later worked at the Media Research Center in Alexandria, Virginia. He served as our Washington D.C. correspondent beginning in 2001and continues since his return to Oklahoma. He also writes online for The Daily Caller (www.dailycaller.com) and is the author of The War on Smokers and the Rise of the Nanny State.