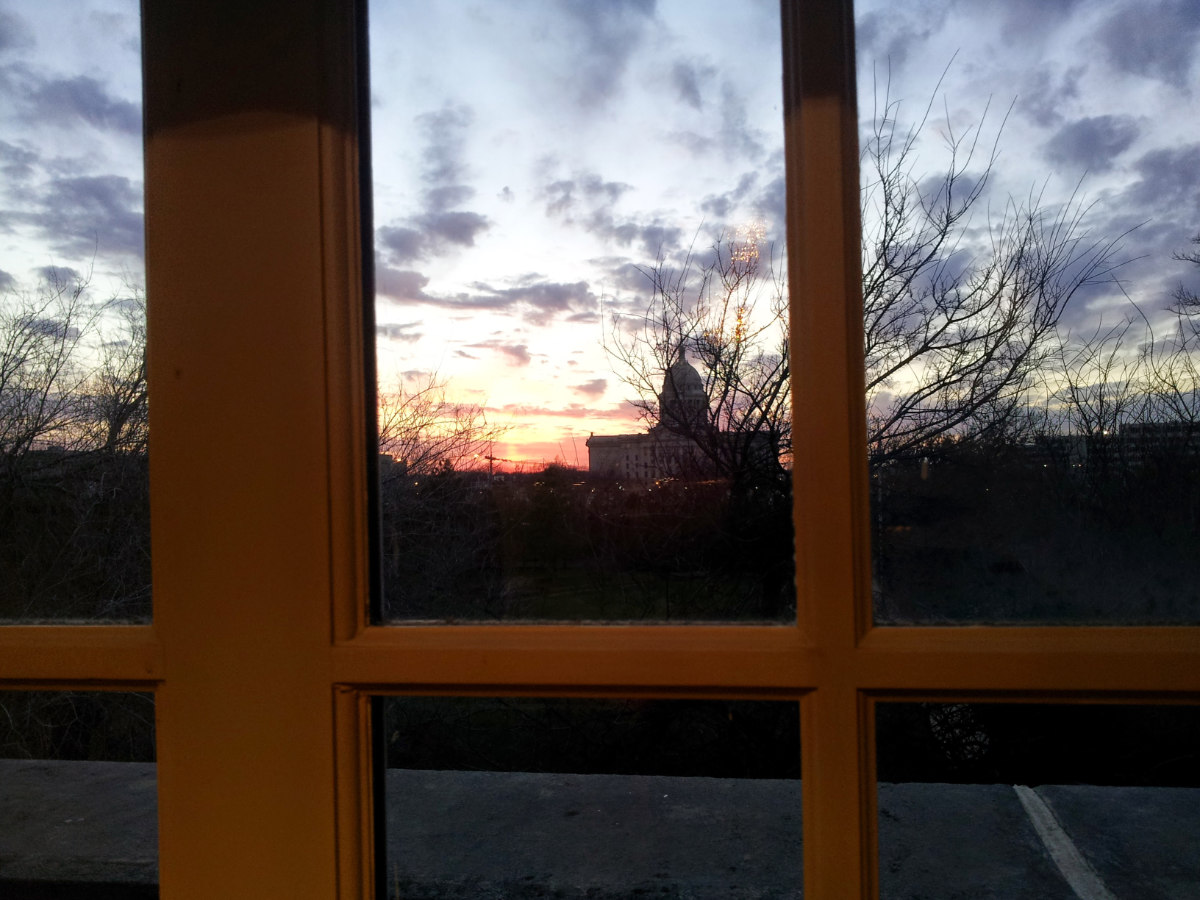 column
Cole, Inhofe, Lankford, Russell, Wrong on Syria
By Steve Byas
It was quite discouraging. Following the decision by President Trump to bomb a country – Syria – that has not attacked us, and is no threat to our country, four members of our congressional delegation joined in support of the offensive action. This is wrong on both practical and constitutional grounds.
A close look at the what these men said is both troubling and revealing.
Senator James Lankford said that Syria's dictator, Bashar Assad, had used chemical weapons "against his own people." I have always found this remark, which is not original with Lankford, interesting. Would it be better if Assad had simply attacked the people of another country? He follows this up with calls for the "international community" to demand that "Assad step down and allow the refugees scattered around the globe to return to their homes and be able to pursue peace."
International community? Does this mean that other countries should get together and decide what thug rules the various countries of the world? This is rank globalism. What is the criteria for ousting the head of state and/or government in another country? Who makes this decision? The United Nations? (Its charter says it will not interfere in the domestic matters of its member nations). The United States? How would we like it if other countries decided it was time for Trump to "step down?"
And, surely Lankford is not so naïve as to believe that if Assad were to cease to exist, peace would reign in Syria. Maybe it would, I suppose, if the thugs fighting Assad took over and brought the peace of the grave to Christians and moderate Muslims. No, if Assad were gone, the slaughter would continue unabated.
Then, there is Senator Jim Inhofe. He is no doubt one of the finest men ever to serve in Congress from this state. He was a voice "crying in the wilderness" against the global warming alarmists when most others were heading for the tall grass.
But Inhofe is wrong when he argues that Syria had violated "international law and norms of behavior." Again, who is going to decide when we get to intervene in the domestic affairs of a foreign country? Perhaps other countries do not like our opposition to international restrictions on our industry in the name of reducing "global warming." Should they be able to just bomb us? After all, if the global warming alarmists are correct, we're talking the whole planet here in danger, not just one country in the Middle East. Remember, Senator Inhofe, they say "the debate [on global warming] is over."
Congressman Tom Cole called Trump's attacking another country "just and decisive." But at least Cole mentioned a role for Congress: "Congress should have a robust debate and provide the President with the authorization for the Use of Military Force."
I agree that Congress should have a debate, because it is Congress, and not the president that has the constitutional authority to authorize military force. But it is obvious to Cole it is a mere formality – he says that Congress should provide Trump with that authorization. My question for Cole is simple: What if Congress just says no? Does Cole believe Trump still has the legal authority to take offensive military actions on his own? Would he continue to "applaud" bombing strikes of Syria? What about other countries? After all, Cuba's thuggish government has killed thousands of its own people. Should we call for Raul Castro to "step down," and if he doesn't then launch bombing in Havana?
Finally, there is Congressman Steve Russell, who leads the appropriately named "Warrior Caucus." Russell said we cannot "stand by in silence as dictators murder with chemical weapons." Really? So, just so long as they murder with guns, then it is acceptable for dictators to murder? What about killing civilians with fire-bombs or atomic bombs? What about Sherman's march to the sea through Georgia in 1964, in which his armies burned a path sixty miles wide, leading to the deaths of hundreds of American civilians? Should Lincoln have "stepped down?" After all, his armies were killing his own people.
"There is no doubt Assad is a brutal dictator," commented Senator Rand Paul of Kentucky. "But if we seek to remove him, we must ask what comes next. Assad is fighting radical Islamic rebels, including large parts of ISIS. Who would take over Syria if Assad is deposed? Experience in Libya tells us chaos could reign, and radical Islamists could control large parts of the country."
This is the practical argument against what Trump did. But there is also a constitutional argument against his actions, and Paul speaks to that, as well. "The Constitution clearly states that it is Congress that has the power to declare war, not the president … Congress must stand up and assert its authority here and now."
But they probably will not. For some reason, most members of Congress seem very willing to give up the powers given them in the Constitution. They let presidents and bureaucrats do all sorts of things that should be decided by the legislative branch. After all, the Constitution gives "all" legislative power to Congress, not to the president. They also are willing to just throw their hands up when the federal judiciary usurps their legislative function. "Well, the Supreme Court has said, blah, blah, blah, so it is now the 'law of the land.'" Maybe if they don't have to cast a vote, then they don't have to answer to anyone at election time. Just let Trump or the Court do it.
The view that I am expressing is not held just by Paul and Steve Byas. Even Alexander Hamilton, who favored a strong executive, said "the Legislature alone" has the authority to "place the nation in a state of war." As Thomas Woods says in his book, Who Killed the Constitution? "The president's commander in chief authority had to do with, in the words of Hamilton, directing 'war when authorized or begun,' not with launching the war himself." Woods added, "George Washington specifically disclaimed the power to take the country to war without congressional authorization." John Adams and Thomas Jefferson made similar statements.
James Madison, who has been awarded the title, "The Father of the Constitution" for his most significant role in Philadelphia, commented, "Of all the enemies to public liberty war is, perhaps, the most to be dreaded, because it comprises the germ of every other. War is the parent of armies; from these proceed debts and taxes; and armies, and debts, and taxes are the known instruments for bringing the many under the domination of the few. In war, too, the discretionary power of the Executive is extended … No nation could preserve its freedom in the midst of continual warfare."
There you have it. On one side you have Cole, Inhofe, Russell and Lankford. On the other side, we have Washington, Adams, Hamilton, Jefferson, and Madison. I know which side I am on, on this issue.
No one argues that presidents cannot defend the country, if attacked. This was explicitly understood at the Constitutional Convention. Like the captain of a ship at sea, if this nation is attacked, we would expect the president to move to defend us. But Syria did not attack us. It is no threat to ever attack us. We have no more right to bomb that country and choose when its leaders step down than they have a right to bomb our country, and decide when our leaders step down.
Yes, I am discouraged. I do not think there is anything I could say, any quote from Washington or Jefferson or Madison I could cite that would change the minds of those infected with this war psychology that has plagued this country since we went to war with Spain to free Cuba. They like playing policeman – of the world – too much to stop.