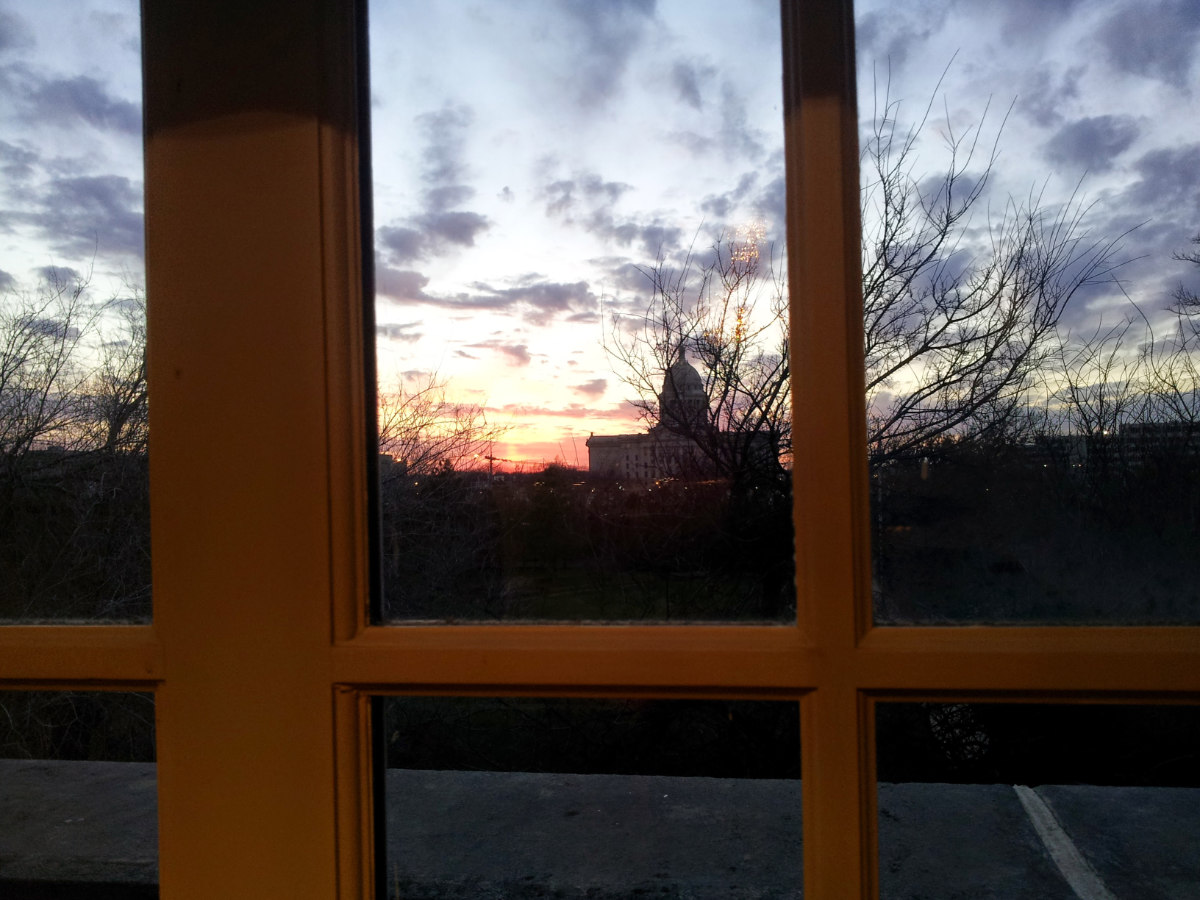 column
Federal Page for Spring 2017
In 2012, Markwayne Mullin was the best speaker of the candidates in a crowded field vying to replace outgoing Congressman Dan Boren in the Second Congressional District of Oklahoma. To differentiate himself from the other candidates, he promised to serve only three terms if elected. And then he would, he said, "get my life back." Mullin also used his campaign to promote his plumbing business with glossy mailers with a picture of Mullin Plumbing vans and a phone number on them. Candidate Mullin told me for the June 15, 2012 Pryor Times newspaper story I wrote about him, "There was never any intention to advertise our business."
Now in his third term, Markwayne Mullin filed reports with the Federal Election Commission on March 2, 2017, although he claims he has not yet decided on a fourth term. He also says he has prayed about seeking another term. All good Christians should pray before breaking their word. Dr. Tom Coburn kept his three-terms promise, and Congressman Jim Bridenstine of the First District is keeping his. Dr. Coburn apparently believed Markwayne was likely to break his pledge and endorsed his 2016 primary challenger, Jarrin Jackson. Jackson got 39 percent of the vote in that primary.
In April, Congressman Mullin held a town hall meeting in Jay in which he was challenged by an irate woman who said taxpayers pay his salary. Congressman Mullin responded, "Bull crap! I pay for myself! I pay enough taxes before I ever got there and continue to do through my company to pay my own salary. This is a service, no one here pays me to go." He was referring to the amount of taxes he and his business pay every year. He makes a valid point, but he wasn't expressing a servant's heart by saying what he said. It will be interesting to see how many voters care if he breaks his three-terms pledge. The National Right to Life Committee and the National Rifle Association are not likely to care and will likely endorse him for his fourth bid. He has a young family that should come first over this job. I won't vote for him.
The First 100 Days
As I write this, it has not quite been 100 days since Donald Trump took the oath as our 45th president, but it will be a little than 100 days when this is in print.
He has reinstated the Mexico City policy prohibiting the use of federal funds to overseas organizations that promote or perform abortions. Ten days into his presidency he appointed Judge Neil M. Gorsuch to the Supreme Court to replace Antonin Scalia. He has begun the withdrawal of the United States from the Trans-Pacific Partnership (TPP). The TPP, like other trade deals, tends to ship American jobs to other trading partners where labor and materials are a lot cheaper.
Former Oklahoma Attorney General Scott Pruitt is now his administrator of the Environmental Protection Agency. President Trump has signed an executive order reviewing the Clean Power Plan, which restricts greenhouse gas emissions and coal-fired power plants.
He rescinded the 2014 Fair Pay and Safe Workplace executive order that forces federal contractors to document adherence to all federal regulations and executive orders In other words, he just eliminated a lot of paperwork for private businesses doing work with the federal government.
He signed an executive order ordering federal agencies to repeal two regulations for every one new regulation. He signed an executive order for the Commerce Department to review banking regulations in the Dodd-Frank law. President Trump has signed an executive order to audit the executive branch from top to bottom and an executive order reviewing H 1-B visas for skilled workers immigrating to the United States. He has ordered immigration authorities to end the process of catch and release, the insane procedure by which law enforcement caught illegal aliens and then released said aliens with a deportation court date. The illegal aliens almost never showed up.
He signed permits allowing the Keystone Pipeline and Dakota Access Pipeline and encouraging the use of American made steel in those pipelines. And he has ordered expediting environmental permits for oil pipelines. He has instructed the Defense Department to come up with a military plan to defeat the Islamic State of Iraq and Syria (ISIS).
The executive orders barring temporary entry into the United States from several Muslim majority countries have received the most negative press. However, it is imperative the Trump administration stick to its guns as immigration is the constitutional prerogative of the executive branch. One critic, Saudi Arabia, should be included on that list because many of the 9/11 hijackers came from there. Sadly, that won't happen as we are currently too dependent on Saudi oil.
He has implemented a federal hiring freeze. His order exempts the Defense Department and Border Patrol. The administration also recently exempted the Department of Veterans Affairs from the hiring freeze. President Trump has promised to hire 5,000 more Border Patrol agents.
Another great Trump victory is the repeal of an Obama administration ruling that prohibits states from withholding funds from Planned Parenthood. The bill, HJ Resolution 43, by Diane Black of Tennessee passed the House on February 16 by a vote of 230 to 188. All five House members of the Oklahoma delegation voted yes. On March 30, Vice President Mike Pence cast the tie breaking vote in the Senate. Republican Senators Jim Inhofe and James Lankford voted for the bill while Republican Senators Susan Collins of Maine and Lisa Murkowski of Alaska voted no, causing the Vice President to break the tie. President Trump signed the bill into law on April 13.
Donald Trump is not a politician. If he were, we would not see this amount of change. His actions come from a mindset outside of Washington. As someone who opposed his candidacy, I now admit his actions fulfill his promises. His White House strategist Steve Bannon needs to stay at his post. Steve Bannon has undoubtedly played a role in the fulfillment of Trump's campaign promises.
I've Been Hacked by Mark Steyn!
On March 20, Tucker Carlson had Canadian writer Mark Steyn on his show. During the interview, Mr. Steyn said the following: "They've [Democrats] turned Putin into a Bond villain. The man with the Spider's touch..." I wrote, years ago, that Russian President Vladimir Putin looks like a James Bond villain! Mark Steyn must have hacked my computer and stolen that line!
As for all the news about Russia's electing Donald Trump, I'm not going on that Bigfoot hunt. These days, watching most of the media, especially CNN and MSNBC, talk about Trump and Russia is like watching Mountain Monsters, a Bigfoot hunt "reality show" on the channel Destination America, or a pro wrestling match.
Associate Justice Neil M. Gorsuch
Neil M. Gorsuch of Colorado, who entered the high court in April, should be a fine replacement for Justice Antonin Scalia, who died a year ago in February. Citing the fact that Scalia died after the presidential campaign voting was underway, the Senate Republican leadership was wise in holding the line against President Obama, who had the opportunity to replace Scalia with the liberal District of Columbia Circuit Judge Merrick B. Garland. Their gamble paid off with the election of Donald Trump and his appointment of Judge Gorsuch. It is too early to tell what kind of justice Gorsuch will make, but as a judge on the Tenth Circuit Court he sided with the Oklahoma City-based Hobby Lobby stores in their objection to abortion coverage in the Obamacare "health care mandate." He has written against the dangers of legal euthanasia, a new battle on the culture front. During his confirmation hearing, I was impressed by his demeanor. He has been the adult in the news headlines. President Trump is to be commended for picking him for the high court. Trump promised, and Trump delivered.
An Encounter on a Street of New York
Twenty years ago, I worked as a fundraiser for the National Right to Work Committee. I traveled around the country meeting with donors to fund the committee's programs. In early 1998, I was in New York City for the committee. On my down time, I was walking in lower Manhattan. An elderly man who looked like Albert Einstein, wearing a funny bright red bow tie, struck up a conversation with me. I don't really remember why we started talking (New Yorkers aren't the friendliest lot). He told me he was Israeli, an artist, and a writer, and he said, "I know something about life." He predicted Hillary Clinton would one day be president. I responded that I hoped that would not come to pass. He then became nasty, telling me I was stupid and should go back to kindergarten. I walked on. Looking back, I wish I could go back in time and say to that man: "Hey Einstein, Hillary Clinton was not elected president because Donald Trump beat her!" He might have died right there on the sidewalk.
"If we can't accomplish anything in six years, it's a waste of time anyway."
- candidate Markwayne Mullin Real Clear Politics August 1, 2011