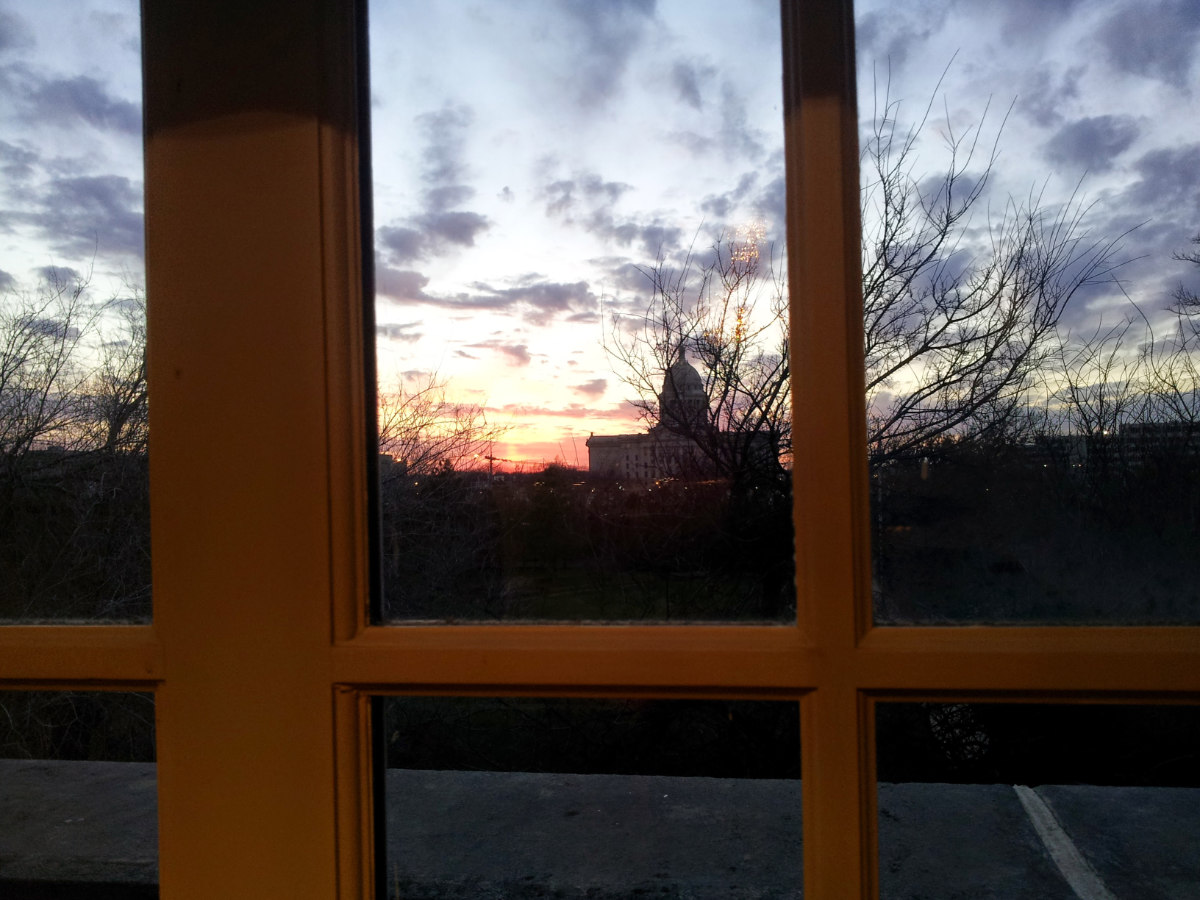 news
THE FEDERAL PAGE for Winter 2018
Political Pizza
An important legislative milestone was reached late last year, one the Republicans had to pass if they were going to save themselves from ruin: tax cuts.
Columnist George Will belittled the tax cut by writing it's like the tallest building in Boise, Idaho. (The tallest building in Boise is 18 stories, not very tall.) It was soon after the tax cut that Walmart increased starting wages to $11 an hour and gave a one time $1,000 bonus to employees of 20 years. Walmart was just one of several large corporations passing their savings on to employees. The reason for this is the corporate tax rate is being lowered from 35% to 21%. On the campaign trail candidate Donald Trump said we needed to bring corporate money back to the US. Lowering that rate was the way to do it. A rising tide lifts all boats.
The standard deduction for individual filings is now $12,000 up from $6,500 and for married couples $24,000 up from $13,000, and $18,000 for a head of household up from $9,550. The top income bracket goes from 39.6% to 37%. The child tax credit doubles to $2,000 for couples who earn up to half a million a year. $1,400 are refundable for those with children who pay no income tax. That part I don't like. It's free money from the government.
The mortgage interest deduction is capped on mortgages over $750,000. The deduction for state income taxes is capped at $10,000, which is meeting with protests from high tax states like California, New Jersey, and New York.
The individual mandate penalty for not purchasing Obamacare has been eliminated! I guess I no longer owe the federal government that $100 and scheduled to increase in future years.
Treasury Secretary Steve Mnuchin was on CBS's Face the Nation on December 17th explaining the tax cut to a skeptical John Dickerson. At one point I was hoping Secretary Mnuchin would blurt out: "Look! It's a TAX CUT, first one in 31 years! It's like PIZZA! Do you like PIZZA?"
The final vote on the Tax Cuts and Jobs Act (H.R. 1), authored by my former boss Kevin Brady of Texas, was passed by the House five days before Christmas. The vote was 224 to 201. All five members of the Oklahoma delegation in the House voted for this tax cut bill. Not one Democrat voted for it. Democrats were joined by 12 Republicans in opposing it. Earlier that day the Senate approved the tax bill along a straight party line vote 51 to 49. Both Oklahoma senators, Jim Inhofe and James Lankford, voted for the bill. Friday, December 22, three days before Christmas, President Trump signed it into law with the tax cuts going into effect January 1, 2018.
I would have liked to see a flat tax or a national sales tax enacted. This tax cut, while more impressive than the tallest building in Boise, is not fundamentally changing the tax structure, which is still too complex and open to influence from lobbyists. This tax cut, however, does make the system more fair for all of us.
Politics
Politics like life is not fair. Judge Roy Moore of Alabama lost his bid to replace former Senator Jeff Session, now attorney general, because of allegations of sexual misconduct 40 years ago. Those allegations were serious but unproved. Judge Moore had been in the public eye for almost two decades, not only in Alabama but nationally in his defense of a Ten Commandments statue at the Alabama state capitol and his refusal to go along with the US Supreme Court Obergefell decision allowing same-sex marriage. He had been twice removed from office as a state supreme court judge.
After he won his primary outright and was on the ballot, The Washington Post published a story that accused him of molesting minor girls when he was an assistant district attorney. An interesting note, perhaps unrelated, is that a few days earlier The Washington Post owner Jeff Bezos spoke in Washington before the Human Rights Campaign, a homosexual bully group. In the speech he proclaimed his fidelity to the homosexual agenda. If Roy Moore had won his race, he would have faced ethics charges in the US Senate and would have been a ship's anchor around the necks of Republicans trying to maintain control of the Senate later this year.
More Politics
In life, especially in politics, people get what is coming to them. This was the case with now former Minnesota Senator Al Franken, who was forced to resign after allegations, one of them well documented with a photograph, that he had groped women over the years. Gloria Borger of Cable News Network (CNN), a Washington press corps veteran, dismissed the allegations against Senator Franken because he was once a comedian. She really dismissed them because he's a Democrat. In his speech announcing his resignation he complained that he was having to leave in light of the fact Donald Trump is guilty of sexual harassment, which he admitted on tape, and he didn't have to leave the presidency. And Senator Al then added that Alabama Republican Senate candidate Roy Moore had the full backing of his party. That claim was bogus. Senate Majority Leader Mitch McConnell and Alabama Republican Senator Richard Shelby openly stated their opposition to having Moore elected after he became their nominee. Al Franken couldn't tell the truth even during his resignation speech. He's now a sad clown.
Media Dementia
Everyday on CNN, MSNBC, and NPR and in major newspapers on their last leg, there's the same message: Trump's going to be indicted! He couldn't possibly have won without the Russians! Hillary Clinton is too beloved to lose to an ogre like Trump!
If you are a steady consumer of this rot, you may awaken every morning expecting to see President Trump placed in golden handcuffs and then are disappointed when it doesn't come to pass.
What's Next?
Republicans have accomplished something major with passage of the tax reform bill. Now there must be immigration reform. They control the White House, the House, and the Senate and have a president who sees immigration as his first priority. There must be a wall, and it needs to happen this year. In addition, chain migration, the practice by which one immigrant can sponsor friends and family members to immigrate, must end. The diversity lottery, which randomly selects people based on what part of the world they come from rather than on their skills, must also end. Republicans may not again have this opportunity, and if they fail to act, they risk becoming a permanent minority party, the reason being that a majority of immigrants tend to be poor and want social services provided to them.
Theodore J. King is an Oklahoma native. He spent the summer of 1994 at the Republican National Committee, worked at National Right to Work Committee, and on the Hill in Washington D.C. In 1999 he worked for Congressman Kevin Brady of Texas and later at the Media Research Center in Alexandria, Virginia. He served as our Washington D.C. correspondent beginning in 2001and continues since his return to Oklahoma. He also writes online for The Daily Caller (www.dailycaller.com) and is the author of The War on Smokers and the Rise of the Nanny State.