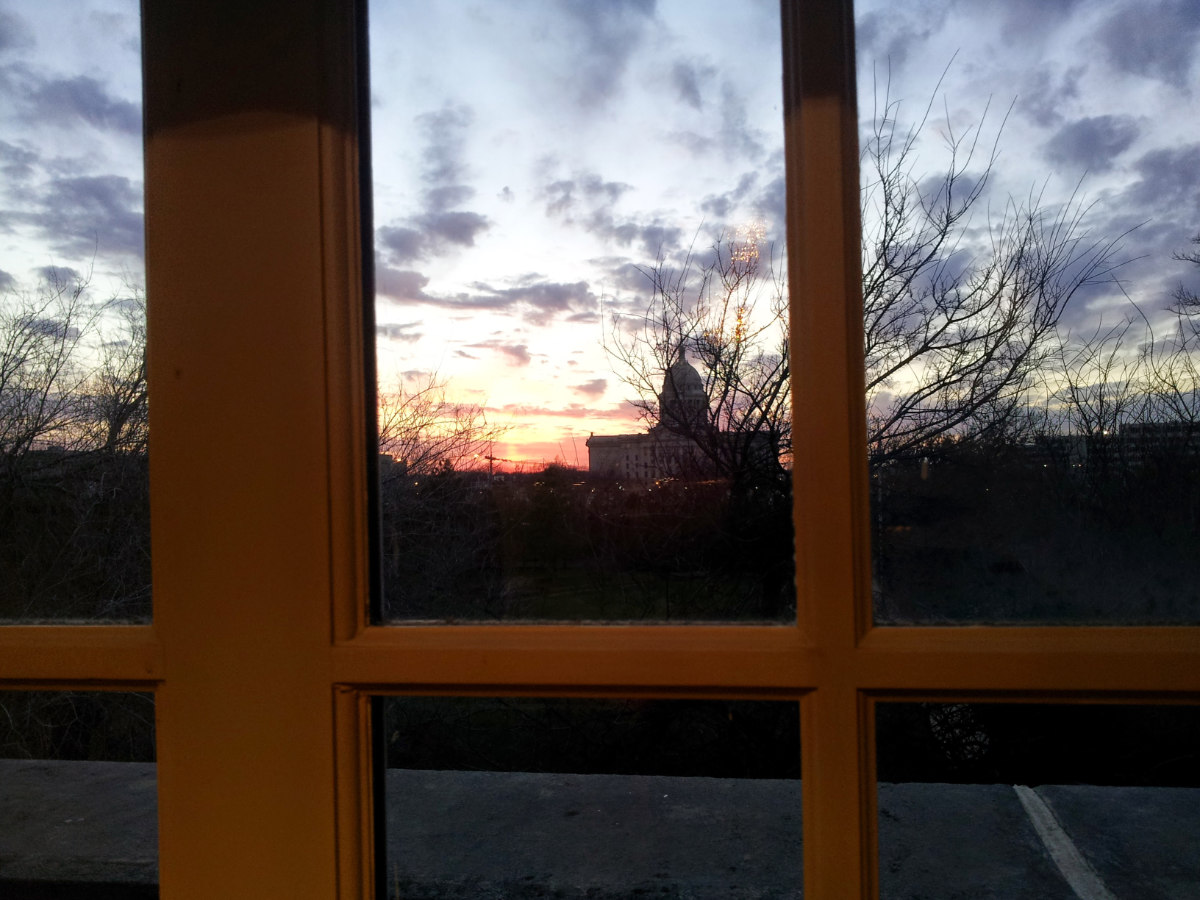 column
THE FEDERAL PAGE FOR SUMMER 2018
On Monday, June 18, I attended a seminar in Tulsa on crypto-currencies, i.e. Bitcoin. Among the twenty some people in attendance was Tim Harris, a former Tulsa County district attorney who is now a candidate for Congress to replace Jim Bridenstine who became the administrator of the National Aeronautics and Space Administration (NASA). I sat right across from him and asked, "How's your campaign going?" His response was, "Just great!" I thought yeah, right! You're sitting here at a seminar on crypto-currencies a week and a day before the primary election in which you are a candidate instead of campaigning. I wrote him off as did most people – I thought. Then on election night it was Tim Harris in the lead followed by Kevin Hern, a McDonalds franchise owner in the Tulsa area. Tim Harris had fewer yard signs than his rivals, and he had no television or radio ads (as far as I could tell). And yet, he came out in the lead! I guess he got a lot of votes from those potheads who showed up to vote for State Question 788 (medical marijuana) and recognized his name.
Tim Harris is a nice man, an evangelical Christian, and the sort of candidate that can give a talk and say almost nothing. Kevin Hern dumped a lot of money to get to second place and the runoff. Another candidate was Andy Coleman, the heir apparent to Jim Bridenstine. Mr. Coleman is a graduate of the Air Force Academy, veteran of Iraq, and regional director of Voice of the Martyrs, a charity that aids persecuted Christians in the Middle East. The Club for Growth attempted to assist the Coleman candidacy, but did more harm than good because it ran radio ads claiming Kevin Hern was in league with Democrats like Chuck Schumer and Nancy Pelosi because the lobbying group associated with McDonalds has given them campaign money. This was the sort of claim that could be easily dismissed. Then, the Hern campaign claimed Coleman was "anti-Trump" because the Club for Growth has been critical of President Trump. I can see why Tim Harris could rise to the top amid such nonsense from Coleman's friends and Hern's campaign. Andy Coleman would have likely won this race if conservative State Senator Nathan Dahm not been a candidate. Both men got about 20,000 votes each. If Dahm had not been in the race, most of those Dahm votes may have gone to Coleman. (I should add I supported Nathan Dahm with a donation and an endorsement in this paper).
Tim Harris will face Kevin Hern in the August 28th runoff. The winner will likely be the next congressman as the First District is heavily Republican and has been a Republican seat for over 30 years.
The Second District Race
Congressman Markwayne Mullin lied (changed his mind?)when he said six years ago he would seek only three terms in the House and then would, he said, "Get my life back." With 54% of the vote in the June 26th Republican primary, in which he was seeking a fourth term, those 54% of voters didn't seem to care. Very sad. Some things transcend politics – like telling the truth. Markwayne Mullin did not keep his word to his constituents, and I for one will never vote for him again. I suspect he plans on running for Senator Inhofe's seat in 2020. Senator Inhofe will be 86 then. Perhaps voters statewide will reject Mullin so that he can finally, "Get my life back."
Scott Pruitt
On Thursday, July 5, former Oklahoma attorney general, and thereafter to be former Environmental Protection Agency (EPA) Administrator, Scott Pruitt called it quits. Mr. Pruitt had been the main target of the Left for his work at the EPA. He went about deregulating at the agency and drove the Left apoplectic. He was on the side of good government for that. However, when one is a target like Scott Pruitt – and he was quite literally a target requiring round the clock security – one doesn't need to paint that target with fluorescent paint, which is exactly what Scott Pruitt did. There were the inexpensive room he rented from a lobbyist, his insistence on flying first class, his desire to have his office in Tulsa, the private phone booth in his office, the fountain pens he ordered at our expense, and his using the EPA office to reach out to Chick-fil-A on behalf of his wife, who wants a franchise. All of these problems added up, and he had to go. His successor is acting EPA Administrator Andrew Wheeler, a former aide to Senator Inhofe, and lobbyist for the coal industry. He will continue the important work of deregulation started by Mr. Pruitt.
The press criticized Scott Pruitt for everything he did, but did not criticize his predecessor in the Obama Administration when the EPA allowed the polluting of a river in Colorado in 2015.
A Reform Passed the House, Rejected in the Senate
Draining the swamp in Washington is a struggle that must continue despite setbacks. H.R. 3, the Spending Cuts to Expired or Unnecessary Programs Act by California Republican Kevin McCarthy, passed the House on June 7 by a slim majority of 210 to 206 votes. All four members of the Oklahoma delegation (Jim Bridenstine is now at NASA, so his seat for the time being is vacant) voted for it. Although it is good that it passed, 19 Republicans voted against it! This bill was designed to allow the presidential administration to take back unspent agency funds. So, if the Bureau of, lets say, Busywork gets 50 million dollars in its annual budget and spends only 45, five million would be withdrawn from the Bureau of Busywork.
On June 20, H.R. 3 went on to fail in the Senate by a 48 to 50 vote. All the Democrats voted No. They were joined by two Republicans, Richard Burr of North Carolina and Susan Collins of Maine. Senators Inhofe and Lankford voted for it. There were two non-voting members, one from each party, John McCain of Arizona and Democrat Jean Shaheen of New Hampshire. Mike Lee, Republican of Utah, was the bill's Senate sponsor. Had H.R. 3 passed and been signed into law, it could have saved taxpayers 15 billion dollars this year alone.