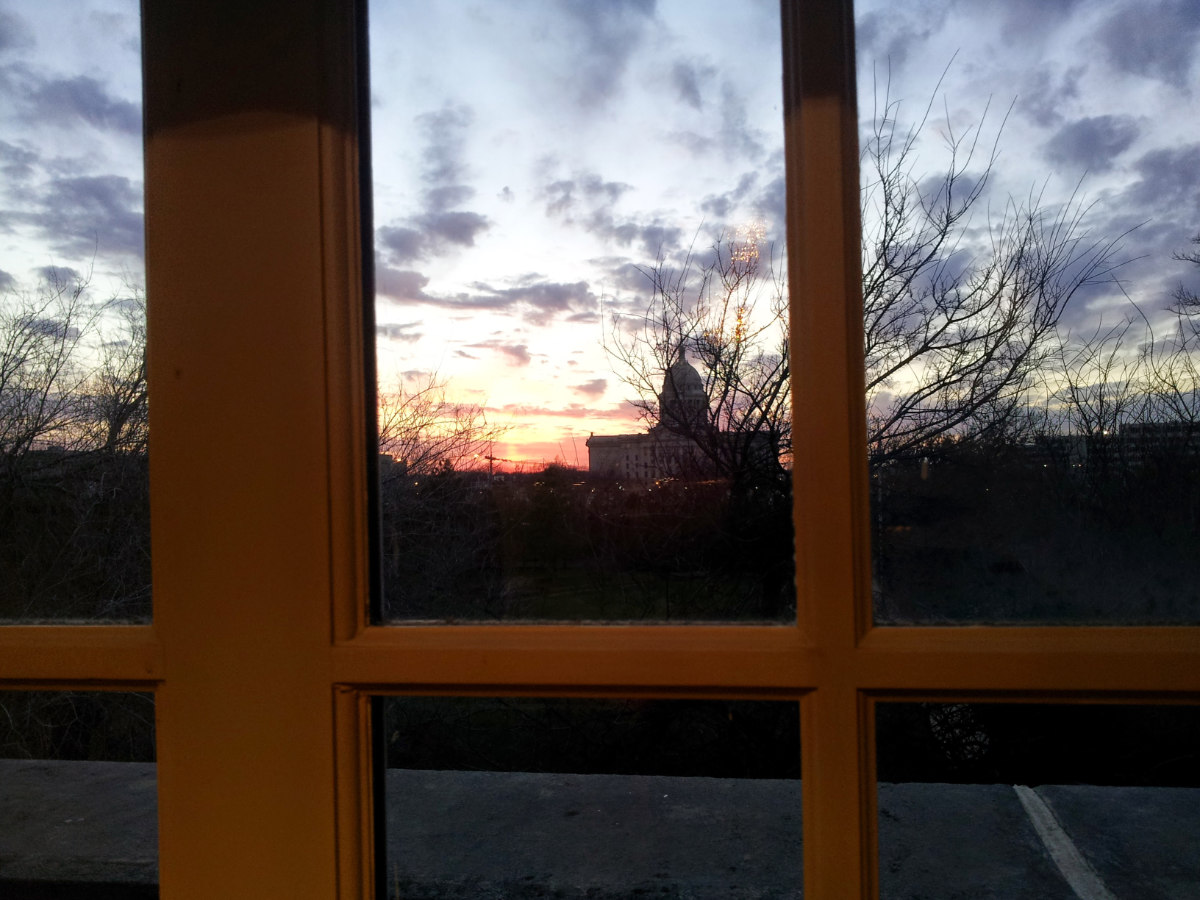 column
THE FEDERAL PAGE for Fall 2018
Happy Birthday to Paddy Joe and My Dad
Happy 80th birthday to Patrick J. Buchanan, White House veteran, Nixon authority, author of many books, and the inspiration behind Donald J. Trump's policies of putting America First. And Happy 85th birthday to T. Gavin King, my father, a veteran attorney and authority on Catholic dogma and the Queen's English, as well as the best dad I could hope to have.
National Debt
Our country faces an existential threat. It's not from terrorism. It's the national debt. As of this writing at 11:38 am CDT on Sunday, October 21, the national debt was at $21,660,816,607,750.00 and rising instantaneously nonstop. It went up two billion since Saturday afternoon, October 20. You'd need a snap shot to write down a correct number, and it would last less than a second. Everything from entitlements to the hourly operation of an aircraft carrier leads to an increase in the debt. If this is not stopped, America will collapse; there will be strife and probably civil war. The Trump administration and Congress have a duty to stop this madness.
New and Improved NAFTA
NAFTA, the North American Free Trade Agreement, is a treaty private citizen Donald Trump groused about to Greta Van Susteren when she had her Fox News show. Now, as President Donald Trump, he has renegotiated NAFTA. His new deal, called the United States, Mexico, Canada Agreement, is in large part a tweak of the original NAFTA. In 1994, when the original NAFTA agreement became effective, the Internet and the financial transactions to occur with it were still in Al Gore's garage, where he was working on its final touches. Issues of cybersecurity and transactions needed to be addressed in the new 21st century agreement. Also, enhanced labor and environmental regulations were added.
Other improvements in the new deal if approved are: a 13% increase in mandated automobile components made within the three nations. Currently, NAFTA provides that 62% must be made in the United States, Mexico, and Canada, and it will be 75% by 2020. The minimum wage for autoworkers will be $16 an hour. Under the 1994 agreement, U.S. pharmaceuticals have eight years to sell their drugs in Canada before competing with cheaper generics. That period will be extended to 10 years. Some U.S. dairy products will no longer face tariffs in Canada as they did before. There is a new provision that any member nation may withdraw from the deal should another member nation opt for a separate trade agreement with China. This keeps Chinese trade expansion out of North America.
Senate Majority Leader Mitch McConnell has said the Senate will consider approval of the new trade deal next year. The legislative bodies in Canada and Mexico must also approve the treaty for it to come into effect.
Evil vs. Kavanaugh
Smearing a person's good name is akin to violating the Fifth Commandment, "Thou shalt not kill." To malign a person is to destroy that person. It is not the same as validly criticizing, which I do in this paper and others do. It's one thing to point out facts, but it's quite another to accuse one of seriously lying after taking an oath before, and witnessed by, God to tell the truth. What was done to Brett Kavanaugh by the Democrats was evil. The Democrats convicted him without any evidence, which is a complete reversal of our legal system, that he is guilty of sexual assault more than 30 years ago. Amazingly, moderate Senator Susan Collins of Maine came to his defense and voted to confirm him, thereby ensuring his becoming an associate justice of the United States Supreme Court. Usually, moderates are the very ones who throw us to the wolves, but not this time. A letter was sent to her home in Maine claiming the presence of hazardous materials in it in retaliation for her vote. I hope someone goes to prison for that.
Elizabeth Warren's Chappaquiddick
Oklahoma native, Massachusetts Senator Elizabeth Warren (aren't you proud?), has long claimed to be a "Native American." She claimed her parents faced bigotry here because her mother was part Cherokee. Had there been much bigotry toward Indians in Oklahoma, and I'm sure there has been some in the past, why has there been so much intermarriage of Indians and whites here? The results of her recently released deoxyribonucleic acid (DNA) test show she has hardly any American Indian blood. DNA is a molecule of two chains that make up any living organism. Your DNA makes up you.
The Right has been calling Elizabeth Warren Pocahontas and is now calling her Fauxcahontas. This ridicule by the Right no doubt enrages and energizes the Left, who saw her as a national leader of the hard Left of the Democrat Party. It is more than interesting that the Cherokee Nation of Oklahoma, led by Chief Bill John Baker, a Democrat, has criticized Senator Warren's claims of Cherokee ancestry, and the Cherokee Nation's Secretary of State Chuck Hoskin Jr., who is the son of Democrat District 6 State Representative Chuck Hoskin Sr., released this statement regarding Senator Warren:
"Sovereign tribal nations set their own legal requirements for citizenship, and while DNA tests can be used to determine lineage, such as paternity to an individual, it is not evidence for tribal affiliation. Using a DNA test to lay claim to any connection to the Cherokee Nation or any tribal nation, even vaguely, is inappropriate and wrong. It makes a mockery out of DNA tests and its legitimate uses while also dishonoring legitimate tribal governments and their citizens, whose ancestors are well documented and whose heritage is proven. Senator Warren is undermining tribal interests with her continued claims of tribal heritage."
Elizabeth Warren will continue as a senator from Massachusetts, as did Ted Kennedy after he let his assistant Mary Jo Kopechne drown in his car off Chappaquiddick island in July of 1969. She will no longer be a national figure of prominence. At least, Elizabeth Warren didn't kill anyone, unlike the man who once held her senate seat. By the way, Chappaquiddick is an Indian word meaning "separated island."
Trump at Midterm
Two years ago, I was dead set against Donald Trump. I thought that if elected, which I believed highly unlikely, he would be the type to have pay-per-view professional wrestling matches on the south lawn of the White House. I still think he comes across at times as crude, vulgar, and ignorant...and I think he's the best thing that has happened to our country in 35 years. I still don't like him, and he can be and is undisciplined, but he's getting the job done, taking the fight to the enemy. He deserves our support.
Here are some of what his administration has accomplished in under 24 months: Repeal of the employer mandate in Obamacare, which required religious employers to provide abortion and contraception coverage for their employees and which was the source of a lawsuit brought by the Little Sisters of the Poor. Taxes were cut, spurring the largest economic boon in 35 years with the lowest unemployment in almost 50 years. The Iran nuclear deal was scrapped; the United States pulled out of the Paris climate change treaty; the U.S. Embassy in Israel is now in Jerusalem, which was something politicans promised but never delivered; a new, better North American trade deal; a new policy of two regulations eliminated for every one new regulation; and two very good new justices on the Supreme Court. More good things have been accomplished by this administration in less than two years than in the 16 years of the Bush dynasty.
"We must always remember that it is when passions are most inflamed that fairness is most in jeopardy."
- Republican Senator Susan Collins of Maine on her decision to vote to confirm Judge Kavanaugh, October 5, 2018.
"Whatever happens, I'm just glad we ruined Brett Kavanaugh's life."
- a tweet by "comedy writer" for Stephen Colbert's Late Show, Ariel Dumas, on October 6, 2018.
Theodore J. King is an Oklahoma native. He spent the summer of 1994 at the Republican National Committee, worked at National Right to Work Committee, and on the Hill in Washington D.C. In 1999 he worked for Congressman Kevin Brady of Texas and later at the Media Research Center in Alexandria, Virginia. He served as our Washington D.C. correspondent beginning in 2001and continues since his return to Oklahoma. He also writes online for The Daily Caller (www.dailycaller.com) and is the author of The War on Smokers and the Rise of the Nanny State.