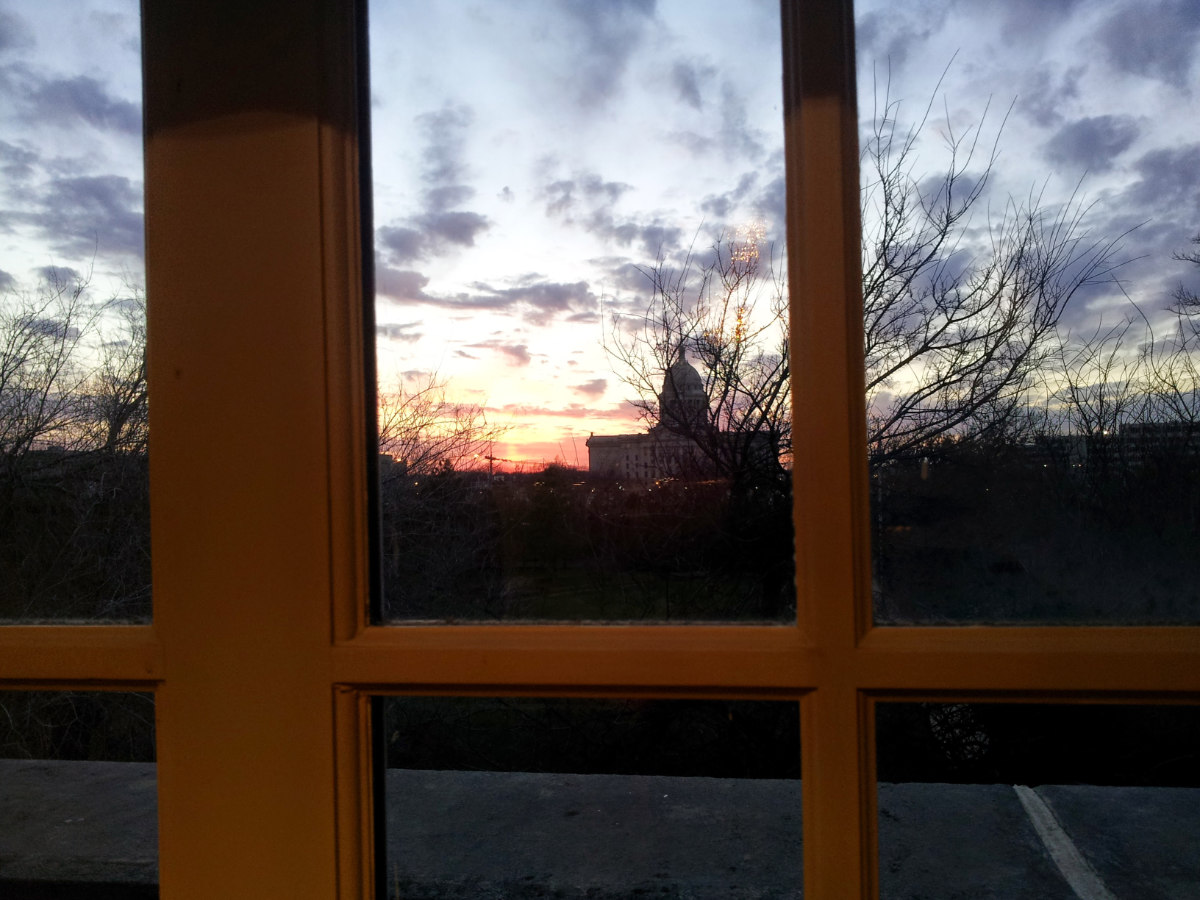 column
What Is Wrong With Our Media?
What I will share are evaluations based upon many years as a news junkie, having been an avid reader of newspapers, one who has watched TV news reports, documentaries and information programs, as well as listening to tens of thousands of hours of talk radio programs.
Over the past 30 plus years I have been a talk radio host, appeared many times as a guest on radio shows, served as an editorial writer for the Edmond Sun, have probably written more columns for the Oklahoman Constitution newspaper than any other person, and have been featured on a number of TV programs as well as have been interviewed for a number of news stories. I have simply said all this to point out any expertise I might have has come from a lifetime of experiences, rather than any formal training in a school of journalism or broadcast communications.
Local TV news is in deplorable condition. Gone are the days when a newsman worked alone delivering information factually, with little emotion or editorial opinion. To the best of my recollection, that began to change with the arrival of Linda Cavanah and the partnering on newscasts. The bantering between Linda and Bob Barry Sr. began the introduction of cleverness and "infotainment." Today that has morphed into programming that more nearly represents "pop commentaries" masquerading as news shows.
The older Ogle men on Channels 4 and 9 in Oklahoma City, still do a fairly good job of delivering news, while saving their commentaries and opinions for their "Rant" or "Two Cents" segments of the programs. On Channel 5 the station manager has a segment from time to time clearly identified as editorial commentary where he invites opposing opinions, as do the Ogle men.
However, when it comes to the women, many of them do a fairly good job of conveying information as a stringer, or an onsite reporter; but, when they get in the studio with one or more other women, something very different happens. The programming becomes very different. It often is about fun, cleverness, emotionalism, feelings and girl talk. That kind of information operates in the affective (feelings and emotions) realm, rather than the cognitive (truth, facts, reason and critical thinking skills).
The touchy-feely programing may be what sells and what the majority of consumers want? If so, we as a society are really in trouble. Good self government is absolutely dependent upon facts, rational thought, and I would even add a Biblical worldview of the principles of good government. Those who operate from the emotional side are easily fooled, seduced, and manipulated into bad decisions.
Perhaps the worst violator of emotions and personal opinion news casting is Abigail Ogle. Bless her heart, she is talented, attractive, enunciates words well and doesn't run her words together. However, I believe she can't help herself when it comes to mixing her commentary, opinions, and feelings, in what is supposed to be a newscast. She frequently tells the viewers what is good or bad and in some cases how the viewer should feel about issues.
In a recent broadcast she informed everyone that she was finished with her Christmas shopping and she had done it all online. How does that help the brick and mortar advertisers who pay her salary? When the Alabama quarterback announced his intent to transfer to OU, she was so excited that it left no doubt as to her favorite. I wonder how many Cowboy fans, who already believe they get second fiddle in the press, decided to watch one of the other news stations?
On about January 15th, Maggie Carlo reported a story about Guthrie Public Schools taking a $250,000 cut in state aid during the midterm adjustments, then informed the viewers what a bad deal that was – her editorial opinion not announced as an editorial. I was at the school board meeting two nights earlier when the superintendent explained that it was not unexpected, since the growth in property and gross production taxes was so strong, it caused the reduction in state aid. He went on to say that district's finances were in fine shape. In other words, it was not really a news story, unless there is an agenda to keep portraying finances for schools as a serious problem.
Here is an idea, why doesn't Channel 5 do a series of stories about Oklahoma's tortured state aid formula? I wonder if Miss Carlo would be shocked to learn that around 30 school districts get no state aid at all? Would she be shocked to find out they might just have the highest per pupil spending of all the schools in the state?
I am absolutely saddened about what has happened to the Oklahoman. In a recent news story, they reported their circulation was now 20,000 online subscribers and 72,000 receiving it as a printed newspaper. They also announced it would no longer be available in news boxes, and home delivery would be greatly reduced. I am one that lost home delivery. There was a day this newspaper, with over a million in circulation, was the only statewide paper delivered to all 77 counties.
The size, content and quality has been so reduced, so I am sure some have cancelled for that reason. I considered doing so, and I have heard the same from others. While the environment is tough for newspapers trying to compete in a world being flooded with information technology, I still find the most informed and in the know people are the ones who read the Oklahoman.
During the three years leading up to last year's teacher strike and eventual tax increase, all local TV stations, and much of talk radio, functioned as the "useful idiots" performing their part for the education industry's use of the dialectic. The media's part was to continually bombard stories about how bad and numerous were the problems with education in Oklahoma in order to convince the public there was a problem. That never let up, but as time went on and the public was softened up, then the broadcasts shifted more to the solutions. When one talks about education, the solutions always boil down to two things – more money and more effort.
Last year's strike was primarily orchestrated by the teacher unions. Proposed teacher salary increases buys the support of their foot soldiers. Then, the more effort part of the dialectic means the hiring of more teachers for "reduced class sizes," more counselors, and more support staff. The more effort is what the unions are after, as it increases the amount of money they collect and the more people involved in the education industry – whether they be teachers, administrators or support staff – increases their political power.
During the three year period of the dialectic's process, only the Oklahoman, not TV news, not talk radio, gave both sides of the issues. The Oklahoman certainly published the education industry's propaganda and in some cases downright disinformation, but at the same time they published columns and editorials from citizens, as well as their own editorials, that often called into question some of the accuracy or veracity of many of the education industry's claims.
The more people receive their information from social media and TV rather than a moderately conservative newspaper, such as the Oklahoman, the less qualified for good self-government we will become.
When it comes to news and commentary on a national scale information has far more options than what we have from sources specific to Oklahoma. Most of talk radio is commentary such as Limbaugh, Hannity, Beck, Levin and many others. However, much of that commentary is infused with good facts, as well as challeges to investigate things for ourselves.
Most of local talk radio is either moderate, or center left, big government advocates such as Chad Alexander, or in some cases former pop culture DJs that lack the passion to educate themselves about the principles of good government. Perhaps they are more cultural in their faith rather than Biblical, and thus have a difficult time being a positive influence in the many battles that make up the culture war. Few can make the leap from music to serious talk radio like Mark Shannon locally or Rush Limbaugh on the national scene.
The only quality when it comes to TV is The Blaze and Fox News. I know this will upset liberal snowflakes, incapable of honest evaluations, as well as some conservatives, but Fox really is fairly well balanced as they allow many liberals to voice their opinions. Whether they are fair or not, as they claim, is subjective and open to debate.
Ultimately, we as a people need to have a "healthy" degree of doubt about much of what we digest in the name of news and information. To be able to critically evaluate the things we hear is imperative. Many, if not most people, have an opinion of how things work and what makes the world go around – based upon cliches, fables, irrational conspiracy theories, wives tales and wild speculations, rather facts and truth. We should all desire to be influenced by the latter and not the former. Unfortunately, finding facts and truth in relevant context is hard to find in much of the media, especially when it comes to TV.
Charlie Meadows is the founder and former president of the Oklahoma Conservative Political Action Committee (OCPAC ). He now holds the title of President Emeritus. He may be contacted at: Charliemeadows7@gmail.com