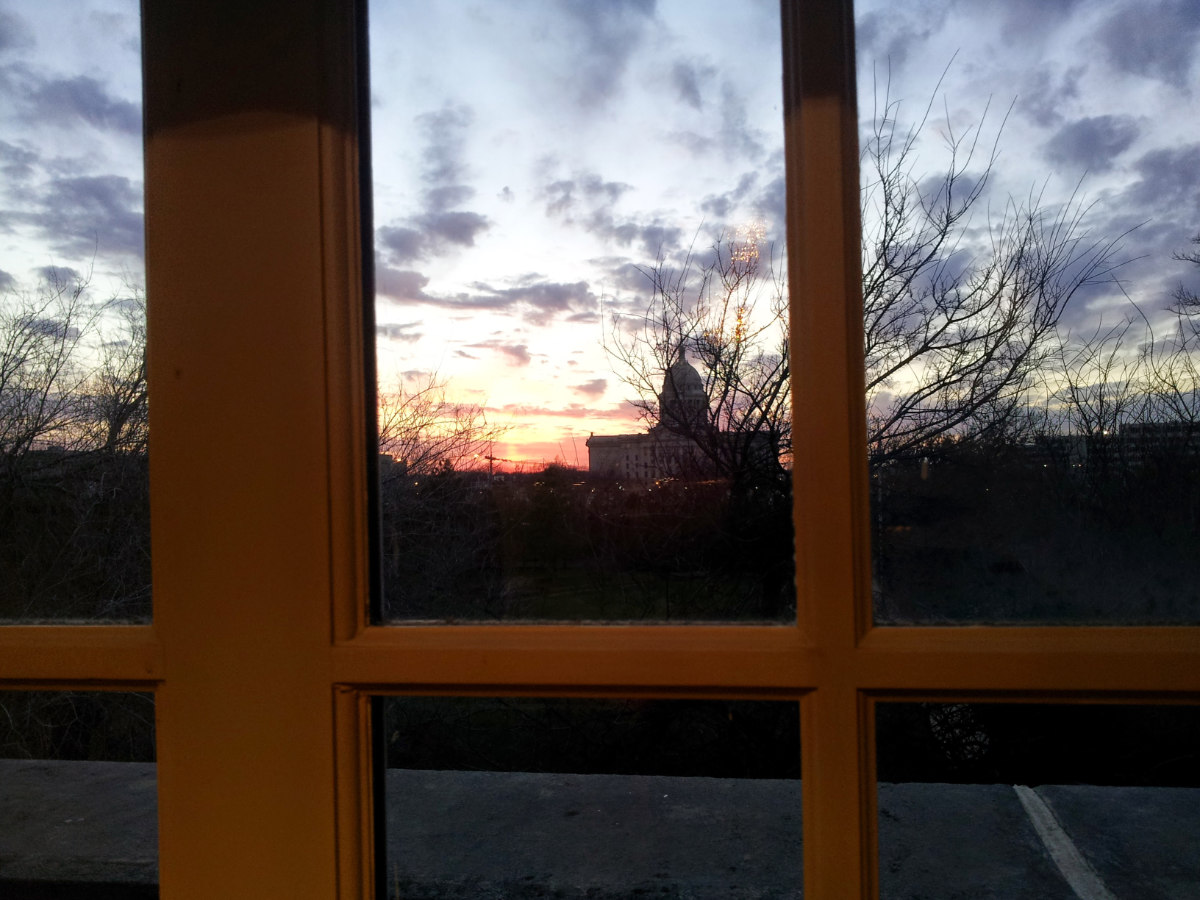 column
Is the University of Oklahoma a Racist Institution?
By David Deming
The University of Oklahoma is apparently becoming infamous as a hotbed of racism. In 2015, a video showing two members of the SAE fraternity chanting racial epithets created a national furor. Last January, a video showing two OU sorority women, one wearing blackface, was posted on Snapchat. The campus erupted with protests, rallies, and marches.
At a January 22 "rally to stop racism" at OU, a student was photographed holding up a sign that read "OU is built on racism." Professor Suzette Grillot was quoted in the media as claiming that "racism has become systemic at OU...[it] is a part of the University culture." Professor Grillot angrily confronted President James Gallogly and demanded "no more racism, no more, no more, no more! " The Faculty Senate executive committee weighed in with a letter that claimed the University suffers from "systematic issues of embedded racism." In language reminiscent of Barack Obama's 2008 promise to "fundamentally transform" America, the Faculty Senate dedicated itself to creating "lasting cultural change." Think about how childish and downright embarrassingly stupid this peremptory reaction was. Because one giggling student put on blackface, the Faculty Senate concluded that the entire University had to be repurposed to a new mission of "cultural change." Mere teaching and research aren't good enough anymore.
Is the University of Oklahoma truly a racist institution? No, it isn't. OU has not had any institutional racism since segregation was ended in the year 1950. One incident of racist behavior by two students in four years is not evidence of systemic racism. Just the opposite. It's conclusive proof that the University of Oklahoma is nearly one-hundred percent free of racism. Total student enrollment at all OU campuses last fall was 31,702. One student in blackface means 99.997 percent of the student body exhibited no racist behavior. And guess what? You're never going to completely eliminate racism as a matter of individual behavior or conscience. A claim that racism can be completely eradicated is quite as absurd as claiming that crime can be reduced to absolute zero. This has never happened in any human society since the beginning of time. Why is it that no Regent or University administrator can come out and state this obvious fact?
OU may not in fact be racist, but this was too good of an opportunity to pass over without milking it for all it's worth. So the Oklahoma Legislative Black Caucus met with President Gallogly to demand changes at OU. In what could be described as a racial shakedown, black lawmakers essentially insisted upon the imposition of a racial spoils system. According to media reports, the Black Legislative Caucus was upset to hear that OU's affirmative action program was not currently "in effect." I wonder why? Could it have anything to do with the fact that affirmative action in Oklahoma was outlawed in 2012 by the passage of State Question 759? But why let the law get in your way? The Oklahoma Constitution, like the US Constitution, is viewed by leftists and racial demagogues as an archaic and racist document imposing burdensome restrictions that must be worked around for personal and political gain.
After the infamous 2015 SAE incident, the University made a number of changes. Foremost among these was the founding of an "Office of University Community." Staffed by ten people, the mission of the Office of Community is to enforce political correctness on campus and indoctrinate students in leftist ideologies such as white privilege, cultural appropriation, and social justice. Last October, the Office of Community issued a memorandum reminding everyone to select a Halloween costume "in a way that does not demean, dehumanize or diminish anyone's identity or culture." Ten people to regulate Halloween costumes. And people claim that higher education wastes money! But here's the point. None of the changes that were instituted after the 2015 SAE incident prevented the current blackface video. So the natural bureaucratic response is to double down on what does not work and engage in further appeasement in a vain attempt to erase the last vestiges of individual freedom. If doing the wrong thing doesn't work, just keep repeating it, over and over again.
Last January 23 an unidentified individual was seen walking around campus in blackface. No one knows who this man was, or what his motivations were. However it seems likely that this was not an attempt at racial intimidation so much as a political protest in favor of free speech. If push comes to shove, the truth is that wearing blackface and making racist statements are protected constitutional rights. There is no exception in the First Amendment for racist speech. If burning a US Flag is protected by the First Amendment, then so is the mere display of a Confederate flag. I never had much interest in Confederate flags before. But if you tell me I cannot do what I have a legal right to do, then I immediately want to do it – not, you understand, as an expression of racism, which we all abhor, but as an assertion of my First Amendment rights. In recognition of the fact that we need a pushback at the University of Oklahoma, I designated April 15 to be "Free Speech Day," an occasion where people were encouraged to walk around campus engaging in expressive behavior that is legal but politically incorrect.
The most disturbing aspect of recent events at OU have been the calls for restrictions on free speech. The Black Student Association demanded that OU adopt a "zero tolerance" policy for "hate speech" in the Student Code of Conduct. The head of the African-American studies department, Karlos Hill, called for an extension of the ban on hate speech to faculty and staff. Hill wants a "full stop" to the "dissemination of racist hate speech by any OU student, faculty, or staff."
Why should we tolerate "hate speech"? First, as a public university, OU is bound by the US Constitution. The US Supreme Court has stated repeatedly and emphatically that the bedrock of all First Amendment jurisprudence is that speech may not be banned merely because it is offensive. Second, does it trouble anyone that there is no objective or legal definition of what constitutes "hate speech"? In practice, "hate speech" means anything that a person subjectively finds to be offensive. What might that be? Professor Hill provides us with a clue. Following the 2016 election of US President Donald Trump, Hill published an angry editorial where he denounced Trump voters (that would be 65 percent of the Oklahoma electorate) for "endorsing his bigotry," and therefore being "complicit in the intolerant climate that has ensued." It's not much of a stretch to envisage professor Hill as regarding any indication of support for President Trump as "hate speech." On February 2, 2017, two peaceful people on the OU campus were physically assaulted for holding up a Trump flag. And – wait for it – that wasn't their only sin. They were also cursed and attacked for displaying that most racist and hateful of all symbols, the flag of the United States of America. Walk across the campus border in Norman, Oklahoma, and you've entered Cuba.
Not a single person in any position of authority in Oklahoma seems to be bothered in the least by the idea that the government could strip people of their First Amendment rights. Regents, administrators, and state legislators have all remained silent, pathetically impotent, mute, and apathetic. It seems that only President Trump recognizes that free speech is a necessary adjunct to all learning and scholarly inquiry. Last March, Trump issued an executive order requiring free inquiry and open debate at US colleges and universities.
For those of us who grew up in the civil rights era of the 1950s and 1960s, the reactions to incidents such as the wearing of blackface seem hysterical and overblown. Previous generations had to overcome real racial barriers in education, housing, and employment. They were beaten, jailed, and shocked with electric cattle prods. Believe it or not, there is a solution to the current epidemic of racist behavior: ignore it. The next time you see someone wearing blackface or waving a Confederate flag, just yawn and go back to your business. Bull Connor is dead. Those days are gone, and they're not coming back.
Dr. Deming is professor of arts and sciences at the University of Oklahoma.