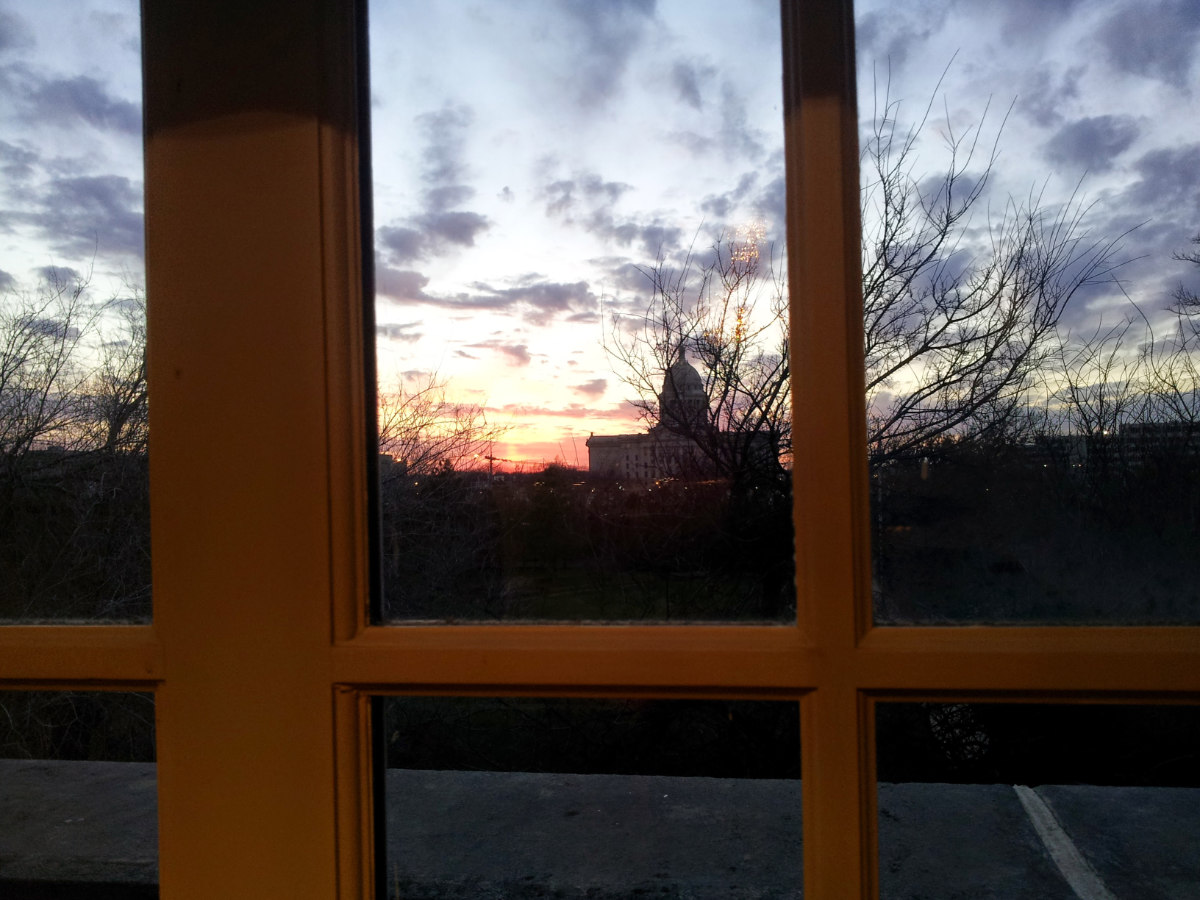 column
Stitts Strong Start
In the scant three and a half months since he assumed office, Governor Stitt has made significant progress in these areas as well as others. A closer look at what has or will transpire reveals the following:
Direct Authority Over Five Agencies
On March 14th, Stitt signed five bills that give him the authority to hire and fire the heads of the Department of Transportation (ODOT), the Oklahoma Health Care Authority (OCHA), the Office of Juvenile Affairs (OJA), the Board of Corrections, and the Board of Mental Health and Substance Abuse Services. In the past, citizen oversight panels, dominated by a previous governor's appointees, had hired and fired the heads of these agencies. These agencies and commissions often ignored executive orders, skirted around state laws, wasted or hid millions of dollars of state money or protected their own interests by hiring lobbyists. Now, by centralizing power in the executive branch, the people of Oklahoma have greater authority over state highways, mental health programs, prisons, juvenile justice affairs and Medicaid.
Education
The governor has reiterated his campaign promise of increasing Oklahoma's investment in education. He has proposed a $1,200.00 per year increase in teacher pay and a bonus recruitment program to keep young teachers here after college. "The magic happens," Stitt says, "between a student and a teacher in the classroom." He also wants to stabilize the funding of education by changing the funding formula. He wants to know what other states are doing that's working and bring that to Oklahoma. He seeks to allow local communities more authority over how to spend their education dollars. Plus, he has already visited and praised several schools in the state that are achieving positive outcomes with their new initiatives.
Digital Transformation
Oklahoma has not updated or digitized how it delivers its services to its citizens since 1980. The state received a D+ from a nationwide rating agency. Therefore, Stitt has put a Secretary of Digital Transformation on the cabinet and asked the legislature for $20 million to make government more customer oriented and efficient. Digital driver's licenses that are Real ID compliant, titles available electronically, one site for occupational licenses, another single site to pay taxes and making the state's checkbook online and easy to navigate are all possible outcomes. So is an online dashboard to monitor the administration's performance metrics for delivering state services.
Criminal Justice Reform
Sadly, Oklahoma is #1 in the nation in incarceration. However, that statistic may change in the near future. In 2016, voters passed SQ 780, which downgraded many nonviolent offenses, especially drug-related ones, from felonies to misdemeanors. Former Governor Mary Fallin helped jumpstart the conversation, a fact the new governor mentioned in his inaugural address. Stitt and the state legislature want to move the needle further, without sacrificing public safety. They might make SQ 780 retroactive to apply to offenders sentenced before the new law went into effect on July 1, 2017. New laws to reform bail and pretrial procedures might happen soon. Adequately funding district attorneys without their relying too much on fines, fees and court costs is a balancing act the governor seems ready to tackle.
Mental Health
Oklahoma is one of the ten worst states when it comes to drug deaths, suicides, and the number of people who report experiencing mental distress for two or more weeks in the last month. According to the Department of Mental Health, most residents who need mental health or addiction treatment don't receive it. Already, the governor has appointed five new members to the Board of Mental Health and Substance Abuse Services. His wife,Sarah, has family members who have suffered mental illness. She will play a central role in shaping policy. The issue is bipartisan, and the governor seems determined to improve the state's mental health outcomes.
Budget
Many politicians campaign as fiscal conservatives but rarely govern that way. Fortunately for Oklahoma, Stitt might prove the exception. His first budget has spending increases for teachers and prison reform, but not much else. His goal is to have $1.1 Billion in state savings by mid-2020 and eventually make that $2 billion in reserves. He knows another crash in oil prices could devastate state finances. He's right when he said in his State of the State address, that "being conservative with our budget surplus today will protect Oklahoma from having to cut core services in the future."
Overall Assessment
There's much to like in Governor Stitt's approach to his new job. He's a conservative, as seen by his approach to the budget, to his signing the Constitutional Carry bill, to his reluctance to expand Medicaid, and to his willingness to sign any pro-life bill that reaches his desk, Yet he governs in a decidedly non-partisan, non-confrontational way. For instance, he's reached out to Democrats for support on education and on his moves to centralize executive authority. He often praises and meets with public teachers, schools, and administrators, even though they may not get all they want. He supports the work of district attorneys and law enforcement agencies, which helps dampen their opposition to elements of criminal justice reform.
Additionally, he's brought many business principles he successfully employed in the private sector into state government. He's begun by: a) setting measurable goals and metrics, b) creating greater accountability and transparency in the executive branch, c) implementing a more effective organizational structure, and d) starting to restore state pride with his positive, can-do attitude. Plus, he's been visible in all corners of the state, from speaking to the Owasso chamber, to holding a pre-Inaugural Bison Bash in Lawton, to ringing the Liberty Bell with students on MLK Day, and to forming a bipartisan relay team to compete against fellow Oklahomans in the OKC Marathon.
In sum, it's entirely too early to draw firm conclusions on how successful Governor Stitt's administration will be. But most indications are that he's proceeding in a positive direction, and that the turnaround he often touted during the gubernatorial campaign has begun "right here, right now."
Tim Bakamjian is an independent real estate broker and investor living in Tulsa. He holds a bachelor's degree in political science from Kenyon College in Ohio and a bachelor's in journalism from the University of Tulsa. He's married with one grown child. Political and economic issues have been a life-long interest. He may be contacted at: tbakamjian@gmail.com