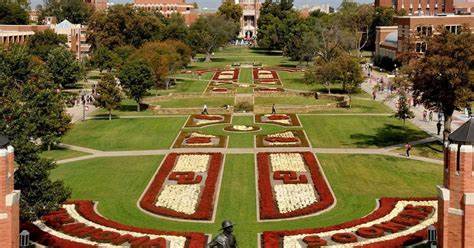 Pictured: University of Oklahoma
news
Progressives View Universities as Indoctrination Centers
Apparently, that is not how the Left sees the purpose of the universities. Rather, to them the purpose is to advance their radical agenda. In a recent publication of the American Association of University Professors, Academe, this is made quite clear. A cursory review of the article titles in the Fall 2023 edition establishes that to the Left, political causes (that they agree with) are what a college education is about.
Among the articles found in this edition include "Understanding State-level Attacks on Colleges and Universities," "The Failure to Condemn White Supremacist Education Legislation in Tennessee," and "Harnessing Demographic Shifts for Racial Justice in Higher Education."
Then there is an article by Lynn Pasquerella, "Curbing Dog-Whistle Politics." A dog whistle is, of course, used to get a dog to react in a certain way, sort of like the ringing of a bell in the famous experiments of Ivan Pavlov. The Left often uses this term as a way to insinuate that all sorts of policy positions with which they disagree are "dog whistles," designed to get a certain reaction by those to their right, politically and socially. Because it is a term often used to describe verbal or even physical attacks on black Americans, it is using the propaganda technique of name-calling.
In the article, Pasquerella calls civics institutes and general education curricula "rooted in the values of liberty and the Western tradition," and the elimination of critical race theory, gender studies, and ethnic studies courses from the curriculum efforts are "monumental" threats to "the distinctively American tradition of liberal education." Pasquerella adds that this is "grounded in the principles of academic freedom, shared governance, and the unfettered pursuit of truth," all of which are "essential to our nation's historic mission of educating for democracy."
The call for the removal of funding for diversity, equity, and inclusion (DEI) programs at public colleges and universities, is – according to Pasquerella – "a direct consequence of the politicization of higher education." Of course, this is contradictory, because it is progressives like Pasquerella who are most active in politicizing education. For example, it was here in Oklahoma – supposedly one of the reddest states in the nation – that a volleyball coach essentially ran off a female athlete from the team at the University of Oklahoma because she had no interest in being indoctrinated in the coach's left-wing political agenda. As part of that progressive agenda, the coach made her watch and express agreement with videos that took strong political stances, all from the left side of the political spectrum.
The article condemns the effort to prohibit the use of diversity, equity, and inclusion (DEI) statements in the hiring of faculty and other aspects of university operations. In other words, for all the talk about "diversity" by Pasquerella and other like-minded progressives, those who disagree with the progressive agenda need not even apply. Perhaps this is the reason that it is not unusual for faculty to be devoid of those who are politically or socially conservative. Expressing an opinion, or for that matter, stating historical facts can be the grounds for firing.
This is what Oklahoma's state school superintendent, Ryan Walters, is up against. And his opposition is not just from Democrats. One Republican legislator even publicly called for Walters to be "put in a box." Not a pine box, but in a figurative box that would restrict his actions in reining in the progressive agenda in Oklahoma's public schools, and in university schools of education.
Organizations that are more conservative, and oppose the "progressive" agenda are specifically condemned in the article, such as the Claremont Institute, the Heritage Foundation, the CATO Institute, the Federalist Society, the Independent Women's Forum, all of which, according to Pasquerella oppose DEI.
All of this should be something that the regents of Oklahoma's colleges and universities should address. Higher education should return to its roots, and that means conservatives, libertarians, and Christians should be hired as professors, as well as liberals, and not fear termination if they do not bend the knee to liberal – even socialist – indoctrination.