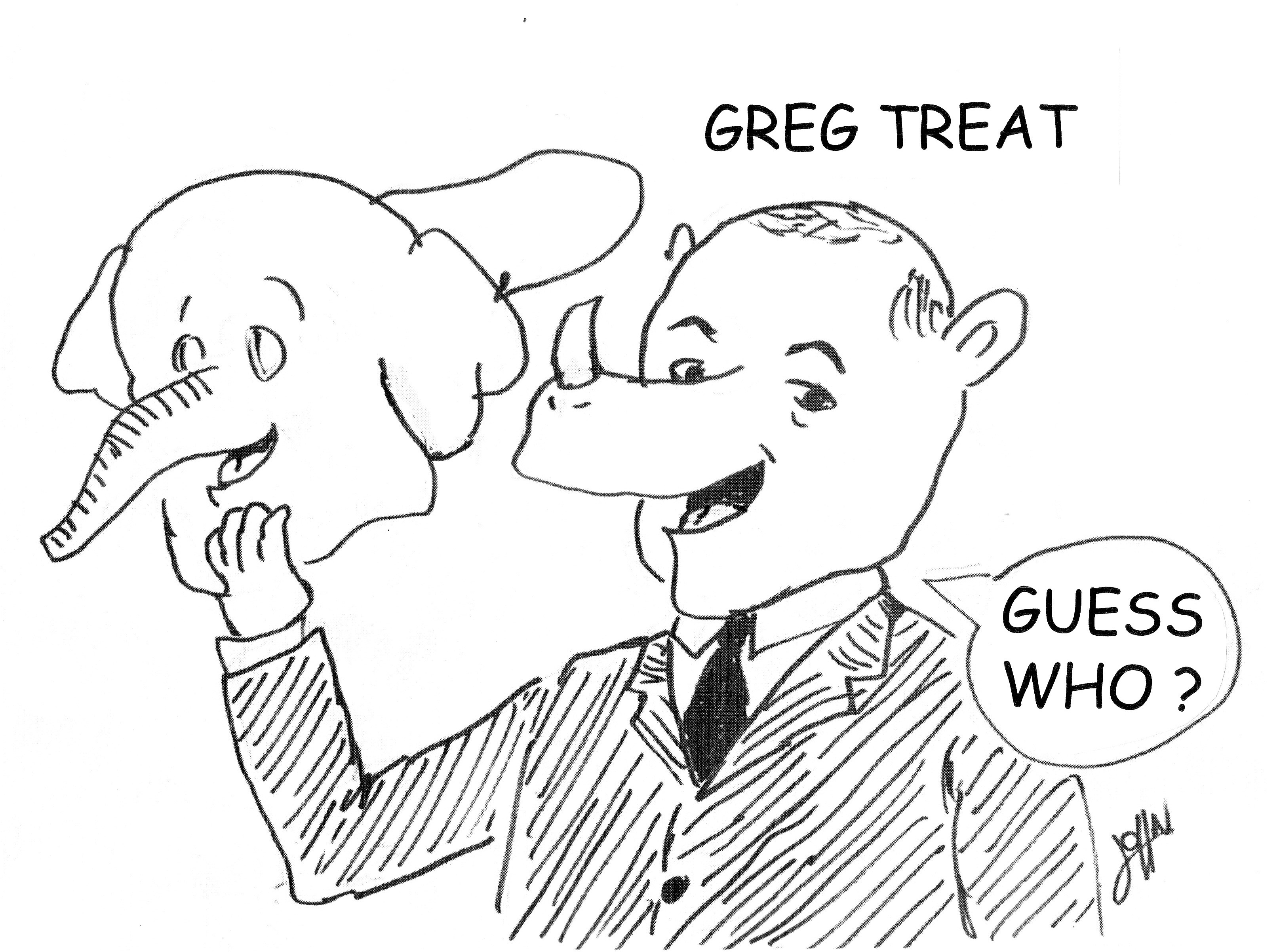 Pictured: Cartoon by John Greening
tidbits
TIDBITS FOR FALL 2023
The annual Research Institute for Economic Development (RIED Report), published by the State Chamber Research Foundation (SCRF), was released for the 2023 legislative session(s). The RIED Report began in 1997 and operated independently until 2022 when it became a part of the SCRF. Legislators were scored for their votes on bills supported by the State Chamber (SB 93, SB 621,SB 930, HB 2452, HB 2459, HB 1039x). Critics charge that rather than being a pro-business scorecard, the RIED Report is better characterized as supporting big business corporate welfare legislation. It is interesting to note that of the 45 legislators receiving a perfect score on the 2023 RIED Report, only two scored high enough on our 2023 Oklahoma Conservative Index (see our summer edition, or go to our website: www.oklahomaconstitution.com) to make the "Top Conservatives" list. In fact, most rated low on our scorecard. For example, President Pro Tempore Greg Treat received a perfect score on the RIED Report, but only scored 43 percent on the 2023 Oklahoma Conservative Index.
Senators receiving a perfect score on the 2023 RIED Report are: President Pro Tempore Greg Treat, Jeffy Alvord, David Bullard, Bill Coleman, Julie Daniels, Tom Dugger, Jessica Garvin, Todd Gollihare, Grant Green, John Haste, Darcy Jech, Chris Kidd, John Michael Montgomery, Casey Murdock, Dwayne Pemberton, Dana Prieto, Adam Pugh, Cody Rogers, Ally Siefried, Blake Stephens, Kristen Thompson, Roger Thompson, Darrel Weaver, and Tom Woods. Representatives receiving a perfect score are: Nick Archer, Jeff Boatman, Brad Boles, Trey Caldwell, Mike Dobrinski, Jon Echols, Toni Hasenbeck, Kyle Hilbert, Dell Kerbs, Mark Lawson, Ken Luttrell, Ryan Martinez, Mark McBride, Mike Osburn, John Pfeifer, Preston Stinson, Mark Tedford, Tammy Townley, Josh West, Tammy West, and Max Wolfley.
Rainy Day Fund Deposit
On August 3, Governor Stitt announced that the General Revenue Fund collections for fiscal year 2023 exceeded expectations and totaled $9 billion, which is approximately $1.6 billion, or 21.2%, above the estimate, and $493.7 million, or 5.8%, above prior year collections for the same period. A constitutionally required transfer to the Constitutional Reserve Fund (Rainy Day Fund) of $222.9 million, meeting the constitutional limit of 15% of the prior year's total general revenue collections, brings the Rainy Day Fund's total to a record $1.3 billion. "Not only does this accomplishment stand as a testament to the benefit of our conservative fiscal policies, it represents the strength of our economy, the success of our businesses, and the hard work of Oklahomans," said Governor Stitt. "Oklahomans know how to spend their money better than the government, so let's leave more in their pocket. With a record $1.3 billion in the Rainy Day Fund and continued growth in our savings, there has never been a better time to cut taxes."
OTA Receives Bond Approval
The Oklahoma Turnpike Authority (OTA) received conditional approval to issue $500 million in Second Senior Lien Revenue Bonds to fund its long-range expansion program. The OTA cleared another hurdle in the path to its 14-year plan as the Council of Bond Oversight (COBO), which must review all financing requests by state agencies, authorities and departments, approved the agency's bond application in a 4-1 vote. COBO's decision on the OTA's application comes after the Oklahoma Supreme Court ruled 6-3 in August in OTA's favor, permitting the sale of the revenue bonds to fund the Access Oklahoma expansion and upgrade plan unveiled in February of 2022.
Proposed Rules for Parental Choice Tax Credit
House Bill 1934, the Parental Choice Tax Credit, was a huge victory for families allowing them to choose the best school for their child. However, the proposed rules by the Oklahoma Tax Commission (OTC) could put the program at risk and could hinder families from sending their children to the private school of their choice. It was one of the ten bills included in our 2023 Oklahoma Conservative Index rating state legislators. The OTC submitted the proposed rules for public comment.
State Rep. Cody Maynard (R-Durant) submitted comments and concerns about the rules. "House Bill 1934 was intended to create a tax credit and not a voucher system in Oklahoma, yet the drafted rules have many voucher-like qualities," Maynard said. He outlined five significant issues in the proposed rules and requested that they be addressed and modified before the program goes live in December. He asked for the following:
-Remove the reporting burden on schools.
-Eliminate the excessive and cumbersome IRS involvement.
-Provide a way to redeem tax credits when filing a regular tax return.
-Streamline and simplify the reporting process for parents.
-Align payments with the traditional school year, not just the tax year.
"By proactively addressing the outlined issues, we have the opportunity to establish a tax credit system in Oklahoma that genuinely serves the best interests of families," said Maynard who is a CPA and a member of the Oklahoma House A&B Education Subcommittee.
Dismiss Lawsuit Against Religious Charter School
On September 20, the Oklahoma State Department of Education filed a motion to dismiss the lawsuit filed by the Oklahoma Parent Legislative Action Committee against the Statewide Virtual Charter School Board because of its approval of a religious charter school. The Archdiocese of Oklahoma City and the Diocese of Tulsa would administer the St. Isidore of Seville Virtual Catholic Charter School. The lawsuit seeks to stop Oklahoma from sponsoring and funding the Nation's first religious public charter school.
State Superintendent of Public Instruction Ryan Walters believes the government should not exclude religious organizations from public programs. "Religious freedom is at the very bedrock of our nation. Those who would sue to abridge the freedom of Americans to freely exercise their religion stand against 400 years of religious tolerance in America, predating the United States itself. I will fight to protect the freedom of all Oklahomans enshrined in the U.S. Constitution and Oklahoma laws, especially in our schools," Walters said. Walters points to recent U.S. Supreme Court decisions which have increased religious institutions to public programs and funding as justification to dismiss the lawsuit.
PragerU Available for Oklahoma Schools
The Oklahoma State Department of Education has partnered with the conservative education group PragerU to provide educational materials for students. "I am thrilled to announce this partnership with PragerU," said State Superintendent Ryan Walters. "This expansion of our available resources will help ensure high quality materials rich in American history and values will be available to our teachers and students. We will work together to find ways for PragerU to create content that will enrich the education of Oklahoma students."
The PragerU website explains that it promotes "American values through the creative use of educational videos" and "offers a free alternative to the dominant left-wing ideology in culture, media and education." PragerU Kids offers children's videos focusing on topics ranging from the construction of the Hoover Dam to the history of Israel. Florida became the first state to partner with PragerU as an official education vendor providing supplemental materials for teachers and students.
On September 6, the Oklahoma chapter of the Council on American-Islamic Relations (CAIR-OK), the Nation's largest Muslim advocacy organization, called PragerU "Islamophobic." CAIR-OK Executive Director Adam Soltani said, "Oklahoma can do better by its students than serving them hate content from PragerU." Many Democrats were also critical of the partnership. "I'm concerned that Prager is going to put a slant or a bias that reflects maybe more of the superintendent's worldview but not necessarily the experience of my students in Tulsa Public Schools, in my district," said Democratic Caucus Vice Chairman state Rep. John Waldron (D-Tulsa). Waldron made our "Top Liberals" list with a score of only 10 percent on the 2023 Oklahoma Conservative Index rating state legislators.
Democrats Call for Impeachment of Ryan Walters
On August 29, Democrats in the Oklahoma House of Representatives called on the Speaker of the House to form a special committee to investigate possible impeachment charges against State Superintendent of Public Instruction Ryan Walters. The Democrats said their request came following bomb threats at Tulsa area schools that they alleged were caused by Walters' rhetoric concerning Tulsa Public Schools (TPS). "Oklahomans deserve a public school system where parents, students and teachers feel safe to go to school and the needs of our students are prioritized over dangerous political rhetoric," said House Democratic Caucus Chair Trish Ranson (D-Stillwater).
Walters responded to the call for impeachment by accusing Democrats of posing a "direct threat to our democracy," by seeking to remove a "popularly elected constitutional officer" from office. Earlier in the week, Walters celebrated the resignation of TPS Superintendent Deborah Gist, who stepped down amid threats by Walters for a state takeover of the district due to mismanagement and poor academic performance. According to the school district, bomb threats were made against various schools on six consecutive days. However, the alleged bomb threats were evaluated by the Tulsa Police Department and the FBI and were found to be "not credible."
Legislative Compensation Board Meets
The Oklahoma Board on Legislative Compensation met on October 19 and approved giving Legislative Leaders a five percent hike in their compensation. They left the salaries for the rank-and-file legislators where they currently stand at a base of $47,500. The board meets every October in odd-numbered years to consider adjustments to lawmaker pay. The board is comprised of appointees of the Governor, Senate President Pro Tempore, and Speaker of the House. After several motions for and against other increases the board voted 5-3 for a 5% increase for legislators who are members of their respective leadership positions. Stipends for Speaker of the House and Senate President Pro Tempore had been $17,932 each, with stipends for other leadership positions set at $12,364. The 5% increases – $896.60 and $618.20, respectively – will not take effect until after the 2024 election.
Federal Ruling Affirms SB 613
On October 6, a federal judge denied a request for a preliminary injunction to block an new Oklahoma law banning gender transition procedures for minors. U.S. District Judge John Heil, III in the U.S. District Court for the Northern District of Oklahoma in Tulsa ruled that the plaintiffs were unlikely to prevail on the merits of their constitutional arguments that the bill violated the 14th amendment. Senate Bill 613 by Sen. Julie Daniels (R-Bartlesville) and Rep. Toni Hasenback (R-Elgin) gained final passage in the Oklahoma House 73-18 on April 26 and the Oklahoma Senate 37-8 on April 27. It was signed into law by Gov. Kevin Stitt on May 1.
The law prohibits providing gender transition procedures to any child under the age of 18. These include medications designed to delay or suppress puberty and surgical procedures that alter or remove physical or anatomical characteristics or features that are typical for the individual's biological sex. It was one of the ten bills included on our 2023 Oklahoma Conservative Index rating state legislators. The decision to deny the injunction follows similar decisions in federal courts in Tennessee and Alabama. The laws of those states have also been upheld by the Sixth and Eleventh Circuit Courts of Appeal. The Oklahoma ruling likely will be appealed to the Tenth Circuit Court of Appeal.
OU Pays Drag Queens $29,000
The University of Oklahoma paid $29,000 to two drag-queen performers. Payment for both performers came from student fees at OU. The payments became public due to open-record requests filed by the Oklahoma Council of Public Affairs. A performer who goes by the stage name Yvie Oddly, was the headliner for the University of Oklahoma's annual "Crimson & Queens" drag show on April 28, and was paid $18,000. As part of Camp Crimson, described as "an orientation experience designed to assist undergraduate students as they transition into their first year at the University of Oklahoma," students could attend Drag Bingo on August 15. The celebrity host of Drag Bingo was an individual whose stage name is Kornbread Jete. The artist event contract shows Jete was paid $11,000 for "a minimum of two (2) songs" and to host the Bingo.
Oklahoma School Principal is Drag Queen
Dr. Shane Murnan, 52, was hired in June as the principal at John Glenn Elementary in the Western Heights School District located in western Oklahoma City. As principal, he oversees 400 children at the school. Previous to the hire, Murnan was an assistant principal at Oklahoma City Public Schools where he had worked since 2015. Murnan has worked in Oklahoma public education for 26 years, beginning his career at Stillwater Public Schools as a fifth-grade teacher.
At the time of his hiring, the school district administration was aware that Murnan moonlights as a drag queen under the name "Shantel Mandalay." He performs weekly at The Boom, an Oklahoma City gay bar and dinner theatre in northwest Oklahoma City. Mandalay is well known in local drag queen circles and was crowned Miss Oklahoma FFI, a pageant for drag queens. He has also served for several years as emcee for the Oklahoma City gay pride parade. After being named as principal, Murnan was instrumental in the hiring of a fellow drag queen known as "Carmen Deveraux" as a kindergarten classroom assistant.
In 2018, Murnan and two others founded Oklahoma City Drag Queen Story Hour, Inc. which partnered with the Oklahoma City Metropolitan Library System, and resulted in Murnan hosting "Pride Online Storytime." where in drag, he read to children online through the library's Facebook events page.
It was also learned that Murnan was arrested in August 2001 and charged with possession of child pornography. Police seized his home computer and other equipment and found deleted photos. Murnan said he acquired the pictures by accident and deleted them. A judge dismissed the case saying prosecutors could not prove the deleted images were of under age individuals.
Roberts Receives Dragonfly Home Award
State Rep. Eric Roberts (R-Oklahoma City) recently received the Dragonfly Home Award for Outstanding Efforts in the Fight to End Human Trafficking for authoring House Bill 2054. The bill changes the penalty for purchasing prostitution from a misdemeanor to a felony, a change requested by the Oklahoma City Police Vice Unit. Texas made a similar penalty change and found it successful in reducing trafficking. Many of those engaging in prostitution are victims of human trafficking. "I am grateful to Dragonfly Home for all of their excellent work in helping survivors of human trafficking," Roberts said. "Dragonfly Home meets each individual where they are, providing support and services to help them recover from trafficking abuse. I would like to thank Senator Darrell Weaver and the Oklahoma City Police Vice Unit for their assistance with HB2054 and to a constituent who prompted my interest in running the bill."
Under HB2054, a person can be sentenced to up to three years in prison and is subject to a fine of up to $1,000 for a first offense, $2,500 for a second offense, and up to $5,000 for a third or subsequent offense. If the victim of the offense is a minor, the penalty is a maximum of ten years imprisonment and provides a fine of up to $5,000 for a first offense, $10,000 for a second offense and up to $15,000 for a third or consecutive offense. The measure would also require the offender to register as a sex offender upon a third conviction. The bill does not increase penalties for people engaging in prostitution.
Interim Study Examines For-profit Mugshots
State Sen. Jo Anna Dossett (D-Tulsa) presented an interim study to the Senate Public Safety Committee on September 25, looking into the predatory practice of for-profit mugshot websites. Dossett explained these sites charge large amounts of money to take such images down, even if the charges are dismissed or an individual is found not guilty. "Arrest photos, or mugshots, are an important tool for law enforcement, prosecutors, and the news media, as well as the public," Dossett said. "They're important for public safety, but this study helped me learn more about the exploitation of citizens by for-profit mugshot websites. We examined the problem and the complexity of the issue when dealing with public records."
Legislators learned that addressing this issue can be complex. Amber Widgery, with the National Conference of State Legislatures, said some states had responded by prohibiting charging fees for removing photos, but noted as fees were prohibited, the pages increasingly used paid advertising instead. Other states have tried requiring removal if a case is dismissed or cleared, requiring a timeline for removal, or blocking posting mugshots on multiple websites.
Ted Streuli, a journalist and executive director of Oklahoma Watch acknowledged the predatory nature of for-profit mugshot websites but pointed to the need for such images to be available to the press and the public. He explained the images can be helpful when a suspect has a common name shared by multiple individuals and can allow the public to truthfully address who is being arrested, and the condition of the person upon arrest, which would be important proof or conversely, exonerate law enforcement accused of brutality. He also said while the financial incentive could be addressed by making it illegal to charge a fee to take down a photo, it would be virtually impossible to unpublish an image once it is on the internet.
"I appreciate the committee for hearing this study, and to all who made presentations," Dossett said. "Clearly this is a predatory practice, but we must proceed thoughtfully and cautiously, so as not to cause any unintended consequences impacting public safety or freedom of the press. I look forward to continuing to work with these experts to find a solution that addresses each of these concerns."
Bingman to Seek Corporation Commission Post
Brian Bingman resigned as Secretary of State and Secretary of Native American Affairs and in 2024 will seek the open Oklahoma Corporation Commission (OCC) seat currently held by longtime Commissioner Bob Anthony. Anthony, who was first elected to the OCC in 1988, cannot seek reelection due to term limits. It will be Bingman's second run for a seat on the OCC. He finished second to Anthony in the 2018 Republican primary. He is a former mayor of Sapulpa, was a member of the Oklahoma House, and then served in the Oklahoma Senate including as the Senate President Pro Tempore. He has also worked in the oil and gas industry. Commissioners serve staggered six-year terms. The other two commissioners are Republicans Todd Hiett and Kim David, and their seats will not be up for election until 2026 and 2028 respectively. Bingman has the endorsement of Governor Stitt, Lt. Governor Matt Pinnell and Corporation Commissioners Hiett and David.
New Secretary of State/Policy Advisor
Governor Stitt named his Deputy Chief-of-Staff, Josh Cockroft, as Secretary of State and Chief Policy Advisor. Cockroft served in the state House of Representatives from 2010-2018 representing District 27. Before joining Stitt's Administration, Cockroft was the senior director of government affairs for the Oklahoma Association of Realtors. He succeeds Brian Bingman who resigned to formulate a 2024 campaign for the open seat at the Oklahoma Corporation Commission.
Stitt Names New Native American Liaison
On September 5, Governor Kevin Stitt announced that Wes Nofire will serve as his new Oklahoma Native American Liaison. "Wes brings a deep familiarity with tribal governments and people across Oklahoma. His work for the Cherokee government makes him an ideal choice as we build bridges between my office and tribal governments," said Governor Stitt. Before joining the Governor's office, Nofire served on the Cherokee Nation Tribal Council and has pursued opportunities to serve Oklahoma in a number of capacities. He has been outspoken about the challenges the Supreme Court's McGirt decision has created when it comes to administering justice fairly for every Oklahoman, native and non-native alike. He has worked to raise awareness of how this decision has impacted his community and eastern Oklahoma. He is a retired professional boxer who only lost two fights throughout his professional career. In 2022, Nofire was one of 14 Republican candidates who ran for the open Second District seat in the U.S. House of Representatives to replace Markwayne Mullin who successfully ran for the U.S. Senate. He received 6.32 percent of the vote in the GOP Primary Election.
Slavonic Named ODVA Executive Director
The Oklahoma Veterans Commission named interim executive director Greg Slavonic as the permanent executive director of the Oklahoma Department of Veteran Affairs. He was appointed interim executive director after his predecessor, Joel Kintsel, left the post earlier this year. "I am honored and humbled the Commission has confidence in the job I've done the past five months to ask me to remain as the Executive Director. I've enjoyed leading a dedicated, committed team of professionals who are focused on the mission to ensure our veterans receive the best care possible. There is still much more work to do and problems to solve, but I look forward to the daily challenges," said Slavonic after the Commission's unanimous vote. Slavonic served in the U.S. Navy and the U.S. Navy Reserve for 34 years. He obtained the rank of Rear Admiral.
Secretary of Education Resigns
Governor Stitt's Secretary of Education, Katherine Curry, resigned after just three months on the job. She cited a desire to leave the political arena and return to teaching at Oklahoma State University, where she is a professor of Educational Leadership and Policy. Curry succeeded former Cabinet Secretary Ryan Walters who had to leave the post following his election as State Superintendent of Public Instruction. Along with advising on education policy, the education secretary reviews expenses and rulemaking for 41 boards, agencies and commissions, including the Oklahoma State Department of Education and the Oklahoma State Regents for Higher Education. The secretary also leads the commissioners for the Office of Educational Quality and Accountability, a state agency focusing on teacher preparation and performance.
Rep. Luttrell Promoted on National Energy Board
State Rep. Ken Luttrell (R-Ponca City) was recently elected to serve as vice chairman of the Center for Legislative Energy and Environmental Research (CLEER). The election came at the Energy Council's annual Global Energy and Environmental Issues Conference held in Little Rock, AR. The purpose of CLEER is to provide support to addresses energy and environmental questions and helps educate members of the Energy Council with regard to state, national and global energy issues. It consists of Legislative leaders from 15 energy-producing states and two Canadian provinces. In fiscal year 2023-24, the Energy Council will meet three times to consider local, national and international concerns. Luttrell's energy-producing House district, which includes parts of Kay and Osage counties, has oil and natural gas exploration and development, wind and coal power generation and Oklahoma's largest refinery, the Phillips 66 refinery in Ponca City.
Striking down Electric Vehicle Mandates
On September 14, U.S. Senator Markwayne Mullin's legislation to restrict the Environmental Protection Agency (EPA) from issuing Clean Air Act (CAA) waivers to states which seek to ban or limit the sale of internal combustion engines passed the U.S. House of Representatives. Mullin's bill, the Preserving Choice in Vehicle Purchases Act, passed the House with bipartisan support was advanced to the Senate.
In August 2022, the California Air Resources Board adopted its Advanced Clean Cars II (ACCII) regulation that would require all light-duty vehicle sales to qualify as "zero emission" by 2035. But, the state cannot enforce it unless EPA approves a waiver for California to do so. In March 2023, California was granted two EPA waivers to implement more stringent medium and heavy-duty vehicle emission standards than what is federally mandated. This bill follows California's anticipated application to EPA for another waiver to implement its ACCII regulation to ban the sale of new vehicles with internal combustion engines by 2035.
U.S. Senators Roger Marshall (R-KS), Pete Ricketts (R-NE), John Barrasso (R-WY), Ted Cruz (R-TX), Kevin Cramer (R-ND), Dan Sullivan (R-AK), Roger Wicker (R-MS), and John Hoeven (R-ND) joined Mullin in cosponsoring the legislation. Representative John Joyce, M.D. (PA-13) led the companion bill in the U.S. House of Representatives.
Oklahoma Delegation Supported McCarthy
All five members of the Oklahoma U.S. House Delegation voted to keep Kevin McCarthy as Speaker of the House in October. The support was on the losing side of the issue as Democrats joined eight Republicans in voting to oust McCarthy by a vote of 216 to 210. Congressman Tom Cole made a motion to table Congressman Matt Gaetz' resolution to remove McCarthy. However, the motion failed by a vote of 218 to 208, leading to the vote for McCarthy's removal. Cole later nominated Jim Jordan for the speakership, but Jordan lost, as well. Finally, Mike Johnson was elected Speaker on October 25, with 220 votes and the support of all five Oklahomans.
Hern Considered for U.S. House Speaker
Oklahoma First District Congressman Kevin Hern received votes and more than once placed his name on the list for U.S. Speaker of the House to replace ousted Speaker Kevin McCarthy. Hern is chairman of the conservative Republican Study Committee (RSC) in the U.S. House. Two other contenders, who also abandoned their races for the Speaker post, Steve Scalise and Jim Jordan, are both former RSC chairmen. Hern also desired to make a bid to be House Majority Leader if Scalise stepped up from the position to become Speaker.
OKC Vote on $1 Billion Arena
Oklahoma City voters will be asked on December 12 to authorize a sales tax extension to pay a massive portion of a new $900 million arena for the Oklahoma City Thunder basketball team to play. It is a proposal that Mayor David Holt says will keep the team in OKC until at least 2050. The arena would primarily be paid for by an extension of the current MAPS 4 one-cent sales tax. A simple majority is required to approve the sales tax. If voters approve the new arena, Holt said that the Thunder's ownership group will contribute $50 million to the project, or about 5.5 percent of the total cost of the proposal. If the new arena is approved,$70 million of MAPS 4 funds previously intended for the current arena would be shifted to the new arena project.
Radio/TV Icon Ronnie Kaye Fired
Oklahoma radio and TV icon Ronnie Kaye said comments he made on air led to his firing at Oklahoma City radio station KOMA-FM 92.5. On October 14, Kaye posted on Facebook that he had fired for a comment he made about Indigenous Peoples Day on October 9. Kaye said he was terminated for saying: "It's Columbus Day and Indigeneous Peoples Day. I don't know what Indigenous means and I don't care." Kaye said after being sent on vacation, he asked to go on air to apologize to his listeners, but was not given the opportunity to do so.
Kaye, 84, has been a prominent figure in Oklahoma City radio and televison for over 60 years. Kaye had a 19-year run on WKY-TV Channel 4 in Oklahoma City starting in 1962 and hosted a popular dance show called "The Scene" from 1966 to 1974. Inspired by Dick Clark's "American Bandstand," the show gained popularity and was even syndicated, reaching audiences in places like San Diego and San Francisco. He continued to work in radio and television after leaving Channel 4, and had been on KOMA since 1991 where he was known for being the disc jockey for the "oldies."
Exhibit on Osage Nation Murders
A new exhibit on the true-life murders of wealthy Osage people in the 1920s opened on October 6, inside the Oklahoma History Center Museum. The "Trust and Betrayal in Osage County" exhibit is being displayed in the ONEOK, Inc. Gallery until March 1, 2024. The crimes are detailed in David Grann's 2017 book Killers of the Flower Moon: The Osage Murders and the Birth of the FBI. A movie based on the murders was released on October 20. It's estimated that two dozen members of the Osage Nation were murdered in the 1920s in a plot to get Osage wealth through murder. Most of the crimes were not investigated by local authorities. The Oklahoma History Center is located at 800 Nazih Zuhdi Dr. in Oklahoma City and is open to the public Monday through Saturday from 10 a.m.-5 p.m. Call 405-522-0765 or visit www.okhistory.org/historycenter for admission costs and group rates.