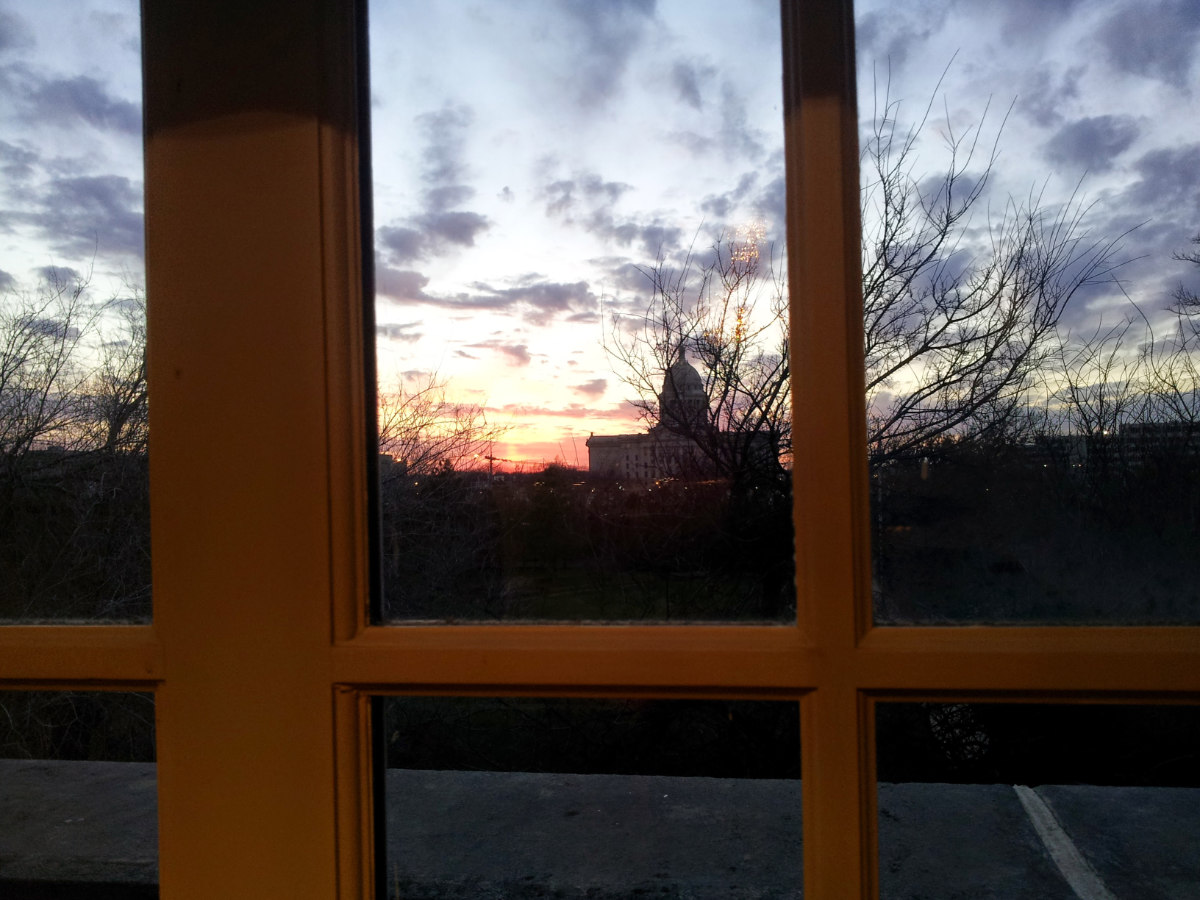 column
The Duty to Abolish Abortion: We are Without Excuse
In order to abolish abortion, we must carry out three duties: 1) stop the shedding of innocent blood, 2) establish justice, and 3) demand abolition. To whom do these duties belong?
The first duty is to stop the shedding of innocent blood. We must literally stop killing preborn babies. So, who can do that? That would be the job of the executive branch, and the chief executive in our state is Governor Kevin Stitt. He could place state police or National Guard personnel in front of abortion facilities to literally block people from going in to murder their children. This executive action would stop the bloodshed and protect the innocent. As chief executive, Governor Stitt needs no further authorization than his oath of office and our constitutions to mobilize state police to close down abortion death camps.
Remember, the race for governor included a vocal abolitionist who was continually educating the other candidates about their duty to defend state sovereignty and uphold the rule of law. That candidate's plan to abolish abortion included the exercise of executive power to stop the shedding of innocent blood. Governor Stitt is aware of his oath, his authority, and his duty. Each day that he does not blockade abortion death camps is a day that he has chosen to allow the abortion holocaust to continue in his jurisdiction. He is without excuse.
The second duty is to establish justice by properly defining what is criminal and providing equal protection under the law. This is the job of the Legislature. While abortion is against the law constitutionally, it is quite legal statutorily. Hundreds of pages of pro-life statutes regulate abortion as healthcare by prescribing means and methods of performing abortions that are considered legal. Here are a few of the most obvious examples with the smoking guns and loopholes underlined:
1) The original definition of homicide in Statute 21-691 was simply "Homicide is the killing of one human being by another." However, it was later amended to create a loophole for regulated abortions: "Homicide shall not include: 1. Acts which cause the death of an unborn child if those acts were committed during a legal abortion to which the pregnant woman consented…"
2) Statute 63-1-732, "Grounds to abort," directly legalizes all abortion before "viability," which is defined as twenty-four weeks: "No person shall perform or induce an abortion upon a pregnant woman after such time as her unborn child has become viable…" It goes on to make exceptions to this rule for the "health" of the mother, which includes "mental health." Therefore, practically every abortion is legal under this statute.
3) Statute 63-1-731, "Persons who may perform abortions," is another smoking gun: "No person shall perform or induce an abortion upon a pregnant woman unless that person is a physician licensed to practice medicine in the State of Oklahoma." Even if an unlicensed person performs the abortion, the penalty is only one to three years in prison.
4) Statute 63-1-746.2, "Voluntary and informed consent," legalizes abortion based on consent: "No abortion shall be performed or induced or attempted to be performed or induced without the voluntary and informed consent of the female…"
5) Statute 63-1-745.14, "Making heartbeat audible before abortion," states: "Any abortion provider who knowingly performs or induces any abortion shall comply with the requirements of the Heartbeat Informed Consent Act." As long as they comply, the abortions are legal.
6) Statute 63-1-738.3d, "Ultrasound required prior to procedure," states: "Any abortion provider who knowingly performs any abortion shall comply with the requirements of this section." Again, as long as they comply, the abortions are legal.
7) Statute 63-1-737.9, "Unlawful dismemberment abortions," states: "Notwithstanding any other provision of law, it shall be unlawful for any person to purposely perform or attempt to perform a dismemberment abortion and thereby kill an unborn child unless necessary to prevent serious health risk to the unborn child's mother." This simply reiterates that any unwanted child can become a "mental health" risk for those who choose to dismember him.
The job of the Legislature is to make it clear that abortion is criminal. It must remove all contradictions and ambiguity. Yet, neither Senate President Matt Pinnell, Pro Tem Greg Treat, nor House Speaker Charles McCall has had the courage to criminalize abortion. Whatever they may claim, they should know and understand their duty to establish justice.
Certainly, they know that their own member, Senator Joseph Silk, Republican from Broken Bow, has filed the "Abolition of Abortion in Oklahoma Act" (Senate Bill 13). Certainly they know that SB 13 would rectify the confusion caused by Oklahoma's inconsistent statutes related to abortion. They must know that their conservative voters are behind SB 13. They know that the people support asserting state sovereignty to abolish abortion completely. They have seen the rallies, read the distributed literature, followed social media, heard the news stories, and met with lobbying citizen activists. Each legislative day that passes without Pinnell, Treat, and McCall advancing a bill of abolition is a day they have chosen to keep abortion legal. Undeniably, these three legislative leaders are without excuse.
Unfortunately, we have not heard anything from Matt Pinnell or Charles McCall indicating that they will exercise leadership to abolish abortion. And in an effort to cover his opposition to SB 13, Senate Pro Tem Greg Treat launched a counterattack of misrepresentations and schemes. His subterfuge has also been advanced by former state GOP Chair Pam Pollard and other notable religious and pro-life groups.
One of the mistaken assertions that Treat and company are repeating is that we have three co-equal branches of government, and that every official must submit to the evil dictates of the courts. This has never been true. Governor Stitt, Lt. Gov. Pinnell, Pro Tem Treat, and Speaker McCall outnumber the courts in branches of government and in authority. Judges can issue opinions all day, but they have no authority to make law or carry out any of their wishes. They carry no guns or handcuffs. In fact, Lt. Gov. Pinnell, Pro Tem Treat, and Speaker McCall could lead the Legislature to criminalize abortion so that perpetrators can be prosecuted, and they could simply impeach for "neglect of duty" any judge who attempted to protect abortion.
Another false assertion being advanced by both Pro Tem Treat and former GOP Chair Pam Pollard is that "Nullification has been tried and failed." They claim that the Nullification side lost in the "Civil War," but the War of 1861 was fought over secession, not Nullification. The ability to secede was quashed for the generation living in 1865, but nullification has been practiced by northern and southern states both before and after the War of 1861.
In fact, nullification works every time it is implemented, because by definition, nullification is an action taken. To nullify something means to cancel it out, to make it of no validity or force. Therefore, we can easily make a list of instances where the sovereign states have nullified unconstitutional federal policies to protect the innocent from federal aggression. The New England states nullified Madison's trade embargo and refused to participate in the War of 1812. Virginia and Kentucky passed articles of nullification regarding the suppression of free speech under the Sedition Act, and South Carolina nullified the Tariff of Abominations. Today, several states, including Oklahoma, are nullifying federal laws against the use of cannabis. Wisconsin and other states nullified the federal Fugitive Slave Act in the 1850s to free runaway slaves on the underground railroad. Similarly, modern day abolitionists say we should nullify the supreme Court's opinions on abortion to rescue innocent preborn children. If we were to ask Master Yoda whether we should try nullification, he would answer, "Try not. Do, or do not. There is no try."
Beyond proffering faulty arguments, Pro Tem Treat has also lowered himself to vindictive attacks against Senator Silk and other legislators who support and promote the Abolition of Abortion in Oklahoma Act. Treat stripped Senators Silk and Dahm of leadership positions, and he apparently blocked any of Silk's legislation from advancing, thus denying the voice and representation of tens of thousands of Oklahomans. Additionally, Treat has organized what appear to be unethical meetings at the capitol to conspire against members of his own caucus and has become a petty dictator of the Senate. This would be a great time for Senate President Matt Pinnell to step in to restore some decorum and order to his Senate.
In summary, no amount of political posturing, rhetoric, blame, or redefining of terms will change the bottom line. There are four primary officials with the authority and the duty to abolish abortion. Governor Kevin Stitt should order men-at-arms to physically stop the shedding of innocent blood. Senate President Matt Pinnell, Pro Tem Greg Treat, and Speaker Charles McCall should lead the legislature to close legal loopholes to establish justice. We speak now to these men:
"Gentlemen, your duty, per your oaths, is to uphold the Oklahoma Constitution and the Constitution of the United States, both of which clearly spell out the right to life. No doubt you have been told that the 'supremacy clause' of the Constitution defines the supreme Court's opinions as the 'law of the land.' However, article six, paragraph two of the Constitution gives supremacy to the Constitution itself."
"Citizens will forbear, and so we should, but there comes a point when forbearance becomes cowardice and sin. You have a duty to interpose against this federal attack upon the preborn, not to accommodate it. The founding of this union and our history demonstrate that you do not have to obey immoral, unjust, and unconstitutional court opinions of the supreme Court. You possess lawful authority to uphold the law of God and our constitutions. When God's law is disregarded by the judges of the supreme Court, your duty is not to bow down to them, but to resist them and uphold our constitutions to protect innocent lives. May God grant you the courage to execute your duty."
If these four men do not act, and if we, the citizens of Oklahoma, do not demand that they act to abolish abortion, then we all will be guilty. We are without excuse.
John Michener is the Director of Oklahomans United for Life (OUL). You can contact him at:
John.Michener@oku4life.org