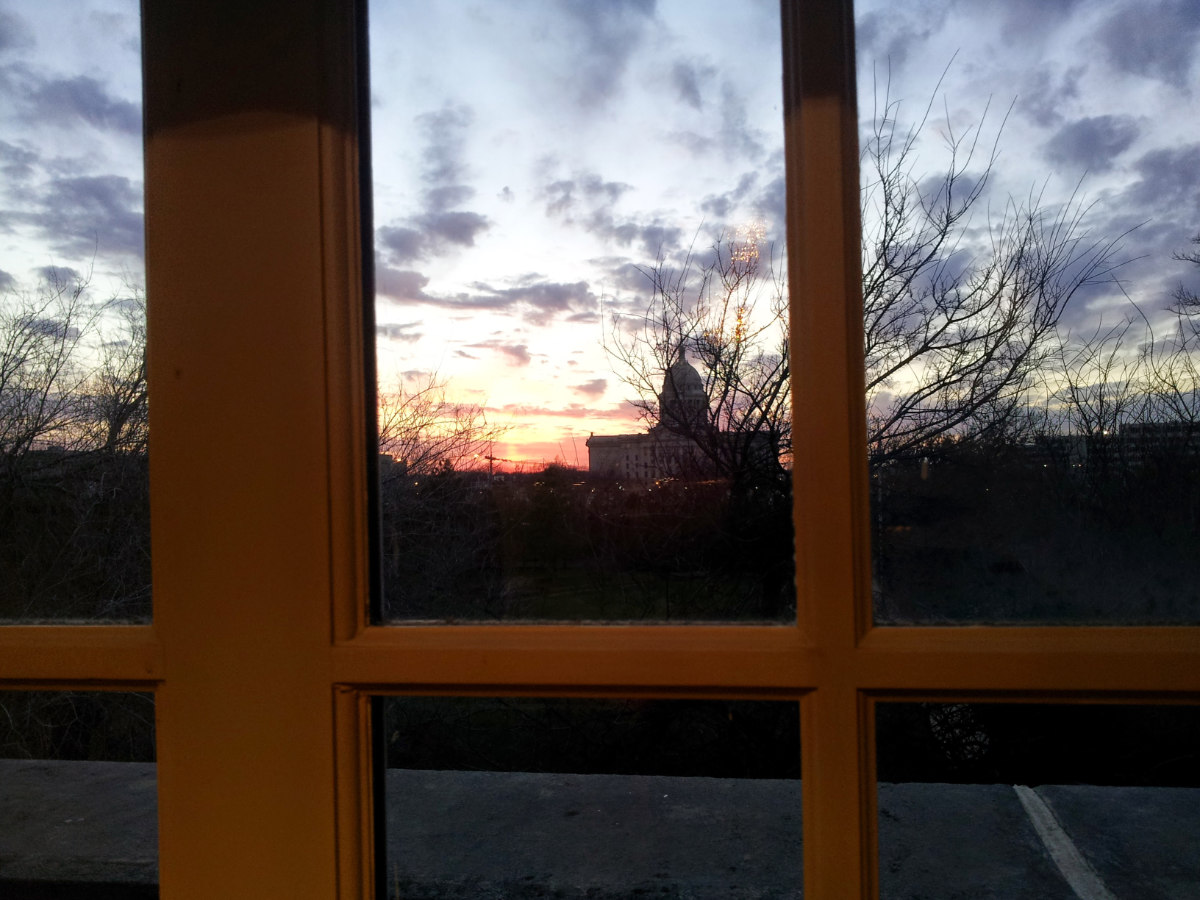 column
Oklahoma Citys LGBTQ+ Pride Alliance and K-12 Grade Students Curriculum
By Linda Murphy
On June 19, the Oklahoma Gazette published their weekly edition with a beautiful rainbow on the cover entitled "Perennial Pride" – "With a new organization and renewed energy, OKC Pride is back." The magazine covered OKC's official week-long celebration of the LGBTQ+ community and honored eight individuals. (Digital version online at: www.okgazette.com)
"Legends & Rebels" on pages 4 & 5 contains some information important to all who are interested in the content of education curriculum. The article, begins with a picture of a person lying on stage, wearing an fluffy boa and captioned: "Luis Miguel Barajas, who performs as 'drag thing' Topatio, is proud they were able to honor various LGBTQ individuals from all aspects of the community." The article says:
"Oklahoma City Pride Alliance made history with its opening ceremonies Monday. Mayor David Holt officially declared the third week in June 'Pride Week,' Rep. Kendra Horn's chief of staff Amanda McLain-Snopes presented a congressional citation and eight individuals were recognized for their contributions to OKC's LGBTQ+ community, along with two grand marshals."
"For the first time ever, Pride honored eight people with a Rainbow Award – one for each color of the original Pride flag, which was designed by Gilbert Baker in the late '70s. The idea came to Luis Miguel Barajas and Lauren Zuniga during conversations regarding the grand marshal."
Several paragraphs describe the awards which were given, including the following direct quotes from the publication:
"On hot pink, which represents sexuality, we're giving that award to Maria Mancebo, who is the queer inclusive sex educator at the health department. That's something we desperately need in our schools and community, better sex education."
"Mancebo is the clinic access coordinator at Oklahoma City-County Health Department. She has experience with sexuality and gender issues and is an advocate for access to quality sexual and reproductive health care services, particularly for adolescents."
"Orange is for healing and that's Dr. Shauna Lawlis. She is an OU physician who's doing incredible work with their Roy G. Biv program, and they basically help trans kids with any kind of medical stuff they have."
"Lawlis, who works in adolescent medicine at OU Medicine, said the Roy G. Biv program provides patients 10-25 years old with affirming treatment. While undergoing her pediatric residency training, she came to enjoy her rotation in adolescent medicine so much that she decided to pursue a fellowship in that area with an LGBTQ+ component."
" 'I have a lot of family members that are LGBTQ and I really felt that (if they) had an affirming adult in their life when they were younger, it would have really had a positive impact. I felt like if it can't be your parents, maybe it can be your doctor,' Lawlis said. 'The program existed for several years before I came, and they were seeing transgender patients for several years before I came and started here at OU. We provide productive health counseling, such as testing equipment for STDs, birth control, we deal with menstrual issues, we provide puberty blockers and gender-affirming hormones when appropriate. We have a link with various therapists in the community and we also have two therapists within our own group who are LGBTQ-affirming providers to help get patients the help they need. We work with a statewide network to help provide care to these kids.'"
The momentum to push for far more comprehensive sex education in public schools is very clear. This goal involves some if not all of the people in the Oklahoma City-County Health Department and no doubt at OU Medicine as the previous paragraphs revealed.
Celebrating and promoting the LGBTQ "Pride Alliance" and award recipients, as described earlier, are OKC Mayor David Holt, and a representative for Congresswoman Kendra Horn. OKC Public School Superintendent Sean McDaniel marched in celebration at the Pride parade and Tulsa Public School Superintendent Deborah Gist has been flying the "Gay Pride" flag at the headquarters of Tulsa Public School since 2016. In July OEA – Oklahoma Education Association delegates attended the NEA – National Education Association convention where they helped pass four resolutions supporting and promoting the LGBTQ alliance agenda. (The resolutions are listed at the end of this article.)
Statewide some (maybe not all) county health departments have been bought into the goal of putting advanced sexuality training in classrooms statewide. I got a close look at one of these programs, which came through a NE Oklahoma County Health Department. It was highly upsetting for many students and parents. SHAPE – Sexual Health, Awareness and Prevention Education and was used in 7th and 8th grade classes with boys and girls together in a small Oklahoma community. The disturbing material covered 4- types of sex, in this order: 1. Mutual masturbation 2. Oral 3. Vaginal 4. Anal. Do you think this is appropriate? I don't and neither do a majority of Oklahomans.
Do not be deceived if you are using one of the state provided online Charter Schools and think you will avoid the curriculum. The State Department of Education approves or disapproves all Charter School online curriculum. If this objectionable curriculum gets forced into the "regular" public schools it can and will also be forced into the online and other Charter Schools, because they are under state control.
Those who have heard me speak know I have repeatedly said "Local Control of our schools is essential." That includes the curriculum! The very disturbing curriculum I described earlier was exposed by an Oklahoma public school teacher whose own 12 year old daughter had been taught this in the class without her parents' permission or knowledge of the content. Many public school teachers and school administrators in Oklahoma do not agree with pushing this curriculum on young children.
Students can be taught to take care of their health and to be kind and respectful of all people regardless of their beliefs and practices without forcing intrusive advanced sexuality training. We must be the watchmen on the wall for the children. They were not born to be molded and shaped into an image according to a politically correct agenda. Our government officials and school officials who play politics by praising, honoring and celebrating this agenda are part of the problem. They are encouraging and "empowering" those behind the agenda to push it into our classrooms!
NEA/OEA's LGBTQ Resolutions (www.nea.org)
- "NEA will create model legislative language that state affiliates can use to lobby for a K-12 cross content curriculum that is LGBTQ+ inclusive." #48
- "The National Education Association (NEA) will organize and mobilize in support of the Equality Act to be a top legislative priority by using existing resources to channel activist energy toward education and advocacy, encourage all members to sign up to the NEA EdJustice newsletter to receive action alerts and invitations to be the best advocate possible, and continue persistent and ongoing lobby efforts with our Senate to increase their awareness of the importance of passing non-discrimination protections based on sexual orientation or gender identity." #55
- "NEA will work with current partners (such as GLSEN the Gay, Lesbian and Straight Education Network, which is the nation's largest homosexual advocacy group focused entirely on reaching public school), to expand on the number of professional development opportunities for Gender Sexuality Alliances (GSA) advisors. This training should include, at a minimum: Starting a new GSA; How to handle possible backlash from different stakeholders; and Model GSA projects and activities." #47
- "The National Education Association will create space in all individuals' name tags, badges, and IDs for the individuals' pronouns. The individuals' pronouns will only be left off at the individual's request………" #20
Oklahoma's teachers who belong to the OEA are helping finance this LGBTQ agenda which NEA reports will cost an additional $56,125.00.
Oklahoma citizens must be engaged in stopping inappropriate sex education! Parents should be given the choice to "opt-in" after being fully informed about their school's sex education curriculum. Local elected school boards must have the authority and responsibility to change or stop sex education curriculum at the local level!
Linda Murphy was the Republican candidate for State Superintendent of Public Instruction in 1994, and 1998. She ran again in 2018, losing the nomination in the runoff primary. She served under Governor Keating as Secretary of Education and later as Deputy Commissioner of Labor. She was a member of the State Job Training Coordinating Council, and served on the Governor's School-to-Work Council, and the Governor's Commission on the Status of Women. You may contact Linda at: lindalearn1