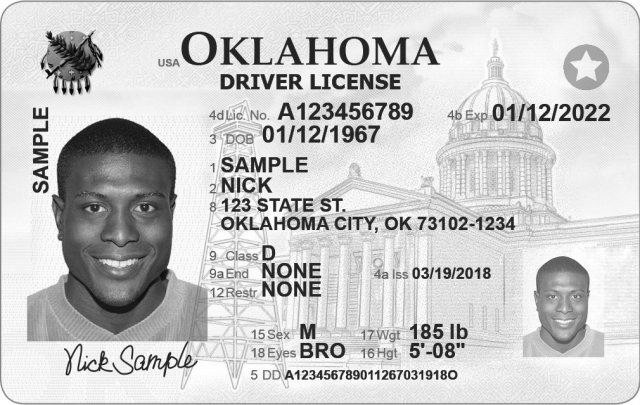 tidbits
Tidbits for Summer 2020
Due to the COVID-19 pandemic, the U.S. Department of Homeland Security announced in March that the nationwide REAL ID enforcement deadline of Oct. 1, 2020, had been extended by a year to Oct. 1, 2021. The extension was granted for states, such as Oklahoma, that need more time to prepare because of the pandemic. Oklahoma is among a few states that are not REAL ID-compliant. Each of the last several years, the U.S. Department of Homeland Security has given Oklahoma extensions to meet the requirements in the REAL ID Act. The law was put in place in 2005 to improve the reliability of state-issued ID's, making it more difficult for terrorists to obtain fake identification. In 2007, Oklahoma approved a law that said our state would not comply with the REAL ID Act, due to concerns about how personal information would be stored and shared. But, in 2017, House Bill 1845 was signed into law giving Oklahomans the choice of either getting a REAL ID-compliant license or a non-compliant driver's license.
Real ID Begins in Oklahoma
On July 1, Oklahomans were able to get federally compliant Real ID cards in Oklahoma City. And by sometime in the fall, they will be available through the Department of Public Safety (DPS) and at tag agent offices across the state. The state was originally scheduled to start issuing the cards on April 30, but plans changed due to COVID-19. DPS says more than 2.8 million Oklahomans who currently carry older-style driver's licenses or state-issued ID cards will have to decide whether to trade them in for Real ID-compliant cards. DPS estimates that 600,000 Oklahomans will likely fall into the category of needing them because they do not have other Real ID-compliant identification, such as a passport. Those most likely to want the updated identification include those who plan to fly commercially. Others include those who frequent military installations or other federal properties. REAL ID cards are distinguishable from standard-issue cards by a star in the upper right of the design.
DPS began issuing Real IDs on July 1 at the main DPS office at 3600 N. Martin Luther King Ave. in Oklahoma City. Soon, other DPS locations and tag agencies in Oklahoma City, Edmond and Tulsa will begin issuing IDs. They should be available at 249 tag agent offices statewide by fall. Previously, when citizens went to get a driver's license or a state-issued ID card, they showed a proof of identity such as a birth certificate and the document was simply confirmed and given back. The federal Real ID Act requires that documents be not only confirmed but also scanned and stored electronically. The cost to convert a driver's license more than a year from expiration will be $25. Licenses closer to expiration will cost $38.50 to convert. The cost for a first-time-issued non-commercial Real ID driver's license will be $42.50. Discounts apply for seniors.
Party Order on Oklahoma Ballots
Paul Ziriax, the Secretary of the Oklahoma State Election Board, announced the results of a public drawing held on July 16 to determine the order of political parties on the ballots in the November General Election. State law requires the State Election Board secretary to conduct a drawing every two years. Representatives of the three political parties observed the drawing at the State Election Board's meeting room at the Jim Thorpe Building in Oklahoma City. The drawing was also livestreamed on the State Election Board's Facebook page. The Republican Party candidates will appear first on the November ballot, the Libertarian Party candidates will be listed second, followed by the Democratic Party candidates. Drawings were also held to determine the order of Independent candidates for President of the United States and the United States Congress.
Oklahoma Presidential Ballot
The deadline for Independent and Unrecognized Party filing for the General Election was July 22. Rap star Kanye West will be an option for voters in Oklahoma on November 3. The other two Independent presidential candidates to make the ballot are crypto-currency entrepreneur Brock Pierc, and concert pianist Jade Simmons. They will join the candidates of the Recognized political parties. The Libertarian Party candidate is Jo Jorgensen. The nominees of the Republican Party and the Democratic Party will not be officially determined until they hold their conventions in August.
Oklahoma Unemployment Rate Declines
Statistics released by the Oklahoma Employment Security Commission and the U.S. Department of Labor on July 20 show Oklahoma's seasonally adjusted unemployment rate declined to 6.6% in June, a significant decrease from 12.6% in May. Oklahoma is tied with Maine for the fifth lowest rate in the country, a ranking which is reflected on the newly-launched Governor's Dashboard of Metrics. The national unemployment rate for June declined to 11.1%. "These figures confirm that Oklahoma is leading the way in our recovery from COVID-19," said Governor Kevin Stitt. "Innovative programs like the Oklahoma Business Relief Program, the Oklahoma Manufacturing Reboot Program and others have allowed us to leverage federal CARES Act funds to support our businesses and get their employees back to work so they can support their families."
In June, statewide seasonally adjusted employment increased by 56,409 persons (3.5%), while unemployment decreased by 113,643 persons (-49.4%) from the previous month. Oklahoma currently has the lowest unemployment rate in comparison to surrounding states, including Texas, Arkansas and Kansas. Surrounding States Unemployment Rates for June 2020 (National Rank): Arkansas: 8.0% (16), Colorado: 10.5% (35), Kansas: 7.5% (T-10), Missouri: 7.9% (15), New Mexico: 8.3% (19), and Texas: 8.6% (T-22).
Tesla Picks Austin over Tulsa
Electric vehicle maker Tesla announced on July 21 that it will build its new CyberTruck Gigafactory in Austin, Texas. Despite all its efforts to convince Elon Musk to build the factory in Tulsa, they lost to Austin. Governor Kevin Stitt said that while the factory won't be in Tulsa, the state's second largest city did show that Oklahoma was business friendly. "Over the past few months, Tulsans and Oklahomans as a whole showed the nation and the world that our state is worthy of being one of two finalists for an innovative, cutting-edge company like Tesla." Stitt said the effort was not a total loss. "We will be actively recruiting Tesla's supplier base to Oklahoma as well as many other companies whose eyes have been opened to our state throughout this process."
Stitt Tests Positive for COVID-19
While encouraging Oklahomans to adjust to the "new normal," Governor Kevin Stitt announced on July 22 that he had tested positive for COVID-19. During a Zoom press conference, Stitt said he was feeling well overall with a little achiness the previous day. Stitt said he had isolated himself from his family and would work remotely until cleared. He reported on July 29 that he was out of quarantine. Stitt is the first governor to test positive for the virus.
OEA Honors Rep. Dunnington
The Oklahoma Education Association (OEA) – the state affiliate of the National Education Association – gave its F.D. Moon Human & Civil Rights Education Award to state Rep. Jason Dunnington (D-Oklahoma City) for several bills he filed this year, including legislation to restrict the treatment that psychologists can provide to Oklahoma children who identify as transgender. "OEA presents the F.D. Moon award to an individual who has contributed significantly to the advancement of education for students," OEA president Alicia Priest said in a news release. "Rep. Dunnington has written legislation to increase the minimum wage, ban LGBTQ conversion therapy practices, prohibit wage discrimination based on gender, paid sick leave, and more. These are examples of legislation that help Oklahoma students have a brighter future." It was not explained how his bills would improve education for Oklahoma students.
Dunnington had an 18 percent cumulative average and scored a mere 6 percent on the Oklahoma Conservative Index this year, but was defeated in the June 30 Democrat Primary by a more extreme liberal challenger, Mauree Turner. "Growing up as a Black, Muslim, queer woman in Oklahoma, I never thought that something like this would be possible," said Turner following her win over Dunnington.
OEA Legislator of the Year
On July 9, state Rep. Mark McBride (R-Moore) was recognized by the Oklahoma Education Association (OEA) with the Outstanding Legislator Award for 2020. The organization said it selected McBride because of his outstanding support of public education and public educators. "I'm appreciative to be recognized for my legislative work to ensure Oklahoma public school students have the very best education possible," McBride said. "During this time of uncertainty and change, it is more important than ever that all education stakeholders come together to work for what is best for Oklahoma students. Making sure students have access to highly qualified teachers and up-to-date classroom materials and resources improves their academic success and prepares them to be productive members of society." McBride is one of the more moderate members of the Legislature, earning a 50 percent cumulative average on the Oklahoma Conservative Index, although his score did improve for the last session to 73 percent.
OCPA's Citizenship Award Dinner
On September 16, Sarah Huckabee Sanders, former White House Press Secretary for President Donald J. Trump, is coming to Oklahoma City for the Oklahoma Council of Public Affairs (OCPA) annual Citizenship Award Dinner. The organization usually holds this annual event in the spring, but it was delayed this year due to the COVID-19 pandemic. The 2020 Citizenship Award Dinner will be held at the National Cowboy and Western Heritage Museum. There will be a reception at 6:00pm and the program and dinner will begin at 7:00 PM. The keynote address will still be provided by Sanders. Half of the available tickets had already been sold before the rescheduling, so don't delay in getting your tickets. For ticket information go to:
https://www.ocpathink.org/event/cad