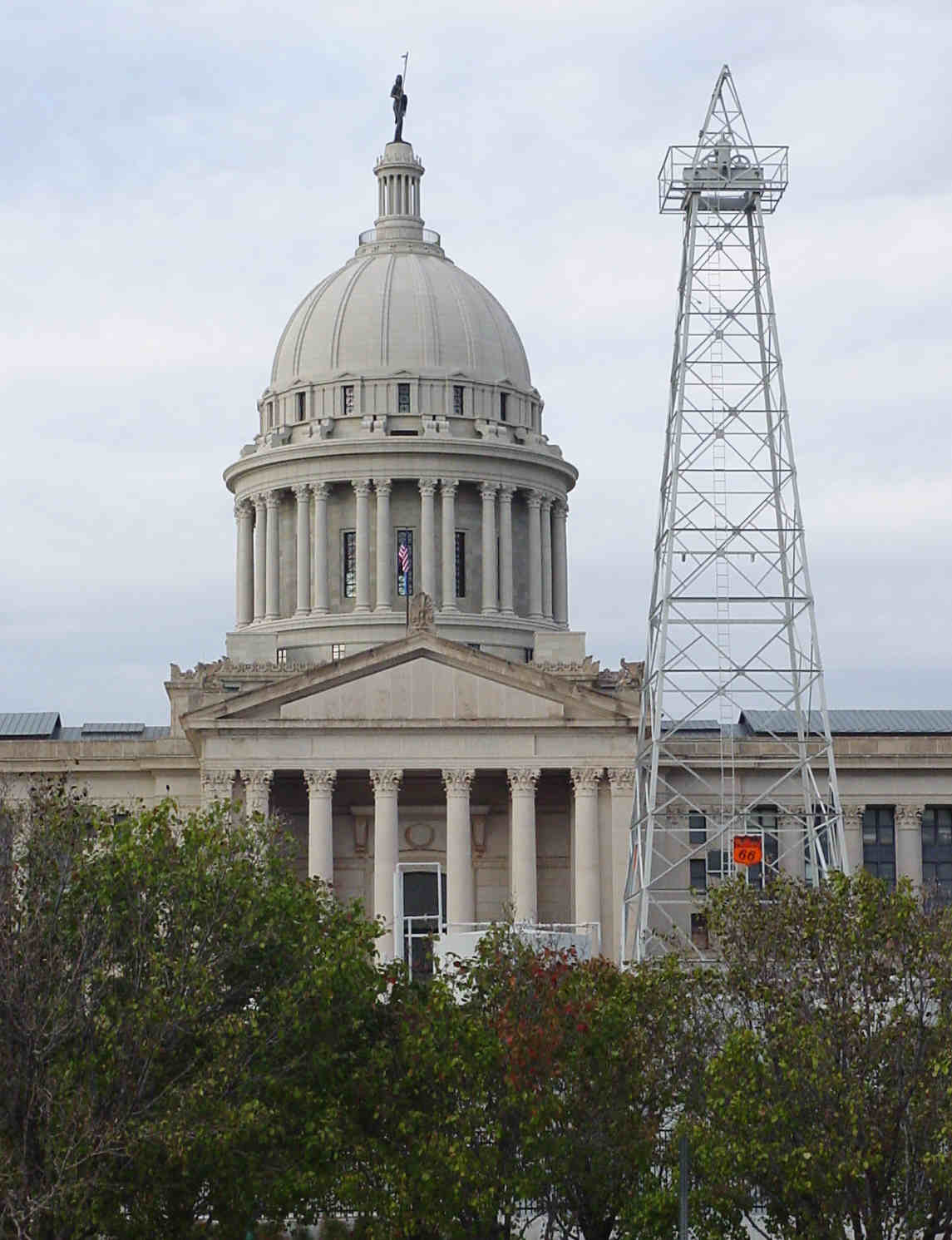 news
Republicans Retain Control of Legislature
The candidate filing period for the Oklahoma Legislature this year was April 8-10. Oklahoma's Primary Election date is the last Tuesday in June, which was June 30 this year. For those seats in which no candidate received more than 50 percent of the vote, the Runoff Primary Election is on the last Tuesday of August. The date this year will be August 25. The General Election will be held November 3.
The Oklahoma House of Representatives has 101 members and the Oklahoma Senate has 48 members. A number of legislators were not able to run for reelection this year due to term limits. Legislators are limited to a total combined service in the House and/or Senate of 12 years. Voters overwhelmingly adopted a State Question in 1990 that placed term limits on lawmakers. It took effect in 1992, but did not affect previous years of service.
In 2020 there were only five legislators who could not run for reelection because of term limits, all were Republicans. This was down considerably from 2018 when 18 seats were open due to term limits. This was largely the result of the large number of incumbents defeated two years ago who would have been term-limited this time. Four members of the Oklahoma House were ineligible to run this time. Term-limited representatives include: Lewis Moore (R-Arcadia), Charles Ortega (R-Altus), Mike Sanders (R-Kingfisher), and Harold Wright (R-Weatherford). Sen. Gary Stanislawski (R-Tulsa) was the only member of the Senate unable to seek re-election in 2020.
A number of other legislators decided not to run, even though they were not term-limited. Rep. Johnny Tadlock (R-Idabel), who changed his registration from Democrat to Republican after being re-elected without opposition in 2018, chose not to seek another term in 2020. Rep. Ben Loring (D-Miami) did not run, and Rep. David Perryman (D-Chickasha) also decided not to seek reelection. Sen. Joseph Silk (R-Broken Bow) chose not to run for reelection, but instead ran for Congress in the second district. He lost in the Republican Primary on June 30 to Congressman Markwayne Mullin. State Senator Jason Smalley (R-Stroud) resigned on January 31, which created a vacancy in the Senate which is being filled this year. The election is for the remainder of the unexpired term.
Senators serve four-year terms, with half of the seats up for election each election cycle. The even numbered districts will not be on the ballot until 2022. The odd numbered seats are up for election this year. Republicans currently hold a 38-9 majority in the 48 member Senate with one seat vacant (Sen. Smalley). Republicans hold 19 of the even numbered seats not on the ballot this year (not including the vacant seat), with Democrats holding four. The even numbered vacant seat, which was held by a Republican, will be filled in the 2020 election. So, the GOP only needed to hold six of the 25 seats up for election this year to maintain control.
Eight senators were automatically elected because no other candidates filed, or their opponents withdrew or were stricken from the ballot after filing. Seven of those are Republicans, and one is a Democrat. Democrats did not field a candidate in four districts, so a Republican will fill those seats in the primary elections. Therefore, Republicans are already guaranteed to have 11 of the seats on the ballot this year. So, Republicans were already guaranteed to hold enough seats to maintain control.
Voters cast ballots in 12 state Senate districts during the June 30 primary elections. Sen. Wayne Shaw (R-Grove) lost to GOP challenger Blake "Cowboy" Stephens after having held his northeastern Oklahoma seat for eight years. Stephens was among the candidates who ran for governor in 2018. Sen. Shaw had a 55 percent cumulative average on the Oklahoma Conservative Index. Three other incumbents – Sen. Larry Boggs (R-Wilburton), Sen. Ron Sharp (R-Shawnee), and Sen. Paul Scott (R-Duncan) – failed to secure renomination in the June 30 primaries and will compete in a runoff primary election for their seats on August 25. Based on their cumulative average on the Oklahoma Conservative Index, all three are considered to be RINOs (Republican In Name Only). Four other Senate races, all of which drew only Republican candidates, were decided in the primaries. Senate District 28, which has been vacant since former Sen. Jason Smalley stepped down to accept a job with Motorola Solutions Corp., saw a three-way race. Current Rep. Zack Taylor (R-Seminole) emerged victorious with 59 percent of the vote to take that seat. Rep. Taylor received a 90 percent score this year on the Oklahoma Conservative Index, which brought his cumulative average up to 73 percent.
All 101 House seats are up for election each election cycle. In the House there are currently 77 Republicans, 23 Democrats, and one vacant seat that was held by a Democrat. Because no other candidates filed, or their opponents withdrew or were stricken from the ballot after filing, 42 members of the House were automatically elected. That number includes 38 Republicans and just 4 Democrats. An additional 19 Republicans and 2 Democrats were elected in the June 30 primaries, since they had no opposition in the General Election. This includes 18 incumbents – 16 Republicans and two Democrats. In addition, three House seats where there was not an incumbent, were won by legislative newcomers who do not have opposition in the General Election. Those three seat were won by Republicans.
Two Republican incumbent representatives lost in the primaries on June 30, along with one Democrat. Former state Rep. Rick West (R-Heavener) defeated Rep. Lundy Kiger (R-Poteau) to win back the House District 3 seat that he vacated in 2018. West had a 77 percent cumulative average on the Oklahoma Conservative Index, compared to Kiger's 70 percent score. Also, first-term Rep. Derrel Fincher (R-Bartlesville), 50 percent conservative average, was defeated by Wendi Stearman in House District 11. The only Democrat incumbent to lose a House seat was Rep. Jason Dunnington (D-Oklahoma City). Dunnington had an 18 percent cumulative average and scored a mere 6 percent on the Oklahoma Conservative Index this year, but was defeated by a more extreme liberal challenger, Mauree Turner. "Growing up as a Black, Muslim, queer woman in Oklahoma, I never thought that something like this would be possible," said Turner following her win over Dunnington. The seats of the three defeated lawmakers will not be settled until the General Election in November.
In summary, the GOP has already won 57 seats compared to 6 for the Democrats. So, Republicans have already secured control of the House. There are 38 seats at stake in the General Election. The Libertarian Party is only fielding a candidate in one of the races, and there are independent candidates in two races.
The following incumbents were elected to the Senate because they had no opponents:
Nathan Dahm (R-Broken Arrow)
Julie Daniels (R-Bartlesville)
Chris Kidd (R-Ringling)
Kevin Matthews (D-Tulsa)
Casey Murdock (R-Felt
Joe Newhouse (R-Broken Arrow)
Lonnie Paxton (R-Tuttle)
Adam Pugh (R-Edmond)
The following incumbents were elected to the House because they had no opponents:
Rhonda Baker (R-Yukon)
Forrest Bennett (D-OKC)
Jeff Boatman (R-Tulsa)
Brad Boles (R Marlow)
Ty Burns (R-Morrison)
Trey Caldwell (R-Lawton)
Rusty Cornwell (R-Vinita)
Denise Crosswhite-Hader (R-Yukon)
Dean Davis (R-Broken Arrow)
Scott Fetgatter (R-Okmulgee)
Ross Ford (R-Broken Arrow)
Avery Frix (R-Muskogee)
Tom Gann (R-Inola)
Regina Goodwin (D-Tulsa)
David Hardin (R-Stilwell)
Tommy Hardin (R-Madill)
Brian Hill (R-Mustang)
Justin Humphrey (R-Lane)
Mark Lepak (R-Claremore)
Ken Luttrel (R-Ponca City)
T.J. Marti (R-Tulsa)
Ryan Martinez (R-Edmond)
Stan May (R-Broken Arrow)
Mark McBride (R-Moore)
Charles McCall (R-Atoka)
Marcus McEntire (R-Duncan)
Nicole Miller (R Edmond)
Carl Newton (R-Cherokee)
Jim Olsen (R-Roland)
John Pfeiffer (R-Orlando)
Dustin Roberts (R-Mead)
Sean Roberts (R-Hominy)
Danny Sterling (R-Tecumseh)
Judd Strom (R-Copan)
Tammy Townley (R-Ardmore)
Emily Virgin (D-Norman)
John Waldron (D-Tulsa)
Kevin Wallace (R-Wellston)
Josh West (R-Grove)
Kevin West (R-Moore)
Tammy West (R-OKC)
One Representative, not an incumbent, was elected to the House because he had no opponent:
Steve Bashore (R-Miami)
The following incumbents were elected to the Senate after winning nomination in the primary and were not opposed in the General Election:
Micheal Bergstrom (R-Big Cabin)
Greg McCortney (R-Ada)
Roland Pederson (R-Burlington)
One Senator, not an incumbent, was elected to the Senate after winning nomination in the primary and was not opposed in the General Election:
Zack Taylor (R-Seminole)
The following incumbents were elected to the House after winning nomination in the primary and were not opposed in the General Election:
Carol Bush (R-Tulsa)
Chad Caldwell (R-Enid
Sheila Dills (R-Tulsa)
Jim Grego (R-Wilburton)
Sherrie Conley (R-Newcastle)
Ronny Johns (R-Ada)
Chris Kannady (R-Oklahoma City)
Kevin McDugle (R-Broken Arrow)
Garry Mize (R-Edmond)
John Talley (R-Stillwater)
Monroe Nichols (D-Tulsa)
Ajay Pittman (D-Oklahoma City)
Kenton Patzkowsky (R-Balko)
Randy Randleman (R-Eufaula)
Cynthia Roe (R-Lindsay)
David Smith (R-McAlester)
Chris Sneed (R-Fort Gibson)
Mark Vancuren (R-Owasso)
The following representatives, not incumbents, were elected to the House after winning nomination in the primary and were not opposed in the General Election:
Eddy Dempsey (R-Valliant)
Mike Dobrinski (R-Okeene)
Gerrid Kendrix (R-Altus)