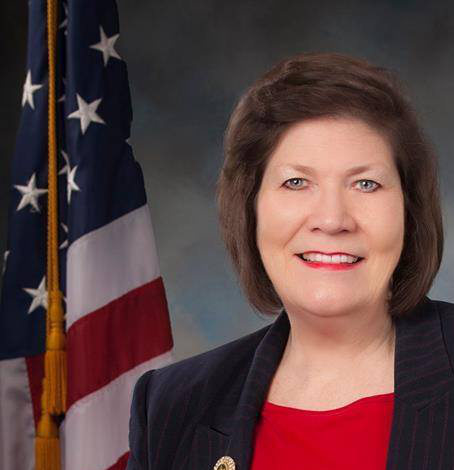 column
Democrat Hofmeister and Her Agenda to Transform Education
By Linda Murphy
State Superintendent Joy Hofmeister has designed and is implementing her 8-year statewide plan for education. She got praise and approval from the Obama Administration for it in 2015 and for her support of the Every Student Succeeds Act (ESSA) a re-write of the failed "No Child Left Behind" federal education plan. Hofmeister advocated for the passage of the ESSA and told Congress in a hearing- "We (the Oklahoma State Department of Education) want you (Congress) to hold us accountable." Obama was thrilled with ESSA and when he signed the bill in December 2015 he said, "This is a Christmas miracle!"
Now that Joy Hofmeister has switched her party registration from Republican to Democrat and announced she is running for Governor, people want to take a closer look at her agenda and her record. Her 8-year plan, which is still unfolding, has brought radical changes that are transforming Oklahoma education, but it has not produced positive results. Look at the student test scores over her seven years in office and the number of students and experienced teachers leaving the public schools.
Hofmeister and the Oklahoma State School Board Association (OSSBA) Executive Director, Shawn Hime, are in unison with their support of Common Core and recently both stayed silent on the outrageous National State School Board Association's (NSBA) letter to President Biden. NSBA called for Federal law enforcement to control parents who are upset with their school boards and likened them to domestic terrorists. Joy Hofmeister did not stand up to defend and support parents! She did not call on OSSBA's Shawn Hime to denounce the letter. OSSBA's Hime refused to respond even when State Senators sent him a letter asking him to denounce the NSBA's action.
Twenty-one state school board associations made strong statements denouncing the NSBA letter, but NOT OSSBA. Pennsylvania responded by a unanimous vote to pull out of the NSBA, and Tennessee said they do not belong to it stating that they believe in local control. Politically Hofmeister and Hime are walking hand-in-hand and neither one is representing the vast majority of parents, school board members and other citizens of this state who are appalled at the NSBA, President Biden, and Attorney General Merrick Garland for taking such extreme actions against parents. Garland's testimony revealed the NSBA met with Biden's administration prior to writing their letter, and Garland used it as his source for saying there is increasing violence coming from parents nationwide. He sent a memo to the FBI and Criminal Division of U.S. Attorneys to take action against parents and several were singled out as examples in the letter. The proverbial writing is on the wall for all who will take an honest look at the situation. Oklahomans need to see what Hofmeister's leadership has done to education, and will continue to do, if she is elected.
OSSBA's board is made up of local school board members who can replace the leadership of the association. This clearly needs to be done. Local school board members are elected by the public to represent them. Oklahomans are independent freedom-loving citizens, and we want leaders who will work to keep our freedoms and improve education!
Remember that the Governor appoints the entire State School Board, a change made in 2011 when Governor Fallin urged the legislature to give her control. The Governor who is elected in 2022 will have the power to appoint the Board, and the statewide education system will still be on track with Hofmeister's 8-year plan, if we don't get it changed. We need to look at what this plan has produced over the last 6 years:
Radical Changes in Education
The changes listed below have been implemented heavily in some districts, but others have retained traditional education as much as possible. The problem is that there will be NO choice about compliance with the State for Public Schools or Public Charter Schools in the future if Hofmeister's plan continues. These schools must follow state policies because they receive state money. We are on a track where the state and federal government plans are aligned and designed around a heavily regimented "accountability" system.
Oklahomans who are paying attention just saw how quickly our schools could be brought under federal law enforcement and lose freedom of speech. We must realize which leaders will stand up for our Constitutional Rights and which won't. Leaders, who are social engineers want top-down control to force compliance with their agenda on the public, which continues to resist the radical changes. To produce the results that Oklahomans want – we must have Local Control of education and Parental Involvement!
Here are a few of the changes Joy Hofmeister has implemented and will continue to implement:
1. Curriculum and instruction have been shifted from an academic focus to Common Core aligned standards, testing and Social Emotional Learning/Mental Health.
2. Student testing and other data collection by the State Department of Education has increased, taking valuable time from teaching and learning.
3. Teachers have lost much of their authority to teach through the state regimented control over teachers through outside evaluation systems, state-controlled professional development, non-education "leaders" guiding and evaluating teachers in the classroom, and scripted processes for teachers to follow against their own judgement.
4. "Equity" policies for academics have been imbedded, which are not based on equal opportunity but actually lower top academic levels to raise the bottom performance.
5. Test scores based on racial "equity" equalize outcomes/student performance scores.
6.LGBTQ+ directives promote celebration of "alternate" lifestyles and other sexual identity diversity.
7. TFA-Teach for America was given $4.2 million instead of giving more funding to professional teachers. (TFA trains teachers for only 5-weeks.)
8. Kaiser Foundation's early childhood program is funded by the state budget. Babies start at 6 weeks old and in 2013 the cost was $24,000.00 per child, per year. (This is a project of Democrat Kaiser who supported Hillary Clinton and President Obama. He also supports Hofmeister and even established a legal fund for her defense when she was under felony charges. See more below.)
9. Hofmeister does not support HB 1775, which prohibits teachers from labeling and condemning students by race or skin color (often called Critical Race Theory-CRT).
10. Oklahoma's 3-8th grade students take costly state tests that are developed and controlled by a global non-profit organization, "Cognia" (which has a network of 85 countries).
11. Oklahoma's 11th grade students take the ACT, which is now Common Core aligned (according to ACT) and has replaced traditional academic state tests.
12. There is an increase in gathering and sharing student and teacher data and "data-based" decisions made by people including non-educators outside the local school district.
13. Students are a "captive audience" for what amounts to the state-determined curriculum, methods and materials required for them to pass state tests.
14. Teachers must utilize the pre-determined curriculum, methods and materials that teach the concepts and skills to prepare students to pass the state tests.
15. Teachers are required to be trained to stop using their own professional judgement and discretion.
Gradualism in implementing these changes has created a false sense of security in some schools where people think they won't have to comply with what they see happening in the large districts which push a radical agenda. But ... The State Plan must be changed to put us on the right track for freedom, local control, parents rights and to let teachers teach. Those with some knowledge of political history realize that even the freedom to Homeschool without state intervention is at risk if we do not stop the top-down control in public education.
Political Allies and Big Money
Well-known Democrats have endorsed Joy Hofmeister for Governor and she will have the support of many tribes, the Oklahoma Education Association (OEA) and other statewide education groups. As mentioned earlier, OSSBA's leader Shawn Hime is allied with Joy Hofmeister. Another education group, Cooperative Council for Oklahoma School Administration (CCOSA), is an organization for school superintendents. The leadership of CCOSA was part of the support base that brought Hofmeister into office in 2014. Hofmeister used her appointment to the State School Board by Republican Gov. Fallin to springboard a run as a "Republican" candidate. She was privately supported with a $320,000.00 contribution in a "dark money" fund from CCOSA and the OEA.
These two organizations each gave $160,000.00, which they had received from American Fidelity Assurance. Felony charges were filed against Hofmeister and the others who were involved in the funding scheme. The case continued under investigation after Oklahoma County District Attorney David Prater said he had further evidence and was "not done" when he didn't prosecute her in 2017.
In 2018 OEA led a Teacher Walk Out actually started by a classroom teacher from Stillwater. Joy Hofmeister stood in the crowd and supported the OEA leadership. They held the microphone day after day at the Oklahoma State Capitol. Hofmeister did not stand up to lead, but stood down to allow her OEA allies to have control. OEA is a state affiliate of National Education Association (NEA) which has an extreme political left agenda for education, including support of Critical Race Theory- CRT.
During the GOP debate for the primary runoff in August 2018, Hofmeister was asked about her felony charges and she dismissed it all as a big mistake and nothing at all. She announced to the audience that in fact Prater was working with her on her statewide project for Adverse Childhood Experiences (ACE). The truth is D.A. Prater had said he was "not done" with the investigation. Later in October 2018 just days before her reelection, D. A. Prater made a public statement that he was dropping his investigation of Hofmeister.
In September, Hofmeister spoke at "Advancing Oklahoma - A Statewide Conversation on Race." The event was sponsored by five large corporations and brought together groups of non-profit organizations, state leaders and criminal justice advocates. Hofmeister said in essence that black students in Oklahoma are not provided the same opportunities for quality education as white students. Her leftist ideology is coming through loud and clear.
Behind Joy Hofmeister's well-developed public presentations, there are many issues accumulating, which Oklahomans need to consider. Every voter should see what a political "player" Hofmeister is. She has used every means possible to advance the agenda that has advanced her career. Yet Oklahomans are getting more and more of what we do not want in education and less of what we do want – well educated children!
Linda Murphy was Oklahoma Governor Keating's Education Advisor, Deputy Commissioner of Labor for Workforce Education and Training, Administrator of the Eastern Oklahoma Department of Labor, Member of the State Job Training Coordinating Council, and the Governor's School-to-Work Council. She was a candidate for State Superintendent of Public Instruction in 1994, 1998 and 2018. Murphy was appointed by Governor Keating as Secretary of Education but denied confirmation by the majority Democrat Education Committee, following her 49.5% statewide vote in 1994. She also served on the Governor's Commission on the Status of Women. You may contact Linda at: lindalearn1@yahoo.com